Since this is America's Independence Day, I'm going to continue my tradition (see 2010, 2011, 2012, 2013, 2014, 2015, 2016, 2017, 2018, 2019, and 2020) of authoring a July 4-themed column.
What will make this year special, though, is that we're going to tackle the heavy topic of whether the United States lives up to its own ideals.
Two years ago, the New York Times unveiled the "1619 Project," which largely argues that slavery and racism are part of the nation's DNA. The NYT states that the project "aims to reframe the country's history by placing the consequences of slavery…at the very center of our national narrative."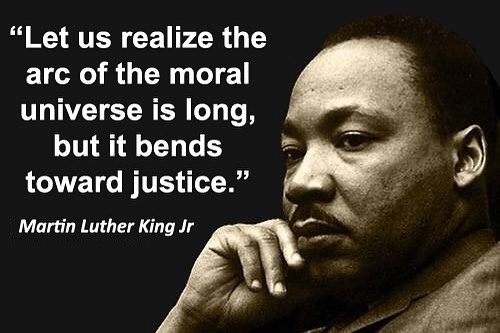 As a libertarian, I don't believe our government is good and pure today, and I also don't believe it was good and pure in the past. So I have no problem with a skeptical assessment of American history.
That being said, I have a positive view of America's founding and consider the Declaration of Independence in 1776 and the unveiling of the Constitution in 1787 as victories for liberty.
But only partial victories. What happened in the late 1700s should be viewed as the beginning of a process that slowly but surely has extended the blessings of liberty to the broader population.
Just as Martin Luther King stated back in 1964, "the arc of the moral universe…bends toward justice."
At the risk of oversimplifying, the 1619 Project has people fighting about two sides of the same coin.
Some people say the story of the United States is bad because of a legacy of slavery, segregation, and racism.
Other people say the story of the United States is good because of progress against slavery, segregation, and racism.
But the battle is about more than whether we have a glass-half-full or glass-half-empty view of history.
It's also about fanciful claims, such as the assertion that the War of Independence was fought to preserve slavery. In an article for Quillette, Phillip Magness points out that historians almost universally reject that interpretation.
Critics on both the Left and Right took issue with the paper's declared intention of displacing 1776 with the alternative date… For several months after the 1619 Project first launched, its creator and organizer Nikole Hannah-Jones doubled down on the claim. "I argue that 1619 is our true founding," she tweeted the week after the project launched.…the historical controversies around the 1619 Project intensified in late 2019 and early 2020. A group of five distinguished historians took issue with Hannah-Jones's lead essay, focusing on its historically unsupported claim that protecting slavery was a primary motive of the American revolutionaries when they broke away from Britain in 1776. …a historian who the Times recruited to fact-check Hannah-Jones's essay revealed that she had warned the paper against publishing its claims about the motives of the American Revolution on account of their weak evidence. The 1619 Project's editors ignored the advice.
Indeed, Magness' article discusses how the New York Times has largely conceded it made a mistake and has "stealth edited" the 1619 website.
Magness also has criticized the way supporters of the 1619 Project are attempting to promote statist economic policies.
Here's some what he wrote for the American Institute for Economic Research.
When I first weighed in upon the New York Times' 1619 Project, I was struck by its conflicted messaging. …certain 1619 Project essayists infused this worthy line of inquiry with a heavy stream of ideological advocacy. Times reporter Nikole Hannah-Jones announced this political intention openly, pairing progressive activism with the initiative's stated educational purposes. …A historical discussion about the Constitution's notoriously strained handling of slavery quickly drifted into a list of partisan grievances against the tax and health care policy views of congressional Republicans in the twenty-first century. …The 1619 Project, it seemed, could serve as both an enduring long-term curriculum for high school and college classrooms and an activist manual… This tendency finds its most visible display in…Matthew Desmond's essay on the relationship between slavery and modern American capitalism. …Lurking beneath it all was a long list of Desmond's own modern progressive political causes—economic inequality…and a general disdain for deregulation and free market thought. In short, Desmond was weaponizing the history of slavery to attack modern capitalism.
If you want to spend 79 minutes learning about why Desmond is wrong, this Reason interview with Magness is very informative (above).


I'll simply add that it's absurd to link slavery with capitalism. In a laissez-faire society, government's legitimate role is to protect the "negative rights" of life, liberty, and property.
Yet slavery is based on government laws that allow one person to own another person.
Let's wrap up today's column by looking at the future rather than the past.
In a book review for the Wall Street Journal, Jason Riley discusses Robert Woodson's concerns that the 1619 Project may promote a victim mentality and discourage upward mobility.
Mr. Woodson is a veteran community activist who broke with the traditional civil-rights leadership in the 1970s after realizing that the agenda of "racial grievance groups" like the NAACP was increasingly at odds with the actual wants and needs of the black underclass. …After the New York Times published its "1619 Project"…he became incensed. …Mr. Woodson responded by initiating his own project, "1776 Unites," which enlisted a group of black scholars, journalists and social activists "who uphold the true origins of our nation and the principles through which its founding promise can be fulfilled." …Mr. Woodson released "Red, White and Black: Rescuing American History from Revisionists and Race Hustlers." The book is a collection of essays by 1776 Unites participants, and its publication is a public service. …In the book's introduction, Mr. Woodson writes that his goal is not to offer point-by-point rebuttals. Rather, he wants to "debunk the myth that present-day problems are related to our past . . . specifically, debunking the myth that slavery is the source of present-day disparities and injustice." Mr. Woodson understands that pointing out the moral shortcomings of others might prove cathartic, but it will do little if anything to facilitate black upward mobility. And he flatly rejects the notion that "the destiny of black Americans is determined by what whites do—or what they have done in the past," which is otherwise known as critical race theory.
As I wrote a few days ago, critical race theory can be a helpful way to understand history, but it also can be harmful if it labels everyone as either a victim or an oppressor.
I much prefer how Walter Williams viewed race-related issues.
1 Of 5 / The Bible's Influence In America / American Heritage Series / David Barton
2 Of 5 / The Bible's Influence In America / American Heritage Series / David Barton
3 Of 5 / The Bible's Influence In America / American
Heritage Series / David Barton
4 Of 5 / The Bible's Influence In America / American Heritage Series / David Barton
5 Of 5 / The Bible's Influence In America / American Heritage Series / David Barton
__________________________________________
3 Of 3 / Faith Of The Founding Fathers / American Heritage Series / David Barton
__________________________
David Barton on Glenn Beck – Part 1 of 5
Uploaded by ToRenewAmerica on Apr 9, 2010
Wallbuilders' Founder and President David Barton joins Glenn Beck on the Fox News Channel for the full hour to discuss our Godly heritage and how faith was the foundational principle upon which America was built.
___________
David Barton on Glenn Beck – Part 2 of 5
Uploaded by ToRenewAmerica on Apr 9, 2010
Wallbuilders' Founder and President David Barton joins Glenn Beck on the Fox News Channel for the full hour to discuss our Godly heritage and how faith was the foundational principle upon which America was built.
___________________________
David Barton on Glenn Beck – Part 3 of 5
Uploaded by ToRenewAmerica on Apr 9, 2010
Wallbuilders' Founder and President David Barton joins Glenn Beck on the Fox News Channel for the full hour to discuss our Godly heritage and how faith was the foundational principle upon which America was built.
___________________________
David Barton on Glenn Beck – Part 4 of 5
Uploaded by ToRenewAmerica on Apr 9, 2010
Wallbuilders' Founder and President David Barton joins Glenn Beck on the Fox News Channel for the full hour to discuss our Godly heritage and how faith was the foundational principle upon which America was built.
______________________
David Barton on Glenn Beck – Part 5 of 5
Uploaded by ToRenewAmerica on Apr 9, 2010
Wallbuilders' Founder and President David Barton joins Glenn Beck on the Fox News Channel for the full hour to discuss our Godly heritage and how faith was the foundational principle upon which America was built.
Many inauthentic quotes attributed to the Founding Fathers have been in circulation for much of the 20th century. These are still being used frequently, especially by those in the religious right.
Fortunately we have many of the letters, diaries, and notes written by the Founding Fathers. Thomas Jefferson wrote many letters daily. John Quincy Adams wrote in his diary every day for 18 years straight. During the 1787 Constitutional Convention, James Madison wrote notes in shorthand which he converted into longhand every night. Newspapers of the day are also a good source. Actually, George Washington's farewell Presidential Address in 1796 was only a newspaper article. In sum, our prolific Founders left us with many sources of material.
Misquotes
If one quotes the actual words of a Founding Father but does not give the context, then he is guilty of misquoting.
John Adams (1735-1826) "This would be the best of all possible worlds if there were no religion in it."
John George and Paul Boller, Jr. in their book They Never Said It set the record straight:
Adams did indeed make the statement, but only to repudiate it. In a letter to Thomas Jefferson about religion on April 19, 1817, he mentioned reading some polemical books that reminded him of the way his boyhood minister, Lemuel Bryant, and his Latin schoolmaster, Joseph Cleverly, used to argue ad nausea about religion, and he told Jefferson: "Twenty times, in the course of my late reading, have I been on the point of breaking out, 'this would be the best of all possible worlds, if there were no religion in it!!!!' But in this exclamation, I should have been as fanatical as Bryant or Cleverly. Without religion, this world would be something not fit to be mentioned in public company–I mean hell."
 Benjamin Franklin (1706-1790) "I therefore beg leave to move–that henceforth prayers imploring the assistance of Heaven, and its blessing on our deliberations, be held in this assembly every morning before we proceed to business, and that one or more of the clergy of this city be requested to officiate in that article."
This is exactly what Franklin said at the 1787 Constitutional Convention in Philadelphia. However, many in the religious right ignore that fact that his motion was tabled and never voted on. For instance, Tal Brooke comments, "It was Benjamin Franklin who called the Constitutional Convention to prayer with a powerful statement of their debt to God. As mere men, they could not presume to undertake so great a task without petitioning Him for guidance. America abounds with Christian evidences from its earliest days."
Actually this version of the Franklin prayer motion originated with a letter written in September of 1825 from William Steele to his son, Jonathan. The letter told about William's recollection of a conversation with General Jonathan Dayton, a member of the Constitutional Convention. This incorrect account later appeared in the National Intelligencer, and other sources as well. According to Steele, Dayton recalled that "the motion for appointing a chaplain was instantly seconded and carried." However, James Madison in a letter to Thomas S. Grimke (January 6, 1834) stated that Franklin's "proposition was received and treated with the respect due to it; but the lapse of time which had preceded, with consternations growing out of it, had the effect of limiting what was done, to a reference of the proposition to a highly respectable Committee… That the communication [Steele's account of Dayton testimony] was erroneous is certain; whether from misapprehension or misrecollection, uncertain."
We should learn a lesson from James Madison. It is one thing to correct a person who is mistaken about historical details, but it is quite another to accuse someone of intentionally fabricating a story. Note that Madison stopped short of doing the latter.
Fake Quotes
A fake quote is an inauthentic quote attributed to a Founding Father. The late Robert S. Alley, former professor at the University of Richmond has rightly stated that "proving that a quotation does not exist is a daunting task…" However, evidence exists that proves beyond a reasonable doubt that the following quote is not authentic.
James Madison (1751-1836) "Religion …[is] the basis and foundation of government."
This fake quote is taken from Madison's Memorial and Remonstrance. The subject in this sentence is not "Religion," but actually the "Declaration of those rights 'which pertain to the good people of Virginia.'" Nevertheless, this inauthentic quote has been circulated for many years.
Disputed Quotes
A disputed quote may actually be authentic, but no primary source has been found. Some scholars would put the following two quotes in the previous category of "Fake Quotes" while other scholars may hold out hope that a primary source will be found.
James Madison (1751-1836) "We have staked the whole future of American civilization, not upon the power of government, far from it. We have staked the future of all of our political institutions upon the capacity of each and all of us to govern ourselves…according to the Ten Commandments of God."
Possibly this quote was originally given by Bishop James Madison (a cousin) or from James Madison's father, James Madison, Sr., but this is pure speculation. There is always a distant chance that a quote could turn up from a primary source that was found in someone's attic. In fact, a primary document from James Madison surfaced as late as 1946, but don't hold your breath till that happens again. The fact remains that there is not a shred of evidence that links James Madison to this quote. Moreover, Paul F. Boller, Jr. in a personal letter to me stated, "The Madison quote about the Ten Commandments sounds un-Madisonian. I've read a lot of Madison, and I know he didn't express himself that way…Sometimes the questionable quote can't be found in any of the writings that have survived of the person who is supposed to have made the statement. The Madison quote doesn't appear in any of Madison's writings."
Christian apologist Gary DeMar wrote concerning his research concerning the quote:
I credited this quotation to Madison in the first edition of the first volume of God and Government. Nearly every book written by a Christian author to support the Christian America thesis claims Madison as the quotation's author. I have searched in vain for the quotation's original source. American Vision even contacted a Madison scholar for help. He was not familiar with the quotation. Further study led me to the January 1958 calendar published by Spiritual Mobilization. What was Spiritual Mobilization's source for the quotation? None was listed. Additional detective work led me to another James Madison, a cousin of President Madison. Madison served as president of William and Mary College and was the first Protestant Episcopal bishop of Virginia. Is he the source of the quotation? Very possibly. Christians should stop attributing of the quotation to President James Madison until we find out.
 It is my opinion that this disputed quote attributed to Madison has been the one used more than any other by the religious right. This is probably due to the fact that the Supreme Court banned the display of the Ten Commandments in the public school rooms in the case Stone v. Graham in 1980.
George Washington (1732-1799) "It is impossible to rightly govern the world without God and the Bible."
Several years ago, I was guilty of using this disputed quote, and the late Professor John George of the University of Central Oklahoma, Political Science Department, told me that there is not a shred of evidence to link Washington to this quote. Professor George was a leading expert on this subject, and he co-authored They Never Said It: A Book of Fake Quotes, Misquotes, and Misleading Attributions with Paul F. Boller, Jr. of Texas Christian University.
I had copied this disputed quote off of a bumper sticker that my friend from church had on his truck. However, I was surprised at my friend's reaction when I told him he should remove his sticker. He said,  "Is Professor George a Christian? If not then he probably has an axe to grind." I later discovered that Professor George had corrected many atheists too. Nevertheless, I tried to find someone in the religious right who also had some knowledge on the subject.
So I called up the company that specialized at putting out bumper stickers with quotes from the  Founding Fathers dealing with God. The owner of the company actually spent a whole year researching the Washington quote and he said he concluded that Washington did not say it. He commented, "Washington did not talk that way. He did not use the word 'Bible' any that I can remember, and I believe, I have read everything available that Washington wrote."
This fellow was a Christian lawyer, and he said he could no longer sell the Washington bumper sticker even though it made up 90% of his sales. Again I went back to my friend, but he replied, "That fellow is not a historian. David Barton has studied the history of the founding fathers for over 20 years. I have a lot of respect for Barton."
Then I contacted Barton's organization, Wallbuilders Inc of Aledo, Texas. They mailed me the "Unconfirmed or Questionable Quote" list and it featured the Washington quote. Furthermore, it recommended not using this quote until it is authenticated.
When confronted with this opinion from Barton my friend responded, "I am not going to take my bumper sticker off until I have an explanation of how the quote could have possibly been mistakenly attributed to Washington in the first place."
Then I received a few weeks later an updated "Unconfirmed Quote" list from Wallbuilders, and under the Washington disputed quote is this explanation:
There is a very real possibility that the quotation has its origin in an 1835 biography by James K. Paulding. In a description of Washington's character, with supporting quotations, Paulding declares Washington to have said, "It is impossible to account for the creation of the universe without the agency of a Supreme Being. It is impossible to govern the universe without the aid of a Supreme Being." The similarities are obvious; a paraphrase of these quotes could have easily generated the words in question. However, we have not been able to trace Paulding's cite to a more scholarly reference. He offers no footnotes.
I thought my friend would finally back down when I showed him this evidence, but I was about to learn something about human nature. I explained to him that this quote originated around 1835 when someone read Paulding's book A Life of Washington. This is because it contained another unconfirmed quote of Washington which also had the words "impossible" and "govern." Obviously a paraphrase took place at that time. My friend replied, "Are you 100% sure it is a bad quote? If not then I am going to continue to use it!"
Needless to say I have learned a lot about people's tendency to ignore evidence when it goes against their presuppositions. Furthermore, I have quit trying to convince my friend that a disputed quote should be shelved until it is authenticated. He truly believes if Washington were here today he would say it now even if he didn't say it the first time.
  Everette Hatcher is a businessman in Little Rock, and his blog is www.thedailyhatch.org . He is a conservative Republican and he has confronted over 30 religious right authors over their misuse of disputed quotes. (The article above has been recommended by unlikely advocates such as the atheist Farrell Till of the Skepitcal Review.)
(Update: You will notice above in the section labeled "Fake Quotes" that I linked a comment by the late Dr. Robert Alley to an article by Rob Boston of Americans United published in 1996. I posted earlier how I was the source for the two articles that Rob Boston wrote on David Barton but unfortunately he implied that Barton made up these quotes. Fortunately I was given the opportunity to set the record straight in The Freedom Writer.
Later I got several board members of Americans United to contact Boston on my behalf and voice their opinion of how unfair Boston had been to Barton in his article  "Consumer Alert". On March 7, 1997, I spoke with Barry Lynn the executive director of Americans United. Lynn was very gracious on the phone and  promised to consider an article from me in response to the slanted  "Consumer Alert" article Boston had written earlier. Americans United board member Dr. Paul Simmons of Louisville helped me write the aritcle, but ultimately it was never published until today.)
George Washington (Lansdowne portrait) by Gilbert Stuart, oil on canvas, 1796
National Portrait Gallery, Smithsonian Institution. Acquired as a gift to the nation through the generosity of the Donald W. Reynolds Foundation.