—
Yesterday's column explained why Biden's proposed global cartel for corporate taxation was a bad idea.
In this clip from a recent panel hosted by the Austrian Economics Center in Vienna, I speculated on whether the plan would become reality
I encourage you to watch the 4-minute video, but all you really need to know is that there are lots of obstacles to a cartel. Most notably, countries with pro-growth business tax regimes (such as Ireland, Estonia, and Switzerland in Europe) have big incentives to say no.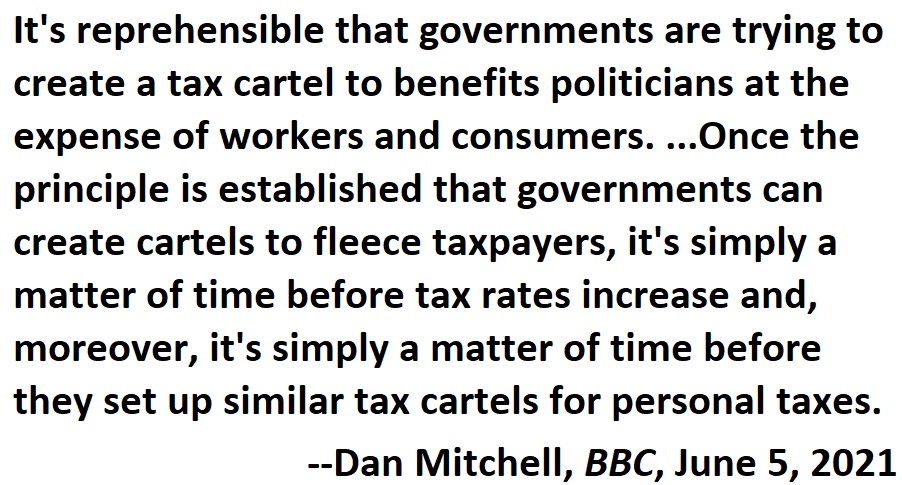 And if legislation is required in the United States, I assume that won't be an easy sell, at least for GOP members.
But, as I warn in the video, the other side has hundreds of bureaucrats at the OECD and various finance ministries and treasury departments. And these taxpayer-financed mandarins have both the time and patience to chip away until they achieve their goals.
So it is critical that economists such as myself do a good job of educating policy makers about the adverse consequences of a tax cartel.
Which is why people should read this column by Veronique de Rugy of the Mercatus Center. Here are some key excerpts.

For several decades now, politicians around the world have tried to curtail tax competition to make it easier for them to increase the tax burdens on their citizens without them fleeing to other lower-tax jurisdictions. The best way to achieve their goal is to create a global high-tax cartel. …It's no mystery why politicians don't like tax competition. …The ability to shift residences and operations from country to country puts pressure on governments to keep taxes on income, investment, and wealth lower than politicians would like. Politicians in each country fear that raising taxes will prompt high-income earners and capital to move away. …Academic research shows that the imposition of higher corporate taxes is a highly destructive way to collect revenue because it lowers investment and, in turn, workers' wages. It also increases consumer prices. Also, let's face it, no nation has ever become wealthier and better through higher taxes and wealth redistribution.
This column for Prof. Bruce Yandle also is very informative. Here's some of what he wrote.

It was with a feeling of deep disappointment…that I read Treasury Secretary Janet Yellen is…pushing to form an international cartel of governments that would implement a minimum corporate income tax rate across borders.…Efforts to cartelize taxation among nations will…, all else equal, lead to a higher-cost world economy. …Instead of searching high and low for ways to raise costs in the hope that more federal revenue and spending will follow, we should hope that our national leaders work harder to find better, more efficient ways to govern and serve the people. Doing so will give more people a much better chance at prosperity.
Amen. Tax harmonization was most accurately described by a former member of the European Parliament, who said it was a "thieves' cartel."
P.S. One of the worst aspects of the proposed tax cartel is that it will make it more difficult for poor countries to use good policy to improve living standards for their people.
P.P.S. Click here for my primer on tax competition.
Milton Friedman PBS Free to Choose 1980 Vol 4 of 10 From Cradle to Grave
Milton Friedman – Whats wrong with welfare? (Q&A)
Free To Choose – Milton Friedman on The Welfare System (1978) | Thomas S…
Milton Friedman Speaks: What is Wrong with the Welfare State? (B1229) – …
March 13, 2021
Office of Barack and Michelle Obama
P.O. Box 91000
Washington, DC 20066
Dear President Obama,
I wrote you over 700 letters while you were President and I mailed them to the White House and also published them on my blog http://www.thedailyhatch.org .I received several letters back from your staff and I wanted to thank you for those letters.

There are several issues raised in your book that I would like to discuss with you such as the minimum wage law, the liberal press, the cause of 2007 financial meltdown, and especially your pro-choice (what I call pro-abortion) view which I strongly object to on both religious and scientific grounds, Two of the most impressive things in your book were your dedication to both the National Prayer Breakfast (which spoke at 8 times and your many visits to the sides of wounded warriors!!
I have been reading your autobiography A PROMISED LAND and I have been enjoying it.
Let me make a few comments on it, and here is the first quote of yours I want to comment on:
As our society grew more complex, more and more of the government's function took the form of social insurance, with each of us chipping in through our tax dollars to protect ourselves collectively—for disaster relief if our house was destroyed in a hurricane; unemployment insurance if we lost a job; Social Security and Medicare to lessen the indignities of old age; reliable electricity and phone service for those who lived in rural areas where utility companies wouldn't otherwise make a profit; public schools and universities to make education more egalitarian.
It worked, more or less. In the span of a generation and for a majority of Americans, life got better, safer, more prosperous, and more just. A broad middle class flourished. The rich remained rich, if maybe not quite as rich as they would have liked, and the poor were fewer in number, and not as poor as they'd otherwise have been. And if we sometimes debated whether taxes were too high or certain regulations were discouraging innovation, whether the "nanny state" was sapping individual initiative or this or that program was wasteful, we generally understood the advantages of a society that at least tried to offer a fair shake to everyone and built a floor beneath which nobody could sink.
Maintaining this social compact, though, required trust. It required that we see ourselves as bound together, if not as a family then at least as a community, each member worthy of concern and able to make claims on the whole. It required us to believe that whatever actions the government might take to help those in need were available to you and people like you; that nobody was gaming the system and that the misfortunes or stumbles or circumstances that caused others to suffer were ones to which you at some point in your life might fall prey.
Here's the kind of story that makes me fear for the future of the nation. It is a disturbing example of both government stupidity and soft tyranny.
The police may not be ticketing for smoking in the parks, but they are still ticketing parker visitors for crimes like…eating a doughnut in a playground. Yup, this weekend the police gave two young women in Bed-Stuy summonses for eating doughnuts in a playground while unaccompanied by a minor. Tickets for being an adult in or around a playground have been popping up fairly frequently lately—see the Inwood chess players—but instead of giving the offending citizens a warning and urging them to leave, the NYPD's M.O. appears to be to hand out a ticket. Here's how our reader, an anthropology graduate student, describes her experience this weekend:
Presumably, the ban on adults near playgrounds is supposed to hinder child molesters. But does anyone really think a child molester will be deterred by a summons? And does anybody think two women eating doughnuts are the people likely to molest kids (I presume 99 percent of such crimes are committed by men)? And is anyone else outraged that the cops were basically filling a quota of tickets so they could show their supervisor that they weren't "doing nothing all day."
I'd like to say this is stupidity, but that doesn't quite capture the essence of this story. I'm also tempted to say this is the nanny state, but that's not quite right either. Another option is that this is incompetence, but the cops actually followed the policy as written.
The best I can come up with is that this is a classic example of modern government, a loathsome entity that at best is a nuisance and often becomes a tyrant.
Sincerely,
Everette Hatcher III, 13900 Cottontail Lane, Alexander, AR 72002, ph 501-920-5733 everettehatcher@gmail.com
Related posts:
President Obama c/o The White House 1600 Pennsylvania Avenue NW Washington, DC 20500 Dear Mr. President, I know that you receive 20,000 letters a day and that you actually read 10 of them every day. I really do respect you for trying to get a pulse on what is going on out here. There have […]By Everette Hatcher III | Posted in David Barton, Founding Fathers, President Obama | Edit |Comments (0)
There have been many articles written by evangelicals like me who fear that our founding fathers would not recognize our country today because secular humanism has rid our nation of spiritual roots. I am deeply troubled by the secular agenda of those who are at war with religion in our public life. Lillian Kwon quoted somebody […]By Everette Hatcher III | Posted in David Barton, Founding Fathers | Edit | Comments (0)
There have been many articles written by evangelicals like me who fear that our founding fathers would not recognize our country today because secular humanism has rid our nation of spiritual roots. I am deeply troubled by the secular agenda of those who are at war with religion in our public life. Lillian Kwon quoted somebody […]By Everette Hatcher III | Posted in David Barton, Founding Fathers | Edit | Comments (0)
There have been many articles written by evangelicals like me who fear that our founding fathers would not recognize our country today because secular humanism has rid our nation of spiritual roots. I am deeply troubled by the secular agenda of those who are at war with religion in our public life. Lillian Kwon quoted somebody […]By Everette Hatcher III | Posted in David Barton, Founding Fathers | Edit | Comments (0)
There have been many articles written by evangelicals like me who fear that our founding fathers would not recognize our country today because secular humanism has rid our nation of spiritual roots. I am deeply troubled by the secular agenda of those who are at war with religion in our public life. Lillian Kwon quoted somebody […]By Everette Hatcher III | Posted in David Barton, Founding Fathers | Edit | Comments (0)
There have been many articles written by evangelicals like me who fear that our founding fathers would not recognize our country today because secular humanism has rid our nation of spiritual roots. I am deeply troubled by the secular agenda of those who are at war with religion in our public life. Lillian Kwon quoted somebody […]By Everette Hatcher III | Posted in Founding Fathers | Edit | Comments (0)
President Obama Speaks at The Ohio State University Commencement Ceremony Published on May 5, 2013 President Obama delivers the commencement address at The Ohio State University. May 5, 2013. You can learn a lot about what President Obama thinks the founding fathers were all about from his recent speech at Ohio State. May 7, 2013, […]By Everette Hatcher III | Posted in Founding Fathers, President Obama | Edit | Comments (0)
Dr. C. Everett Koop with Bill Graham. Francis Schaeffer: "Whatever Happened to the Human Race" (Episode 4) THE BASIS FOR HUMAN DIGNITY Published on Oct 7, 2012 by AdamMetropolis The 45 minute video above is from the film series created from Francis Schaeffer's book "Whatever Happened to the Human Race?" with Dr. C. Everett Koop. This […]By Everette Hatcher III | Posted in Founding Fathers, Francis Schaeffer, Prolife | Edit |Comments (1)
America's Founding Fathers Deist or Christian? – David Barton 4/6 There have been many articles written by evangelicals like me who fear that our founding fathers would not recognize our country today because secular humanism has rid our nation of spiritual roots. I am deeply troubled by the secular agenda of those who are at […]By Everette Hatcher III | Posted in David Barton, Founding Fathers | Tagged governor of connecticut, john witherspoon, jonathan trumbull | Edit | Comments (1)
3 Of 5 / The Bible's Influence In America / American Heritage Series / David Barton There were 55 gentlemen who put together the constitution and their church affliation is of public record. Greg Koukl notes: Members of the Constitutional Convention, the most influential group of men shaping the political foundations of our nation, were […]By Everette Hatcher III | Posted in Founding Fathers | Edit | Comments (0)
I do not think that John Quincy Adams was a founding father in the same sense that his father was. However, I do think he was involved in the early days of our government working with many of the founding fathers. Michele Bachmann got into another history-related tussle on ABC's "Good Morning America" today, standing […]By Everette Hatcher III | Posted in David Barton, Founding Fathers | Edit | Comments (0)
I have gone back and forth and back and forth with many liberals on the Arkansas Times Blog on many issues such as abortion, human rights, welfare, poverty, gun control and issues dealing with popular culture. Here is another exchange I had with them a while back. My username at the Ark Times Blog is Saline […]By Everette Hatcher III | Posted in Arkansas Times, Francis Schaeffer, Prolife | Edit |Comments (0)
I truly believe that many of the problems we have today in the USA are due to the advancement of humanism in the last few decades in our society. Ronald Reagan appointed the evangelical Dr. C. Everett Koop to the position of Surgeon General in his administration. He partnered with Dr. Francis Schaeffer in making the […]By Everette Hatcher III | Posted in Adrian Rogers, Francis Schaeffer | Edit | Comments (0)
Francis Schaeffer: "Whatever Happened to the Human Race" (Episode 4) THE BASIS FOR HUMAN DIGNITY Published on Oct 7, 2012 by AdamMetropolis ____________ The 45 minute video above is from the film series created from Francis Schaeffer's book "Whatever Happened to the Human Race?" with Dr. C. Everett Koop. This book really helped develop my political […]By Everette Hatcher III | Posted in Francis Schaeffer | Edit | Comments (0)
—-
—