Politicians impose higher tax costs on tobacco because they want less smoking. And environmentalists want higher gas prices so there will be less driving.
And, as explained in this video, higher minimum wages for low-skilled labor will reduce employment.
For economists, none of this is surprising and none of this is newsworthy.
Minimum wage laws are a form of price controls, and we have centuries of evidence that bad things happen when politicians try to rig the market.
When I discuss this issue, people often respond by asserting that businesses will treat people like dirt in the absence of government intervention.
I answer them by agreeing with their premise (businesses would like to pay everyone as little as possible), but I then share this data, which shows that they're wrong on facts. To be more specific, nearly 99 percent of workers make more than the minimum wage.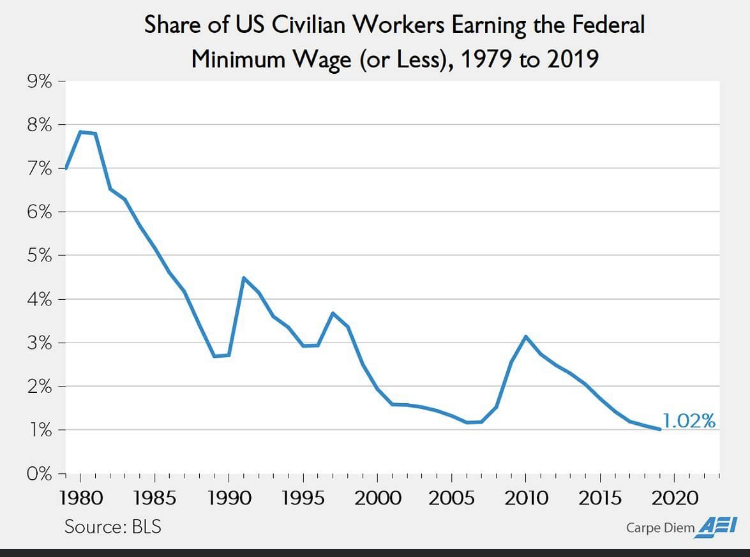 In other words, the free market leads to higher wages (which is why today's workers earn so much more than previous generations).
And we'll continue to enjoy economic progress, so long as politicians give the private sector enough breathing room to create more prosperity.
Which is why a mandate for higher minimum wages would be a bad idea.
Indeed, research published by the Harvard Business Reviewshows that the minimum wage even can be bad news for the workers who don't lose their jobs.
Here is a description of the methodology used by the authors (Qiuping Yu, Shawn Mankad, and Masha Shunko).
…minimum wage policies…can influence firms' behavior in a variety of complex, interrelated ways. In addition to changing employment rates, studies suggest that firms may strategically respond to minimum wage increases by changing their approaches in other areas, such as worker schedules. This can have significant implications for employee welfare…To address these challenges, we conducted a study in which we…looked at worker schedule and wage data from 2015 to 2018 for more than 5,000 employees at 45 stores in California — where the minimum wage was $9 in 2015, and has increased every year since then — and at 17 stores in Texas, where the minimum wage was $7.25 for the duration of our study. We then controlled for statewide economic and employment differences between California and Texas in order to isolate just the impact of increasing the minimum wage.
Here are some of their results.
For every $1 increase in the minimum wage, we found that the total number of workers scheduled to work each week increased by 27.7%, while the average number of hours each worker worked per week decrease by 20.8%. …which meant that the total wage compensation of an average minimum wage worker in a California store actually fell by 13.6%. This decrease in the average number of hours worked not only reduced total wages, but also impacted eligibility for benefits. We found that for every $1 increase in minimum wage, the percentage of workers working more than 20 hours per week (making them eligible for retirement benefits) decreased by 23.0%, while the percentage of workers with more than 30 hours per week (making them eligible for health care benefits) decreased by 14.9%. …our data suggests that the combination of reduced hours, eligibility for benefits, and schedule consistency that resulted from a $1 increase in the minimum wage added up to average net losses of at least $1,590 per year per employee — equivalent to 11.6% of workers' total wage compensation.
Gee, is anybody surprised to see bad results from California?
But let's focus on the minimum wage, not on the (formerly) Golden State.
Here's the bottom line: I've explained that a higher minimum wage is theoretically bad.
And I've shown that it leads to higher unemployment.
But this new research is important because it shows that a higher minimum wage also backfires on the workers who don't lose their jobs.
That's an argument I've made before, but it needs to become a bigger part of the discussion.
The goal should be to help people climb the ladder of economic opportunity, which is why the minimum wage should be abolished rather than increased.
P.S. It's disgusting that labor bosses push for a higher minimum wage to hurt low-skilled workers who compete with union members and it's disgusting that big companies like Amazon push for a higher minimum wage to hurt small businesses that compete with them for customers
—
Milton Friedman – A Conversation On Minimum Wage FREE TO CHOOSE
March 14, 2021
Office of Barack and Michelle Obama
P.O. Box 91000
Washington, DC 20066
Dear President Obama,
I wrote you over 700 letters while you were President and I mailed them to the White House and also published them on my blog http://www.thedailyhatch.org .I received several letters back from your staff and I wanted to thank you for those letters.

There are several issues raised in your book that I would like to discuss with you such as the minimum wage law, the liberal press, the cause of 2007 financial meltdown, and especially your pro-choice (what I call pro-abortion) view which I strongly object to on both religious and scientific grounds, Two of the most impressive things in your book were your dedication to both the National Prayer Breakfast (which spoke at 8 times and your many visits to the sides of wounded warriors!!
I have been reading your autobiography A PROMISED LAND and I have been enjoying it.
Let me make a few comments on it, and here is the first quote of yours I want to comment on:

I was campaigning to push the country in the opposite direction. I didn't think America could roll back automation or sever the global supply chain (though I did think we could negotiate stronger labor and environmental provisions in our trade agreements). But I was certain we could adapt our laws and institutions, just as we'd done in the past, to make sure that folks willing to work could get a fair shake. At every stop I made, in every city and small town, my message was the same. I promised to raise taxes on high-income Americans to pay for vital investments in education, research, and infrastructure. I promised to strengthen unions and raise the minimum wage as well as to deliver universal healthcare and make college more affordable.
I wanted people to understand that there was a precedent for bold government action. FDR had saved capitalism from itself, laying the foundation for a post–World War II boom.
—-
The minimum wage has hurt young people as they seek to enter the job market and prove themselves and start heading up the financial ladder of opportunity and by cutting the bottom of the ladder off it is difficult for the most unskilled and disadvantaged to compete!
As you can see from this interview, I get rather frustrated by the minimum wage debate. I'm baffled that some people don't realize that jobs won't be created unless it's profitable to create them.
You would think the negative effects of a higher minimum wage in Seattle would be all the evidence that's needed, but I've noted before that many people decide this issue based on emotion rather than logic.
So even though we have lots of evidence already that wage mandates cause joblessness (especially for minorities), let's add to our collection.
Here are some excerpts from a Wall Street Journal column by Professor David Neumark from the University of California Irvine.
Economists have written scores of papers on the topic dating back 100 years, and the vast majority of these studies point to job losses for the least-skilled. They are based on fundamental economic reasoning—that when you raise the price of something, in this case labor, less of it will be demanded, or in this case hired. Among the many studies supporting this conclusion is one completed earlier this year by Texas A&M's Jonathan Meer and MIT's Jeremy West, which reaffirmed that "the minimum wage reduces job growth over a period of several years"… An extensive survey of decades of minimum-wage research, published by William Wascher of the Federal Reserve Board and me in a 2008 book titled "Minimum Wages," generally found a 1% or 2% reduction for teenage or very low-skill employment for each 10% minimum-wage increase. …let's not pretend that a higher minimum wage doesn't come with costs, and let's not ignore that some of the low-skill workers the policy is intended to help will bear some of these costs.
The column also exposes some of the methodological flaws in studies that claim high minimum wages don't lead to job losses, so the entire piece is worth reading.
Since we're on this topic, here's a great table prepared by Mark Perry of the American Enterprise Institute. Is anyone shocked to learn that countries with minimum wage mandates have higher unemployment levels, particularly for young people?
I have two big observations and two minor comments in response to this data.
The first big observation is the caveat that minimum wage mandates are just one piece of the economic puzzle. The numbers if Greece, for instance, are miserable for many reasons. The minimum wage mandate is just another straw on the camel's back. Moreover, it's possible for a nation to have a decent-performing economy with a minimum wage (see Luxembourg) and a decrepit economy without one (see Italy). It's the overall burden of government that matters, which is why the rankingsfrom Economic Freedom of the World are the first place to look when determining if a nation is market-oriented or statist.
That being said, Mark's data certainly shows a correlation between joblessness and minimum wage mandates. Part of the reason for this link is that higher minimum wages are bad for employment, and part of the reason for the correlation is that governments foolish enough to impose minimum wages are probably foolish enough to impose other bad policies as well.
The second big observation is that I periodically encounter leftists who say a minimum wage is needed because employers have all the leverage and would pay workers starvation wages in the absence of a mandate. To which I always respond by asking them, "Then why don't employers use that leverage to reduce the wages of the 98 percent of workers who make more than the minimum wage?" That shuts down the conversation very quickly.
But now I'll also ask these folks, "And why aren't workers in Austria and Sweden paid starvation wages?" Their responses will be amusing.
For my minor comments, I'll start by noting that Switzerland is a uniquely sensible nation. Voters recently rejected a minimum wage mandate by an overwhelming 3-1 margin. I fear American voters would not be nearly as sensible if we had a national referendum.
My second minor comment is to share this amusing report about Belgian politicians whining that the lack of a minimum wage in Germany (at least as of 2013) was causing "unfair" competition. Oh, the horror!
Sincerely,
Everette Hatcher III, 13900 Cottontail Lane, Alexander, AR 72002, ph 501-920-5733 everettehatcher@gmail.com
Related posts:
President Obama c/o The White House 1600 Pennsylvania Avenue NW Washington, DC 20500 Dear Mr. President, I know that you receive 20,000 letters a day and that you actually read 10 of them every day. I really do respect you for trying to get a pulse on what is going on out here. There have […]By Everette Hatcher III | Posted in David Barton, Founding Fathers, President Obama | Edit |Comments (0)
There have been many articles written by evangelicals like me who fear that our founding fathers would not recognize our country today because secular humanism has rid our nation of spiritual roots. I am deeply troubled by the secular agenda of those who are at war with religion in our public life. Lillian Kwon quoted somebody […]By Everette Hatcher III | Posted in David Barton, Founding Fathers | Edit | Comments (0)
There have been many articles written by evangelicals like me who fear that our founding fathers would not recognize our country today because secular humanism has rid our nation of spiritual roots. I am deeply troubled by the secular agenda of those who are at war with religion in our public life. Lillian Kwon quoted somebody […]By Everette Hatcher III | Posted in David Barton, Founding Fathers | Edit | Comments (0)
There have been many articles written by evangelicals like me who fear that our founding fathers would not recognize our country today because secular humanism has rid our nation of spiritual roots. I am deeply troubled by the secular agenda of those who are at war with religion in our public life. Lillian Kwon quoted somebody […]By Everette Hatcher III | Posted in David Barton, Founding Fathers | Edit | Comments (0)
There have been many articles written by evangelicals like me who fear that our founding fathers would not recognize our country today because secular humanism has rid our nation of spiritual roots. I am deeply troubled by the secular agenda of those who are at war with religion in our public life. Lillian Kwon quoted somebody […]By Everette Hatcher III | Posted in David Barton, Founding Fathers | Edit | Comments (0)
There have been many articles written by evangelicals like me who fear that our founding fathers would not recognize our country today because secular humanism has rid our nation of spiritual roots. I am deeply troubled by the secular agenda of those who are at war with religion in our public life. Lillian Kwon quoted somebody […]By Everette Hatcher III | Posted in Founding Fathers | Edit | Comments (0)
President Obama Speaks at The Ohio State University Commencement Ceremony Published on May 5, 2013 President Obama delivers the commencement address at The Ohio State University. May 5, 2013. You can learn a lot about what President Obama thinks the founding fathers were all about from his recent speech at Ohio State. May 7, 2013, […]By Everette Hatcher III | Posted in Founding Fathers, President Obama | Edit | Comments (0)
Dr. C. Everett Koop with Bill Graham. Francis Schaeffer: "Whatever Happened to the Human Race" (Episode 4) THE BASIS FOR HUMAN DIGNITY Published on Oct 7, 2012 by AdamMetropolis The 45 minute video above is from the film series created from Francis Schaeffer's book "Whatever Happened to the Human Race?" with Dr. C. Everett Koop. This […]By Everette Hatcher III | Posted in Founding Fathers, Francis Schaeffer, Prolife | Edit |Comments (1)
America's Founding Fathers Deist or Christian? – David Barton 4/6 There have been many articles written by evangelicals like me who fear that our founding fathers would not recognize our country today because secular humanism has rid our nation of spiritual roots. I am deeply troubled by the secular agenda of those who are at […]By Everette Hatcher III | Posted in David Barton, Founding Fathers | Tagged governor of connecticut, john witherspoon, jonathan trumbull | Edit | Comments (1)
3 Of 5 / The Bible's Influence In America / American Heritage Series / David Barton There were 55 gentlemen who put together the constitution and their church affliation is of public record. Greg Koukl notes: Members of the Constitutional Convention, the most influential group of men shaping the political foundations of our nation, were […]By Everette Hatcher III | Posted in Founding Fathers | Edit | Comments (0)
I do not think that John Quincy Adams was a founding father in the same sense that his father was. However, I do think he was involved in the early days of our government working with many of the founding fathers. Michele Bachmann got into another history-related tussle on ABC's "Good Morning America" today, standing […]By Everette Hatcher III | Posted in David Barton, Founding Fathers | Edit | Comments (0)
I have gone back and forth and back and forth with many liberals on the Arkansas Times Blog on many issues such as abortion, human rights, welfare, poverty, gun control and issues dealing with popular culture. Here is another exchange I had with them a while back. My username at the Ark Times Blog is Saline […]By Everette Hatcher III | Posted in Arkansas Times, Francis Schaeffer, Prolife | Edit |Comments (0)
I truly believe that many of the problems we have today in the USA are due to the advancement of humanism in the last few decades in our society. Ronald Reagan appointed the evangelical Dr. C. Everett Koop to the position of Surgeon General in his administration. He partnered with Dr. Francis Schaeffer in making the […]By Everette Hatcher III | Posted in Adrian Rogers, Francis Schaeffer | Edit | Comments (0)
Francis Schaeffer: "Whatever Happened to the Human Race" (Episode 4) THE BASIS FOR HUMAN DIGNITY Published on Oct 7, 2012 by AdamMetropolis ____________ The 45 minute video above is from the film series created from Francis Schaeffer's book "Whatever Happened to the Human Race?" with Dr. C. Everett Koop. This book really helped develop my political […]By Everette Hatcher III | Posted in Francis Schaeffer | Edit | Comments (0)
—-
—