–
Tax increases are bad fiscal policy, but that doesn't necessarily mean that they are politically unpopular.
Indeed, many voices in the establishment press are citing favorable polling data in hopes of creating an aura on inevitably for President Biden's proposed tax hikes.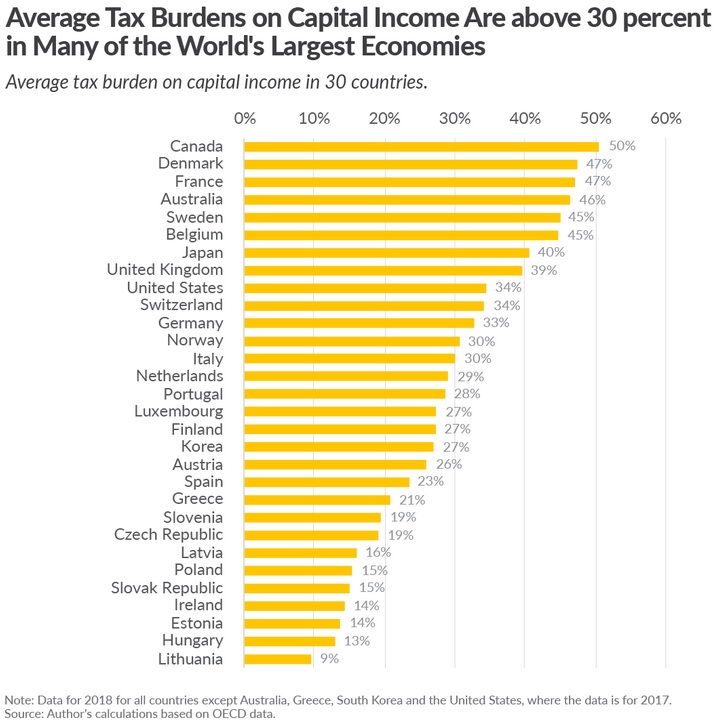 That's a very worrisome prospect. If Biden succeeds, the United States could wind up toppling Canada for the dubious honor of having the world's highest tax burden on saving and investment.
That would be bad news for American workers.
But are Biden's media cheerleaders correct? Are tax increases popular?
According to a new scholarly working paper from the Federal Reserve (authored by Andrew C. Chang, Linda R. Cohen, Amihai Glazer, and Urbashee Paul), the answer is no.
At least if we judge politicians by what they do in election years. Here's part of the study's abstract.
We use new annual data on gasoline taxes and corporate income taxes from U.S.states to analyze whether politicians avoid tax increases in election years. These data contain 3 useful attributes: (1) when state politicians enact tax laws, (2) when state politicians implement tax laws on consumers and firms, and (3) the size of tax changes.Using a pre-analysis research plan that includes regressions of tax rate changes and tax enactment years on time-to-gubernatorial election year indicators, we find that elections decrease the probability of politicians enacting increases in taxes and reduce the size of implemented tax changes relative to non-election years. We find some evidence that politicians are most likely to enact tax increases right after an election. These election effects are stronger for gasoline taxes than for corporate income taxes and depend on no other political, demographic, or macroeconomic conditions.
For wonkier readers, Figure 7 has some of the major results of their statistical analysis. I've highlighted (in red) the most important conclusion of the research.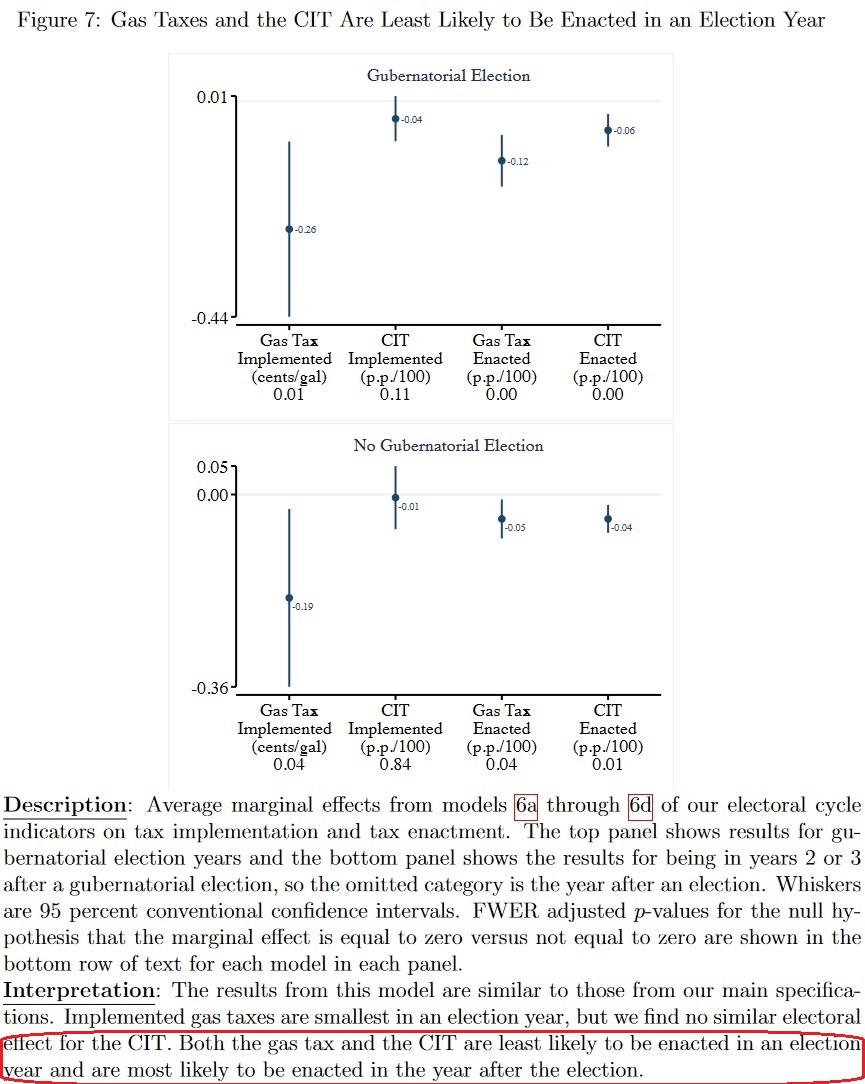 For regular readers, the main takeaway is that politicians almost always want more tax revenue. That's what gives them the ability to distribute goodies and buy votes.
But notwithstanding their never-ending hunger to grab more money, they are very likely to reject tax increases in election years. They even reject higher corporate taxes, which are supposed to be popular (at least according to some in the establishment media).
Yet if tax increases were politically popular, we should see the opposite result.
I'll close with the somewhat depressing observation that these results do not imply that voters want libertarian policy. It's probably more accurate to say that people want goodies from the government, but they don't want to pay for them. Politicians simply respond to those preferences (which brings to mind Garett Jones' hypothesis that we have too much democracy).
Which is how Greece became a basket case. Which is why Italy is in the process of becoming a basket case. And it's why the United States may not be that far behind (with states such as Illinois serving as early-warning signs).
P.S. The above-cited research should be a reminder of why a no-tax-hike pledge is important. Voters seem to be on the right side on the big-picture question of "Should taxes be higher?", but if they think tax increases are going to happen, it's quite likely that they will support the most economically damaging types of class-warfare levies.
---
Bob Chitester was managing a small public television station in Erie, PA, when he got the big idea to persuade Nobel laureate Milton Friedman to write and narrate a 10‐​part series on free markets for PBS. As unlikely as that prospect was, Bob made it happen. "Free to Choose" was broadcast on PBS beginning in January of 1980, and it made quite a splash just as Reagan and Thatcher were also starting to change the way people thought about markets and government. Milton and Rose Friedman wrote a book to accompany the series. But television helped take Friedman's ideas from the pages of books to millions more people, and in the process Chitester made Friedman a bigger celebrity and a bigger influence than a mere Nobel Prize could accomplish.
Bob went on to create Free to Choose Media and produce hundreds of video products for public television, other networks, the internet, and home viewing. They included The Real Adam Smith, a two‐​hour series that gives particular attention to Smith's Theory of Moral Sentiments; the Stossel in the Classroom series, which put John Stossel's television reports into high school classrooms; and A More or Less Perfect Union, a three‐​part series with Judge Douglas H. Ginsburg.
He made Cato senior fellow Johan Norberg a familiar face on public television with documentaries such as "Free & Equal," an update of "Free to Choose"; "Sweden: Lessons for America?"; "India Awakes"; and "Work and Happiness: The Human Cost of Welfare."
We at Cato were especially grateful that when our colleague Andrew Coulson died much too young before finishing his television project "School Inc.," Bob and his Free to Choose team picked it up, finished the production, and got it on hundreds of public television stations in 2017.
For more than 40 years Bob Chitester focused like a laser to get free‐​market ideas on television in high‐​quality presentations. All of us who believe in the power of markets to liberate people are incredibly grateful and, frankly, astounded at his success in this.
Bob lost his seven‐​year battle with cancer this weekend. But his video projects can all be found on the web, and his Free to Choose team will continue his work with new documentaries and online programs.
Bob Chitester Discusses Milton Friedman and 'Free to Choose'

Published on Jul 30, 2012 by LibertarianismDotOrg

"There are very few people over the generations who have ideas that are sufficiently original to materially alter the direction of civilization. Milton is one of those very few people."

That is how former Federal Reserve Chairman Alan Greenspan described the Nobel laureate economist Milton Friedman. But it is not for his technical work in monetary economics that Friedman is best known. Like mathematician Jacob Bronowski and astronomer Carl Sagan, Friedman had a gift for communicating complex ideas to a general audience.

It was this gift that brought him to the attention of filmmaker Bob Chitester. At Chitester's urging, Friedman agreed to make a 10 part documentary series explaining the power of economic freedom. It was called "Free to Choose," and became one of the most watched documentaries in history.

The series not only reached audiences in liberal democracies, but was smuggled behind the iron curtain where it played, in secret, to large audiences. Reflecting on its impact, Czech president Vaclav Klaus has said: "For us, who lived in the communist world, Milton Friedman was the greatest champion of freedom, of limited and unobtrusive government and of free markets. Because of him I became a true believer in the unrestricted market economy."

July 31st, 2012 is the 100th anniversary of Friedman's birth. To commemorate that occasion, we'd like to share an interview with "Free to Choose" producer Bob Chitester. Like this interview, the entire series can now be viewed on-line at no cost at http://www.freetochoose.tv/, thanks to the incredible technological progress brought about by the economic freedom that Milton Friedman celebrated.

Produced by Andrew Coulson, Caleb O. Brown, Austin Bragg, and Lou Richards, with help from the Free to Choose Network

_______________

by Andrew J. Coulson

Andrew Coulson directs the Cato Institute's Center for Educational Freedom and is the author of Market Education: The Unknown History.

Added to cato.org on July 31, 2012

This article appeared in Cato.org on July 31, 20

For us, who lived in the communist world, Milton Friedman was the greatest champion of freedom, of limited and unobtrusive government and of free markets. Because of him I became a true believer in the unrestricted market economy.
Those are the words of Czech President Vaclav Klaus. Both Friedman's writings and his landmark 1980 documentary series "Free to Choose"were smuggled into totalitarian communist states, inspiring a generation of future scholars, activists, and politicians.
July 31st, 2012 is the 100th anniversary of Friedman's birth. To commemorate that occasion, the Cato Institute has put together a video interview with Bob Chitester, producer of "Free to Choose," recounting how it came to be, its impact, and what it was like working with Milton Friedman.
Aside from those who lived under communism, there is another group for whom Friedman was and is a colossal figure: advocates of educational freedom. At a time when state-run schooling had been the norm for nearly a century, and had long ceased to be questioned by America's elites, Friedman offered a modest observation: there was no good reason for the government of a free society to actually run schools and many good reasons for it not to do so.
He made this case in his essay "On the Role of Government in Education," first published in 1955. The idea had been floated by others, including Adam Smith and Thomas Paine, but Friedman eloquently and powerfully introduced it to the American policy debate. In so doing, he, more than any other individual, can be credited with giving rise to the modern school choice movement.
Not only did Friedman spark the creation of this movement, he helped to fan the flame of educational freedom, writing popular commentaries and book chapters, speaking with and encouraging activists, founding a leading school choice institution, and dedicating the entire sixth episode of "Free to Choose" to this subject.
I had the good fortune to speak and correspond with Milton occasionally, starting in the late 1990s, and what struck me most about him was his personal integrity. He once told me that he never said anything negative about a person in private that he would not be willing to say openly in that person's presence. So far as I know, he never violated that principle. And while he staunchly defended his conclusions as long as he remained convinced of their correctness, he would amend them if the weight of evidence shifted.
Indeed the rigorous empiricism that Friedman applied in his scholarly work is generally regarded as one of his most influential contributions to the field of economics—for a long time controversial but eventually the norm, at least in principle. His view, published in the 1953 collection Essays in Positive Economics, was that
the ultimate test of the validity of a theory is… the ability to deduce facts that have not yet been observed, that are capable of being contradicted by observation, and that subsequent observation does not contradict. [p. 300]
Equally wise, though not yet as widely accepted, is the long time horizon against which Friedman measured policy outcomes. Economist and philosopher of science James R. Wible notes that Friedman's greatest contribution "may be his constant reminder not to forget the long run consequences of short run policies."
In the 1982 edition of his book Capitalism and Freedom, Friedman observed that scholars cannot single-handedly bring about change. Their real role, he wrote, is to "keep the lights on"—to remind us which policies work and which do not, and to show us how to advance our understanding even further. His own unfailing empiricism and concern for the long term remain valuable beacons today, both for advocates of educational freedom and the broader policy community.
_____________
Related posts:
Milton Friedman's 100th: Exploring His Wisdom for the Ages (Part I: Worldview) by Robert Bradley Jr. July 31, 2012 [Ed. note: Milton Friedman's views will be further explored in Part II on energy and Part III on political capitalism.] "Our central theme in public advocacy has been the promotion of human freedom … [It] underlies […]
I was impacted in 1980 by the film series "Free to Choose" and I was very impressed by the performance by Thomas Sowell. Today he remembers his former teacher Milton Friedman.   Friedman could be a help today     By  Thomas Sowell Creators Syndicate Tuesday July 31, 2012 7:00 AM If Milton Friedman were alive […]
In the video above Milton Friedman takes on some liberal students with their challenges to capitalism.   Secretary of Defense Donald H. Rumsfeld speaking at Tribute to Milton Friedman (transcript) As Delivered by Secretary of Defense Donald H. Rumsfeld, White House, Washington, D.C., Thursday, May 09, 2002 Mr. President (George W. Bush), Rose and Milton […]
Every Friday you need to click on http://www.theDailyHatch.org if you would like to see a video clip of Milton Friedman as he shares his common sense conservative economic views. Many of his articles are posted too. I remember growing up and reading those great articles every week in Newsweek. They are just as relevant today as […]
Milton Friedman videos and transcripts Part 12 On my blog http://www.thedailyhatch.org I have an extensive list of posts that have both videos and transcripts of MiltonFriedman's interviews and speeches. Here below is just small list of those and more can be accessed by clicking on "Milton Friedman" on the side of this page or searching […]
published Tuesday, July 31st, 2012  Chattanooga Times Free Press Milton Friedman at 100   Milton Friedman Photo by Associated Press /Chattanooga Times Free Press.   enlarge photo   One hundred years ago today, the most powerful defender of economic liberty in American history was born in Brooklyn to poor Jewish immigrants. Though he stood barely […]
No one did more to advance the cause of school vouchers than Milton and Rose Friedman. Friedman made it clear in his film series "Free to Choose" how sad he was that young people who live in the inner cities did not have good education opportunities available to them. Remembering Milton Friedman's School Choice Legacy […]
Testing Milton Friedman – Preview Uploaded by FreeToChooseNetwork on Feb 21, 2012 2012 is the 100th anniversary of Milton Friedman's birth. His work and ideas continue to make the world a better place. As part of Milton Friedman's Century, a revival of the ideas featured in the landmark television series Free To Choose are being […]
What a great defense of Milton Friedman!!!!   Defaming Milton Friedman by Johan Norberg This article appeared in Reason Online on September 26, 2008  PRINT PAGE  CITE THIS      Sans Serif      Serif Share with your friends: ShareThis In the future, if you tell a student or a journalist that you favor free markets and limited government, there is […]
Milton Friedman on Hayek's "Road to Serfdom" 1994 Interview 2 of 2 Uploaded by PenguinProseMedia on Oct 26, 2011 2nd half of 1994 interview. ________________ I have a lot of respect for the Friedmans.Two Lucky People by Milton and Rose Friedman reviewed by David Frum — October 1998. However, I liked this review below better. It […]