—
It doesn't matter if we all die
Ambition in the back of a black car
In a high building there is so much to do
Going home time
A story on the radio
Something small falls out of your mouth
And we laugh
A prayer for something better
A prayer
For something better Please love me
Meet my mother
But the fear takes hold
Creeping up the stairs in the dark Waiting for the death blow
Waiting for the death blow
Waiting for the death blow
Stroking your hair as the patriots are shot
Fighting for freedom on the television
Sharing the world with slaughtered pigs
Have we got everything?
She struggles to get awayThe pain
And the creeping feeling
A little black haired girl
Waiting for Saturday
The death of her father pushing her
Pushing her white face into the mirror
Aching inside me
And turn me round
Just like the old days
Just like the old days
Just like the old days
Just like the old days Caressing an old man
And painting a lifeless face
Just a piece of new meat in a clean room
The soldiers close in under a yellow moon
All shadows and deliverance
Under a black flag
A hundred years of blood
Crimson
The ribbon tightens round my throat
I open my mouth
And my head bursts open
A sound like a tiger thrashing in the water
Thrashing in the water
Over and over
We die one after the other
Over and over
We die one after the other
One after the other
One after the other
One after the other
One after the other It feels like a hundred years
A hundred years
A hundred years
A hundred years
A hundred years
One hundred yearsSource: LyricFindSongwriters: Laurence Andrew Tolhurst / Robert James Smith / Simon Gallup
–
The Cure are an English rock band formed in Crawley in 1976. The group has experienced continuous line-up changes over its lifespan, with vocalist, guitarist and principal songwriter Robert Smith being the only constant member. The band's debut album was Three Imaginary Boys (1979) and this, along with several early singles, placed the band in the post-punk and new wave movements that had sprung up in the wake of the punk rockrevolution in the United Kingdom. During the early 1980s the band's increasingly dark and tormented music, as well as Smith's stage look, was a staple of the emerging style of music known as gothic rock.
—-
–
JESSE LIVINGSTON | MAY 22, 2013 | 7:30AM
—
Music is filled with surprises. For every good-looking rebel working diligently to bring sexy back, there's a bookish nerd sitting in a dim corner furiously scribbling esoteric poetry in a lyrics journal. Referencing literature is a surefire way to show the world that you're a sensitive soul with important thoughts. Existentialism is clearly the most badass school of thought because it pits the individual (wearing black) against the absurdity of the uncaring cosmos (also wearing black). Keep reading for a look at ten existential musicians.
See also: – The Yawpers' deep thoughts come through on Capon Crusade – The ten most noteworthy music publicity stunts – Review: They Might Be Giants at the Gothic Theatre, 11/5/09
10. The Classic Crime Nihilism and existentialism are certainly not the same, and the Classic Crime's "The Happy Nihilist" illustrates the difference impeccably with its description of a lost soul who "used to read everything," "used to need nothing" and now "can't sleep 'cause I'm not happy." Nihilism isn't doing it for him; he needs something more. Existentialist thinkers would argue that it's perfectly possible to be happy in a meaningless world, as long as you assign your own meaning to things (good news for the narrator of the song, and all of us). Speaking of nihilism, have you ever thought about just how brilliant the line "No, Donny. These men are nihilists. There's nothing to be afraid of." really is? Nothing to be afraid of. I see what you did there.
9. Cake Cake's deliciously cryptic "Sheep Go to Heaven" is packed with obscure references. The chorus "Sheep go to Heaven, goats go to Hell" is an allusion to the Bible (often cited as the definitive record of who goes where). The line "And the gravedigger puts on the forceps" is a bit more perplexing. It's taken directly from Samuel Beckett's Waiting for Godot, widely considered a staple of existentialist theater: "Down in the hole, lingeringly, the grave digger puts on the forceps. We have time to grow old. The air is full of our cries. But habit is a great deadener."

8. Janina Gavankar Speaking of Waiting for Godot, Janina Gavankar references the play in her 2012 single of the same name. Who is Janina Gavankar, you ask? She's the actress who plays the mighty Shiva on The League and shapeshifting Luna Garza on True Blood. The video for her song shows two versions of her waiting together in a featureless white expanse. The song asks, "Friends may come, and friends may go/But if I wait for love, am I waiting for Godot?" The imagery is so over-the-top, it's hard to tell if she's serious. And isn't that what existentialism is all about?
7. They Might Be Giants The godfathers of geek rock are no strangers to literary allusions. Perhaps the most existential of their songs is Apollo 18's "I Palindrome I." It contains one of the best lines of all time: "Someday mother will die and I'll get the money/Mom leans down and says 'My sentiments exactly/You son of a bitch." It's a clear reference to the opening lines of Camus' The Stranger: "Mother died today, or maybe yesterday; I can't be sure." We're all snakes eating our own tails, but TMBG show us every day that the bleak wilderness of existence can be both fun and educational.
6. Tom "T-Bone" Stankus T-Bone's "Existential Blues" — often mis-attributed to They Might Be Giants — was a big hit on the Dr. Dementoshow. A former public schoolteacher turned full-time entertainer, Stankus penned this rambling riff on philosophy and The Wizard of Oz while in the grip of a monumental opium/helium bender… at least that's how it sounds. He was probably stone sober and just really weird. "Is it Plato's heebie-jeebies or just existential blues?" he asks penetratingly. It's both, T-Bone. It's both.
5. As I Lay Dying This San Diego Christian metalcore band took their name from William Faulkner's existential novel of Southern life gone horribly wrong. Considering that Faulkner won the Nobel Prize in Literature for his work, it's somewhat distressing that As I Lay Dying's lyrics sound like they came straight out of an online Goth poetry generator: "Emptiness running through me/Taking all that I am/Leaving me this blinding mask/Grasping for the wind/Everything I've done/Everything I've gained/It all means nothing." On the other hand, frontman Tim Lambesis was recently arrested in an alleged murder-for-hire plot, and that's something the characters in Faulkner's novel could really get behind.
4. Tuxedomoon This experimental post-punk band from San Francisco prided themselves on their unique sound that Seattle Weeklydescribed as radiating "a discomfort that hints of existential hives." The 1970s were chock-full of existential hives. Everyone knows that. The band's song "Stranger" makes another reference to Camus' landmark novel with the lines "Mother died today/Or maybe yesterday." It also ends with the lines "I'm strange/I'm the stranger." That's the subtlety of poetic discourse that your high school English teacher used to tell you about.
3. The Yawpers Denver's own Yawpers are deep into some existentialist reading. In a recent interview, the Yawpers told us about their album Capon Crusade and its not-infrequent references to Sartre and Camus. "They're depressing as fuck," said frontman Nate Cook, cutting to the heart of the philosophy. He then added, "Sartre and Camus are really poignant in pointing out just how flawed existence is in general, and sometimes that can be comforting when you're trying to write some shitty song about getting fucked up because a girl left you." That's actually pretty astute. When misfortune befalls you, is it more or less reassuring to imagine that you deserve it? The great gift of the existentialist thinkers may be showing us that sometimes a lack of intrinsic meaning in the universe isn't such a bad thing.
2. The Cure Robert Smith and company have made a career out of existential dread and despair — so much so that the early effort "Killing an Arab" now seems a little on-the-nose in its description of the pivotal scene from The Stranger. In fact, the song's matter-of-fact lyrics have caused the band a good deal of grief over the years, as certain parties have tried to co-opt them as some kind of anti-Arab anthem. Re-releases have sported a sticker explaining that the song "decries the existence of all prejudice and consequent violence," and Smith has taken to changing the lyrics in live performances to "killing another." One shy English boy against a world of dull-witted savagery: what could be more existential than that?
1. The Eagles Don Henley's vision of 1970s California as a fiendish hotel filled with earthly temptations takes its tone and setup from Jean-Paul Sartre's No Exit. "Hell is other people," says Sartre. Henley adds, "This could be Heaven, or this could be Hell," implying that maybe they're one and the same. "Hotel California" is one of those classic songs that deserves every bit of its fame. Listening to it, you feel a palpable desire to be somewhere warm and tropical where the livin' is easy. You also feel a chill of recognition that you'd soon become bored, listless and depressed playing games with the wealthy and beautiful. "And still those voices are calling from far away." Thanks, Henley. What an insightful, elegant bummer, man.

—
Show captionThe Cure
The singer and songwriter has been curating the Meltdown festival, and is planning to record the first Cure album in 10 years. But will it be fuelled by magic mushroom tea?Dorian LynskeyThu 7 Jun 2018 08.00 EDT
The first thing Robert Smith does is apologise for the makeup. He hasn't worn it since his last concert with the Cure, in December 2016, but he has a photoshoot today at the Royal Festival Hall and thinks his features are too indistinct without it. To be honest, I would be disappointed if he wasn't wearing it, along with his regulation baggy black clothes and silver jewellery. Since 1983, the sooty eyeliner, blood-smear lipstick and cobwebbed forest of hair have made him a human logo, transmuted, through the work of people such as Tim Burton and Neil Gaiman, into visual shorthand for the morbidly romantic. He looks like the Cure sound.
Even without the warpaint, Smith finds it hard to blend in. In 1989, at the height of his fame, he moved to the quiet south-coast village where he still lives with his wife, Mary, and gamely attended a meeting in the village hall. "It was pretty chaotic," he sighs. "I was asked to leave, for no reason other than I wasn't welcome. I thought, 'I've made a terrible mistake.'" He clasps his hands over his face, just like he does in photographs.
For someone who once sang "It doesn't matter if we all die", Smith has an endearing relish for the bathetic comedy of life. Like the time, during the first Gulf war, when he held a press conference to explain that the Cure's 1979 debut single Killing an Arab was a reference to L'Etranger and not, as some US radio DJs thought, an Islamophobic anthem. "It was totally surreal, explaining Camus to a sea of utterly bemused faces." Or the time that he interviewed David Bowie for Xfm and arrived so drunk that he proceeded to talk over his hero for two hours. "I think my opening gambit was, 'We can both agree you've never done anything good since 1982,'" he says, wincing.
For all his easy, blokeish charm, Smith means as much to millions of people as Bowie meant to him. This year, the Cure are marking the 40th anniversary of their first concert under that name (they started in 1976 as Malice) with a flurry of activity. Smith has been rummaging through boxes for a documentary directed by regular collaborator Tim Pope. "I knew a few people wanted to – what's a nice way of saying exploit? – celebrate the 40th anniversary with projects," he says. "I said no, but I knew that they would probably go ahead anyway unless I made it very obvious that we were doing something." The Cure may even make their first album since 2008, but we will get to that.
First up, Smith is curating the Meltdown festivalat London's Southbank Centre: a walloping 90 artists over 10 days. Smith will close the event under the name Cureation 25 – which promises a lineup of previous bandmates and more – shortly before the Cure headline a sold-out Hyde Park. "Meltdown's going to be doom and gloom and Hyde Park's going to be hands in the air," he says. He sent a handwritten letter to each name on his wishlist and almost all of them said yes. It's striking that everyone on the lineup, from the Manic Street Preachers to Mogwai, Nine Inch Nails to the Twilight Sad, has been influenced by the Cure in one way or another. Does Smith only like bands who like the Cure?
"I think you'd be hard-pressed to find many artists who don't like the Cure," he says. "I think people admire us, even if they don't particularly get the music. It sounds very conceited, but it's not about me, it's about the band. We've stayed true to ourselves. If you're in a band, you realise how hard that is. I think people admire our tenacity."
The Cure's position is certainly enviable: loved with cult-like fervour yet mainstream enough to be covered by Adele (Lovesong) and featured in Ant-Man (Plainsong). There's even a Reese Witherspoon romcom named after their 1987 hit Just Like Heaven, not that Smith has seen it. They are the only band, Smith notes, who are routinely perceived as both suicidal and whimsical. And they have maintained their integrity. Currently without a record label, manager or publicist, they tour (often) or record (not so much) only when Smith feels like it. It's not true that he's the only Cure member who matters (if bassist Simon Gallup left, then "it wouldn't be called the Cure"), but he has always been in the driving seat. When was the last time he did something he didn't want to do? He points at my Dictaphone and laughs. "Sitting here."
The Cure tore through the 80s the way the Beatles rushed through the 60s, or Bowie the 70s: wildly prolific, constantly changing. "It is weird looking back," Smith says. "Everything was done at an incredibly fast pace. Life was whizzing by." For a 19-year-old neophyte from the suburban West Sussex no-man's land of Crawley, Smith seemed uncannily self-assured. "Where did that grotesque confidence come from?" he says drily. "Probably punk. Most of the punk bands were fucking awful. I thought we were all right and we were getting better. A lot of it was bluff and bluster at that age."
Within a couple of years, the punk boy wonders had evolved into avatars of doom: 1981's Faith sounded like inching through a chilly fog. "I thought, 'How much bleaker can we get? Either we make very, very tiny noises at the end of a concrete bunker and I whisper over them, or we do something different.'" Hence 1982's Pornography, a churning inferno of rage, nausea and despair. "There was a lot of tension in our personal lives," he says. "The music's always reflected, to a very large degree, how I am mentally." Our drummer used to make a huge pot of magic mushroom tea at the start of every day and it just went on from there
The strain of playing emotionally crushing songs every night, in various states of narcotic disrepair, broke the band. Smith joined Siouxsie and the Banshees and planned to use the Cure as a vehicle for "sort of stupid" pop songs such as The Lovecats – until the stupid songs became hits. "I suddenly thought, 'Well, actually, this is more attractive than slogging my way round the world with the Banshees!' So I was never quite comfortable with my reasons." Then again, he says, a cynical careerist would not have followed up with the queasy psychedelic splurge of The Top. Drummer Andy Anderson, he says, "used to make a huge pot of magic mushroom tea at the start of every day and it just went on from there".
Only with 1985's The Head on the Door did Smith decide to get "professional", rearranging the studio for each song and pinning guidelines to the wall. "For the first time we were creating sounds as well as songs," he says. The instructions for the desolate Sinking, for example, were: "We must cry by 6pm tonight." The Cure became so big internationally that promoters began calling them the Pink Floyd of the 80s. Smith considered 1989's exquisitely morose Disintegration his masterpiece; the record label thought it was commercial suicide – it sold 3m copies.
Whether in or out of the charts, the Cure occupied a bubble of their own, regularly anointing a symbolic nemesis. "It was generally Duran Duran," Smith says, "which is really sad because they loved us and they used to come to our shows. But they represented everything we hated: the whole glamorous 80s, consumer bullshit; this horrorshow that we were up against." Smith also had a long-running feud with Morrissey ("I never really understood it"), in which he has proven to be on the right side of history.
The hothouse of success drove Smith to escape from the capital. "I survived; a lot of people that I left in London didn't." By the time of 1992's Wish, with its jaunty hit Friday I'm in Love, the novelty of being huge had evaporated. "I was coping in a slightly disturbed way with what was going on," he says. "I felt it was at odds with what I'd started out doing. I couldn't understand how we could be so successful and still be honest. With hindsight we were, but I couldn't see it." So when the Cure were elbowed aside by Britpop, he was relieved. "I felt more comfortable being slightly outside of what was going on, because that's how I'd felt from the very start. Had we kept pushing it, I don't think I'd have survived it – not in one piece, anyway."
These days, the Cure are predominately a live act, renowned for their epic, multi-encore shows. In Mexico City, as a 53rd-birthday treat, Smith tried to break Bruce Springsteen's record of 4hr 6min, but miscalculated and fell three minutes short. "I was a bit crushed," he says, "because we could have honestly kept going for another half an hour." Friends, bandmates and critics have all suggested he leave the audience wanting more, but he keeps going because he enjoys it so much, and because he thinks he owes it to the fans. "I still think of that person who's there thinking, 'I wish they wouldn't stop. I wish they wouldn't stop.'" Hyde Park, he warns (or promises), will be a relatively brisk two hours.In Between Days: Robert Smith and the Cure – in pictures
It has been a decade since the last Cure album, 4:13 Dream. "I've hardly written any words since then," Smith says glumly. "I think there's only so many times you can sing certain emotions. I have tried to write songs about something other than how I felt but they're dry, they're intellectual, and that's not me." He wistfully quotes a line from the Cure's The Last Day of Summer: "It used to be to so easy." Would he be disappointed if he never made another album? "I would now, yeah. Because I've committed myself to going into the studio and creating songs for the band, which I haven't done for 10 years. Meltdown has inspired me to do something new because I'm listening to new bands. I'm enthused by their enthusiasm. So if it doesn't work, I'll be pretty upset, because it will mean that the songs aren't good enough."
He has been revisiting old unused lyrics to see if he can repurpose any, but "some of them don't make any sense to me any more. It would be weird if I felt the same as I did when I was in my 20s. I'd be mental!"
How has his outlook changed? "It's slightly more cynical and slightly less optimistic, which is strange. I was very optimistic when I was young, even though I wrote very dismal songs, but now I'm kind of the opposite. I have a very dismal outlook on life." I hate how things have ended up in the last 20 years – there's a tone to this country that's changed for the worse
Smith worries that, at 59, he has become a reactionary who scorns social media, smartphones and the like. "I'm at war with a lot of the modern world," he says. "I really hate how things have ended up in the last 20 years. I don't know how it's happened. There's a certain tone to this country that's really changed for the worse." He's building a rant, but a melancholy one. "It's weird how the 70s is often referred to as a period of great unrest and the three-day week, blah, blah. It's bollocks. The period from the second world war to the 70s, we were on a great trajectory for equality and so forth. It's only since the end of the 70s, Maggie and Ronnie, that things have inexorably gone wrong. It's insane, people's lust for technology and new things." He sighs. "I'm just turning into a grumpy old man."
Smith is feeling his age in other ways. He notes that Tom Petty's last UK show before his death last year was also a 40th-anniversary concert in Hyde Park. "Last time we sold out places in America that we'd never sold out, even in the 80s," he says. "A darker part of me thinks they like watching us because they think I'm going to fall over and they're not going to get to see us again." He shakes off the joke. "I'm just being silly. It will stop, of course it will. I do wake up on a day like today and think, 'Am I really talking about this band, still?' I'm honestly astonished at how much love there is for the band. If you'd told me when we started, I would have been quite shocked." One more encore, then. Maybe two.
Meltdown festival runs from 15-24 June. The Cure play Hyde Park, London, on 7 July.
—-
Francis Schaeffer taught young people at L Abri in Switzerland in the 1950's till the 1980's (pictured below)
Francis Schaeffer noted:
I have lots of young people and older ones come to us from the ends of the earth. And as they come to us, they have gone to the end of this logically and they are not living in a romantic setting. They realize what the situation is. They can't find any meaning to life. It's the meaning to the black poetry. It's the meaning of the black plays. It's the meaning of all this. It's the meaning of the words "punk rock."
Francis Schaeffer pictured below in 1971 at L Abri
_
_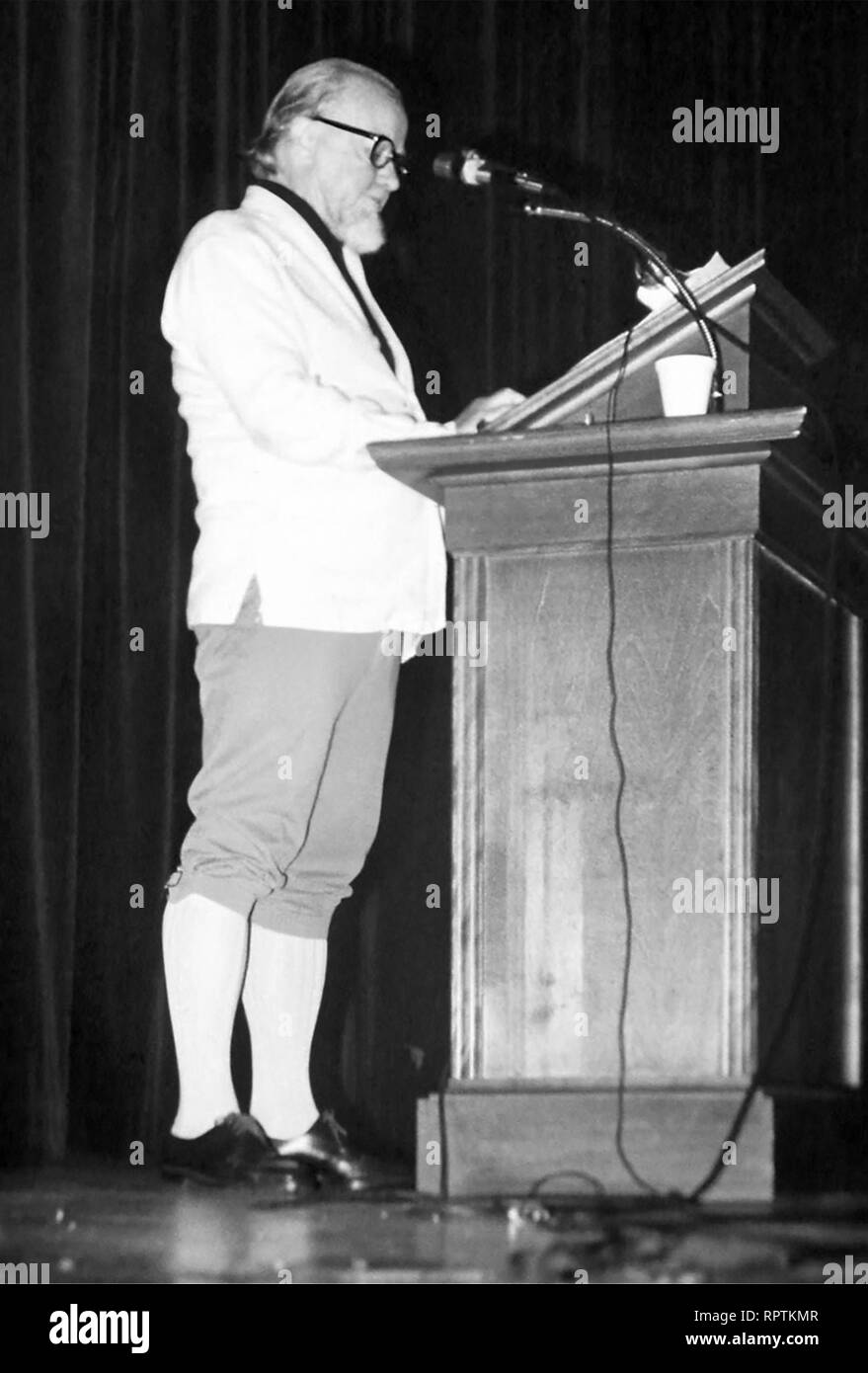 Dr. Francis Schaeffer at L'Abri Conference, Urbana, 1981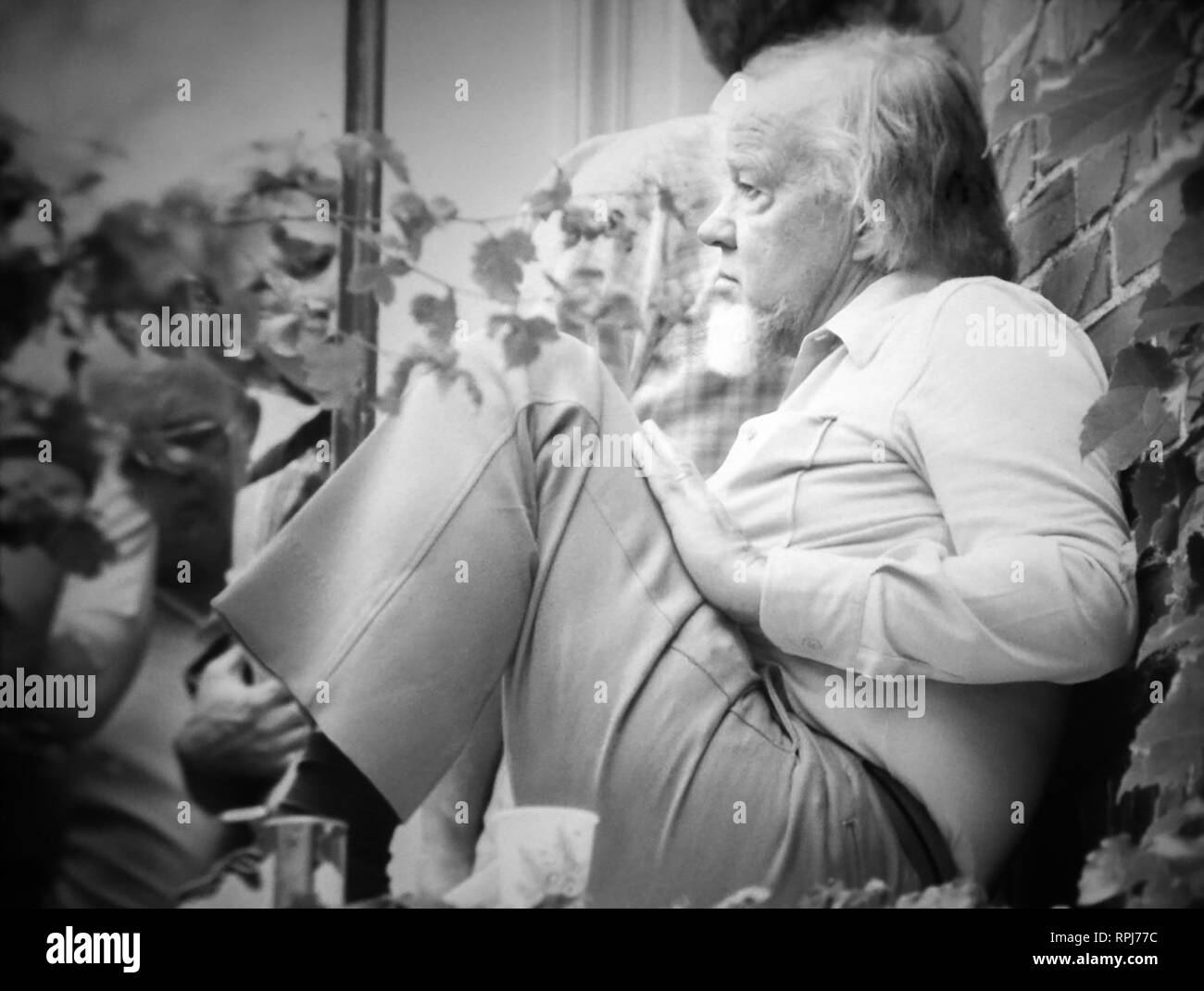 _
—-
—
"They are the natural outcome of a change from a Christian World View to a Humanistic one…
The result is a relativistic value system. A lack of a final meaning to life — that's first. Why does human life have any value at all, if that is all that reality is? Not only are you going to die individually, but the whole human race is going to die, someday. It may not take the falling of the atom bombs, but someday the world will grow too hot, too cold. That's what we are told on this other final reality, and someday all you people not only will be individually dead, but the whole conscious life on this world will be dead, and nobody will see the birds fly. And there's no meaning to life.
As you know, I don't speak academically, shut off in some scholastic cubicle, as it were. I have lots of young people and older ones come to us from the ends of the earth. And as they come to us, they have gone to the end of this logically and they are not living in a romantic setting. They realize what the situation is. They can't find any meaning to life. It's the meaning to the black poetry. It's the meaning of the black plays. It's the meaning of all this. It's the meaning of the words "punk rock." And I must say, that on the basis of what they are being taught in school, that the final reality is only this material thing, they are not wrong. They're right! On this other basis there is no meaning to life and not only is there no meaning to life, but there is no value system that is fixed, and we find that the law is based then only on a relativistic basis and that law becomes purely arbitrary.
—-
Here is a good review of the episode 016 HSWTL The Age of Non-Reason of HOW SHOULD WE THEN LIVE?, December 23, 2007:
Together with the advent of the "drug Age" was the increased interest in the West in the religious experience of Hinduism and Buddhism. Schaeffer tells us that: "This grasping for a nonrational meaning to life and values is the central reason that these Eastern religions are so popular in the West today." Drugs and Eastern religions came like a flood into the Western world. They became the way that people chose to find meaning and values in life. By themselves or together, drugs and Eastern religion became the way that people searched inside themselves for ultimate truth.
Along with drugs and Eastern religions there has been a remarkable increase "of the occult appearing as an upper-story hope." As modern man searches for answers it "many moderns would rather have demons than be left with the idea that everything in the universe is only one big machine." For many people having the "occult in the upper story of nonreason in the hope of having meaning" is better than leaving the upper story of nonreason empty. For them horror or the macabre are more acceptable than the idea that they are just a machine.
Francis Schaeffer has correctly argued:
The universe was created by an infinite personal God and He brought it into existence by spoken word and made man in His own image. When man tries to reduce [philosophically in a materialistic point of view] himself to less than this [less than being made in the image of God] he will always fail and he will always be willing to make these impossible leaps into the area of nonreason even though they don't give an answer simply because that isn't what he is. He himself testifies that this infinite personal God, the God of the Old and New Testament is there.
Instead of making a leap into the area of nonreason the better choice would be to investigate the claims that the Bible is a historically accurate book and that God created the universe and reached out to humankind with the Bible. Below is a piece of that evidence given by Francis Schaeffer concerning the accuracy of the Bible.
TRUTH AND HISTORY (chapter 5 of WHATEVER HAPPENED TO THE HUMAN RACE?, under footnote #94)
So the story goes on. We have stopped at only a few incidents in the sweep back to the year 1000 B.C. What we hope has emerged from this is a sense of the historical reliability of the Bible's text. When the Bible refers to historical incidents, it is speaking about the same sort of "history" that historians examine elsewhere in other cultures and periods. This borne out by the fact that some of the incidents, some of the individuals, and some of the places have been confirmed by archaeological discoveries in the past hundred years has swept away the possibility of a naive skepticism about the Bible's history. And what is particularly striking is that the tide has built up concerning the time before the year 1000 B.C. Our knowledge about the years 2500 B.C. to 1000 B.C. has vastly increased through discoveries sometimes of whole libraries and even of hitherto unknown people and languages.
There was a time, for example, when the Hittite people, referred to in the early parts of the Bible, were treated as fictitious by critical scholars. Then came the discoveries after 1906 at Boghaz Koi (Boghaz-koy) which not only gave us the certainty of their existence but stacks of details from their own archives!
—
Featured artist is Louise Despont
Related posts
Johnny Cash a Christian?May 23, 2012 – 10:32 amI got to see Johnny Cash perform in Memphis in 1978 and I actually knew his nephew very well. He was an outspoken Christian and evangelical. Here is an article that discusses this. Johnny Cash's Complicated Faith Dave Urbanski <!– var fbShare = { google_analytics: 'true', } tweetmeme_source = 'RELEVANTMag'; –> Unwrapping the enigma of […]By Everette Hatcher III | Posted in Current Events | Edit | Comments (0)Johnny Cash (Part 3)December 23, 2011 – 12:57 amI got to hear Johnny Cash sing in person back in 1978. Here is a portion of an article about his Christian Testimony. The Man Came Around A Walking Contradiction Cash's daughter, singer-songwriter Rosanne Cash, once pointed out that "my father was raised a Baptist, but he has the soul of a mystic. He's […]By Everette Hatcher III | Posted in Current Events | Tagged christian testimony, prayer of thanksgiving, seven deadly sins, spiritual element, walking contradiction | Edit | Comments (0)Johnny Cash (Part 2)December 22, 2011 – 12:55 amI got to hear Johnny Cash sing in person back in 1978 at a Billy Graham Crusade in Memphis. Here is a portion of an article about his Christian Testimony. The Man Came Around Cash also made major headlines when he shared his faith on The Johnny Cash Show, a popular variety program on ABC […]By Everette Hatcher III | Posted in Current Events | Tagged billy graham crusade, christian testimony, evangelist billy graham, folsom prison blues, kris kristofferson | Edit | Comments (0)Johnny Cash (Part 1)December 21, 2011 – 12:51 amI got to hear Johnny Cash sing in person back in 1978. Here is a portion of an article about his Christian Testimony. The Man Came Around Johnny Cash was not ashamed of his Christian faith—though it was sometimes a messy faith—and even got some encouragement from Billy Graham along the way. Dave Urbanski | […]By Everette Hatcher III | Posted in Current Events | Tagged conservative bible, dave urbanski, jesus of nazareth, nickel and dime, true vine | Edit | Comments (0)
People in the Johnny Cash video "God's Gonna Cut You Down"May 11, 2012 – 12:10 pmWikipedia noted: Johnny Cash recorded a version of "God's Gonna Cut You Down" on American V: A Hundred Highways in 2003, with an arrangement quite different from most known gospel versions of the song. A music video, directed by Tony Kaye,[1] was made for this version in late 2006. It featured a number of celebrities, […]By Everette Hatcher III | Posted in Current Events | Tagged Amy Lee, chris martin | Edit | Comments (0)