—-
After three columns on the topic in the past five weeks (see here, here, and here), I wasn't expecting to write again about school choice anytime soon, but this speech by State Senator Justin Wayne of Nebraska must be watched.
What a great idea! All politicians who vote against school choice have to send their kids to the crummy government schools in their states and districts.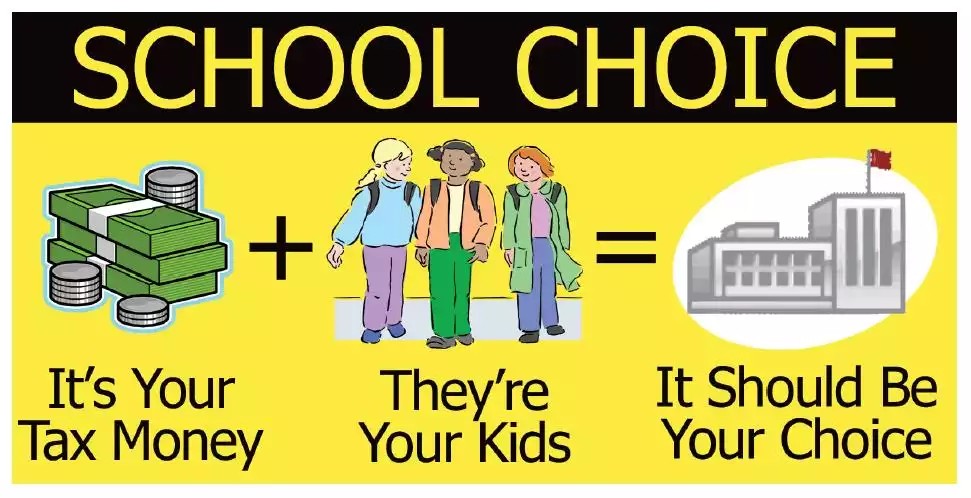 That wouldn't be good news for hypocrites like Barack Obama(and his Secretary of Education), Elizabeth Warren,Democratic congressional candidates, and the head of a teacher union.
Heck, we could create a giant list of all the rich leftists who exercise choice for their own children while voting to deny similar opportunities for kids from families that don't have lots of money.
And this is why I'm overjoyed that we have seen a lot of progress on the issue this year.
And it's continuing. Here are excerpts from an editorial in the Wall Street Journal about recent steps to expand choice in Florida.

Florida already has among the most expansive school-choice offerings in the nation, and this week the Legislature expanded private-school vouchers to more families. …The bill increases the eligible household income cap from 300% to 375% of the poverty level—about $100,000 for a family of four—though it prioritizes households under 185%. The enrollment cap will continue to escalate by 1% of public-school enrollment annually, allowing roughly 28,000 new students each year. …One of the bill's biggest boons is extending scholarships to students already in private school. …Florida is a haven for overtaxed northerners, but it's also an education refuge for low- and middle-income families.
Also in the Wall Street Journal, Paul Peterson of Harvard has a column on how government lockdowns have created an opening for expanded educational freedom.

President Biden wants credit for opening up the nation's schools within 100 days of taking office. …The big news at the 100-day mark isn't school opening but the revival of the school-choice movement. …school-choice advocates have scored big victories around the country. Indiana enlarged its voucher program. Montana lifted caps on charter schools. Arkansas now offers tax-credit scholarships to low-income students. West Virginia and Kentucky have funded savings accounts that help parents pay tuition at private schools. Florida, a movement leader, has enlarged its tax-credit scholarship programs. Even Rhode Island Gov. Dan McKee promises to veto a moratorium on new charter schools. …The pandemic is the driving force. The failure of the public schools to educate children in the past year has angered parents and policy makers. …the loss of learning and social connectivity produced by school closures has been devastating, especially for low-income minority children. …Survey data show a rise in the level of support over the past two years for vouchers, charters and tax-credit scholarships. Political leaders sense a change in the public mood. After aggressive unions and bewildered school boards shut down schools for a year, the choice bandwagon has begun to roll.
Let's hope that choice bandwagon rolls further. It will be great for kids.
And, given the importance of quality education for competitiveness, it will be great for the nation as well.
P.S. I'm disgusted by the hypocritical politicians who send their kids to private schools while voting against school choice for the rest of us. But I'm even more disgusted – and baffled – that the NAACP opposes school choice when minority children have the most to gain.
Milton Friedman's School Voucher Idea at 60
ByDAN LIPSJune 24, 2015 8:00 AM
From school choice to personalized lifelong learning.
Sixty years ago, Milton Friedman came up with a profound idea for improving education. Rather than paying public schools to educate the students in their districts, the future Nobel Laureate argued, the government should provide parents with vouchers to allow them to choose what school each child would attend.
In cities such as Milwaukee and Cleveland and Washington, D.C., and states such as Arizona and Florida and Indiana, families across America have benefited from programs designed to give families educational choice. Empirical evidence assessing these programs shows that allowing parents to choose their children's schools results in greater parental satisfaction, higher student test scores, and improved graduation rates.
But in 2015, the landscape of K–12 and higher education, as well as the economy and the labor market as a whole, are changing. And these changes require us to rethink how choice in education could best help children and adults succeed. Consider two key trends:
First, students of all ages now have unprecedented opportunities to benefit from affordable and high-quality learning experiences. In 2015, a student in the United States — or anywhere in the world — with an Internet connection has the opportunity to learn from a wide variety of terrific teachers.
Many schools are using technology to offer personalized and challenging forms of instruction. Brilliant educators like Salman Khan — the founder of Khan Academy — are providing lessons online, for free, for any student who is willing to do the work. Colleges like MIT and Stanford now offer coursework online for free and even award credentials to those who pass an exam.
For motivated students of all ages, learning is becoming a personalized journey that can happen any day, at any hour, at their own pace, not just within the walls of a traditional classroom or during the school year. Students will experience education through multiple channels, and not just from one school.
Second, it is becoming increasingly clear that the need to learn doesn't end with earning a diploma. Many adults who have traditional credentials like college degrees are struggling to find well-paying jobs. According to the New York Federal Reserve Bank, 44 percent of recent college graduates are in jobs that don't require a college degree. Some professions that once were secure livelihoods are being disrupted or replaced by machines, technologies, or new enterprises. As a result, many workers are being forced to acquire new skills in order to change careers.
What do these trends mean for Milton Friedman's original idea of using school vouchers to improve education?
We should be giving families control of the funds that they will spend on K–12 and higher education throughout their lives.
Instead of simply providing parents with the power to choose which school their child attends during a given school year, we should be giving them — and eventually the students themselves, when they reach adulthood — control of the funds that they will spend on K–12 and higher education throughout their lives. Rather than only allowing parents to answer the question of where a child goes to school, we should let students (or, initially, their parents) control where, when, how, and from whom they learn.
Five states, led by Arizona, have introduced state-funded education savings accounts that give families this control of K–12 funding. Parents can use funds in the account to pay for school tuition, tutoring, online classes, and instructional materials, and if there is anything left in a given year, to save it for future years. The state maintains proper oversight by tracking how funds are spent.
Nevada recently enacted a universal education-savings-account program that will offer the parents of all public-school students the chance to take direct control of their children's education in this way.
Besides these promising state efforts, Congress has an opportunity to begin giving families direct control over how their education funds are spent over the course of a lifetime. Congress could reform federal 529 savings plans, which allow tax-free saving for college, to include other allowable uses — from preschool and K–12 education to post-college job training.
Transforming 529 accounts into Lifelong Learning Education Savings Accounts would provide an immediate benefit to the families of the 12 million holders of 529 savings accounts. Use of the accounts would likely grow if other expenses were allowed, since 35 states and D.C. offer tax incentives for contributions into 529 accounts. Congress could also give families the option of receiving their share of federal education funds directly into an account if they forgo public programs such as Head Start. This would ensure that disadvantaged students also have the opportunity to benefit.
Parents should be thankful for Milton Friedman's vision for school choice, which has improved educational opportunities for millions. But in 2015, education savings accounts and lifelong learning offer a more promising answer to the question of how best to equip Americans to learn, succeed, and pursue happiness throughout their lives.
— Dan Lips is a fellow with the Goldwater Institute. In 2005, he wrote a paper for the Institute proposing the nation's first state-funded K–12 education-savings-account program for Arizona.
Related posts:
Michael Harrington: If you don't have the expertise, the knowledge technology today, you're out of the debate. And I think that we have to democratize information and government as well as the economy and society. FRIEDMAN: I am sorry to say Michael Harrington's solution is not a solution to it. He wants minority rule, I […] By Everette Hatcher III | Posted in Current Events, Milton Friedman | Edit | Comments (0)
PETERSON: Well, let me ask you how you would cope with this problem, Dr. Friedman. The people decided that they wanted cool air, and there was tremendous need, and so we built a huge industry, the air conditioning industry, hundreds of thousands of jobs, tremendous earnings opportunities and nearly all of us now have air […] By Everette Hatcher III | Posted in Current Events, Milton Friedman | Edit | Comments (0)
Part 5 Milton Friedman: I do not believe it's proper to put the situation in terms of industrialist versus government. On the contrary, one of the reasons why I am in favor of less government is because when you have more government industrialists take it over, and the two together form a coalition against the ordinary […] By Everette Hatcher III | Posted in Current Events, Milton Friedman | Edit | Comments (0)
The fundamental principal of the free society is voluntary cooperation. The economic market, buying and selling, is one example. But it's only one example. Voluntary cooperation is far broader than that. To take an example that at first sight seems about as far away as you can get __ the language we speak; the words […] By Everette Hatcher III | Posted in Current Events, Milton Friedman | Edit | Comments (0)
_________________________ Pt3 Nowadays there's a considerable amount of traffic at this border. People cross a little more freely than they use to. Many people from Hong Kong trade in China and the market has helped bring the two countries closer together, but the barriers between them are still very real. On this side […] By Everette Hatcher III | Posted in Current Events, Milton Friedman | Edit | Comments (0)
Aside from its harbor, the only other important resource of Hong Kong is people __ over 4_ million of them. Like America a century ago, Hong Kong in the past few decades has been a haven for people who sought the freedom to make the most of their own abilities. Many of them are […] By Everette Hatcher III | Posted in Current Events, Milton Friedman | Edit | Comments (0)
"FREE TO CHOOSE" 1: The Power of the Market (Milton Friedman) Free to Choose ^ | 1980 | Milton Friedman Posted on Monday, July 17, 2006 4:20:46 PM by Choose Ye This Day FREE TO CHOOSE: The Power of the Market Friedman: Once all of this was a swamp, covered with forest. The Canarce Indians […]
Milton Friedman The Power of the Market 1-5
If you would like to see the first three episodes on inflation in Milton Friedman's film series "Free to Choose" then go to a previous post I did. Ep. 9 – How to Cure Inflation [4/7]. Milton Friedman's Free to Choose (1980) Uploaded by investbligurucom on Jun 16, 2010 While many people have a fairly […]
By Everette Hatcher III | Also posted in Current Events | Tagged dr friedman, expansion history, income tax brackets, political courage, www youtube | Edit | Comments (0)
Charlie Rose interview of Milton Friedman My favorite economist: Milton Friedman : A Great Champion of Liberty by V. Sundaram Milton Friedman, the Nobel Prize-winning economist who advocated an unfettered free market and had the ear of three US Presidents – Nixon, Ford and Reagan – died last Thursday (16 November, 2006 ) in San Francisco […] By Everette Hatcher III | Posted in Milton Friedman | Edit | Comments (0)
Stearns Speaks on House Floor in Support of Balanced Budget Amendment Uploaded by RepCliffStearns on Nov 18, 2011 Speaking on House floor in support of Balanced Budget Resolution, 11/18/2011 ___________ Below are some of the main proposals of Milton Friedman. I highly respected his work. David J. Theroux said this about Milton Friedman's view concerning […] By Everette Hatcher III | Posted in Milton Friedman | Edit | Comments (0)
Milton Friedman: Free To Choose – The Failure Of Socialism With Ronald Reagan (Full) Published on Mar 19, 2012 by NoNationalityNeeded Milton Friedman's writings affected me greatly when I first discovered them and I wanted to share with you. We must not head down the path of socialism like Greece has done. Abstract: Ronald Reagan […] By Everette Hatcher III | Posted in Milton Friedman, President Obama | Edit | Comments (1)
What a great defense of Milton Friedman!!!! Defaming Milton Friedman by Johan Norberg This article appeared in Reason Online on September 26, 2008 PRINT PAGE CITE THIS Sans Serif Serif Share with your friends: ShareThis In the future, if you tell a student or a journalist that you favor free markets and limited government, there is […]