_
Bill Maher and Richard Dawkins
__
__
__
Francis and Edith Schaeffer at their home in Switzerland with some visiting friends
__
Schaeffer with his wife Edith in Switzerland.
Richard Dawkins and John Lennox
_
_
_
Dawkins, Hitchens, Dennett, Harris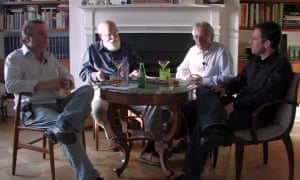 Canary Islands 2014: Harold Kroto and Richard Dawkins
__
Francis Schaeffer pictured below:
—
The Basis of Human Dignity by Francis Schaeffer
Richard Dawkins, founder of the Richard Dawkins Foundation for Reason and Science. Credit: Don Arnold Getty Images
—
Francis Schaeffer in 1984
Christian Manifesto by Francis Schaeffer
Francis Schaeffer in 1982
—-
Whatever Happened to the Human Race? Episode 1
—
—
–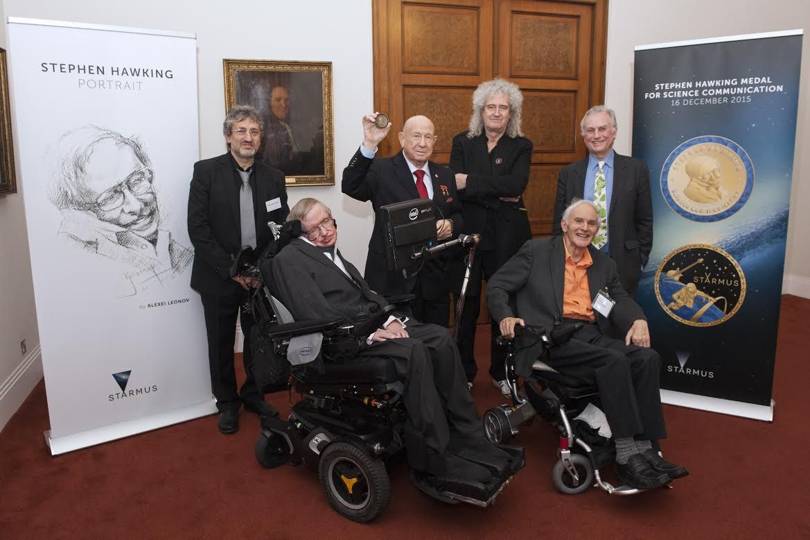 Garik Israelian, Stephen Hawking, Alexey Leonov, Brian May, Richard Dawkins and Harry Kroto
—-
—-
—-
—-
July 3, 2019
Richard Dawkins c/o Richard Dawkins Foundation,
Washington, DC 20005
Dear Mr. Dawkins,
It was a year ago after been disinvited to speech in Berkeley that you rightly stated:
I am known as a frequent critic of Christianity and have never been de-platformed for that. Why do you give Islam a free pass? Why is it fine to criticise Christianity but not Islam?
I agree that it was extremely sad that you were disinvited.
Since you are a Humanist, and in fact the Humanist of the Year in 2016, so I wanted to ask you about this idea of Evolution by Chance.
Manifesto I: Humanism believes that man is a part of nature and that he has emerged as a result of a continuous process.
Manifesto II: Rather, science affirms that the human species is an emergence from natural evolutionary forces.
Manifesto III: Humans are an integral part of nature, the result of unguided evolutionary change.
Did you know that Charles Darwin himself struggled until his his dying day with this idea of evolution by chance. (I am not referring to the now debunked deathbed confession spread by his wife.)
The Genius of Charles Darwin (A film that Richard Dawkinswrote and narrated.) Part 1 (37th min):
(Richard Dawkins) I've come to meet Randal Keynes, Darwin's great-great-grandson to try to understand Darwin's frame of mind as he finished his book.
(Randal Keynes) This is a book about geology by Mr Greenough. It has this wonderful inscription – "Charles Darwin, Buenos Aires,
October 1832." So he's on the Beagle, really getting into his stride as a geologist. This is a scrapbook,
a children's scrapbook that belonged to Darwin's daughter Annie.
(Richard Dawkins) Darwin was no aggressive polemicist. He didn't take to the stage
to publicise his work, but sought to influence leading thinkers behind the scenes, by sending them proof copies of the book with apologetic letters attached.' He would write things like,
"This vile rag of a theory of mine." Was that genuine modesty or was there an element of false modesty about it?
(Randal Keynes) It was entirely real, um, and this is a very strange point about him. Through the years when he was steeling himself for publication, um, he was, at different times, enormously confident in it, and at other times, he was utterly uncertain. He had a deep fear, I think, that one species would be discovered that had some element of its make-up that could only have been designed.
(Richard Dawkins) Doubts may have lingered in Darwin's mind, but finally, 150 years ago, he set out his ideas on evolution and how it worked in The Origin Of Species. The book sold out its first run of 1,250 copies within two days. has never been out of print since. The Origin turned our world upside down…..
—
The case is clear that Darwin did turn the world upside down, but is also true that he had deep doubts about his theory throughout his whole life.
In 1968, Francis Schaeffer (January 30, 1912 – May 15, 1984[1]) got a hold of an unabridged autobiography of Darwin that Nora Barlow has edited. Wikipedia noted concerning Barlow:
Her first book as editor was a new edition of The Voyage of the Beagle (1933).
She published an unexpurgated version of The Autobiography of Charles Darwin, which had previously had personal and religious material removed by his son, Francis.
Here are Schaeffer's comments on the autobiography:
Darwin in his autobiography Darwin, Francis ed. 1892. Charles Darwin: his life told in an autobiographical chapter, and in a selected series of his published letters [abridged edition]. London: John Murray, and in his letters showed that all through his life he NEVER really came to a QUIETNESS concerning the possibility that chance really explained the situation of the biological world. You will find there is much material on this [from Darwin] extended over many many years that constantly he was wrestling with this problem. Darwin never came to a place of satisfaction. You have philosophically ONLY TWO possible beginnings. The first would be a PERSONAL beginning and the other would be an IMPERSONEL beginning plus time plus CHANCE. There is no other possible alternative except the alternative that everything comes out of nothing and that has to be a total nothing and that has to be a total nothing without mass, energy or motion existing. No one holds this last view because it is unthinkable. Darwin understood this and therefore until his death he was uncomfortable with the idea of CHANCE producing the biological variation.
Darwin, C. R. to Graham, William 3 July 1881:
Nevertheless you have EXPRESSED MY INWARD CONVICTION, though far more vividly and clearly than I could have done, that the Universe is NOT THE RESULT OF CHANCE.* But THEN with me the HORRID DOUBT ALWAYS ARISES whether the convictions of man's mind, which has been developed from the mind of the lower animals, are of any value or at all trustworthy. Would any one trust in the convictions of a monkey's mind, if there are any convictions in such a mind?
Francis Schaeffer comments:
Can you feel this man? He is in real agony. You can feel the whole of modern man in this tension with Darwin. My mind can't accept that ultimate of chance, that the universe is a result of chance. He has said 3 or 4 times now that he can't accept that it all happened by chance and then he will write someone else and say something different. How does he say this (about the mind of a monkey) and then put forth this grand theory? Wrong theory I feel but great just the same. Grand in the same way as when I look at many of the paintings today and I differ with their message but you must say the mark of the mannishness of man are one those paintings titanic-ally even though the message is wrong and this is the same with Darwin. But how can he say you can't think, you come from a monkey's mind, and you can't trust a monkey's mind, and you can't trust a monkey's conviction, so how can you trust me? Trust me here, but not there is what Darwin is saying. In other words it is very selective.
Do you think Darwin was right to spend so much time exploring his doubts on this issue of Evolution by Chance?
The answer to find meaning in life is found in putting your faith and trust in Jesus Christ. The Bible is true from cover to cover and can be trusted. The world is not a result of blind chance, but we all were put here for a purpose by God. If you want to investigate the evidence concerning the accuracy of the Bible then I suggest you read Psalms 22 which was written about a thousand years before the crucifixion events it described. Furthermore, when King David wrote those words the practice of stoning was the primary way of executing someone in Israel. Thank you for your time.
Sincerely,
Everette Hatcher, everettehatcher@gmail.com, http://www.thedailyhatch.org, cell ph 501-920-5733, Box 23416, LittleRock, AR 72221,
Featured artist is Sean Scully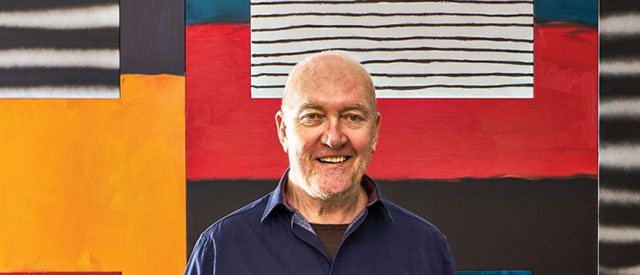 Sean Scully is an American artist. Born on June 30, 1945, in Ireland, Scully went to London to study art at the Central School of Art and Croydon College of Art. He followed his BA from Newcastle University in 1972.

He is known to the world for his abstract paintings composed of brushy layers and alternating colored squares or stripes. Sean's works do not have a reference. He draws from specific memories of places and objects. From my studio south of Munich I often get in the car and drive a few hours down to Venice. It was the impressions from these trips that I brought back into the studio; I was painting the memories of Venice into the works.
Scully went to the United States in 1975. He lives and works between New York, NY, Barcelona, Spain, and Munich, Germany. His works are held in the collections of the Tate Gallery in London, The Museum of Modern Art in New York, the Reina Sofia National Museum in Madrid, and the Walker Art Center in Minneapolis.

—-
Related posts:
On November 21, 2014 I received a letter from Nobel Laureate Harry Kroto and it said: …Please click on this URL http://vimeo.com/26991975 and you will hear what far smarter people than I have to say on this matter. I agree with them. Harry Kroto _________________ Below you have picture of 1996 Chemistry Nobel Prize Winner […]
The Beatles were "inspired by the musique concrète of German composer and early electronic music pioneer Karlheinz Stockhausen…" as SCOTT THILL has asserted. Francis Schaeffer noted that ideas of "Non-resolution" and "Fragmentation" came down German and French streams with the influence of Beethoven's last Quartets and then the influence of Debussy and later Schoenberg's non-resolution which is in total contrast […]
_______ On November 21, 2014 I received a letter from Nobel Laureate Harry Kroto and it said: …Please click on this URL http://vimeo.com/26991975 and you will hear what far smarter people than I have to say on this matter. I agree with them. Harry Kroto _________________ Below you have picture of 1996 Chemistry Nobel Prize […]
On November 21, 2014 I received a letter from Nobel Laureate Harry Kroto and it said: …Please click on this URL http://vimeo.com/26991975 and you will hear what far smarter people than I have to say on this matter. I agree with them. Harry Kroto ____________________ Below you have picture of 1996 Chemistry Nobel Prize Winner Dr. […]