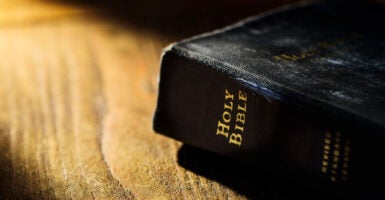 Conservatives often speak of Judeo-Christian values and how the current civil war in the United States and the rest of the West is essentially a battle between those values and the left, which rejects Judeo-Christian values.
They are right.
But they rarely explain what Judeo-Christian values are. Yet, without an explanation, mentioning Judeo-Christian values is useless.
So, let me do that now.
Want to keep up with the 24/7 news cycle? Want to know the most important stories of the day for conservatives? Need news you can trust? Subscribe to The Daily Signal's email newsletter. Learn more >>
First, a word about the term. Some Jews and Christians find the term confusing, if not objectionable, since Judaism and Christianity have different theologies. But no one speaks of Judeo-Christian theology, only of Judeo-Christian values.
Judeo-Christian values are essentially another term for biblical values. Judaism and Christianity are both based on the Old Testament—its God, its Ten Commandments, its admonition to love one's neighbor as oneself, to love God, to lead a holy life, etc.
Christians also believe in the New Testament, but only an opponent of Christianity would argue that the New Testament negates the values of the Old.
Here they are:
1. Objective moral standards come from God. As I have written and spoken about in a PragerU videoand elsewhere, if there is no God who declares murder wrong, murder can be subjectively wrong but not objectively wrong.
So, while there can certainly be nonbelievers who hold murder, stealing, and other actions wrong, without God, those are opinions, not moral facts. Without the God of the Bible, there are no moral facts.
2. God judges our behavior, and we are therefore accountable to God for our behavior. Outside of a religious worldview, there is no higher being to whom we are morally accountable.
3. Just as morality derives from God, so do rights. All men "are endowed by their Creator with certain unalienable Rights," declares the Declaration of Independence.
4. The human being is uniquely precious. While the Bible repeatedly forbids cruel behavior to animals (cutting or tearing off the limb of a living animal to eat it as a means of preserving the rest of the animal, not allowing an animal a day of rest, not allowing an animal to eat while working in the field), only human beings are created in God's image.
5. The world is based on a divine order, meaning divinely ordained distinctions. Among these divine distinctions are: God and man, man and woman, human and animal, good and evil, and nature and God.
6. Human beings are not basically good. Therefore, the most important moral endeavor is making good people. Religious Jews and Christians understand that the greatest battle in life is with one's nature. For the opponents of Judeo-Christian values, the greatest moral battle is not with one's nature; it is with society (specifically, American society).
7. Precisely because we are not basically good, we must not trust our hearts to lead us to proper behavior. The road to hell is paved with good hearts. Feelings make us human, but they cannot direct our lives. This alone divides the Bible-based from those on the left.
8. All human beings are created in God's image. Therefore, race is of no significance. We all emanate from Adam and Eve, whose race is never mentioned. That many religious people held racist views only testifies to the almost infinite ability of people to distort what is good.
9. Fear God, not man. Fear of God is a foundation of morality. In the Book of Exodus, Egyptian midwives were ordered by the Pharaoh to kill all newborn Hebrew boys. They disobeyed the divine king of Egypt. Why? Because "the midwives feared God." In America today, more people fear the print, electronic, and social media than fear God.
10. Human beings have free will. In the secular world, there is no free will because all human behavior is attributed to genes and environment. Only a religious worldview, which posits the existence of a divine soul—something independent of genes and environment—allows for free will.
11. Liberty. America was founded on the belief that God wants us to be free. On the Liberty Bell is inscribed just one thing (aside from the name of the company that manufactured the bell). It is a verse from the Bible: "Proclaim Liberty Throughout All the Land Unto All the Inhabitants thereof."
The current assaults on personal liberty—unprecedented in American history—emanate from those who reject the Bible as their moral guide (including more than a few Jews and Christians who have joined the assault, having been indoctrinated with anti-religious views in high school and college).
When Judeo-Christian principles are abandoned, evil eventually ensues. One doesn't have to be a believer to acknowledge this. Many secular conservatives recognize that the end of religion in the West leads to moral chaos—which is exactly what we are witnessing today and exactly what we witnessed in Europe last century.
When Christianity died in Europe, we got communism, fascism, and Nazism. What will we get in America if Christianity and Judeo-Christian values die?
COPYRIGHT 2021 CREATORS.COM
Dr. C. Everett Koop with Bill Graham.
Pt 1 of 2 Listen to this Important Message by Francis Schaeffer
Published on Sep 30, 2013
This message "A Christian Manifesto" was given in 1982 by the late Christian Philosopher Francis Schaeffer when he was age 70 at D. James Kennedy's Corral Ridge Presbyterian Church.
Listen to this important message where Dr. Schaeffer says it is the duty of Christians to disobey the government when it comes in conflict with God's laws. So many have misinterpreted Romans 13 to mean unconditional obedience to the state. When the state promotes an evil agenda and anti-Christian statues we must obey God rather than men. Acts
I use to watch James Kennedy preach from his TV pulpit with great delight in the 1980's. Both of these men are gone to be with the Lord now. We need new Christian leaders to rise up in their stead.
To view Part 2 See Francis Schaeffer Lecture- Christian Manifesto Pt 2 of 2 video
The religious and political freedom's we enjoy as Americans was based on the Bible and the legacy of the Reformation according to Francis Schaeffer. These freedoms will continue to diminish as we cast off the authority of Holy Scripture.
In public schools there is no other view of reality but that final reality is shaped by chance.
Likewise, public television gives us many things that we like culturally but so much of it is mere propaganda shaped by a humanistic world and life view.
_____________________________
I was able to watch Francis Schaeffer deliver a speech on a book he wrote called "A Christian Manifesto" and I heard him in several interviews on it in 1981 and 1982. I listened with great interest since I also read that book over and over again. Below is a portion of one of Schaeffer's talks  on a crucial subject that is very important today too.
A Christian Manifesto
by Dr. Francis A. Schaeffer
This address was delivered by the late Dr. Schaeffer in 1982 at the Coral Ridge Presbyterian Church, Fort Lauderdale, Florida. It is based on one of his books, which bears the same title.
Founding fathers believed gave us inalienable rights
———-
It should be noticed that this new dominant world view is a view which is exactly opposite from that of the founding fathers of this country. Now, not all the founding fathers were individually, personally, Christians. That certainly is true. But, nevertheless, they founded the country on the base that there is a God who is the Creator (now I come to the next central phrase) who gave the inalienable rights.

We must understand something very thoroughly. If society — if the state gives the rights, it can take them away — they're not inalienable. If the states give the rights, they can change them and manipulate them. But this was not the view of the founding fathers of this country. They believed, although not all of them were individual Christians, that there was a Creator and that this Creator gave the inalienable rights — this upon which our country was founded and which has given us the freedoms which we still have — even the freedoms which are being used now to destroy the freedoms.

The reason that these freedoms were there is because they believed there was somebody who gave the inalienable rights. But if we have the view that the final reality is material or energy which has existed forever in some form, we must understand that this view never, never, never would have given the rights which we now know and which, unhappily, I say to you (those of you who are Christians) that too often you take all too much for granted. You forget that the freedoms which we have in northern Europe after the Reformation (and the United States is an extension of that, as would be Australia or Canada, New Zealand, etc.) are absolutely unique in the world.

Occasionally, some of you who have gone to universities have been taught that these freedoms are rooted in the Greek city-states. That is not the truth. All you have to do is read Plato's Republic and you understand that the Greek city-states never had any concept of the freedoms that we have. Go back into history. The freedoms which we have (the form / freedom balance of government) are unique in history and they are also unique in the world at this day.

A fairly recent poll of the 150 some countries that now constitute the world shows that only 25 of these countries have any freedoms at all. What we have, and take so poorly for granted, is unique. It was brought forth by a specific world view and that specific world view was the Judeo-Christian world view especially as it was refined in the Reformation, putting the authority indeed at a central point — not in the Church and the state and the Word of God, but rather the Word of God alone. All the benefits which we know — I would repeat — which we have taken so easily and so much for granted, are unique. They have been grounded on the certain world view that there was a Creator there to give inalienable rights. And this other view over here, which has become increasingly dominant, of the material-energy final world view (shaped by pure chance) never would have, could not, has, no basis of values, in order to give such a balance of freedom that we have known so easily and which we unhappily, if we are not careful, take so for granted.

Related posts:

 Francis Schaeffer: "Whatever Happened to the Human Race" (Episode 1) ABORTION OF THE HUMAN RACE Published on Oct 6, 2012 by AdamMetropolis The 45 minute video above is from the film series created from Francis Schaeffer's book "Whatever Happened to the Human Race?" with Dr. C. Everett Koop. This book  really helped develop my political views […]