—-
As a public finance economist, I'm a huge fan of fiscal reforms such as a spending cap or a flat tax.
But, if asked to pick the reform that would have the biggest positive impact for the United States, I'd be very tempted to pick school choice.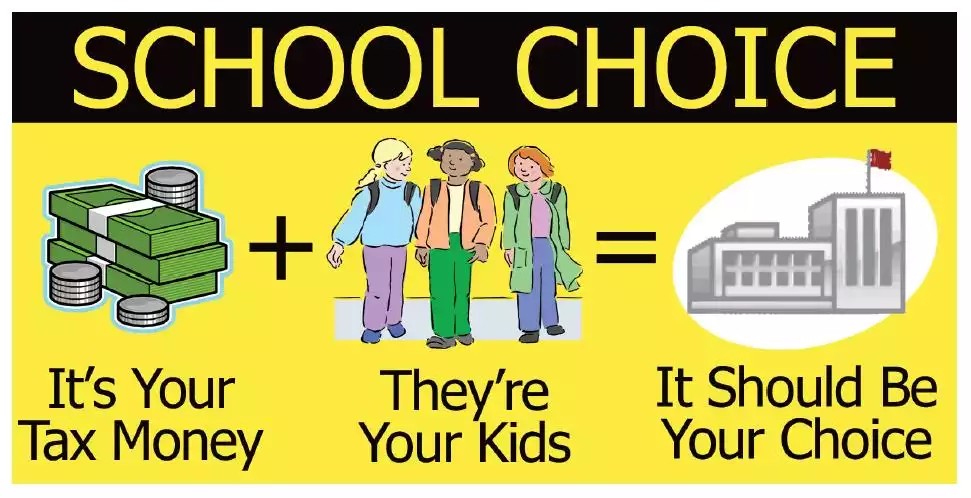 Largely because of the pernicious effect of teacher unions, government schools are doing a poor job of educating children. Especially considering the record amounts of money that's being dumped into the system.
Which is why I'm very excited that we're about to see a massive expansion of school choice in West Virginia.
The state legislature has enacted and the governor is expected to sign (fingers crossed!) legislation creating education savings accounts (ESAs) providing $4,600 per child.
These accounts, called Hope Scholarships, will be available to all families with kids in government schools (and every single new kindergarten student). Parents then can use the funds for private school tuition, homeschooling expenses, and a range of other approved items.
The state's leading think tank, the Cardinal Institute, has a primeron the issue.

ESAs allow parents to apply for eligible students to receive the state portion of education funds into a personal, parent-controlled account. Parents are then empowered to customize an education experience that meets the individual needs of their child, using their account to pay for approved services like tuition, therapy, tutoring, textbooks, and more.…the bill would extend ESAs to students who are enrolled in a public elementary or secondary school… parents will only be able to purchase approved items and services. This makes ESAs as—if not more—transparent than any other form of education spending. …The key aspect that distinguishes ESAs from vouchers is parent control and customization. Instead of the state sending funds directly from the state to a specific private school, the state instead deposits funds into a parent-controlled account. These funds can then be spent on wide array of approved education services, not only tuition
Corey DeAngelis and Neal McCluskey address some of the hot-button issues in an article for Reason.

West Virginia's public schools spend an average of $12,644 per child per year, while the estimated amount of funding that would follow the child under HB 2013 would be about $4,600. If the legislation becomes law, public schools would keep large amounts of funding for children even after they left,meaning they would end up with more money per child. …choice opponents in the state also are claiming that $4,600 is too low to cover private school tuition. But do those same people oppose Pell Grants just because they don't cover the full cost of attending many universities? …And $4,600 would actually go a long way in West Virginia as the average private school tuition in the state is just $6,068 and the average elementary school cost is $4,890. …The worst thing about anti-school choice myths is that they disproportionately prevent the least advantaged from access to much-needed education options.
Amen to the last point.
School choice should be the civil rights issue of the 21st century since black and brown kids are the biggest victims of the government school monopoly.
I'll close by observing that teacher unions traditionally have done a very good job of protecting their monopoly. Every time I think a state is poised to make progress on school choice (most recently in Pennsylvania and Colorado), the unions dump tons of money into campaigns so they can maintain their privileges.
Assuming West Virginia's Republican governor, Jim Justice, doesn't betray children by unexpectedly vetoing the legislation, the union win streak will have ended.
P.S. Here's a video explaining the benefits of school choice.
P.P.S. There's international evidence from Sweden, Chile, Canada, and the Netherlands, all of which shows superior results when competition replaces government education monopolies.
—-
Sound And FuryJanuary 19, 2018Richard MurnaneEmiliana Vegas
Education Secretary Betsy DeVos supports vouchers that allow parents to use taxpayer funds to help pay private-school tuition for their children. Like the noted economist Milton Friedman, she believes that parental choice and competition among schools to attract students in a voucher system would result in better education than that provided by public schools. A corollary of her and Friedman's perspective is that detailed regulations governing the operation of schools hinder their performance.
While there are many small-scale voucher programs in the United States operated by local communities or states, none has sufficient scale to shed light on the consequences of a universal voucher system. For such evidence we must turn to Chile, a country that shares the U.S.'s strong support for the operation of markets and its high degree of income inequality.
The effects of a nationwide, universal voucher program there show that unregulated school choice led to flat test scores and greater achievement gaps among rich and poor. Only when regulation was added did private school choice begin to deliver on its promise.
[Read More: The Consequences of Educational Voucher Reform in Chile]
In 1981, Chile introduced a universal educational voucher system for students in both its elementary and secondary schools that was very similar to the model Friedman proposed in 1955. Parents could use government-provided vouchers either to pay for a year of education at a public school or to contribute to the tuition charged by a private not-for-profit or profit-seeking school.
The financial value of the voucher did not depend on family income. Private schools that participated in the voucher program could decide what tuition to charge and which students to admit. In contrast, public schools were required to admit any students and could not charge tuition. This basic design of the voucher system remained in effect through 2007.
A number of scholars have examined the consequences of the introduction of vouchers in Chile. The percentage of students enrolled in public schools declined markedly, from 78 percent in 1980 to less than 50 percent in 2007. Student achievement in mathematics and Spanish, as measured on national tests, stagnated, and the gap between the average achievement of children from low- and middle-income families increased.
So did segregation of students by socio-economic background. Students from low-income families ended up attending different schools from those attended by children from more affluent families. If this were the end of the story from Chile, the lesson would be that advocates for improving the education received by children from low-income families should strongly oppose the introduction of vouchers. However, new evidence presents a more complicated picture.
[Read More: Vouchers in D.C.: Choosing Not to Choose]
In January 2008, the Chilean national legislature passed the Preferential School Subsidy Law (SEP) that dramatically altered the regulations governing the nation's educational voucher system. SEP recognized explicitly that it costs more to educate students from low-income families well, especially in schools serving large percentages of children living in poverty.
Under SEP, the vouchers provided to "Priority students," basically those whose families were in the bottom 40 percent of the income distribution, were worth 50 percent more than those provided to other students. In addition to the higher-valued vouchers, schools serving large percentages of Priority students received per-student concentration bonuses, the size of which depended on the percentage of Priority students in the school's student body.
To be eligible to receive the higher-valued vouchers and concentration bonuses, schools had to agree to three requirements of the SEP program. One was not to charge Priority students any tuition. A second was to agree not to select students based on their academic skills, nor expel them on academic grounds. A third requirement was that schools had to participate in a government-administered accountability system that, for the first time, made schools responsible for improving student test scores and for the use of financial resources.
Working with several colleagues, we examined the consequences of the change in the rules governing Chile's voucher system. We learned that the majority of for-profit private schools found SEP requirements unacceptable and initially decided not to participate. Most not-for-profit private schools and virtually all public schools did choose to participate.
[Read More: What We Know–and What We Need to Know–About Private School Choice]
In the first five years after the passage of SEP, the average test scores of Chilean fourth grade students from both low- and higher-income families increased markedly and income-based gaps in those scores declined by one-third. We found that the key mechanism responsible for these gains was the combination of increased financial support of schools and the SEP accountability system.
We also found that the movement of students away from public schools and into private schools continued under SEP, and that this trend held for low-income as well as those from higher-income families. The segregation of low-income students into different schools from those attended by higher-income students did not decrease in the first five years after the passage of SEP.
Some private schools specialized in serving low-income students, just as had been the case before the passage of SEP. But under SEP, these schools had much more money to work with as well as pressure to improve student test scores. Other private schools specialized in serving students from middle-class families and served relatively few Priority students.
Chile's long-term experience with universal voucher systems offers two lessons for policymakers concerned with improving the education of all American children, including those from low-income families. The first is that the rules governing the operation of a voucher system matter enormously.
[Read More: Managing School Choice…and the Hypocrisy Around It]
A voucher system that provides the same amount of money to every child and that relies solely on the operation of education markets to monitor the quality of schools is likely to result in more segregated schools and greater inequality of educational outcomes. In contrast, a voucher system that takes into account the especially high cost of educating well children from low-income families, especially when they are concentrated in particular schools, and that provides government monitoring of the performance of individual schools, may result in improved test scores for both low- and higher-income students and a closing of income-related achievement gaps.
The second lesson is that school choice is unlikely to reduce school segregation by income or race. School segregation by income increased in Chile under a voucher system that treated all students equally. It did not markedly decrease during the first five years of SEP, even though this voucher system provided significant financial incentives to schools to recruit students from low-income families. If reducing school segregation is a public policy goal, progress will require something other than providing parents with education vouchers.
Related posts:
Michael Harrington: If you don't have the expertise, the knowledge technology today, you're out of the debate. And I think that we have to democratize information and government as well as the economy and society. FRIEDMAN: I am sorry to say Michael Harrington's solution is not a solution to it. He wants minority rule, I […] By Everette Hatcher III | Posted in Current Events, Milton Friedman | Edit | Comments (0)
PETERSON: Well, let me ask you how you would cope with this problem, Dr. Friedman. The people decided that they wanted cool air, and there was tremendous need, and so we built a huge industry, the air conditioning industry, hundreds of thousands of jobs, tremendous earnings opportunities and nearly all of us now have air […] By Everette Hatcher III | Posted in Current Events, Milton Friedman | Edit | Comments (0)
Part 5 Milton Friedman: I do not believe it's proper to put the situation in terms of industrialist versus government. On the contrary, one of the reasons why I am in favor of less government is because when you have more government industrialists take it over, and the two together form a coalition against the ordinary […] By Everette Hatcher III | Posted in Current Events, Milton Friedman | Edit | Comments (0)
The fundamental principal of the free society is voluntary cooperation. The economic market, buying and selling, is one example. But it's only one example. Voluntary cooperation is far broader than that. To take an example that at first sight seems about as far away as you can get __ the language we speak; the words […] By Everette Hatcher III | Posted in Current Events, Milton Friedman | Edit | Comments (0)
_________________________ Pt3 Nowadays there's a considerable amount of traffic at this border. People cross a little more freely than they use to. Many people from Hong Kong trade in China and the market has helped bring the two countries closer together, but the barriers between them are still very real. On this side […] By Everette Hatcher III | Posted in Current Events, Milton Friedman | Edit | Comments (0)
Aside from its harbor, the only other important resource of Hong Kong is people __ over 4_ million of them. Like America a century ago, Hong Kong in the past few decades has been a haven for people who sought the freedom to make the most of their own abilities. Many of them are […] By Everette Hatcher III | Posted in Current Events, Milton Friedman | Edit | Comments (0)
"FREE TO CHOOSE" 1: The Power of the Market (Milton Friedman) Free to Choose ^ | 1980 | Milton Friedman Posted on Monday, July 17, 2006 4:20:46 PM by Choose Ye This Day FREE TO CHOOSE: The Power of the Market Friedman: Once all of this was a swamp, covered with forest. The Canarce Indians […]
Milton Friedman The Power of the Market 1-5
If you would like to see the first three episodes on inflation in Milton Friedman's film series "Free to Choose" then go to a previous post I did. Ep. 9 – How to Cure Inflation [4/7]. Milton Friedman's Free to Choose (1980) Uploaded by investbligurucom on Jun 16, 2010 While many people have a fairly […]
By Everette Hatcher III | Also posted in Current Events | Tagged dr friedman, expansion history, income tax brackets, political courage, www youtube | Edit | Comments (0)
Charlie Rose interview of Milton Friedman My favorite economist: Milton Friedman : A Great Champion of Liberty by V. Sundaram Milton Friedman, the Nobel Prize-winning economist who advocated an unfettered free market and had the ear of three US Presidents – Nixon, Ford and Reagan – died last Thursday (16 November, 2006 ) in San Francisco […] By Everette Hatcher III | Posted in Milton Friedman | Edit | Comments (0)
Stearns Speaks on House Floor in Support of Balanced Budget Amendment Uploaded by RepCliffStearns on Nov 18, 2011 Speaking on House floor in support of Balanced Budget Resolution, 11/18/2011 ___________ Below are some of the main proposals of Milton Friedman. I highly respected his work. David J. Theroux said this about Milton Friedman's view concerning […] By Everette Hatcher III | Posted in Milton Friedman | Edit | Comments (0)
Milton Friedman: Free To Choose – The Failure Of Socialism With Ronald Reagan (Full) Published on Mar 19, 2012 by NoNationalityNeeded Milton Friedman's writings affected me greatly when I first discovered them and I wanted to share with you. We must not head down the path of socialism like Greece has done. Abstract: Ronald Reagan […] By Everette Hatcher III | Posted in Milton Friedman, President Obama | Edit | Comments (1)
What a great defense of Milton Friedman!!!! Defaming Milton Friedman by Johan Norberg This article appeared in Reason Online on September 26, 2008 PRINT PAGE CITE THIS Sans Serif Serif Share with your friends: ShareThis In the future, if you tell a student or a journalist that you favor free markets and limited government, there is […]