–
I've been warning that the United States should not copy Europe's fiscal policy, largely because living standards are significantly lower in nations with large welfare states.
That's true if you look at average levels of consumption in different nations, but the most compelling data
is the fact that lower-income people in the United States generally enjoy living standards that are equal to or even higher than those for middle-class people in most European countries.
A bigger burden of government is not just a theoretical concern. President Biden has already pushed through a $1.9 trillion spending bill that includes some temporary provisions – such as per-child handouts – that, if made permanent, could add several trillion dollars to the burden of government spending.
And the White House has signaled support for $3 trillion of additional spending for items such as infrastructure, green energy, and other boondoggles.
This doesn't even count the cost of other schemes, such as the "public option" that would strangle private health insurance and force more people to rely on an already-costly-and-and bankrupt government program.
So what will it mean for America if our medium-sized welfare state morphs into a European-style large welfare state?
The answer to that question is rather unpleasant, at least if some new research from the Congressional Budget Office is any indication. The study, authored by Jaeger Nelson and Kerk Phillips, considers the impact on growth based on six different scenarios (based on how much the spending burden increases and what taxes are increased).
If permanent spending is financed by new or increased taxes, then those taxes influence people's decisions about how much to work and save. Those decisions then affect how much the economy produces and businesses invest and, ultimately, how much people can consume. Different types of taxes have different economic effects. Taxes on labor income reduce after-tax wages, so they reduce the return on each additional hour worked. …Higher taxes on capital income, such as dividends and capital gains, lower the average after-tax rate of return on private wealth holdings (or the return on investment), which reduces the incentive to save and invest and leads to reductions in saving, investment, and the capital stock. …we compare the effects of raising additional revenues through three illustrative tax policies: a flat tax on labor income, a flat tax on all income (including both labor and capital income), and a progressive tax on all income. The additional revenues generated by these policies are in addition to the revenues raised by taxes that already exist and are used to finance two specific increases in government spending. The two increases in government spending are set to 5 percent and 10 percent of GDP in 2020.
Here are some of the key results, as illustrated by the chart.
The least-worst result (the blue line) is a decline in GDP of about 3 percent, and that happens if the spending burden expand by 5-percentage points of GDP and is financed by a flat tax.
The worst-worst result (dashed red line) is a staggering decline in GDP of about 10 percent, and that happens if the spending burden climbs by 10-percentage points and is financed by a progressive tax.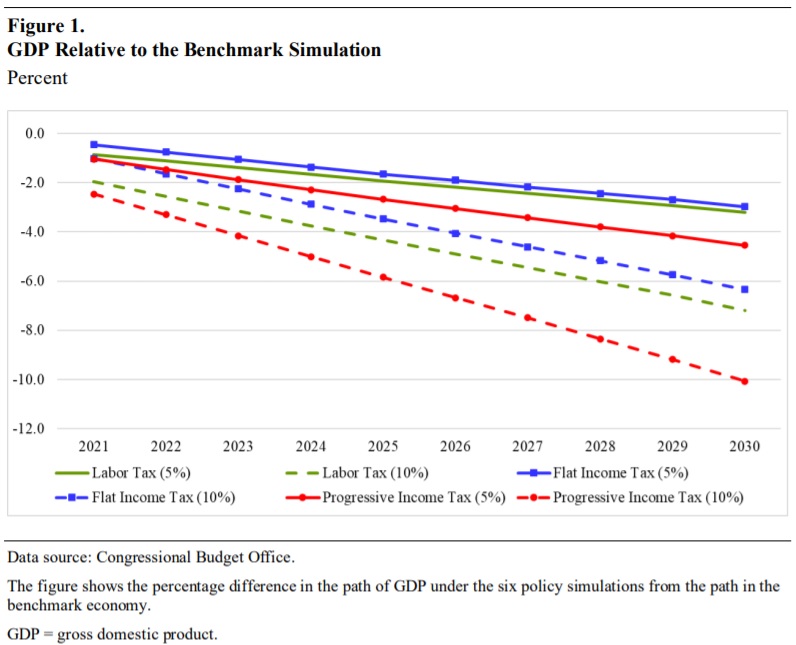 Here's some additional analysis, including a description of why progressive taxes impose the most damage.
This paper shows that flat labor and flat income tax policies have similar effects on output; labor taxes reduce the labor supply more, and income taxes reduce the capital stock more. For all three policies, the decline in income contracts the tax base considerably over time. As a result, to continuously generate enough revenues to finance the increase in government spending in each year, tax rates must steadily increase over time to account for the decline in the tax base. Moreover, labor and capital taxes put upward pressure on interest rates by reducing the capital-to-labor ratio over time… The largest declines in economic activity among the financing methods considered occur with the progressive tax on all income. Those declines occur because high-productivity workers reduce their hours worked and because higher taxes on asset income reduce the incentive to save and invest relatively more than under the two flat taxes.
There's lots of additional information in the study, but I definitely want to draw attention to Table 4 because it shows that lower-income people will suffer big reductions in living standards if there's an increase in the burden of government spending (circled in red).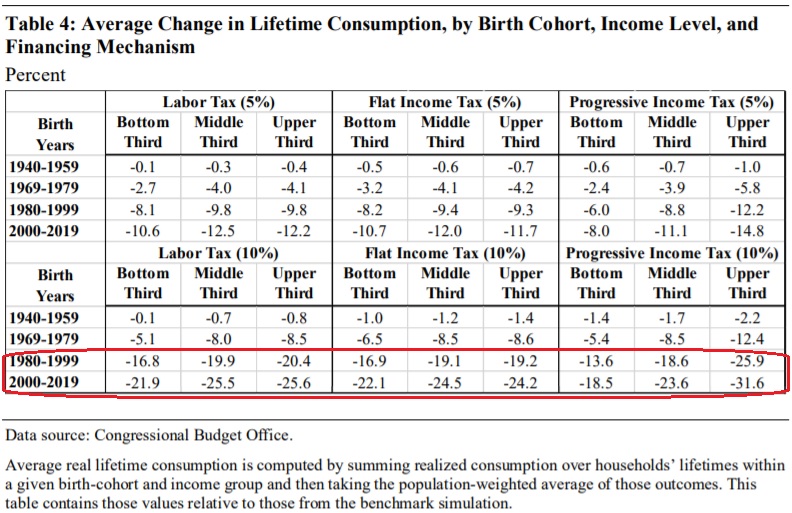 What makes these results especially remarkable is that the authors only look at the damage caused by higher taxes.
Yet we know from other research that the economy also will suffer because of the higher spending burden. This is because of the various ways that growth is reduced when resources are diverted from the productive sector to the government.
For background, here's a video on the theoretical reasons why government spending hinders growth.
 —
—
—
P.S. The CBO study also points out that financing new spending with a value-added tax wouldn't avert economic damage.
…by reducing the cost of time spent not working for pay relative to other goods, a consumption tax could reduce hours worked through a channel like that of a tax on labor.
For what it's worth, even the pro-tax International Monetary Fund agrees with this observation.
P.P.S. It's worth noting that the CBO study also shows that young people will suffer much more than older people.
…older cohorts, on average, experience smaller declines in lifetime consumption than younger cohorts
Which raises an interesting question of why millennials and Gen-Zers don't appreciate capitalism and instead are sympathetic to the dirigiste ideology that will make their lives more difficult.
While I freely self-identify as a libertarian, I don't think of myself as a philosophical ideologue.
Instead, I'm someone who likes digging into data to determine the impact of government policy. And because I've repeatedly noticed that more government almost always leads to worse outcomes, I've become a practical ideologue.
In other words, when looking at at an issue, I now have a default assumption that government is going to be the problem, not the solution.
I think more people will share my viewpoint if they peruse this chart from Mark Perry.
It shows changes in prices for selected goods and services over the past 21 years, and the inescapable conclusion (as I noted when writing about the 2014 version of his chart) is that we get higher relative prices in sectors where there's the most government intervention.
Especially healthcare and higher education.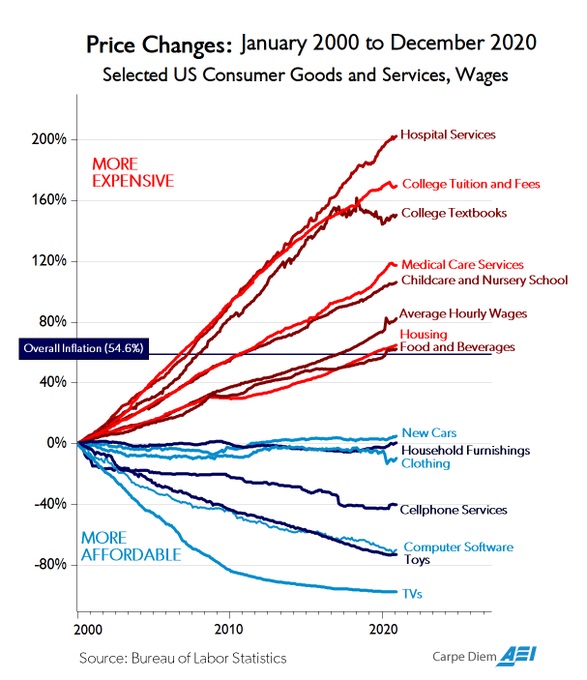 By contrast, we see falling relative prices (and sometimes falling absolute prices!) in sectors where there is little or no government intervention.
Here's some of Mark's description of what we can learn from his chart.
I've updated the chart above with price changes through the end of last year. During the most recent 21-year period from January 2000 to December 2020, the CPI for All Items increased by 54.6% and the chart displays the relative price increases over that time period for 14 selected consumer goods and services, and for average hourly wages.…Various observations that have been made about the huge divergence in price patterns over the last several decades… The greater (lower) the degree of government involvement in the provision of a good or service the greater (lower) the price increases (decreases) over time, e.g., hospital and medical costs, college tuition, childcare with both large degrees of government funding/regulation and large price increases vs. software, electronics, toys, cars and clothing with both relatively less government funding/regulation and falling prices.
By the way, I can't resist also calling attention to Mark's data on what's happened over time to prices for various health care services and procedures.
We find that prices have skyrocketed in areas of the healthcare sector where government plays a big role, especially hospital care.
By contrast, prices have been steady (or even falling!) in areas of the healthcare sector where competitive markets are allowed to operate, most notably for cosmetic procedures.
It's almost as if it makes sense to have a default assumption that government is the problem rather than the solution.
P.S. While the data in Mark's chart tell a depressing story about the harmful effect of government intervention, he shares one bit of good news in his article.
The annual increase in college tuition and fees of only 1.4% last year was the smallest annual increase in the history of the CPI for college tuition and fees going back to 1978, and the only annual increase ever below 2%. That increase is far below the average annual increase in college tuition of nearly 7% over the last 42 years. So perhaps the "higher education bubble" is finally starting to show signs of deflating?
I hope he's right, but worry he's wrong.
P.P.S. Sadly (but predictably), some people seem to thinkgovernment-caused price increases are a reason to support more government intervention.
How are we going to attack the healthcare costs in this country? 1st, we raise deductibles and 2nd, we attack the "Third Party" payment party.
If people have to pay directly for a large part of their healthcare costs then they will be more frugal when they can.
The 4 Ways to Spend Money by Milton Friedman
Uploaded by Sidewinder77 on Aug 26, 2006
1. You spend your own money on yourself.
2. You spend your own money on someone else.
3. You spend someone else's money on yourself.
4. You spend someone else's money on someone else.
___________
You can spend your own money on yourself. When you do that, why then you really watch out what you're doing, and you try to get the most for your money.
You can spend your own money on somebody else. For example, I buy a birthday present for someone. Well, then I'm not so careful about the content of the present, but I'm very careful about the cost.
I can spend somebody else's money on myself. And if I spend somebody else's money on myself, then I'm sure going to have a good lunch!
I can spend somebody else's money on somebody else. And if I spend somebody else's money on somebody else, I'm not concerned about how much it is, and I'm not concerned about what I get.
Via Joshua Kaufman.
_______________
I like to think that very few people despise Obamacare more than me.
I don't like Obamacare because it's a fiscal boondoggle.
I don't like Obamacare because it's bad healthcare policy.
I don't like Obamacare because it generated an embarrassingly bad decision by the Supreme Court.
I don't like Obamacare because it is driving people out of the labor force and into government dependency.
I don't like Obamacare because it has increased corruption in Washington.
And I don't like Obamacare because it further enriches and empowers Washington's political class.
But I also like being honest and that means I'm willing to acknowledge that there's one small part of Obamacare that will have a positive impact.
More specifically, the so-called Cadillac tax on expensive employer-provided health plans will slightly reduce the distortion in the tax code that encourages over-insurance and exacerbates the healthcare system's pervasive third-party payer problem.
Indeed, we're seeing some signs of this already, even though the tax preference isn't capped until 2018. Here are some excerpts from a story published by Fox News, starting with a description of the law.
…companies desperate to avoid a 40 percent ObamaCare "Cadillac tax" are finding ways to shift the costs to workers. The so-called "Cadillac tax," now four years away, will affect health plans that spend more than $10,200 per worker. "The excise tax, when it hits in 2018, will affect both employers and employees,"said Brian Marcotte, president of the National Business Group on Health.
Allow me to make an important correction before sharing other parts of the story.
Companies aren't shifting costs to workers. The money currently spent on health insurance policies is part of total employee compensation.
Think of it this way. If a company hires you for a salary of $50,000 and also includes a $10,000 health insurance policy, what's your total compensation?
If you give an answer other than $60,000, you're either very bad at math or you have the logic skills of a politician.
So the story should have stated that the Cadillac tax is merely making workers more aware of costs that already exist.
Thanks for letting me vent. Now back to our main point, which is that the Cadillac tax discourages overinsurance, and this is already leading to some positive changes in the marketplace.
Employees will get incentives to reduce costs through such arrangements as wellness programs, including losing weight or stopping smoking. Meanwhile, employers are shifting workers into plans with higher deductibles, just as ObamaCare does in the health care exchanges, and using health savings accounts to help defray the costs.
I'm particularly happy that employers and employees are shifting to plans with higher deductibles. As I've explained before, health insurance should cover large, unanticipated costs, such as the onset of cancer or getting injured in a car wreck.
But it shouldn't cover annual checkups, elective surgery, and other routine and/or predictable expenses.
And we have one other bit of good news. The tax isn't going to raise nearly as much money as the politicians wanted!
The "Cadillac tax" was originally intended to take effect sooner, but unions and other groups convinced officials to delay it until 2018, reducing the anticipated income from $137 billion to $80 billion over ten years. But many analysts predict it will be far less than that. Henry Aaron of the Brookings Institution said, "before then, it's expected that most of the businesses that offer that form of insurance will back off and make the insurance less generous, so the tax won't bite." …if employers are able to avoid it and less than expected is collected, ObamaCare could fall tens of billions short in paying for itself as promised.
I should hasten to add, by the way, that I'm glad that Obamacare isn't paying for itself since that simply means lots of taxes to accompany all the additional spending.
I'd be even happier, of course, if we could figure out how to get rid of all the spending as well.
Just in case folks are thinking I've gone soft, let's close today's post with some humor directed at the rest of Obamacare.
Since the IRS is a big part of Obamacare, here's a particularly good bumper sticker that shares a line with the above poster.
Here's a poster mocking the delightful fiscal impact of the law.
Though whoever put this together should have been careful of using The Joker.
I like this next poster since it highlights how politicians have exempted themselves from the law.
Last but not least, here's Dr. Obama making a cameo appearance.
Ah, the IRS shows up again. Do you sense a theme?
And don't forget the IRS bureaucrats want to be exempt from the law as well.
P.S. If you're a glass-one-tenth-full person, here's some other good news about Obamacare.
________________
To be fair here is the opposite point of view from the Huffington Post:
The Affordable Care Act, in its brief time on this earth, has endured its share of storm and stress. The bungled rollout of the federal online interface cost proponents lots of political capital. There have been high-wire legal challenges to surmount. While public approval of the law's ends remains steadily high, the popularity of the law itself is often recorded as lacking. There have been uneasy periods for Obamacare's chief proponents as they've waited for enrollment milestones to be reached and rate-hike hysteria to be put to bed. (There's recent news on that front, actually.) And as the law promises so much, over such a long time frame, there will be more uneasy periods to endure for the lawmakers who put their stamp on the reform.
But the simple fact is that some lawmakers voted for Obamacare and some voted against it, and there's only so far any of them can run from their decision. That's why I've had the occasion to talk about "the Obamacare bet." The bill's opponents have largely settled on a claim: The law is going to fail and their admonitions against it will be proven wise and correct. The bill's supporters should go ahead and stake the opposite claim. Many of those who supported the bill, however, have been reluctant to go "all in" on the decision they made. Especially among those who voted for the law and have since found themselves in a tough electoral race.
Today, however, comes a change. As Greg Sargent reports over at The Plum Line, Sen. Mark Pryor (D-Ark.) — currently in a tough re-election race against his Republican opponent, Rep. Tom Cotton — is up with a new ad in which he heralds his yes vote on the Affordable Care Act. You can watch the spot and read the transcript below. While Pryor doesn't exactly go "all in," he lays more of his chips on the felt.
DAVID: When Mark was diagnosed with cancer, we thought we might lose him.

MARK: My family and my faith helped me through the rough times.

DAVID: But you know what? Mark's insurance company didn't want to pay for the treatment that ultimately saved his life.

MARK: No one should be fighting an insurance company while you're fighting for your life. That's why I helped pass a law that prevents insurance companies from canceling your policy if you get sick or denying coverage for pre-existing conditions.
(David, by the way, is Mark's dad as well as a former senator from and governor of Arkansas.)
Now Mark Pryor's ad could have been a bit bolder. You'll note that nowhere does he say the words "Obamacare" or "Affordable Care Act," just that he "pass[ed] a law." Of course, he does make mention of the law's most popular features — it prevents people from getting kicked off plans when the time comes to avail themselves of their coverage, and it ends the practice of denying coverage for pre-existing conditions. It's hard to imagine voters tolerating a return to the status quo ante, which is one of the reasons that it's been so devilish for the law's opponents to craft an alternative.
Pryor may have buried the lead in this ad, in fact. As Gallup reported earlier this month, Arkansas leads "all other states in the sharpest reductions in their uninsured rate among adult residents since the healthcare law's requirement to have insurance took effect at the beginning of the year."
Republicans will undoubtedly cast this as an acknowledgment that their attacks on Pryor over the law are working and could no longer be ignored. They'll argue Pryor is, in desperation, using his faith and personal experience as a shield against those attacks. But this misses what's really going on here. This ad is actually coming at a point where there are signs the anti-Obamacare fires are cooling somewhat. GOP advertising against the law has fallen off sharply, and is surprisingly low in Arkansas.
This is correct. As Bloomberg News' Heidi Pryzbyla reported earlier this week, Republicans have cut way back on on ads that attack Obamacare, in "a sign that the party's favorite attack against Democrats is losing its punch." Pryzbyla continues:
The shift — also taking place in competitive states such as Arkansas and Louisiana — shows Republicans are easing off their strategy of criticizing Democrats over the Affordable Care Act now that many Americans are benefiting from the law and the measure is unlikely to be repealed.

"The Republican Party is realizing you can't really hang your hat on it," said Andrew Taylor, a political science professor at North Carolina State University. "It just isn't the kind of issue it was."
There is a good reason for this shift. As Matt Yglesias pointed out back in June, the "phony Obamacare debate" — the one that broadly alleged that death panels existed, that the fubar launch of the federal website was the law's death knell, that enrollment numbers would be way off target — has run its course, leaving only the most fundamental debate of all:
[Obamacare] is a large-scale effort to improve living standards for people in the bottom half of the income distribution by giving them additional economic resources. One of America's political parties doesn't like that idea in any non-health context and they don't like it for health care either. They think the money it costs to provide those subsidies should be taken away, and it should be given to high-income households in the form of tax cuts.

This is an excellent and important policy debate to have. One of the great ideological issues not just of our time and place, but of democratic politics across eras and countries. Should economic resources be distributed more equally or less equally?
Since Yglesias wrote that piece, we've seen a brief return to the "phony" debate, thanks to a pair of judges on the D.C. Circuit appeals court, who issued a ruling in the Halbig v. Burwell case contending that (to quote Simon Maloy in Salon) "a single poorly worded snippet of the Affordable Care Act invalidates subsidies for people who purchased health coverage through the federal exchanges." As Maloy inventively points out, this is a hilariously bad-faith argument to make, akin to George Costanza's "Moops" argument in "Seinfeld":
Beyond that, however, we are ultimately left with the discussion that Yglesias mentions as the real underlying debate: whether it is right and proper to redistribute money from the top to the bottom so that those on the lower rungs of the economic ladder can live and work longer without going into catastrophic debt.
This argument's signature virtue is that — unlike all the "death panels" and doom-saying — it is, legitimately, a good-faith argument. Which may cause one to wonder: Why has it taken so long to burn off all the bad-faith arguments and get down to the real bone of contention? I'd posit that arguing that poor people aren't morally fit enough to deserve health insurance lacks a certain salability outside the Ayn Rand set.
With that in mind, you might think it's strange that so many of Obamacare's proponents have seemed reluctant to take "the Obamacare bet." I agree! It's strange. From my perspective, the die has long been cast, so lawmakers who affirmed the bill with their vote may as well own it. Pryor's ad suggests that perhaps those lawmakers long deemed to be vulnerable due to their votes on the Affordable Care Act may be coming around to this position.
None of this should cause you to expect some sort of sea change in the overall fundamentals of the 2014 election. The GOP is still in great shape for the midterms, and they may even discover that they don't need an anti-Obamacare blitz to win in November. But that's really just an even better reason for vulnerable lawmakers who supported the Affordable Care Act to put some sustained ballyhoo behind their decision to vote for the law. Win or lose, may as well remind people where you stood. Pryor's effort is a lot bolder than most.
[Would you like to follow me on Twitter? Because why not?]
Related posts: