—
Here are four things to understand about poverty and dependency.
Now let's add a fifth item.
The United States adopted welfare reform in the mid-1990s.
Today's column examines whether this was a bad development or good development.
We'll start with a harsh critic.
In his column for the New York Times, Charles Blow wants Democrats to repeal Clinton's welfare reform.
Clinton's record, particularly with respect to Black and brown Americans and the poor, was marked by catastrophic miscalculation. …the welfare reform bill, …Clinton promised would "end welfare as we know it." One of its central provisionswas block-grant assistance to the states. …the Center for Budget and Policy Priorities pointed out in 2020, the block grant to states "has been set at $16.5 billion each year since 1996; as a result, its real value has fallen by almost 40 percent due to inflation." …With the passage of the "American Rescue Plan," the Democrats, alone, took another major step away from the mistakes of the Clinton legacy by increasing aid to families with children and to workers.
Reading the column, it seems like blacks must have suffered immensely because of the 40 percent reduction in the block grant.
But now let's consider whether welfare reform was a good thing.
According to the data, the answer is yes. This chart, based on the Census Bureau's data (specifically Table B-5), shows that the poverty rate for African Americans has declined since welfare reform was enacted.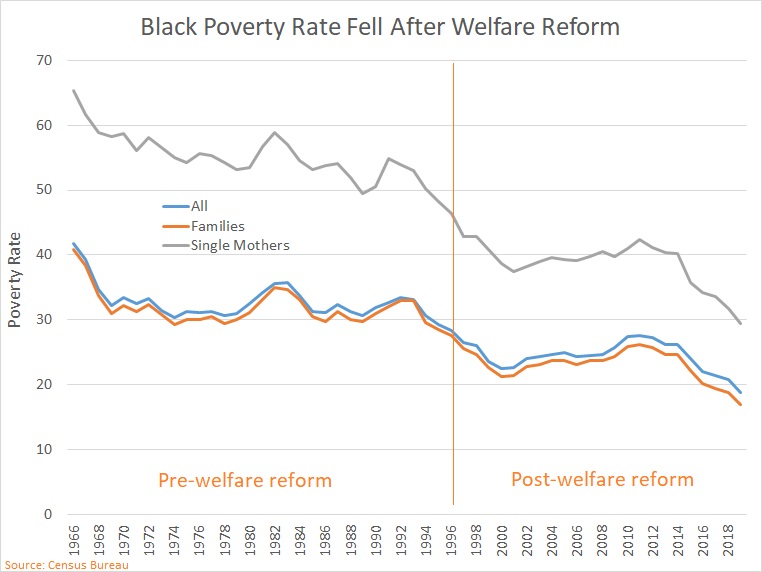 To be sure, one could argue that the post-welfare reform decline was simply a continuation of a positive trend. But that doesn't change the fact that there's certainly no evidence that the 1996 legislation led to bad results.
Moreover, research from the Brookings Institution makes a persuasive case that welfare reform deserves credit for some of the post-1996 progress.
Why? Because it sent a message – both practically and rhetorically – that permanent dependence on Uncle Sam was a bad thing. As a result, more people entered the workforce and poverty dropped.
That seems like a result that should be celebrated.
Unfortunately, Biden's so-called American Rescue Plan contains big per-child handouts that are not dependent on being in the workforce.
The only silver lining to that dark cloud is that the handouts are only for 2021.
But the pro-redistribution crowd already is clamoring to make that provision a permanent giveaway. To paraphrase Bill Clinton, they want to "restore welfare as we knew it."
P.S. Based on what I've read in his columns, Charles Blow is a hard-core leftist on economic issues. But he's semi-reasonable on gun rights, so that's one point in his favor.
P.P.S. Welfare reform is just one example of the good policiesthat were enacted during the Clinton years.
P.P.P.S. We can learn lessons about welfare and dependency by looking at data from Europe and Canada.
President Clinton Signing the Balanced Budget Bill (1997)
Newt Gingich Explains How He Balanced the Budget as Speaker of the House
Ronald Reagan Talks About Balancing the Budget on Johnny Carson's Tonigh…
President Reagan's Remarks on Balanced Budget Amendment on July 12, 1982
—-
—
February 22, 2021
Office of Barack and Michelle Obama
P.O. Box 91000
Washington, DC 20066
Dear President Obama,
I wrote you over 700 letters while you were President and I mailed them to the White House and also published them on my blog http://www.thedailyhatch.org .I received several letters back from your staff and I wanted to thank you for those letters.
I have been reading your autobiography A PROMISED LAND and I have been enjoying it.
Let me make a few comments on it, and here is the first quote of yours I want to comment on:
The realignment Johnson foresaw ended up taking longer than he had expected. But steadily, year by year—through Vietnam, riots… and Nixon's southern strategy; through busing, Roe v. Wade, urban crime, and white flight; through affirmative action, the Moral Majority, union busting, and Robert Bork; through assault weapons bans and the rise of NEWT GINGRICH …and the Clinton impeachment—America's voters and their representatives became more and more polarized.

There are two main things that Newt Gingrich and Bill Clinton teamed up on and accomplished and they were a balanced budget and welfare reform!

The federal government debt is growing so much that it is endangering us because if things keep going like they are now we will not have any money left for the national defense because we are so far in debt as a nation. We have been spending so much on our welfare state through food stamps and other programs that I am worrying that many of our citizens are becoming more dependent on government and in many cases they are losing their incentive to work hard because of the welfare trap the government has put in place. Other nations in Europe have gone down this road and we see what mess this has gotten them in. People really are losing their faith in big government and they want more liberty back. It seems to me we have to get back to the founding principles that made our country great. We also need to realize that a big government will encourage waste and corruption. The scandals in our government have proved my point. In fact, the jokes you made at Ohio State about possibly auditing them are not so funny now that reality shows how the IRS was acting more like a monster out of control. Also raising taxes on the job creators is a very bad idea too. The Laffer Curve clearly demonstrates that when the tax rates are raised many individuals will move their investments to places where they will not get taxed as much.
I have praised over and over and over the 66 House Republicans that voted no on raising the debt ceiling before. If they did not raise the debt ceiling then we would have a balanced budget instantly. I agree that the Tea Party has made a difference and I have personally posted 49 posts on my blog on different Tea Party heroes of mine.
I have posted articles on my blog (www.thedailyhatch.org) about the balanced budget efforts of very prudent people like Milton Friedman and Ronald Reagan.

The main reason we need a Balanced Budget Amendment is to control spending. Milton Friedman was right about that. Notice below that Ron Paul quotes Friedman on this issue.
Submitted by bobbyw24 on Wed, 07/20/2011– 07:09in
Congressman Ron Paul (R-Texas) says merely scaling back to 2008 spending levels is nowhere near enough to fix the massive government debt problems.
"As Milton Friedman famously argued, what we really need is a constitutional amendment to limit taxes and spending, not simply to balance the budget," Paul said in a speech to the House of Representatives made prior to the vote on the "Cut, Cap and Balance" bill. The bill is expected to pass the House tonight, but President Barack Obama has said he will veto it if it clears the Senate and reaches his desk.
What is needed is a dramatically smaller federal government, says Paul. "If we achieve this, a balanced budget will take care of itself," he says. "We need to cut back at least to where spending was a decade ago."
Sincerely,
Everette Hatcher III, 13900 Cottontail Lane, Alexander, AR 72002, ph 501-920-5733 everettehatcher@gmail.com
—
President Reagan's Remarks on a Constitutional Amendment for a Balanced …
—
PAY IT BACKWARDS: The Federal Budget Surplus with Milton Friedman
How to Reduce Debt and Grow the Economy: Milton Friedman on Budget Recon…
——

Related posts:
Sixty Six who resisted "Sugar-coated Satan Sandwich" Debt Deal (Part 49) This post today is a part of a series I am doing on the 66 Republican Tea Party favorites that resisted eating the "Sugar-coated Satan Sandwich" Debt Deal. Actually that name did not originate from a representative who agrees with the Tea Party, but […]By Everette Hatcher III | Posted in President Obama, spending out of control | Tagged bipartisan compromise, budget control, compromise deal, u s constitution. | Edit | Comments (0)
Sixty Six who resisted "Sugar-coated Satan Sandwich" Debt Deal (Part 48) This post today is a part of a series I am doing on the 66 Republican Tea Party favorites that resisted eating the "Sugar-coated Satan Sandwich" Debt Deal. Actually that name did not originate from a representative who agrees with the Tea Party, but […]By Everette Hatcher III | Posted in spending out of control | Edit | Comments (0)
Sixty Six who resisted "Sugar-coated Satan Sandwich" Debt Deal (Part 47) This post today is a part of a series I am doing on the 66 Republican Tea Party favorites that resisted eating the "Sugar-coated Satan Sandwich" Debt Deal. Actually that name did not originate from a representative who agrees with the Tea Party, but […]By Everette Hatcher III | Posted in spending out of control | Edit | Comments (0)
Sixty Six who resisted "Sugar-coated Satan Sandwich" Debt Deal (Part 46) This post today is a part of a series I am doing on the 66 Republican Tea Party favorites that resisted eating the "Sugar-coated Satan Sandwich" Debt Deal. Actually that name did not originate from a representative who agrees with the Tea Party, […]By Everette Hatcher III | Posted in spending out of control | Edit | Comments (0)
Ronald Reagan with Milton Friedman Milton Friedman The Power of the Market 2-5
I am currently going through his film series "Free to Choose" which is one the most powerful film series I have ever seen. TEMIN: We don't think the big capital arose before the government did? VON HOFFMAN: Listen, what are we doing here? I mean __ defending big government is like defending death and taxes. […]By Everette Hatcher III | Edit | Comments (0)
I am currently going through his film series "Free to Choose" which is one the most powerful film series I have ever seen worked pretty well for a whole generation. Now anything that works well for a whole generation isn't entirely bad. From the fact __ from that fact, and the undeniable fact that things […]By Everette Hatcher III | Edit | Comments (0)
I am currently going through his film series "Free to Choose" which is one the most powerful film series I have ever seen. PART 5 of 7 MCKENZIE: Ah, well, that's not on our agenda actually. (Laughter) VOICE OFF SCREEN: Why not? MCKENZIE: I boldly repeat the question, though, the expectation having been __ having […]By Everette Hatcher III | Edit | Comments (0)
I am currently going through his film series "Free to Choose" which is one the most powerful film series I have ever seen. PART 4 of 7 The massive growth of central government that started after the depression has continued ever since. If anything, it has even speeded up in recent years. Each year there […]
By Everette Hatcher III | Edit | Comments (0)
I am currently going through his film series "Free to Choose" which is one the most powerful film series I have ever seen. PART 3 OF 7 Worse still, America's depression was to become worldwide because of what lies behind these doors. This is the vault of the Federal Reserve Bank of New York. Inside […]
By Everette Hatcher III | Edit | Comments (0)
I am currently going through his film series "Free to Choose" which is one the most powerful film series I have ever seen. For the past 7 years Maureen Ramsey has had to buy food and clothes for her family out of a government handout. For the whole of that time, her husband, Steve, hasn't […]By Everette Hatcher III | Edit | Comments (0)
Friedman Friday:("Free to Choose" episode 4 – From Cradle to Grave, Part 1 of 7) Volume 4 – From Cradle to Grave Abstract: Since the Depression years of the 1930s, there has been almost continuous expansion of governmental efforts to provide for people's welfare. First, there was a tremendous expansion of public works. The Social Security Act […]
By Everette Hatcher III | Edit | Comments (0)
Michael Harrington: If you don't have the expertise, the knowledge technology today, you're out of the debate. And I think that we have to democratize information and government as well as the economy and society. FRIEDMAN: I am sorry to say Michael Harrington's solution is not a solution to it. He wants minority rule, I […]By Everette Hatcher III | Posted in Current Events, Milton Friedman | Edit | Comments (0)
PETERSON: Well, let me ask you how you would cope with this problem, Dr. Friedman. The people decided that they wanted cool air, and there was tremendous need, and so we built a huge industry, the air conditioning industry, hundreds of thousands of jobs, tremendous earnings opportunities and nearly all of us now have air […]By Everette Hatcher III | Posted in Current Events, Milton Friedman | Edit | Comments (0)
Part 5 Milton Friedman: I do not believe it's proper to put the situation in terms of industrialist versus government. On the contrary, one of the reasons why I am in favor of less government is because when you have more government industrialists take it over, and the two together form a coalition against the ordinary […]By Everette Hatcher III | Posted in Current Events, Milton Friedman | Edit | Comments (0)
The fundamental principal of the free society is voluntary cooperation. The economic market, buying and selling, is one example. But it's only one example. Voluntary cooperation is far broader than that. To take an example that at first sight seems about as far away as you can get __ the language we speak; the words […]By Everette Hatcher III | Posted in Current Events, Milton Friedman | Edit | Comments (0)
_________________________ Pt3 Nowadays there's a considerable amount of traffic at this border. People cross a little more freely than they use to. Many people from Hong Kong trade in China and the market has helped bring the two countries closer together, but the barriers between them are still very real. On this side […]By Everette Hatcher III | Posted in Current Events, Milton Friedman | Edit | Comments (0)
Aside from its harbor, the only other important resource of Hong Kong is people __ over 4_ million of them. Like America a century ago, Hong Kong in the past few decades has been a haven for people who sought the freedom to make the most of their own abilities. Many of them are […]By Everette Hatcher III | Posted in Current Events, Milton Friedman | Edit | Comments (0)
"FREE TO CHOOSE" 1: The Power of the Market (Milton Friedman) Free to Choose ^ | 1980 | Milton Friedman Posted on Monday, July 17, 2006 4:20:46 PM by Choose Ye This Day FREE TO CHOOSE: The Power of the Market Friedman: Once all of this was a swamp, covered with forest. The Canarce Indians […]
Milton Friedman The Power of the Market 1-5
If you would like to see the first three episodes on inflation in Milton Friedman's film series "Free to Choose" then go to a previous post I did. Ep. 9 – How to Cure Inflation [4/7]. Milton Friedman's Free to Choose (1980) Uploaded by investbligurucom on Jun 16, 2010 While many people have a fairly […]
By Everette Hatcher III | Also posted in Current Events | Tagged dr friedman, expansion history, income tax brackets, political courage, www youtube | Edit | Comments (0)
Charlie Rose interview of Milton Friedman My favorite economist: Milton Friedman : A Great Champion of Liberty by V. Sundaram Milton Friedman, the Nobel Prize-winning economist who advocated an unfettered free market and had the ear of three US Presidents – Nixon, Ford and Reagan – died last Thursday (16 November, 2006 ) in San Francisco […]By Everette Hatcher III | Posted in Milton Friedman | Edit | Comments (0)
Stearns Speaks on House Floor in Support of Balanced Budget Amendment Uploaded by RepCliffStearns on Nov 18, 2011 Speaking on House floor in support of Balanced Budget Resolution, 11/18/2011 ___________ Below are some of the main proposals of Milton Friedman. I highly respected his work. David J. Theroux said this about Milton Friedman's view concerning […]By Everette Hatcher III | Posted in Milton Friedman | Edit | Comments (0)
Milton Friedman: Free To Choose – The Failure Of Socialism With Ronald Reagan (Full) Published on Mar 19, 2012 by NoNationalityNeeded Milton Friedman's writings affected me greatly when I first discovered them and I wanted to share with you. We must not head down the path of socialism like Greece has done. Abstract: Ronald Reagan […]By Everette Hatcher III | Posted in Milton Friedman, President Obama | Edit | Comments (1)
What a great defense of Milton Friedman!!!! Defaming Milton Friedman by Johan Norberg This article appeared in Reason Online on September 26, 2008 PRINT PAGE CITE THIS Sans Serif Serif Share with your friends: ShareThis In the future, if you tell a student or a journalist that you favor free markets and limited government, there is […]
President Obama c/o The White House 1600 Pennsylvania Avenue NW Washington, DC 20500 Dear Mr. President, I know that you receive 20,000 letters a day and that you actually read 10 of them every day. I really do respect you for trying to get a pulse on what is going on out here. There have […]By Everette Hatcher III | Posted in David Barton, Founding Fathers, President Obama | Edit |Comments (0)
There have been many articles written by evangelicals like me who fear that our founding fathers would not recognize our country today because secular humanism has rid our nation of spiritual roots. I am deeply troubled by the secular agenda of those who are at war with religion in our public life. Lillian Kwon quoted somebody […]By Everette Hatcher III | Posted in David Barton, Founding Fathers | Edit | Comments (0)
There have been many articles written by evangelicals like me who fear that our founding fathers would not recognize our country today because secular humanism has rid our nation of spiritual roots. I am deeply troubled by the secular agenda of those who are at war with religion in our public life. Lillian Kwon quoted somebody […]By Everette Hatcher III | Posted in David Barton, Founding Fathers | Edit | Comments (0)
There have been many articles written by evangelicals like me who fear that our founding fathers would not recognize our country today because secular humanism has rid our nation of spiritual roots. I am deeply troubled by the secular agenda of those who are at war with religion in our public life. Lillian Kwon quoted somebody […]By Everette Hatcher III | Posted in David Barton, Founding Fathers | Edit | Comments (0)
There have been many articles written by evangelicals like me who fear that our founding fathers would not recognize our country today because secular humanism has rid our nation of spiritual roots. I am deeply troubled by the secular agenda of those who are at war with religion in our public life. Lillian Kwon quoted somebody […]By Everette Hatcher III | Posted in David Barton, Founding Fathers | Edit | Comments (0)
There have been many articles written by evangelicals like me who fear that our founding fathers would not recognize our country today because secular humanism has rid our nation of spiritual roots. I am deeply troubled by the secular agenda of those who are at war with religion in our public life. Lillian Kwon quoted somebody […]By Everette Hatcher III | Posted in Founding Fathers | Edit | Comments (0)
President Obama Speaks at The Ohio State University Commencement Ceremony Published on May 5, 2013 President Obama delivers the commencement address at The Ohio State University. May 5, 2013. You can learn a lot about what President Obama thinks the founding fathers were all about from his recent speech at Ohio State. May 7, 2013, […]By Everette Hatcher III | Posted in Founding Fathers, President Obama | Edit | Comments (0)
Dr. C. Everett Koop with Bill Graham. Francis Schaeffer: "Whatever Happened to the Human Race" (Episode 4) THE BASIS FOR HUMAN DIGNITY Published on Oct 7, 2012 by AdamMetropolis The 45 minute video above is from the film series created from Francis Schaeffer's book "Whatever Happened to the Human Race?" with Dr. C. Everett Koop. This […]By Everette Hatcher III | Posted in Founding Fathers, Francis Schaeffer, Prolife | Edit |Comments (1)
America's Founding Fathers Deist or Christian? – David Barton 4/6 There have been many articles written by evangelicals like me who fear that our founding fathers would not recognize our country today because secular humanism has rid our nation of spiritual roots. I am deeply troubled by the secular agenda of those who are at […]By Everette Hatcher III | Posted in David Barton, Founding Fathers | Tagged governor of connecticut, john witherspoon, jonathan trumbull | Edit | Comments (1)
3 Of 5 / The Bible's Influence In America / American Heritage Series / David Barton There were 55 gentlemen who put together the constitution and their church affliation is of public record. Greg Koukl notes: Members of the Constitutional Convention, the most influential group of men shaping the political foundations of our nation, were […]By Everette Hatcher III | Posted in Founding Fathers | Edit | Comments (0)
I do not think that John Quincy Adams was a founding father in the same sense that his father was. However, I do think he was involved in the early days of our government working with many of the founding fathers. Michele Bachmann got into another history-related tussle on ABC's "Good Morning America" today, standing […]By Everette Hatcher III | Posted in David Barton, Founding Fathers | Edit | Comments (0)
I have gone back and forth and back and forth with many liberals on the Arkansas Times Blog on many issues such as abortion, human rights, welfare, poverty, gun control and issues dealing with popular culture. Here is another exchange I had with them a while back. My username at the Ark Times Blog is Saline […]By Everette Hatcher III | Posted in Arkansas Times, Francis Schaeffer, Prolife | Edit |Comments (0)
I truly believe that many of the problems we have today in the USA are due to the advancement of humanism in the last few decades in our society. Ronald Reagan appointed the evangelical Dr. C. Everett Koop to the position of Surgeon General in his administration. He partnered with Dr. Francis Schaeffer in making the […]By Everette Hatcher III | Posted in Adrian Rogers, Francis Schaeffer | Edit | Comments (0)
Francis Schaeffer: "Whatever Happened to the Human Race" (Episode 4) THE BASIS FOR HUMAN DIGNITY Published on Oct 7, 2012 by AdamMetropolis ____________ The 45 minute video above is from the film series created from Francis Schaeffer's book "Whatever Happened to the Human Race?" with Dr. C. Everett Koop. This book really helped develop my political […]By Everette Hatcher III | Posted in Francis Schaeffer | Edit | Comments (0)
—-
—