—
David Harsanyi / @davidharsanyi / February 21, 2021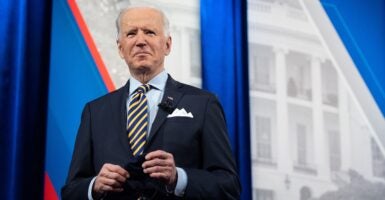 Democratic President Joe Biden holds a face mask as he participates in a CNN town hall at the Pabst Theater in Milwaukee, Wisconsin, Feb. 16, 2021. (Photo: Saul Loeb/AFP via Getty Images)
COMMENTARY BY
David Harsanyi is a senior writer at National Review and the author of "First Freedom: A Ride through America's Enduring History With the Gun, From the Revolution to Today."
Appearing at a friendly CNN town hall event this week, President Joe Biden dropped a string of untruths on issues both large and small.
One of the president's most egregious falsehoods was the claim that "we didn't have [the vaccine] when we came into office." The first shot was administered back on Dec. 14, 2020.
Glenn Kessler, lead fact-checker for The Washington Post, quickly jumped into action on Twitter, explaining that this was merely a "verbal stumble, a typical Biden gaffe, as he had already mentioned 50 million doses being available when he took office. Former Trump officials should especially cool the outrage meter, as it just looks silly."
Castigating those who pointed out the lie is a weird thing for someone charged with verifying factual information to do.
Want to keep up with the 24/7 news cycle? Want to know the most important stories of the day for conservatives? Need news you can trust? Subscribe to The Daily Signal's email newsletter. Learn more >>
It was a strange coincidence, indeed, that Biden's "verbal stumble" corresponded perfectly with the concerted administration-wide effort to mislead Americans regarding the president's new vaccination plan.
Last week, Vice President Kamala Harris had herself accidentally stumbled into numerous similar gaffes, saying there had been "no national strategy or plan for vaccinations," that the new administration was "starting from scratch on something that's been raging for almost an entire year," and that there "there was no stockpile … of vaccines."
When a Twitter follower asked him how he determines what constitutes a "verbal stumble" or a lie, Kessler explained: "People screw up on live television. Biden with his stutter especially does so."
Ah, the stutter. How quickly the media has taken to the Biden's stutter excuse.
"The Democratic presidential candidate's gaffes may be rooted in a little-understood disability," The Hill theorized when Biden first shared the story of his early struggles with stuttering.
Do those who similarly struggle usually steal entire speeches—nay, life stories—from others? Do they coherently say things that are provable lies? I suspect not.
It is odd, as well, that a fact-checker would contend that Biden must have had a "verbal stumble" because he had previously admitted the truth on the issue.
For one thing, it seems unlikely this was the standard used for former President Donald Trump's contradictory ramblings. And though I'm not a professionally trained fact-checker myself, I'm relatively certain that most politicians have the skill set to tell the truth on a topic in one instance and then lie in another.
All of these defenses of Biden rely on the notion that the president wouldn't intentionally mislead us. Which is also weird, considering he is a notorious fabulist and fabricator.
Now, many Americans might be unaware of the history of Biden's untruths. Because, while fact-checkers may sporadically, if tepidly, correct falsehoods uttered by Democrats, or retroactively admit to them, they also regularly offer rationalizations, excuses, justifications—rich layers of contextual detail—to safeguard them from criticism, which is a complete abdication of the job they ostensibly claim to do.
Perhaps the most mendacious "fact-checker" is CNN's Daniel Dale, who produces prodigious amounts of disingenuous partisan clickbait. Yesterday, Dale also bored into the soul of Biden to discern exactly what the president "meant," which, it conveniently turned out, was the opposite of what he said.
Then again, Dale noted back in September that Biden " makes some false and misleading claims" but "assertions of fact have been largely factual." Tautology aside, a quick fact-check of this claim earns a gaggle of Pinocchios. Then again, Dale is just a left-wing columnist. Nothing wrong with it. But no one needs to pretend otherwise.
The fact is—if you'll pardon the expression—this kind of partisan gruel would never have existed in a reputable newsroom 30 or 20 years ago. Yet, it thrives in an age in which the number of Twitter followers and hits are valued over fact-gathering.
There has been no price to pay for this destruction of political journalism—only high ratings. Perhaps it will change post-Trump.
It's not only that the fact-checkers are objectionable but also that the idea of fact-checking is un-journalistic. There is something more insidious about fact-checks than the average hackery.
Listening to PBS NewsHour's Yamiche Alcindor, for instance, regurgitate the administration's talking points is sad but inoffensive. Fact-checkers circumvent debate by making pronouncements about highly disputable contentions.
One might be able to look past the five-year abandonment of journalistic ethics and professionalism if reporters and fact-checkers were equal-opportunity sticklers.
The problem wasn't the adversarial relationship journalists had with those in power—though the self-aggrandizement and navel-gazing were insufferable. It's the selective deployment of these ethics as now displayed with a different administration. And no one exemplifies the problem better than the self-anointed fact-checkers.
The Daily Signal publishes a variety of perspectives. Nothing written here is to be construed as representing the views of The Heritage Foundation.
—
(Pablo Martinez Monsivais | AP file photo) President Barack Obama closes his eyes while a prayer is said during the National Prayer Breakfast in Washington, Thursday, Feb. 4, 2016.
February 21, 2021
Office of Barack and Michelle Obama
P.O. Box 91000
Washington, DC 20066
Dear President Obama,
I wrote you over 700 letters while you were President and I mailed them to the White House and also published them on my blog http://www.thedailyhatch.org .I received severaletters back from your staff and I wanted to thank you for those letters.
I have been reading your autobiography A PROMISED LAND and I have been enjoying it.
Let me make a few comments on it, and here is the first quote of yours I want to comment on:
PAGE 286
"I gave remarks at the National Prayer Breakfast…"
This particular reference was the February 5th, 2009 talk, but I was glad that you were so committed to speak every year during your Presidency at the prayer breakfast! I noticed that you had Senator Mark Pryor working with you during one of these events. I used to teach a 3 year old Sunday School at our church (FELLOWSHIP BIBLE) back in the late 1990's and I would stand at the front door and welcome in the kids. The class next to me was a class taught by Mark and we had the opportunity to visit some on the issues of the day including abortion. Here is a story written by a friend of mine who had a similar experience to mine in the same kind of unclear answers I got from Mark on abortion:
David J. Sanders
Syndicated ColumnistPublished Friday, June 14, 2002
Former Speaker of the House Tip O'Neill got in hot water with the leadership of the Catholic Church back in his home state of Massachusetts when he announced that his personal opposition to abortion wouldn't hinder his support of the Constitution. (At the time of his announcement, the country was beginning to cope with the Roe v. Wade decision, which established that a woman's right to an abortion was protected under the Constitution.)
Catholic leaders publicly chastised O'Neill. They were distraught that his proclaimed loyalty to what was at that time a new Supreme Court decision trumped any personal or religious convictions he had on the issue. The leaders asserted that O'Neill was worse than other supporters of abortion. They said his position was illogical in that he knew abortion was immoral and wouldn't do anything about it.
Since entering the race for the U.S. Senate, Attorney General Mark Pryor has been somewhat elusive about his stand on abortion. Recently, questions about his position on abortion led Pryor's pastor, Robert Lewis of Fellowship Bible Church of Little Rock, to prod his high-profile parishioner on the issue.
Lewis, a noted author and religious leader in the conservative Bible church movement, announced in Sunday's church service that his "interview" with Pryor on abortion would be posted on the church's Web site and encouraged members of his flock to check it out.
Having visited with Pryor about his stance on abortion — which isn't different from the positions of Bill Clinton, Al Gore or Tip O'Neill — I decided to check his latest statements, wondering if he had changed his mind.
What I found was a transcript of a conversation between Pryor and his pastor. Pryor offered little new information.
Pryor acknowledged that out of political expedience, as recently as 1998, he had identified himself as "pro-choice." He said that he felt all abortion was wrong except when the life of the mother is at stake. Pryor also claimed that he would consider any law to limit abortion.
Pryor asserted that he is opposed to so-called partial-birth abortions, but did not mention that as attorney general he failed to appeal a federal court decision's striking down Arkansas partial-birth abortion law.
Lewis tried to nail Pryor down on abortion, asking him what he considered his political position. Pryor gave a canned answer, in which, like Bill Clinton, he said that he is personally opposed to abortion.
"I think women should have the right to decide in cases of rape, incest, and when the mother's life is in danger. As a United States senator, I would balance my personal convictions with my sworn responsibility under the Constitution as I carefully consider each issue relating to abortion," Pryor responded.
Last March, I asked Pryor the same question and received a similar answer. Not satisfied with his answer I probed further asking him if he would be in favor of a law that banned abortion except in cases of the aforementioned exceptions.
Pryor responded that he thought it would be unconstitutional. So I went further. I asked if he would be in favor of a constitutional amendment banning abortion except in the case of rape, incest or life of the mother. He responded, "No."
He offered up a weak argument proclaiming a "general reluctance" to amend the Constitution on specific issues. Pryor said he believes the legal doctrine on abortion will change over time with our attitudes and values.
Lewis asked Pryor when he believes life begins. (Pro-lifers consider this to be the "mother of all questions." Since they believe that life begins at conception, any action, like abortion, after conception is destroying a human life. This is a point many pro-choice crowds will rarely concede.) Surprisingly, Pryor stated a "common sense" approach that led him to believe that life begins at conception.
Pryor was even more illusive when his pastor asked him about Roe v. Wade. He correctly stated that striking down Roe wouldn't end abortion, but would give states the right to regulate abortion laws. Even when given a clear opportunity to say so, Pryor wouldn't advocate the end of Roe.
He seemed more concerned with states having different standards than with curtailing abortion. If Roe were ever struck down, abortions in Arkansas would be illegal except in cases where the life of the mother was in danger.
Unlike the Catholic clergy that castigated O'Neill nearly three decades ago, Pryor's pastor put on kid gloves. Pryor continues to advocate positions that are illogical and disingenuous; Lewis should have called him on the carpet. If Pryor believes that life begins at conception, how can he be for maintaining the status quo?
——
—
I do give Mark credit for coming to the conclusion that life begins at conception and I want to challenge you to reevaluate your own views on that!
Sincerely,
Everette Hatcher III, 13900 Cottontail Lane, Alexander, AR 72002, ph 501-920-5733 everettehatcher@gmail.com
Related posts:
President Obama c/o The White House 1600 Pennsylvania Avenue NW Washington, DC 20500 Dear Mr. President, I know that you receive 20,000 letters a day and that you actually read 10 of them every day. I really do respect you for trying to get a pulse on what is going on out here. There have […]By Everette Hatcher III | Posted in David Barton, Founding Fathers, President Obama | Edit |Comments (0)
There have been many articles written by evangelicals like me who fear that our founding fathers would not recognize our country today because secular humanism has rid our nation of spiritual roots. I am deeply troubled by the secular agenda of those who are at war with religion in our public life. Lillian Kwon quoted somebody […]By Everette Hatcher III | Posted in David Barton, Founding Fathers | Edit | Comments (0)
There have been many articles written by evangelicals like me who fear that our founding fathers would not recognize our country today because secular humanism has rid our nation of spiritual roots. I am deeply troubled by the secular agenda of those who are at war with religion in our public life. Lillian Kwon quoted somebody […]By Everette Hatcher III | Posted in David Barton, Founding Fathers | Edit | Comments (0)
There have been many articles written by evangelicals like me who fear that our founding fathers would not recognize our country today because secular humanism has rid our nation of spiritual roots. I am deeply troubled by the secular agenda of those who are at war with religion in our public life. Lillian Kwon quoted somebody […]By Everette Hatcher III | Posted in David Barton, Founding Fathers | Edit | Comments (0)
There have been many articles written by evangelicals like me who fear that our founding fathers would not recognize our country today because secular humanism has rid our nation of spiritual roots. I am deeply troubled by the secular agenda of those who are at war with religion in our public life. Lillian Kwon quoted somebody […]By Everette Hatcher III | Posted in David Barton, Founding Fathers | Edit | Comments (0)
There have been many articles written by evangelicals like me who fear that our founding fathers would not recognize our country today because secular humanism has rid our nation of spiritual roots. I am deeply troubled by the secular agenda of those who are at war with religion in our public life. Lillian Kwon quoted somebody […]By Everette Hatcher III | Posted in Founding Fathers | Edit | Comments (0)
President Obama Speaks at The Ohio State University Commencement Ceremony Published on May 5, 2013 President Obama delivers the commencement address at The Ohio State University. May 5, 2013. You can learn a lot about what President Obama thinks the founding fathers were all about from his recent speech at Ohio State. May 7, 2013, […]By Everette Hatcher III | Posted in Founding Fathers, President Obama | Edit | Comments (0)
Dr. C. Everett Koop with Bill Graham. Francis Schaeffer: "Whatever Happened to the Human Race" (Episode 4) THE BASIS FOR HUMAN DIGNITY Published on Oct 7, 2012 by AdamMetropolis The 45 minute video above is from the film series created from Francis Schaeffer's book "Whatever Happened to the Human Race?" with Dr. C. Everett Koop. This […]By Everette Hatcher III | Posted in Founding Fathers, Francis Schaeffer, Prolife | Edit |Comments (1)
America's Founding Fathers Deist or Christian? – David Barton 4/6 There have been many articles written by evangelicals like me who fear that our founding fathers would not recognize our country today because secular humanism has rid our nation of spiritual roots. I am deeply troubled by the secular agenda of those who are at […]By Everette Hatcher III | Posted in David Barton, Founding Fathers | Tagged governor of connecticut, john witherspoon, jonathan trumbull | Edit | Comments (1)
3 Of 5 / The Bible's Influence In America / American Heritage Series / David Barton There were 55 gentlemen who put together the constitution and their church affliation is of public record. Greg Koukl notes: Members of the Constitutional Convention, the most influential group of men shaping the political foundations of our nation, were […]By Everette Hatcher III | Posted in Founding Fathers | Edit | Comments (0)
I do not think that John Quincy Adams was a founding father in the same sense that his father was. However, I do think he was involved in the early days of our government working with many of the founding fathers. Michele Bachmann got into another history-related tussle on ABC's "Good Morning America" today, standing […]By Everette Hatcher III | Posted in David Barton, Founding Fathers | Edit | Comments (0)
I have gone back and forth and back and forth with many liberals on the Arkansas Times Blog on many issues such as abortion, human rights, welfare, poverty, gun control and issues dealing with popular culture. Here is another exchange I had with them a while back. My username at the Ark Times Blog is Saline […]By Everette Hatcher III | Posted in Arkansas Times, Francis Schaeffer, Prolife | Edit |Comments (0)
I truly believe that many of the problems we have today in the USA are due to the advancement of humanism in the last few decades in our society. Ronald Reagan appointed the evangelical Dr. C. Everett Koop to the position of Surgeon General in his administration. He partnered with Dr. Francis Schaeffer in making the […]By Everette Hatcher III | Posted in Adrian Rogers, Francis Schaeffer | Edit | Comments (0)
Francis Schaeffer: "Whatever Happened to the Human Race" (Episode 4) THE BASIS FOR HUMAN DIGNITY Published on Oct 7, 2012 by AdamMetropolis ____________ The 45 minute video above is from the film series created from Francis Schaeffer's book "Whatever Happened to the Human Race?" with Dr. C. Everett Koop. This book really helped develop my political […]By Everette Hatcher III | Posted in Francis Schaeffer | Edit | Comments (0)
—-
—