—
<img class="i-amphtml-intrinsic-sizer" role="presentation" src="data:;base64," alt="" aria-hidden="true" />
Republican Claudia Tenney will be declared the winner of her nail-biting rematch against upstate Democratic Rep. Anthony Brindisi following a marathon three-month recount.
It was the only 2020 congressional race in the country that hadn't been decided.
The recount and reported irregularities has been a black eye on New York's handling of elections amid the pandemic.
"Every single valid vote that was cast in New York's 22nd Congressional District has been accounted for, and counted," wrote state Supreme Court Justice Scott Del Conte, oversee the disputed recount, in a ruling released Friday.
Tenney led Brindisi by 109 votes — 156,099 votes to Brindisi's 155,989.
Brindisi defeated Tenney in 2018 during the blue wave mid-term congressional elections. But Tenney has reclaimed her seat that covers eight counties — including the Binghamton and Utica regions.
Doug Kellner, co-chairman of the state Board of Elections, confirmed that Tenney will be declared the winner following the court ruling and could be seated as early as Monday after reading the judge's decision.
"I'm honored to have won this race. It was a hard-fought campaign and I thank Anthony Brindisi for his service. Now that every legal vote has been counted, it's time for the results to be certified," Tenney said in a statement.
"The voters need a voice in Congress, and I look forward to getting to work on behalf of New York's 22nd Congressional District."
Brindisi is mulling an appeal of the decision but the judge rejected his request to hold off on certifying the election results until his court appeal could be heard.
–
DelConte, in his nine-page decision, slammed county election officials for
"systemic violations of state and federal election law" that affected both candidates.
He rapped Oneida County's failure to process more than 2,400 applications from voters who registered through the Department of Motor Vehicles.
But the judge determined that it's up to the state elections board and Gov. Andrew Cuomo and the Legislature — not the courts — to fix errors.
Del Conte there was no deliberate fraud.
State GOP chairman Nick Langworthy said, "Congratulations to Congresswoman-elect Claudia Tenney and to all of the residents of New York's 22nd congressional district who will finally have their voices represented in Washington during this critical time for our nation and New York.
"This was a long and frustrating process, but at the end of the day, both candidates were heard in court and every legal vote was counted. It's time for Anthony Brindisi to concede and for Nancy Pelosi to recall her henchmen back to Washington. The voters and the courts have spoken, and the will of the people must not be delayed or denied any further."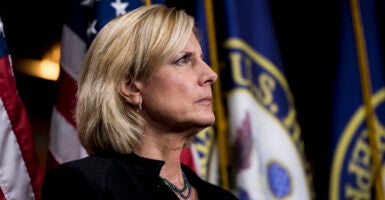 The only remaining congressional race still not certified will have to wait until at least Jan. 27—and even after that, legal appeals will likely ensue.
Republican Claudia Tenney currently leads Democrat Anthony Brindisi by 29 votes in the race in New York's 22nd Congressional District.
But late Wednesday, a state judge ordered the Oneida County Board of Elections to review more than 1,000 provisional ballots. Of those, about 300 are likely to be counted, Tenney said.
Some 311,695 votes were cast and counted so far. Tenney said Thursday that her campaign expected to "maintain our lead" even with the new count.
The Left has declared war on our culture, but we should never back down, nor compromise our principles. Learn more now >>
"It certainly underscores that there is a problem with elections and the fact that we are not able to come up with a certified winner. We are closing in on February of the following year—and in about a month, we start circulating petitions for [the 2022] primary season in New York," Tenney told The Daily Signal.
The November contest was a rematch from 2018, when Brindisi won a close race over then-freshman incumbent Tenney in a strong year for Democrats. Brindisi's first term expired, so the seat is vacant until the election is certified.
As for when the race finally wraps up, said Tenney: "Who knows?"
"There is an appeals process. I'm certain that will probably happen. It's unfortunate that people in New York's 22nd District, they do not have a voice in Washington or a representative right now," she said.
Brindisi's campaign did not respond to email and phone inquiries for this report.
Earlier this month, Brindisi announced he would be running again for the seat in 2022, regardless of this year's outcome.
"I am hopeful that I will be certified the winner in this race for New York's 22nd District," Brindisi said in a statement after filing with the Federal Election Commission. "And I will get right back to fighting for bipartisan solutions, making Congress work for working families, and standing up to anyone on behalf of this district.
"Serving this community is the honor of a lifetime. I look forward to being reelected and stand ready to continue to serve this community for years to come," he added.
Most of the problems arose from major legal changes in mail-in voting as well as from the federal "motor voter" law, Tenney said. Also, the state of New York has a more expansive version of that law.
"My case showed that we are continuing to allow votes to be counted for people who technically weren't registered under New York law or didn't get their ballots there, weren't in on time," Tenney said. "So, here we are looking at ballots from people whose registrations weren't processed back in November, and we are going to go back and count those votes."
She added:
Federal law says you have the right to cast a vote. But the question is, you don't necessarily have the right to have that vote count. If you are not an eligible voter, that vote shouldn't count. There is no process, it seems, in New York where, if a vote is cast and canvassed, if it's not legal, how do you take it back?
In August, partly in response to a troubled process in the June primaries, New York Gov. Andrew Cuomo signed executive orders to expand absentee balloting. Cuomo also signed laws he called "sweeping" that would make it easier to vote.
Cuomo and state lawmakers did little to address some of the Empire State's worst problems, said Hans von Spakovsky, manager of the Election Law Reform Initiative at The Heritage Foundation.
"This is a symptom of the fact that New York has one of the worst-run election systems in the country," von Spakovsky, a former Federal Election Commission commissioner and member of the Presidential Advisory Commission on Election Integrity, told The Daily Signal. "They lack the basic security protocols, such as voter ID, and no interest in comparing voter registration lists to other states to find out who has moved out. This election just epitomizes all of those problems."
Local election officials complained they lacked the resources to comply with the new rules. Tenney said she didn't excuse mistakes by Oneida election officials, but framed their new burdens in the context of a business.
"If you take our optimum week and output, and say you've got to do five or 10 times that in the midst of a pandemic with the same people doing the same number of hours with the same equipment and the same facility, we are not going to make the goal," Tenney said. "And even if we get close to the goal, there are going to be a lot of mistakes made. This is a lot of what happened."
Late Wednesday, more than two and a half months after the Nov. 3 election, New York state Judge Scott DelConte ordered the Oneida County Board of Elections to review more than 1,000 ballots in the race. That was because the Oneida County Board of Elections failed to process 2,418voter registration forms.
However, many did not meet the legal deadline. So, the judge ordered the county election staff to determine how many of the 1,000 provisional ballots should be counted.
The judge didn't give either campaign what it was looking for.
Tenney's campaign legal team argued the court could not retroactively register the voters. Conversely, Brindisi's lawyers argued the court should count only 69 additional votes they determined belonged to Democrats, but not more than that, according to the Syracuse Post-Standard.
"Both candidates press this Court to disregard either some, or all, of the potentially valid ballots because it is strategically advantageous for them in this election," the judge wrote, adding, "Both of these arguments ignore the fact that this problem only exists because … the Oneida County Board of Elections failed to comply with [election law] and review its records."
He gave the county a Jan. 27 deadline to report the results of the review.
Tenney thinks that could be favorable to her campaign.
"We think there is somewhere between 290 [and] 300 of those. Those votes, the judge is going to have recounted next week," she said, noting the judge rejected the Democrats' push for a selective count. "There are 140 or so Republicans in that group, along with conservatives. We feel like, in the worst-case scenario, we're not going to lose any votes. We'll maintain our lead."
Have an opinion about this article? To sound off, please email letters@DailySignal.com and we will consider publishing your remarks in our regular "We Hear You" feature.
<img class="i-amphtml-blurry-placeholder" src="data:;base64,
(CNN)There seemed to be one safe bet when it came to the 2020 election results: Democrats would easily hold on to their majority in the House of Representatives. Not only that, but the conventional wisdom held that Democrats would pick up more than the 235 seats they won in the 2018 midterm elections.
While Democrats will have a majority next Congress, Republicans vastly outperformed expectations and nearly pulled off an election shocker.
As of this writing, CNN has projected that Democrats have won in 219 seats. Republicans have been projected the winners in 203 seats. There are 13 races outstanding, per CNN projections.
Of those 13, the Democratic candidates lead in a mere two of them. (One of these 13 is going to a runoff, where the Republicans are heavily favored to win.)
In other words, if every one of those 13 seats went to the party leading in them right now, Democrats would have 221 seats to the Republicans' 214 seats in the next Congress.
Talk about a fairly close call for Democrats.
Now, Democrats may end up winning a few of the seats where they are currently trailing, but chances are they will end up at or south of 225 seats.
Compare that to what most quantitative forecasters who look at a slew of indicators predicted. Jack Kersting came the closest at 238 seats. FiveThirtyEight clocked in at 239 seats. The Economist modelpredicted that Democrats would win a median of 244 seats in their simulations.
While much attention was paid to the polling misses on the presidential level, they were more accurate by comparison. In the presidential race, the final polling averages got every state right, except for Florida and North Carolina.
Indeed, the forecasts for the presidential race were considerably better than for the House races. The race raters at the Crystal Ball, for example, got every state but North Carolina correct on the presidential level.
Any sort of shy Trump vote was far smaller than a potential shy House Republican vote.
Of course, the value of quantitative forecasts is that they don't just provide one number. They provide the probability of different outcomes occurring.
In that regard, the Republican performance is even more astounding.
The Economist said there was less than a 1-in-100 chance Democrats would have 221 seats or fewer in the next Congress. The chance they would get 225 seats or fewer was 1-in-100.
FiveThirtyEight's forecast gave Republicans a realistic, but still fairly low shot of what seems to have happened. The chance Democrats would earn 221 seats or fewer was approximately 1-in-17, while the chance they'd have 225 seats or fewer was approximately 1-in-10.
I should note that 1-in-10 probabilities happen all the time. There's a reason something is a 1-in-10 chance and not 0%. That said, Republicans simply did better than what folks thought.
A large part of what happened was that the national political environment was more friendly to Republicans than what polls suggested. The final average of generic congressional ballot polls had Democrats ahead by 7 points nationally. Democrats are only ahead by 2 points in the national House vote right now. That may end up closer to 3 points once the votes are all tallied.
A 4- or 5-point miss is considerable.
If Democrats had done 5 points better in every race than they currently are doing, they'd be ahead in 239 seats. That, of course, is right in line with the forecasts.
A lot of these quantitative forecasts also rely upon House ratings from groups like the Cook Political Report, Inside Elections and The Crystal Ball.
These too seemed to undersell Republican chances. Take the Cook Political Report ratings, which have historically been very good.
As of this writing, Republicans are leading in 27 of the 27 seats the Cook Political Report deemed toss-up before the election. They are ahead in all 26 of the seats that were deemed either leaning or likely Republican. Republicans are also leading in 7 of the 36 seats that were either leaning or likely to be taken by the Democrats.
That is, Republicans not only pretty much swept the tossups, but they marched into Democratic territory as well.
The Crystal Ball, which bravely has no tossups in its final rating, had Democrats net gaining 10 House seats. It will actually be the Republicans who will likely net gain 10 seats or more.
The end result of which is that Republicans are much closer to a House majority than we believed they would be after 2020 and have put themselves in a strong position heading into the 2022 midterms.
The Democrats majority is shrinking and three dozen races have yet to be called
House Speaker Nancy Pelosi's majority has shrunk in House, a shock to Democrats and pollsters who were projecting the California Democrat would expand her caucus after Tuesday's election.
Democrats were optimistic they could flip roughly 10 seats but their expansion efforts came up short, especially in Texas, and they ended up losing seats in Flordia, Oklahoma, Minnesota and elsewhere.
DEM CAUCUS ERUPTS AS MEMBERS SAY PARTY'S LEFTWARD DRIFT HURT MODERATES IN ELECTION
As of 3 p.m. on Friday, Democrats had won 212 seats compared to Republicans' 194. Another 29 races have yet to be called. Democrats had a net loss of four seats.
Outstanding races are in New York, California, Pennsylvania, Illinois, Utah, Arizona, and elsewhere. When all those votes are counted, Republicans are optimistic their numbers could swell to 208 and beyond, according to the National Republican Congressional Committee.
What's known is that Republicans have flipped at least seven seats from blue to red and an eighth seat in Michigan that was most recently occupied by a Libertarian. Here's a snapshot of the GOP victories:
GOP gains in the House
–In Florida, Republican candidate Carlos Gimenez defeated freshman Democratic Rep. Debbie Mucarsel-Powell in the 26th district. Republican Maria Elvira Salazar defeated freshman Democratic Rep. Donna Shalala in the 27th district.
–In Oklahoma, Republican Stephanie Bice unseated freshman Democratic Rep. Kendra Horn. Horn flipped the seat from red to blue last cycle.
— In South Carolina, freshman congressman Democrat Joe Cunningham was projected to lose his reelection to state GOP Rep. Nancy Mace, flipping South Carolina's 1st District back to red.
— In Minnesota, Republican Michelle Fischbach ousted longtime Democratic Rep. Collin Peterson, toppling the powerful chairman of the House Agriculture Committee in the most pro-Trump district held by a Democrat.
— In New Mexico, Republican Yvette Herrell defeated freshman Rep. Xochitl Torres Small, a freshman Democrat who flipped the 2nd Congressional seat from red to blue in 2018.
— In Iowa's First Congressional District, Republican state representative and former TV news anchor Ashley Hinson defeated Democratic incumbent Abby Finkenauer.
– In West Michigan, Republican Peter Meijer, an Iraq war veteran whose grandfather started Meijer superstores, defeated Democrat Hillary Scholten, a former Department of Justice and nonprofit lawyer. The Third Congressional District was open after Rep. Justin Amash, a Republican-turned-Libertarian, did not seek reelection.
CLICK HERE TO VIEW HOUSE RESULTS
Republicans say more victories are on the horizon
.
Party officials are most optimistic about reclaiming two seats in New York that Democrats flipped in 2018. Votes are still being counted but Republican Nicole Malliotakis has a notable lead over freshman Rep. Max Rose in the Staten Island-Brooklyn district. And former GOP Rep. Claudia Tenney was also ahead in the 22nd District seat she lost two years ago to Rep. Anthony Brindisi.
Democrats have gained two open seats in North Carolina thanks to redrawn congressional maps that favored them and will welcome Deborah Ross and Kathy Manning to their caucus in January.
And Democrats flipped Georgia's 7th Congressional District held by retiring Rep. Rob Woodall, R-Ga. Democrat Carolyn Bourdeaux beat GOP candidate Rich McCormick in the suburban Atlanta district, the Associated Press called on Friday.
That means Democrats so far have a net loss of four seats in the House.
WHERE THINGS STAND: BATTLE FOR THE SENATE
Democrats think they can hold onto many close races that have not been called and have two other possible pick-up opportunities by defeating Rep. Jeff Van Drew in New Jersey and Rep. Mike Garcia in California.
On a call Thursday afternoon with Democratic House members, Rep. Cheri Bustos, head of the Democratic Congressional Campaign Committee (DCCC), expressed frustration with the polling and election forecasts that all pointed to House Democrats expanding their majority.
"I'm furious," Bustos told her colleagues, according to a source familiar with the call. "Something went wrong here across the entire political world. Our polls, Senate polls, Gov polls, presidential polls, Republican polls, public polls, turnout modeling, and prognosticators all pointed to one political environment – that environment never materialized."
I have written about the tremendous increase in the food stamp program the last 9 years before and that means that both President Obama and Bush were guilty of not trying to slow down it's growth. Furthermore, Republicans have been some of the biggest supporters of the food stamp program. Milton Friedman had a good solution to help end the welfare state and wish more people would pay attention to it.   Growing government also encourages waste and hurt growth but more importantly it causes people to become dependent on the government as this article and cartoon below show.
My great fear is that the "social capital" of self reliance in America will slowly disappear and that the United States will turn into a European-style welfare state.
That's the message in the famous "riding in the wagon" cartoons that went viral and became the most-viewed post on this blog.
Well, this Glenn McCoy cartoon has a similar theme.
The only thing I would change is that the rat would become a "pro-government voter" or "left-wing voter" instead of an "Obama voter." Just like I wasn't satisfied with an otherwise very good Chuck Asay cartoon showing the struggle between producers and moochers.
That's for two reasons. First, I'm not partisan. My goal is to spread a message of liberty, not encourage people to vote for or against any candidate.
Second, I've been very critical of Obama, but I was also very critical of Bush. Indeed, Bush was a bigger spender than Obama! And Clinton was quite good, so party labels often don't matter.
But I'm getting wonky. Enjoy the cartoon and feel free to share it widely.
Eight Reasons Why Big Government Hurts Economic Growth
Uploaded on Aug 17, 2009
This Center for Freedom and Prosperity Foundation video analyzes how excessive government spending undermines economic performance. While acknowledging that a very modest level of government spending on things such as "public goods" can facilitate growth, the video outlines eight different ways that that big government hinders prosperity. This video focuses on theory and will be augmented by a second video looking at the empirical evidence favoring smaller government.
Related posts: