—
Joe Biden is old. He has been in politics since 1970 and holds antiquated views. On the campaign trail, he used expressions such as "malarkey" and said that kids should listen to the "record player."
President Biden's views on labor unions are similarly archaic. Unions appear to be central to his view of the economy, yet few private‐​sector workers are in unions today. This Biden campaign statement, which is ostensibly about clean energy, promotes labor unions 32 times. Biden wants to "create millions of good, union jobs rebuilding America's crumbling infrastructure," wants to "ensure these investments create good, union jobs that expand the middle class," and so on. Spending on cars, energy, manufacturing, railroads, airports, broadband, and everything else in Biden's plan is about union jobs, over and over ad nauseam.
The focus is pathological. I say that because union members account for just 6 percent of private‐​sector employment today, yet Biden's statement reads as if unions dominate the workforce, are the bulwark of the middle class, and are central to the economy. They are not and will not be going forward. The economy is too dynamic and competitive, and Americans have increasingly rejected unions in the private sector, as shown in the chart below.
The Biden statement repeatedly stresses "choice." Biden wants to "provide workers with the choice to join a union and bargain collectively." But "collective bargaining" is a euphemism for monopoly unionism and the denial of choice. It violates freedom of association, as Charles Baird explains here. The frequent use of the word "choice" is an attempt to mask the reality of coercive labor unionism under current federal law.
Even if collective bargaining was reasonable in theory, frequent corruption scandals reveal that labor union leaders abuse their special privileges. Most recently, the
Justice Department reached a civil settlement with the United Auto Workers union, marking a major turning point in a multiyear corruption investigation that has sent several former labor leaders to prison. The sprawling probe, led by the U.S. attorney's office in Detroit, has penetrated the UAW's top ranks and exposed what federal prosecutors described as a culture of corruption among its leadership built around kickback schemes, embezzlement and other illicit activities.
Why would any policymaker want to strengthen such organizations? Yet that is the direction of President Biden. His proposals would move backwards by reinforcing the coercive nature of federal labor union law, which is incompatible with personal freedom and the modern economy.
The chart shows that private‐​sector union membership has fallen from 32 percent of the workforce in 1960 to just 6 percent today.
Note: Chart data from unionstats, Barry Hirsch, and BLS.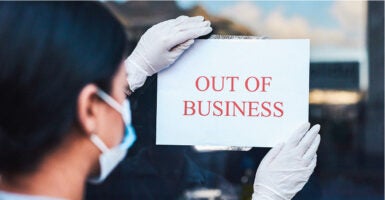 President Joe Biden has proposed a nationwide $15 minimum wage as part of his so-called "American Rescue Plan." Talk about bad timing: Raising labor prices on businesses that are struggling to stay afloat is like throwing them a load of bricks instead of a life preserver.
State and local governments raising their minimum wages is one thing, but to more than double the federal minimum, from $7.25 to $15 per hour?
Nearly one in every five restaurants permanently closed their doors in 2020 as 30 large retail and restaurant companies filed for bankruptcy.
Meanwhile, employment in food services (restaurants and bars) fell 19% in 2020 as retail clothing jobs dropped 24% and accommodations (hotels) jobs plummeted 32%.
The Left has declared war on our culture, but we should never back down, nor compromise our principles. Learn more now >>
Although very few people—only about 1% of all workers and 0.1% of single parents—make the $7.25 minimum wage, a good portion of restaurant, retail, and hotel jobs pay less than $15 per hour.
No one would suggest raising the rent on households who are months behind on their payments, so how could raising labor prices help businesses?
For a restaurant with five full-time workers making minimum wage, a doubling of the federal minimum wage would mean an extra $85,800 in wages and employment taxes. With restaurant profit margins of about 5%, that could require an extra $1.7 million in food sales ($4,700 more per day)—a seemingly impossible feat in normal times, let alone in the middle of a global pandemic.
Higher wages are a great thing—especially when the gains accrue to lower-income workers. But the only way to achieve actual wage increases—that is, lasting wage increases that don't take jobs and incomes from others—is for workers to become more productive.
To that end, government mandates are powerless. A $15 minimum wage won't help workers gain education and experience or provide them with technology that will enable them to produce more value and earn larger incomes. In fact, it could cause the opposite, by shifting employers' resources away from training and investments to wages instead.
Moreover, raising wages by government fiat hurts many workers in the short and long run by cutting off the bottom rungs of the career ladder.
A $15 federal minimum wage translates into over $36,000 per year in wages and mandated taxes and benefits paid by employers. That means that any jobs that don't produce at least $36,000 per year in goods and services will eventually be eliminated—either because businesses close their doors, outsource their labor, or automate low-skilled jobs.
That's why even liberal economists and the nonpartisan Congressional Budget Office caution that a $15 federal minimum wage would lead to a survival-of-the-fittest labor market, reduce future incomes, and disproportionately harm African Americans and women.
The former chair of President Barack Obama's White House Council of Economic Advisers, Alan Krueger, warned in 2015, "Research suggests that a minimum wage set as high as $12 an hour will do more good than harm for low-wage workers, but a $15-an-hour national minimum wage would put us in uncharted waters, and risk undesirable and unintended consequences."
Those consequences would be unequal across the country. Large cities with high costs of living—many of which already have or are on the path to a $15 minimum wage—may not experience huge consequences. But non-urban areas and places with lower costs of living could be devastated.
Imagine if policymakers were proposing a minimum wage hike to nearly $36—ensuring that all full-time workers earned at least $74,000 per year.
Most people would say that's too much, realizing that such a high minimum wage would have massive consequences in terms of lost jobs, increased prices, and a complete and utter disruption of the American labor market and economy.
Yet, $15 per hour in Mississippi would be equivalent to $35.74 per hour in D.C., where federal lawmakers seek to impose a national standard across the U.S.
Minimum wages are best left to local governments, where decisions can be made based on economic conditions and the cost of living.
If a local government sets its minimum wage above the market wage, at least workers and business owners who lose their jobs and businesses can move to places where it's still possible for them to earn a living.
But if policymakers impose an excessively high nationwide minimum wage across 50 very diverse states and more than 3,000 counties, there will be nowhere else for the harmed to go.
Instead of mandating policies that irrefutably harm some people to the benefit of others, policymakers should focus on opening doors to income opportunities for all workers.
Reducing barriers to jobs and income gains is what helped contribute to the 14.6% increase in wages for workers at the 10th percentile of earners (those earning about $10 per hour) between 2016 and 2019.
Lawmakers at all levels should be seeking to help Americans recover and gain new opportunities instead of permanently wiping out existing ones.
©2021 Tribune Content Agency, LLC.
Have an opinion about this article? To sound off, please email letters@DailySignal.com and we will consider publishing your remarks in our regular "We Hear You" feature.
Ep. 4 – From Cradle to Grave [6/7]. Milton Friedman's Free to Choose (1980)
February 9, 2021
President Biden c/o The White House
1600 Pennsylvania Avenue NW
Washington, DC 20500
Dear Mr. President,
Thank you for taking time to have your office try and get a pulse on what is going on out here in the country.
I read this article on January 15, 2021 about your announcement the previous night concerning your first proposal to Congress. Biden's $1.9 Trillion COVID Relief Package Includes More Stimulus Checks, State Government Bailout, $15 Federal Minimum Wage
I wanted to let you know what I think about the minimum wage increase you have proposed for the whole country and I wanted to quote Milton Friedman who you are familiar with and you made it clear in July that you didn't care for his views! Let me challenge you to take a closer look at what he had to say!
All too often, the policy debates of today are simply refights of the battles of yesteryear. As a result, old arguments often retain a striking relevance.
In February 1973, economist Milton Friedman gave an interview to Playboy magazine. It was a wide ranging interview, covering topics from monetary policy to political philosophy. Friedman was an economist with a rare gift for translating technical arguments into clear prose (as you will find in his books Capitalism and Freedom and Free to Choose). His remarks on the minimum wage, as given in that interview, are startlingly contemporary.
PLAYBOY: But you prefer the laissez-faire—free-enterprise—approach.
FRIEDMAN: Generally. Because I think the government solution to a problem is usually as bad as the problem and very often makes the problem worse. Take, for example, the minimum wage, which has the effect of making the poor people at the bottom of the wage scale—those it was designed to help—worse off than before.

PLAYBOY: How so?
FRIEDMAN: If you really want to get a feeling about the minimum wage, there's nothing more instructive than going to the Congressional documents to read the proposals to raise the minimum wage and see who testifies. You very seldom find poor people testifying in favor of the minimum wage. The people who do are those who receive or pay wages much higher than the minimum. Frequently Northern textile manufacturers. John F. Kennedy, when he was in Congress, said explicitly that he was testifying in favor of a rise in the minimum wage because he wanted protection for the New England textile industry against competition from the so-called cheap labor of the South. But now look at it from the point of that cheap labor. If a high minimum wage makes unfeasible an otherwise feasible venture in the South, are people in the South benefited or harmed? Clearly harmed, because jobs otherwise available for them are no longer available. A minimum-wage law is, in reality, a law that makes it illegal for an employer to hire a person with limited skills.

PLAYBOY: Isn't it, rather, a law that requires employers to pay a fair and livable wage?
FRIEDMAN: How is a person better off unemployed at a dollar sixty an hour than employed at a dollar fifty? No hours a week at a dollar sixty comes to nothing. Let's suppose there's a teenager whom you as an employer would be perfectly willing to hire for a dollar fifty an hour. But the law says, no, it's illegal for you to hire him at a dollar fifty an hour. You must hire him at a dollar sixty. Now, if you hire him at a dollar sixty, you're really engaging in an act of charity. You're paying a dollar fifty for his services and you're giving him a gift of 10 cents. That's something few employers, quite naturally, are willing to do or can afford to do without being put out of business by less generous competitors. As a result, the effect of a minimum-wage law is to produce unemployment among people with low skills. And who are the people with low skills? In the main, they tend to be teenagers and blacks, and women who have no special skills or have been out of the labor force and are coming back. This is why there are abnormally high unemployment rates among these groups.
_____________
Thank you so much for your time. I know how valuable it is. I also appreciate the fine family that you have and your commitment as a father and a husband.
Sincerely,
Everette Hatcher III, 13900 Cottontail Lane, Alexander, AR 72002, ph 501-920-5733
Williams with Sowell – Minimum Wage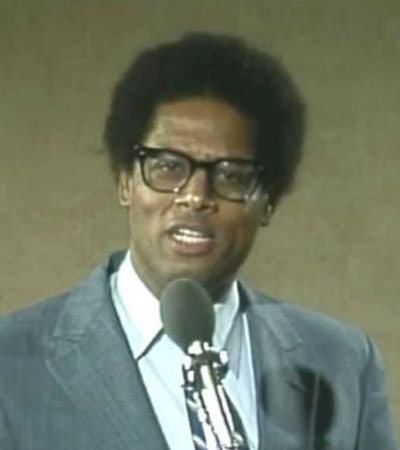 Thomas Sowell – Reducing Black Unemployment
—-
Ronald Reagan with Milton Friedman
Milton Friedman The Power of the Market 2-5