—
Hans von Spakovsky / @HvonSpakovsky / February 02, 2021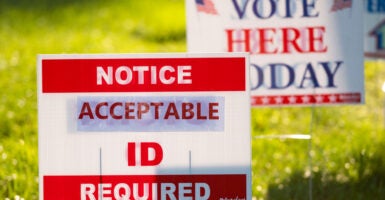 All voters nationwide should be required to validate his or her identity with a government-issued photo ID to vote in person or by absentee ballot. Pictured: Signs greet voters arriving at the Ruckersville Volunteer Fire Company polling station in Ruckersville, Va., on Election Day, Nov. 3. (Photo: Bill Clark/CQ-Roll Call/Getty Images)
COMMENTARY BY
Hans von Spakovsky@HvonSpakovsky
Hans von Spakovsky is an authority on a wide range of issues—including civil rights, civil justice, the First Amendment, immigration, the rule of law and government reform—as a senior legal fellow in The Heritage Foundation's Edwin Meese III Center for Legal and Judicial Studies and manager of the think tank's Election Law Reform Initiative. Read his research.
Election fraud is real.
The Heritage Foundation's Election Fraud Database, which has chronicled more than 1,300 cases of election fraud, proves that election fraud does occur in American elections.
Errors and omissions by election officials and careless, shoddy election practices and procedures or lack of training can also cause and have caused problems for voters and candidates alike.
But it doesn't have to be this way. States can, and should, take action to restore integrity to our elections.
The Left has declared war on our culture, but we should never back down, nor compromise our principles. Learn more now >>
Here's a list of best practices states should adopt for elections.
Verify the accuracy of voter registration lists. Computerized statewide voter-registration lists should be designed to be interoperable so that they can communicate seamlessly with other state record databases to allow frequent exchanges and comparisons of information.
For example, when an individual changes the residence address on his or her driver's license, that information should be sent to state election officials so that the voter-registration address of the individual is also changed to his or her new Department of Motor Vehicles residence address.
2. Verify citizenship of voters. Only lawful citizens can vote in federal elections. States should, therefore, require proof of citizenship to register to vote, as well as verify the citizenship of registered voters with the records of the Department of Homeland Security, including access to the E-Verify system.
3. Require voter ID. A voter should be required to validate his or her identity with government-issued photo ID to vote in-person or by absentee ballot (as states such as Alabama and Kansas require). Government-issued IDs should be free for those who cannot afford one.
4. Limit absentee ballots. Absentee ballotsshould be reserved for those individuals who are too disabled to vote in person or who will be out of town on Election Day and all early-voting days.
5. Prevent vote trafficking. Vote-trafficking (also called "vote harvesting") by third parties should be banned. That would ensure that candidates, campaign staffers, party activists, and political consultants are prohibited from picking up and potentially mishandling or changing absentee ballots and pressuring or coercing vulnerable voters in their homes. In other words, a political group can't offer to pick up ballots and then bring them to the polling place and/or mail them, with no third party supervising that group's behavior in the interim.
6. Allow election observers complete access to the election process. Political parties, candidates, and third-party organizations should all be allowed to have observers in every aspect of the election process, because transparency is essential to a fair and secure system. The only limitation on such observers is that they cannot interfere with the voting and counting process.
However, a representative of the election office should be present to answer the questions of the observers. They should be legally allowed to be in a position—exactly like election officials—to observe everything going on, other than the actual voting by individuals. Election officials should be prohibited from stationing observers so far away that they cannot observe the process, including such procedures as the opening of absentee ballots and the verification process.
7. Provide voting assistance. Any individuals providing assistance to a voter in a voting booth because the voter is illiterate, disabled, or otherwise requires assistance should be required to complete a form, to be filed with poll election officials, providing their name, address, contact information, and the reason they are providing assistance. They should also be required to provide a photo ID.
8. Prohibit early vote counting. To avoid premature release of election results, the counting of ballots, including absentee and early votes, should not begin until the polls close at the end of Election Day. However, if a state insists on beginning the count before Election Day, it should ban the release of results until the evening of Election Day, subject to criminal penalties.
9. Provide state legislatures with legal standing. State legislatures must ensure that they have legal standing—either through a specific state law or through a constitutional amendment if that is required—to sue other state officials, such as governors or secretaries of state, who make or attempt to make unauthorized changes in state election laws.
For example, if a secretary of state extends the deadline set by state law for the receipt of absentee ballots, legislatures should have legal standing to contest that unilateral change that overrides state law. They should be classified as a necessary party in any lawsuit. And voters should be provided by state law with the ability to file a writ of mandamus against any state or local official who fails to abide by, or enforce, a state election-law requirement.
In 2020, Pennsylvania Secretary of State Kathy Boockvar made changes to election law unilaterally. We need to ensure that can't happen again in other states or in future elections.
Along with these nine (and other) reforms, there are specific measures states shouldn't take.
For instance, there should be no same-day registration for voting. Registration should be required before Election Day to give election officials sufficient time to verify the accuracy of the registration information contained on a registration form and to confirm the eligibility of the potential voter.
There also shouldn't be automatic voter registration. States should comply with the National Voter Registration Act and provide registration opportunities at state agencies. However, all individuals should be asked at the time of the state agency transaction, such as the application for a driver's license, whether they want to register to vote.
No one should be automatically registered without their consent or knowledge, since this can lead to multiple registrations by the same individual, as well as the registration of ineligible individuals, such as noncitizens.
As we all know, elections have consequences. That's why it's crucial to ensure that every vote counts and isn't diluted by election fraud and other problems. It's time for states to implement these reforms to ensure voters will have faith in our elections.
This op-ed has been adapted from a Heritage Foundation report. To learn more, read the full report, "The Facts About Election Integrity and the Need for States to Fix Their Election Systems."
Have an opinion about this article? To sound off, please email letters@DailySignal.com and we will consider publishing your remarks in our regular "We Hear You" feature.
DECEMBER 9, 2020
Bridget Hill
Attorney General
2320 Capitol Avenue
Cheyenne, WY 82002
Dear Ms. Hill,
I noticed your state voted for Donald Trump for President but yet you haven't joined the Texas suit against Pennsylvania, Georgia, Michigan and Wisconsin in order to protect the integrity of our elections. WHY HAVEN'T YOU DONE SO?

Here is a link to the story on Fox News: Missouri, 16 other states file brief supporting Texas suit to delay presidential elector appointment.
The article noted:
Missouri led a group of 17 states that Wednesday afternoon filed a brief with the Supreme Courtsupporting the Texas lawsuit aimed at delaying the appointment of presidential electors from Georgia, Pennsylvania, Michigan and Wisconsin.

The brief mirrors the argument of the Texas suit in saying that the states acted unconstitutionally when either their judiciaries or executive branches changed their elections laws. The Texas suit, and the states that support it, say that only state legislatures may set laws regarding how states appoint their presidential electors.
"The integrity of our elections is of critical importance to maintaining our republic, both today and in future elections," Missouri Attorney General Eric Schmitt said in a statement. "The stakes of protecting our Constitution, defending our liberty and ensuring that all votes are counted fairly couldn't be higher. With this brief, we are joining the fight."
The Trump campaign also filed a brief asking to join on the Texas suit on Wednesday.
"The illegal suspension or violation of state law thus calls directly into question the certification of the results of the elections in Defendant States for Vice President Joe Biden, Proposed Plaintiff in Intervention's opponent in the election," its brief said. "President Trump's interest in the outcome of this litigation could therefore not be more acute."
The brief filed by Missouri and the other states, which is officially a motion for leave to file a bill of complaint, also warns that the changes enacted by the state executives and judicial branches opened the states' elections up to potential fraud.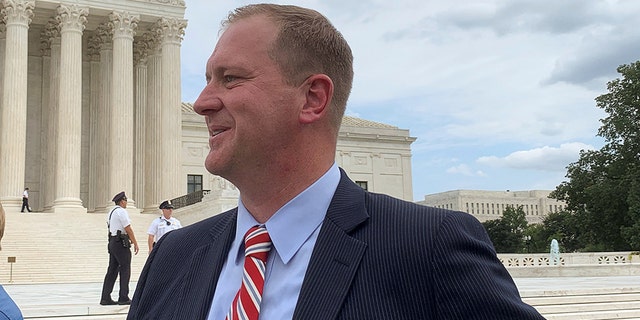 Missouri Attorney General Eric Schmitt led a group of 17 state attorneys general Wednesday in supporting the Texas lawsuit which aims to block electors from Michigan, Wisconsin, Pennsylvania and Georgia. (Reuters)
"The Bill of Complaint alleges that non-legislative actors in each Defendant State unconstitutionally abolished or diluted statutory safeguards against fraud enacted by their state Legislatures, in violation of the Presidential Electors Clause," the brief states.
It continues: "All the unconstitutional changes to election procedures identified in the Bill of Complaint have two common features: (1) They abrogated statutory safeguards against fraud that responsible observers have long recommended for voting by mail, and (2) they did so in a way that predictably conferred partisan advantage on one candidate in the Presidential election."
—
If we don't make every attempt to stop fraud now then what do you think will happen in the Georgia Senate races? We will be turning our government over to the radical portion of the Democratic Party and they will pack the Supreme Court and make Washington D.C. a state along with several other liberal causes of theirs being crammed through Congress with Biden. and Harris being all to willing to push our country over the cliff!!!
Thank you for your time and I appreciate the good work you are doing!!!
Sincerely,
Everette Hatcher III, 13900 Cottontail Lane, Alexander, AR 72002, ph 501-920-5733 everettehatcher@gmail.com
—
Former abortion supporter who became pro-life leader, has died at 84
December 9, 2020
Office of Barack and Michelle Obama
P.O. Box 91000
Washington, DC 20066
Dear President Obama,
I wrote you over 700 letters while you were President and I mailed them to the White House and also published them on my blog http://www.thedailyhatch.org .I received several letters back from your staff and I wanted to thank you for those letters.
I have been reading your autobiography A PROMISED LAND and I have been enjoying it.
Let me make a few comments on it, and here is the first quote of yours I want to comment on:
So far so good. Except I then added, "So it's not surprising then that they get bitter, they cling to guns or religion or antipathy toward people who aren't like them, or anti-immigrant sentiment, or anti-trade sentiment as a way to explain their frustrations." I can provide the exact quote here, because in the audience that night was a freelance writer who was recording me. To her mind, my answer risked reinforcing negative stereotypes some Californians already had about working-class white voters and was therefore worth blogging about on Huffington Post. (It's a decision I respect, by the way, though I wish she had talked to me about it before writing the story. This is what separates even the most liberal writers from their conservative counterparts—the willingness to flay politicians on their own side.) Even today, I want to take that sentence back and make a few simple edits. "So it's not surprising then that they get frustrated," I would say in my revised version, "and they look to the traditions and way of life that have been constants in their lives, whether it's their faith, or hunting, or blue-collar work, or more traditional notions of family and community. And when Republicans tell them we Democrats despise these things—or when we give these folks reason to believe that we do—then the best policies in the world don't matter to them.
It seems your policies are inspired by secular humanism and those are the worst policies such as free abortions!
I wanted to pass along a portion of the excellent article "Bernard Nathanson: A Life Transformed by the Truth about Abortion."
LifeNews.com Note: Robert P. George is McCormick Professor of Jurisprudence and Director of the James Madison Program in American Ideals and Institutions at Princeton University. He is a member of the President's Council on Bioethics and previously served on the United States Commission on Civil Rights. This article previously appeared in Public Discourse:
A man who made a career of death and lies became a hero for life and truth.
This morning in St. Patrick's Cathedral, Archbishop Timothy Dolan will celebrate a Mass of Christian Burial for a giant of the pro-life movement: Dr. Bernard Nathanson.
Few people, if any, did more than Bernard Nathanson to undermine the right to life of unborn children by turning abortion from an unspeakable crime into a constitutionally protected liberty. Someday, when our law is reformed to honor the dignity and protect the right to life of every member of the human family, including children in the womb, historians will observe that few people did more than Bernard Nathanson to achieve that reversal.
Dr. Nathanson, the son of a distinguished medical practitioner and professor who specialized in obstetrics and gynecology, had his first involvement with abortion as a medical student at McGill University in Montreal. Having impregnated a girlfriend, he arranged and paid for her illegal abortion. Many years later, he would mark this episode as his "introductory excursion into the satanic world of abortion."
In the meantime, however, Nathanson would become a nearly monomaniacal crusader for abortion and campaigner for its legalization. And he would himself become an abortionist.
By his own estimate, he presided over more than 60,000 abortions as Director of the Center for Reproductive and Sexual Health, personally instructed medical students and practitioners in the performance of about 15,000 more, and performed 5,000 abortions himself. In one of those abortions, he took the life of his own son or daughter–a child conceived with a girlfriend after he had established his medical practice. Writing with deep regret in his moving autobiography The Hand of God (1996), Nathanson confessed his own heartlessness in performing that abortion: "I swear to you, I had no feelings aside from the sense of accomplishment, the pride of expertise."
_________________________________Nathanson later in his life became a pro-life advocate.In 1985, Nathanson employed the new fetal imaging technology to produce a documentary film, "The Silent Scream," which energized the pro-life movement and threw the pro-choice side onto the defensive by showing in graphic detail the killing of a twelve-week-old fetus in a suction abortion. Nathanson used the footage to describe the facts of fetal development and to make the case for the humanity and dignity of the child in the womb. At one point, viewers see the child draw back from the surgical instrument and open his mouth: "This," Nathanson says in the narration, "is the silent scream of a child threatened imminently with extinction." Publicity for "The Silent Scream" was provided by no less a figure than President Ronald Reagan, who showed the film in the White House and touted it in speeches.
Dr. Bernard Nathanson's classic video that shocked the world. He explains the procedure of a suction abortion, followed by an actual first trimester abortion as seen through ultrasound. The viewer can see the child's pathetic attempts to escape the suction curette as her heart rate doubles, and a "silent scream" as her body is torn apart. A great tool to help people see why abortion is murder. The most important video on abortion ever made. This video changed opinion on abortion to many people.
Introduction by Dr. Bernard Nathanson, host. Describes the technology of ultrasound and how, for the first time ever, we can actually see inside the womb. Dr. Nathanson further describes the ultrasound technique and shows examples of babies in the womb. Three-dimensional depiction of the developing fetus, from 4 weeks through 28 weeks. Display and usage of the abortionists' tools, plus video of an abortionist performing a suction abortion. Dr. Nathanson discusses the abortionist who agreed to allow this abortion to be filmed with ultrasound. The abortionist was quite skilled, having performed more than 10,000 abortions. We discover that the resulting ultrasound of his abortion so appalled him that he never again performed another abortion. The clip begins with an ultrasound of the fetus (girl) who is about to be aborted. The girl is moving in the womb; displays a heartbeat of 140 per minute; and is at times sucking her thumb. As the abortionist's suction tip begins to invade the womb, the child rears and moves violently in an attempt to avoid the instrument. Her mouth is visibly open in a "silent scream." The child's heart rate speeds up dramatically (to 200 beats per minute) as she senses aggression. She moves violently away in a pathetic attempt to escape the instrument. The abortionist's suction tip begins to rip the baby's limbs from its body, ultimately leaving only her head in the uterus (too large to be pulled from the uterus in one piece). The abortionist attempts to crush her head with his forceps, allowing it to be removed. In an effort to "dehumanize" the procedure, the abortionist and anesthesiologist refer to the baby's head as "number 1." The abortionist crushes "number 1" with the forceps and removes it from the uterus. Abortion statistics are revealed, as well as who benefits from the enormously lucrative industry that has developed. Clinics are now franchised, and there is ample evidence that many are controlled by organized crime. Women are victims, too. They haven't been told about the true nature of the unborn child or the facts about abortion procedures. Their wombs have been perforated, infected, destroyed, and sterilized. All as a result of an operation about which they they have had no true knowledge. Films like this must be made part of "informed consent." NARAL (National Abortion Rights Action League) and Planned Parenthood are accused of a conspiracy of silence, of keeping women in the dark about the reality of abortion. Finally, Dr. Nathanson discusses his credentials. He is a former abortionist, having been the director of the largest clinic in the Western world.
Sincerely,
Everette Hatcher III, 13900 Cottontail Lane, Alexander, AR 72002, ph 501-920-5733 everettehatcher@gmail.com
Related posts:
President Obama c/o The White House 1600 Pennsylvania Avenue NW Washington, DC 20500 Dear Mr. President, I know that you receive 20,000 letters a day and that you actually read 10 of them every day. I really do respect you for trying to get a pulse on what is going on out here. There have […]By Everette Hatcher III | Posted in David Barton, Founding Fathers, President Obama | Edit |Comments (0)
There have been many articles written by evangelicals like me who fear that our founding fathers would not recognize our country today because secular humanism has rid our nation of spiritual roots. I am deeply troubled by the secular agenda of those who are at war with religion in our public life. Lillian Kwon quoted somebody […]By Everette Hatcher III | Posted in David Barton, Founding Fathers | Edit | Comments (0)
There have been many articles written by evangelicals like me who fear that our founding fathers would not recognize our country today because secular humanism has rid our nation of spiritual roots. I am deeply troubled by the secular agenda of those who are at war with religion in our public life. Lillian Kwon quoted somebody […]By Everette Hatcher III | Posted in David Barton, Founding Fathers | Edit | Comments (0)
There have been many articles written by evangelicals like me who fear that our founding fathers would not recognize our country today because secular humanism has rid our nation of spiritual roots. I am deeply troubled by the secular agenda of those who are at war with religion in our public life. Lillian Kwon quoted somebody […]By Everette Hatcher III | Posted in David Barton, Founding Fathers | Edit | Comments (0)
There have been many articles written by evangelicals like me who fear that our founding fathers would not recognize our country today because secular humanism has rid our nation of spiritual roots. I am deeply troubled by the secular agenda of those who are at war with religion in our public life. Lillian Kwon quoted somebody […]By Everette Hatcher III | Posted in David Barton, Founding Fathers | Edit | Comments (0)
There have been many articles written by evangelicals like me who fear that our founding fathers would not recognize our country today because secular humanism has rid our nation of spiritual roots. I am deeply troubled by the secular agenda of those who are at war with religion in our public life. Lillian Kwon quoted somebody […]By Everette Hatcher III | Posted in Founding Fathers | Edit | Comments (0)
President Obama Speaks at The Ohio State University Commencement Ceremony Published on May 5, 2013 President Obama delivers the commencement address at The Ohio State University. May 5, 2013. You can learn a lot about what President Obama thinks the founding fathers were all about from his recent speech at Ohio State. May 7, 2013, […]By Everette Hatcher III | Posted in Founding Fathers, President Obama | Edit | Comments (0)
Dr. C. Everett Koop with Bill Graham. Francis Schaeffer: "Whatever Happened to the Human Race" (Episode 4) THE BASIS FOR HUMAN DIGNITY Published on Oct 7, 2012 by AdamMetropolis The 45 minute video above is from the film series created from Francis Schaeffer's book "Whatever Happened to the Human Race?" with Dr. C. Everett Koop. This […]By Everette Hatcher III | Posted in Founding Fathers, Francis Schaeffer, Prolife | Edit |Comments (1)
America's Founding Fathers Deist or Christian? – David Barton 4/6 There have been many articles written by evangelicals like me who fear that our founding fathers would not recognize our country today because secular humanism has rid our nation of spiritual roots. I am deeply troubled by the secular agenda of those who are at […]By Everette Hatcher III | Posted in David Barton, Founding Fathers | Tagged governor of connecticut, john witherspoon, jonathan trumbull | Edit | Comments (1)
3 Of 5 / The Bible's Influence In America / American Heritage Series / David Barton There were 55 gentlemen who put together the constitution and their church affliation is of public record. Greg Koukl notes: Members of the Constitutional Convention, the most influential group of men shaping the political foundations of our nation, were […]By Everette Hatcher III | Posted in Founding Fathers | Edit | Comments (0)
I do not think that John Quincy Adams was a founding father in the same sense that his father was. However, I do think he was involved in the early days of our government working with many of the founding fathers. Michele Bachmann got into another history-related tussle on ABC's "Good Morning America" today, standing […]By Everette Hatcher III | Posted in David Barton, Founding Fathers | Edit | Comments (0)
I have gone back and forth and back and forth with many liberals on the Arkansas Times Blog on many issues such as abortion, human rights, welfare, poverty, gun control and issues dealing with popular culture. Here is another exchange I had with them a while back. My username at the Ark Times Blog is Saline […]By Everette Hatcher III | Posted in Arkansas Times, Francis Schaeffer, Prolife | Edit |Comments (0)
I truly believe that many of the problems we have today in the USA are due to the advancement of humanism in the last few decades in our society. Ronald Reagan appointed the evangelical Dr. C. Everett Koop to the position of Surgeon General in his administration. He partnered with Dr. Francis Schaeffer in making the […]By Everette Hatcher III | Posted in Adrian Rogers, Francis Schaeffer | Edit | Comments (0)
Francis Schaeffer: "Whatever Happened to the Human Race" (Episode 4) THE BASIS FOR HUMAN DIGNITY Published on Oct 7, 2012 by AdamMetropolis ____________ The 45 minute video above is from the film series created from Francis Schaeffer's book "Whatever Happened to the Human Race?" with Dr. C. Everett Koop. This book really helped develop my political […]By Everette Hatcher III | Posted in Francis Schaeffer | Edit | Comments (0)
—-
—