https://www.dailysignal.com/2021/01/28/why-i-support-the-unalienable-right-to-life/

—
Why I Support the Unalienable Right to Life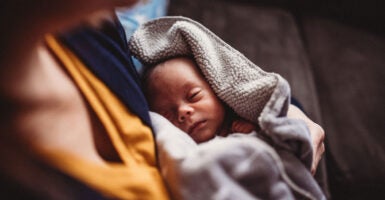 The Declaration of Independence states that "all … are created equal, that they are endowed by their Creator with certain unalienable Rights, that among these are Life, Liberty and the pursuit of Happiness."
The first unalienable right inscribed by Thomas Jefferson is "life."
As we transition to a period of new leadership, and lawmakers attempt to navigate our country's future and preserve the sanctity of our democracy, it has never been more important for us to protect these very inalienable rights while remaining true to our values. That includes standing up for those who cannot do so for themselves.
With each year that passes since Roe v. Wade, and as the cultural normalization of abortion on demand continues, our Founding Fathers' vision for a more perfect nation has become harder to achieve. This is much to the consternation of not only me, but to my family.
The Left has declared war on our culture, but we should never back down, nor compromise our principles. Learn more now >>
In Scripture, God affirms the value of every human life—from children in the womb to the elderly. As a devout Christian who often turns to God in times of tribulation, those ideals have never rung truer for me than through the premature birth of my 17th grandchild, Warren.
Warren's fight for his life turned my entire world upside down and shined a light on my faith through the scope of harsh reality. During the countless agonizing hours in the neonatal intensive care unit, holding my daughter's hand through tears and prayer, I couldn't help but contemplate one particular question:
"How could anyone willingly terminate a child's life, when thousands of families like mine every day cling to the tiniest ounce of hope that our own survive?"
Due to the grace of God, loving support from family and friends, and the heroic work of doctors and nurses, Warren was released from the hospital on his original due date and is now a healthy baby boy.
Wanted or unwanted, all children deserve to feel a parent's love, and at the very least, be treated with dignity per God's plan. Personally, I know each moment I get to spend with Warren is a true miracle that I will never take for granted.
I wish to live in a nation where we respect the sanctity of all human life; where condemning the murder of a child is not up for debate, but a matter of course.
This month, I have called on Congress to dedicate a day in our calendar year to the sanctity of life via H.R. 60 and have also introduced legislation that would address the lapse in state data reporting on abortions.
However, despite 70% of Americans wanting significant restrictions on abortion, I'm afraid neither of these pieces of legislation will pass the House of Representatives.
Is it because bringing the alarming number of abortions to light will be too hard for Democratic colleagues to ignore? Or is it just a blatant ideological disregard for human life that prevents House Speaker Nancy Pelosi from bringing any pro-life legislation to the floor?
My grandson was 1 pound, 15 ounces when he was born. Now, he is my daily reminder that the lives of millions of premature infants, whose heartbeats are detected, can be cut short due to the legalization of abortion and current laws that insufficiently prevent infanticide.
As long as I am in Congress, I will continue to defend our values, because the last time I checked, our forefathers did not list abortion as an exception to our entitlement to life, especially not for those that need these protections the most.
The Daily Signal publishes a variety of perspectives. Nothing written here is to be construed as representing the views of The Heritage Foundation.
Have an opinion about this article? To sound off, please email letters@DailySignal.com and we will consider publishing your remarks in our regular "We Hear You" feature.
February 5, 2021
President Biden c/o The White House
1600 Pennsylvania Avenue NW
Washington, DC 20500
Dear Mr. President,
Around 20 times I have taken time to take my family down to the March for Life in January to take up for the rights of the smallest in our country. These unborn children need us to take up for them. I know that you do not hold my same views on this but I wanted to send this you today so you will know where we are coming from. Since you are a Christian like me then we have the common ground of the Bible to discuss this issue.
Dr. C. Everett Koop is a hero of mine. He is pictured below.
Dr. C. Everett Koop with Ronald Reagan. Dr. Koop was delayed in his confirmation by Ted Kennedy because of his film Whatever Happened to the Human Race?
Watch the film below starting at the 19 minute mark and that will lead into a powerful question from Dr. C. Everett Koop. This 1979 film is WHATEVER HAPPENED TO THE HUMAN RACE? by Francis Schaeffer and Dr. C. Everett Koop.
Child abuse has been rising dramatically in the last forty years.
In 1972 there were 60,000 reported child-abuse incidents in the U.S.  In
1976, the number had soared to over 500,000!  Child Abuse is now the fifth most frequent cause of death among children.  (Francis Shaeffer and Dr.  C.  Everett Koop, "Whatever Happened to the Human Race?", Crossway Books, Westchester, IL.)
At the 32 minute mark in the above film you will see Dr. C. Everett Koop make this comment (in 1979):
There are those who try and justify abortions by saying that abortions get rid of unwanted children and therefore will cut down on child abuse, but consider this, since 1973 there have been 6 million abortions in the USA and there are therefore 6 million fewer children than there would have been without the liberal abortion ruling and yet child abuse has increased in incidents year by year from that date.
Thank you so much for your time. I know how valuable it is. I also appreciate the fine family that you have and your commitment as a father and a husband.
Sincerely,
Everette Hatcher III, 13900 Cottontail Lane, Alexander, AR 72002, ph 501-920-5733
Dr. Francis schaeffer – The flow of Materialism(from Part 4 of Whatever happened to human race?)
Dr. Francis Schaeffer – The Biblical flow of Truth & History (intro)
Francis Schaeffer – The Biblical Flow of History & Truth (1)
Dr. Francis Schaeffer – The Biblical Flow of Truth & History (part 2)
Related posts:
 Francis Schaeffer: "Whatever Happened to the Human Race" (Episode 1) ABORTION OF THE HUMAN RACE Published on Oct 6, 2012 by AdamMetropolis The 45 minute video above is from the film series created from Francis Schaeffer's book "Whatever Happened to the Human Race?" with Dr. C. Everett Koop. This book  really helped develop my political views […]