—-
Fred Lucas / @FredLucasWH / January 27, 2021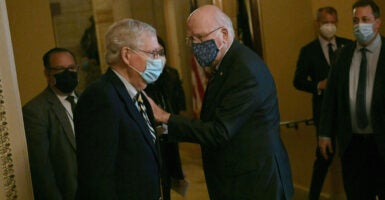 Sen. Patrick Leahy, D-Vt., speaks Monday with Senate Minority Leader Mitch McConnell, R-Ky., left, at the Capitol. Leahy will preside over former President Donald Trump's impeachment trial. (Photo: Brendan Smialowski/AFP/Getty Images)
The sequel to Donald Trump's impeachment trial will begin about one year after the Senate voted to acquit him the first time.
House impeachment managers delivered an article of impeachment Monday to the Senate, where Trump's second trial is set to begin Feb. 8. Senators on Tuesday took an oath to be impartial, as they did ahead of last year's trial.
The biggest difference, of course, is that the 2020 trial was of a president during an election year, with the verdict focused on whether to remove Trump from office. The upcoming verdict on whether Trump incited insurrection will determine whether Citizen Trump will be disqualified from holding future federal office.
The Left has declared war on our culture, but we should never back down, nor compromise our principles. Learn more now >>
But plenty of other changes will be evident as well, some of which haven't been determined. Here's a look at differences between the two impeachment trials.
1. Who Presides Over the Trial
The Constitution says, "When the President of the United States is tried, the Chief Justice shall preside."
Chief Justice John Roberts presided over the Senate trial of Trump last year. However, Roberts declined to do so this time around, since Trump no longer is an officeholder.
In his place is Senate President Pro Tempore Patrick Leahy, D-Vt., the longest serving senator of the majority party.
"The president pro tempore has historically presided over Senate impeachment trials of non-presidents," Leahy said in a written statement, adding:
When presiding over an impeachment trial, the president pro tempore takes an additional special oath to do impartial justice according to the Constitution and the laws. It is an oath that I take extraordinarily seriously.

When I preside over the impeachment trial of former President Donald Trump, I will not waver from my constitutional and sworn obligations to administer the trial with fairness, in accordance with the Constitution and the laws.
Leahy spokesman David Carle told The Daily Signal that Senate leaders, not the presiding officer, would work out details of the rules for the trial.
Leahy was hospitalized briefly Tuesday for muscle spasms.
2. When the Target Isn't in Office
Sen. Rand Paul, R-Ky., forced a vote Tuesday on a resolution asserting that a Senate trial for a former officeholder and private citizen would be unconstitutional.
Paul's resolution failed, but gained votes from 45 out of 50 Republicans. One of them was Minority Leader Mitch McConnell, R-Ky., who has been critical of Trump since the Jan. 6 riot at the Capitol.
The five Senate Republicans who voted with all the Democrats to proceed with the trial were Lisa Murkowski of Alaska, Pat Toomey of Pennsylvania, Mitt Romney of Utah, Susan Collins of Maine, and Ben Sasse of Nebraska.
Although the vote foreshadowed what most already knew—a conviction of Trump by two-thirds of senators is near impossible—the debate over jurisdiction likely won't end.
A key part of the constitutional argument revolves around the word "and."
The Constitution states that punishment upon conviction "shall not extend further than to removal from office, and disqualification to hold and enjoy any office of honor, trust or profit under the United States."
Only after a two-thirds supermajority vote to convict can the Senate take a separate vote—requiring only a simple majority—to disqualify someone from holding a future federal office.
The closest historical parallel is the case of former War Secretary William Belknap, who resigned in 1876 to avoid impeachment during a corruption scandal. The House impeached Belknap anyway and sent five articles of impeachment concerning bribery to the Senate.
Nevertheless, the Senate haggled over whether it had jurisdiction to try Belknap, who no longer held office. After much debate and a narrow 37-29 vote, the Senate determined that it could try the case.
The Senate later voted 35-25 to convict Belknap, short of the supermajority needed.
"The Democrats know they can't get a conviction to disqualify Trump, but the trial itself could do maximum damage to Trump's reputation, while also forcing Republican senators to go on the record," Thomas Jipping, a former chief counsel for the Senate Judiciary Committee, told The Daily Signal.
The weakness in trying to force Republican senators on the record is the process argument, noted Jipping, who played a role in the 2010 Senate impeachment trial of U.S. District Judge Thomas Porteous of the Eastern District of Louisiana. Jipping now is a senior legal fellow at The Heritage Foundation.
Voting against conviction wouldn't be an automatic show of support for Trump, but rather express concern about the constitutionality of voting to convict a private citizen, Jipping said.
Of the 25 senators who voted to acquit Belknap, 22 said their votes primarily were based on the view the Senate had no jurisdiction over an official who had resigned.
Other examples of impeachment after an individual leaves office include three federal judges who resigned after being impeached by the House. The Senate nixed a trial in each case.
In 2009, the House impeached District Judge Samuel Kent of the Southern District of Texas over allegations of sexual assault and obstructing an investigation. Kent resigned from a prison cell, and senators terminated his trial.
In 1926, the House impeached District Judge George English of the Eastern District of Illinois for abuse of power. He resigned and the Senate dismissed the case.
In 1873, the House impeached District Judge Mark Delahay of the District of Kansas on charges of intoxication on the bench. Delahay resigned before his trial and the Senate didn't proceed.
In the very first House impeachment, lawmakers impeached Sen. William Blount in 1797 on charges of conspiring with Great Britain. The Senate, which already had expelled Blount, declined to consider the impeachment.
It remains the only time the House has impeached another member of Congress.
3. What About Witnesses This Time?
Senate Majority Leader Charles Schumer, D-N.Y., will hammer out details of the trial and, with the chamber's 50-50 split, is expected to include McConnell.
The House managers prosecuting the case reportedly are mulling whether to call witnesses.
Trump's previous Senate trial was the first impeachment trial of a president not to include witnesses. The trial of Bill Clinton in 1999 had three witnesses give depositions in recorded video shown to the full Senate. The trial of Andrew Johnson in 1868 was a grand affair with 25 prosecution witnesses and 16 defense witnesses.
In the trial of Belknap, a former Cabinet official, more than 40 witnesses were called.
That said, the previous Trump trial didn't set any new precedent on witnesses. The rules for the Clinton trial and the earlier Trump trial were nearly identical in granting each side—the House managers and the president's defense team—24 hours each to present their case. Questions and answers from senators followed.
Senate impeachment rules specify that senators vote on whether to allow witnesses.
In the case of Clinton, the Republican-controlled Senate was not willing to allow witnesses on the Senate floor, so lawmakers saw video depositions. In the Trump trial, the Republican-controlled Senate voted against having witnesses.
"This is a much more simpler, straightforward charge than the previous impeachment, where details were foundational," Jipping said of Trump. "In this charge, there is less need for witnesses."
4. Who's in New Cast for Sequel
South Carolina attorney Butch Bowers, 55, a go-to lawyer in the Palmetto State for Republicans, is leading Trump's legal defense.
Bowers has a strong record, but wasn't part of the all-star cast of Trump's legal team in his 2020 Senate trial, which included then-White House counsel Pat Cipollone; well-known legal pundit and author Jay Sekulow; former U.S. solicitor general, federal judge, and independent counsel Kenneth Starr; former independent counsel Robert Ray; longtime Harvard professor and legal pundit Alan Dershowitz; and former Florida Attorney General Pam Bondi.
Trump reportedly had difficulty recruiting lawyers this time.
Based in Columbia, South Carolina, Bowers is a JAG officer and colonel in the South Carolina Air National Guard, the Charleston-based Post and Courier newspaper reported. He received his law degree from Tulane University in 1998.
After law school, Bowers went to work at the family law firm of South Carolina's current governor, Henry McMaster, a Republican. Bowers served as lead counsel at the time for the South Carolina Repuoblican Party.
He also is a former chairman of the South Carolina Election Commission. He did a stint in the U.S. Justice Department during the George W. Bush administration, as special counsel on voting matters.
In 2009, Bowers represented South Carolina's sitting governor, Mark Sanford, and helped the Republican avoid impeachment. Sanford had left the state for a week to visit his mistress in Argentina while telling staff he was hiking the Appalachian Trail.
Bowers later represented then-South Carolina Gov. Nikki Haley in 2015 before the state's ethics commission when the Republican faced an allegation made while she was a member of the state Legislature.
Bowers represented the administration of another Republican governor, North Carolina's Pat McCrory, in litigation that included a case involving the state's voter ID law.
Joining Bowers for the Trump impeachment trial is Deborah Barbier, a fellow Columbia lawyer and former federal prosecutor, the Post and Courier reported.
From 1996 to 2011, Barbier worked in the criminal division of the U.S. Attorney's Office for the District of South Carolina. She was deputy chief of the general crimes section, chief of the asset forfeiture unit, and chief of the civil division.
Barbier received her law degree from the University of South Carolina. After going into private practice, she defended Joey Meek, a friend of Charleston church shooter Dylann Roof. Meek pleaded guilty to telling others not to share information with police on what Roof was planning.
Barbier also defended state political operative Richard Quinn against charges of conspiracy and illegal lobbying. State prosecutors dropped the charge in 2017 when Quinn's son, state Rep. Rick Quinn, a Republican, pleaded guilty to misconduct in office and resigned his seat.
Acting as prosecutors in the Trump impeachment trial will be the nine House managers appointed by House Speaker Nancy Pelosi.
The managers, or prosecutors, in the first Trump trial included heavy hitters among House Democrats such as Intelligence Chairman Adam Schiff of California and Judiciary Chairman Jerry Nadler of New York.
>>> Read More About House Impeachment Managers Here
In place of Schiff, the leader of the team will be Rep. Jamie Raskin, D-Md., a former law professor at American University and advocate since 2017 of using the 25th Amendment to remove Trump from office.
Rep. Eric Swalwell, D-Calif., currently faces questions about his relationship with an alleged Chinese spy, Christine Fang. Swalwell, who has denied any wrongdoing, was a staple on cable news for criticizing Trump over since-disproven allegations about conspiring with Russia.
Before he was elected to the House, Rhode Island's David Cicilline was the mayor of Providence and the first openly gay mayor in the United States.
Other prosecutors include California's Ted Lieu, a former Air Force prosecutor; Texas' Joaquin Castro, who first called for Trump's impeachment in 2017; and Stacey Plaskett, who represents the Virgin Islands as a nonvoting House member.
Have an opinion about this article? To sound off, please email letters@DailySignal.com and we will consider publishing your remarks in our regular "We Hear You" feature.
January 22, 2021 10:59AM
By Robert A. LevyTwitterLinkedInRedditFacebook
Former judge Michael Luttig has argued correctly that the Constitution refers to impeachment of the president, not the ex‐​president. Article II, section 4 provides that "The President … shall be removed from Office on Impeachment for, and Conviction of, Treason, Bribery, or other high Crimes and Misdemeanors." Accordingly, once a person is no longer president, he can't be impeached or convicted. Our federal government has only those powers enumerated in the Constitution; it does not have the power to impeach a former president.
On the other hand, several legal experts have pointed to Article I, section 3, where the Constitution states that "Judgment in Cases of Impeachment shall not extend further than to removal from Office, and disqualification to hold and enjoy any Office of honor, Trust or Profit under the United States." Those experts note further that disqualification is a separate vote — requiring only a majority of the Senate, not the two‐​thirds required for conviction and removal. Accordingly, the disqualification vote could occur after the president had already been removed.
Ergo, the entirety of the impeachment process, expanded to include disqualification, could apply to an ex‐​president. Can those two provisions be reconciled? First, nothing in the Constitution requires that conviction and removal occur simultaneously. The Senate could certainly vote to convict while declaring that removal would occur on a specified future date. Then, between the date of conviction and the date of removal, the Senate could decide whether to disqualify the president from holding future office, in which case the three‐​stage process – impeachment, conviction, disqualification – would be complete prior to removal. None of the stages would affect an ex‐​president, thereby complying with both of the Articles cited above.
Second, the two Articles can be reconciled even if the disqualification vote occurs post‐​removal. Article II expressly refers to impeachment and conviction of "The President." By contrast, Article I refers to disqualification, but limits that remedy to someone who is subject to "Judgment in Cases of Impeachment," which could include an ex‐​president. Therefore, if the president is impeached and convicted in accordance with Article II, he might subsequently – post‐​removal, as an ex‐​president – be disqualified in accordance with Article I.
Of course, the president could avoid removal and disqualification if he resigned prior to conviction. In that event, if he had committed a crime, he might still be indicted after leaving office. And the voters might determine that his behavior disqualified him from future office.
Here are my conclusions: (1) Per Article II, President Trump was vulnerable to impeachment and conviction while in office. (2) Per Article II, he is not subject to impeachment and conviction post‐​presidency. (3) Per Article I, if he had been impeached and convicted while in office, ex‐​President Trump would still be at risk of disqualification. As we know, Trump was impeached but not convicted. In my view, he may not now be constitutionally convicted or disqualified. Yes, in 1876 the Secretary of War was impeached after he had resigned; but that act was never challenged in court and consequently does not establish legal precedent. After all, Congress has done many things that are unconstitutional.
Suppose Trump is unconstitutionally convicted? What redress is available? The Supreme Court might be reluctant to get involved because impeachment is a political question explicitly assigned by the Constitution to the legislative branch. Perhaps, however, while not inclined to rule on matters that arise during an impeachment, the Court would nonetheless be willing to address the threshold question of what counts as a legitimate impeachment. Otherwise, if Trump were once again to become a presidential candidate, despite the Senate's vote to disqualify him, the Court might then opine on litigation initiated by one or more of his would‐​be opponents.
January 22, 2021 – 04:00 PM EST
BY ALAN DERSHOWITZ, OPINION CONTRIBUTORThe views expressed by contributors are their own and not the view of The Hill
—
January 22, 2021 – 04:00 PM EST
If former President Trump – now Citizen Trump – is to be tried by the United States Senate, who will be the presiding officer?
With Senate Majority Leader Charles Schumer (D-N.Y.) stating today that the House will deliver its impeachment article on Jan. 25 and insisting that the process will move forward – "Make no mistake, a trial will be held" – this is no longer just a question for a law school exam or a dinner-table trivia debate. It is a serious legal and constitutional matter that must be resolved in a matter of days.
The Constitution provides as follows: "When the president is tried, the chief justice shall preside." But there is only one president of the United States, and his name now is Joseph Biden. Donald Trump is no longer the president. So it would be improper, and in violation of the Constitution, to have the chief justice of the Supreme Court preside over a trial. This is true even though Trump was impeached while he still was president. The Constitution is explicit: It uses the word "tried."
If the Senate were to invite Chief Justice John Roberts to preside over the trial of Citizen Trump, Roberts would have to decide whether to accept that invitation. I predict he will review the words of the Constitution, the history of the impeachment clause and any relevant precedents. He then will decide that the Constitution gives him no proper role in the trial of a former president.
One important reason why the Constitution assigned the chief justice the role of presiding officer only in the case of a Senate trial of a sitting president is that it would constitute a conflict of interest for the president of the Senate – the vice president of the United States – to preside over such a trial. After all, if the president were to be removed, the vice president would take office. So the Framers chose a nonpolitical judicial official who was not in the line of succession to the presidency as the presiding officer for such a trial.
This conflict, however, does not exist – at least not directly – when a former president is on trial. Who, then, would preside over the trial of Trump if Chief Justice Roberts were to decline that role?
In the normal course of events, Vice President Kamala Harris would preside, since she has the constitutional role of president of the Senate. But in this instance, the vice president, too, may have a conflict of interest. It is certainly possible that she may run for president in 2024. President Biden will be 82 years old then, and it is certainly possible that he will not seek reelection. The most obvious Democratic candidate to succeed him would be his vice president. Would it not be a conflict of interest for a potential candidate to preside over a trial whose only real function is to preclude a former president from running again in 2024?
Conflicts of interest involve not only actual prejudice but also the appearance of prejudice. Would it not appear to be a conflict of interest for Harris to make rulings regarding the disqualification of a leading potential candidate against her?
So, if the chief justice and the vice president should not preside, who should, and how should that decision be made? The Constitution provides for no such process. Presumably, the senators themselves would elect a presiding officer or the majority leader would appoint one. Since Democrats now control the Senate, with the vice president casting any tie-breaking vote, that too would create an appearance of conflict.
The real point is that the Framers never contemplated a Senate trial of a former or a potential future president. Had they contemplated such a bizarre scenario, they would have provided an answer to the question of who presides. That they did not is additional evidence – beyond the words of the Constitution – that a former president cannot be tried by the Senate.
To place a private citizen on trial in the Senate also would constitute a bill of attainder, which is expressly prohibited by the text of the Constitution. A bill of attainder is any legislature trial of a specific individual that could result in punishment (including future disqualification from running for federal office). The Senate trial of Citizen Trump would fit that definition comfortably.
We often hear the now-weaponized cliché that "No one is above the law." That is true not only of a president but of Congress as well. The Constitution provides for a special oath to be taken by senators in impeachment and removal trials: "When sitting for that purpose, they shall be on oath or affirmation." That oath includes a commitment to abide by the limitations of the Constitution. Those limitations include not putting private citizens on trial. So the Senate itself should not be above the law and the Constitution.
Congress should do in this instance what it did when President Nixon was forced to resign and leave the presidency: It should do nothing. That is its proper role with regard to an impeached former president.
Alan Dershowitz, professor emeritus at Harvard Law School, served on the legal team representing President Trump during the Senate impeachment trial. He is author of the recent book "Cancel Culture: The Latest Attack on Free Speech and Due Process" and his podcast "The Dershow" is also now available on Spotify and YouTube. You can find him on Twitter @AlanDersh.
I have read several books by Alan Dershowitz and he is a liberal but he does look at the constitution honestly and here he has made some very insightful observations that I am sure will upset Democrats but nonetheless will not slow them down from impeaching the President a second time because of their hate of all things Trump!
Dershowitz: Senate Rules Would Prevent Impeachment Trial Of Trump
An image from video of Alan Dershowitz, an attorney for President Donald Trump, walking from the podium after speaking on behalf of the president during the impeachment trial in the Senate on Jan. 27, 2020. (Senate Television via AP)By Newsmax Wires
Sunday, 10 Jan 2021 2:42 PM
---
Harvard law professor and constitutional law expert Alan Dershowitz on Sunday warned an impeachment of President Donald Trump won't go to trial — but could "lie around like a loaded weapon" for both parties in the future.
In an interview on Fox News' "Sunday Morning Futures," Dershowitz said a Senate trial of citizen Trump would be unconstitutional.
"It will not go to trial," he said. "All Democrats can do is impeach the president in House of Representatives, for that you only need a majority vote.
"The case cannot come to trial in the Senate" because of rules that do no allow it until, "according to the Majority Leader [Mitch McConnell, R-Ky.), until 1 p.m. on Jan. 20" — an hour after Trump leaves office.
Read Newsmax: Newsmax – Breaking News | News Videos | Politics, Health, Finance
Urgent: Do you approve of Pres. Trump's job performance? Vote Here Now!
"Congress has no power to impeach or try a private citizen, whether it'd be a private citizen in Donald Trump or …. Barack Obama or anyone else," he said. "The jurisdiction is limited to a sitting president and so there won't be a trial."
But Dershowitz said he worried more about is"the impact of impeachment on the First Amendment."
"For 100 years the Supreme Court and other courts have struggled to develop a juris prudence which distinguishes between advocacy and incitement."
"To impeach a president for having exercised his First Amendment rights would be so dangerous to the Constitution, it would lie around like a loaded weapon ready to be used by either party against the other party and that's not what impeachment nor the 25th amendment were intended to be," Dershowitz said.
Read Newsmax: Newsmax – Breaking News | News Videos | Politics, Health, Finance
Urgent: Do you approve of Pres. Trump's job performance? Vote Here Now!
Mark Levin Podcast * Mark's radio show | 08 January 2021
—
Levin: Media 'exploiting' Capitol riot to 'silence conservatives' as Democrats work to 'choke the system'
'The media have played a huge, huge role in what's going on in this country,' says 'Life, Liberty & Levin' host
The mainstream media is "exploiting" Wednesday's riot at the U.S. Capitol building in an effort to "silence" conservatives and Republicans, Mark Levin says on this week's episode of "Life, Liberty & Levin."
The host emphasizes that "we should be furious about what happened on Capitol Hill," but adds that "the media have played a huge, huge role in what's going on in this country."
"We need to reject all this violence, but what about the media?" asks Levin before displaying front pages of various newspapers from around the country.
"The New York Times: 'Trump Incites Mob'. This is projection," Levin contends. "This is projection. He never did that. Or The Washington Post: 'Trump mob storms Capitol'. There were hundreds and hundreds of thousands of people there … That's an awfully broad brush. Or the [New York] Daily News: 'President Incites Insurrection' … or USA Today: 'Pro-Trump Mobs Storm US [sic] Capitol'. How about 'Thugs Storm U.S. Capitol'? How about 'Lawbreakers Storm U.S. Capitol'?"
Levin then calls out politicians like Rep. Adam Kinzinger, R-Ill., and Senate Minority Leader Chuck Schumer, D-N.Y., who he says are also "exploiting the situation."
"They're talking about impeaching the president of the United States or [invoking] the 25th Amendment nine days before he leaves office," the host says. "Do they even know what's involved in the 25th Amendment?
WATCH 'LIFE, LIBERTY & LEVIN' SUNDAYS AT 8 PM ET ON FOX NEWS CHANNEL
"So they double down, they triple down, they quadruple down. They're not going to change at all. On one side of their mouth, they talk about unity. Out of the other side of their mouth, they spit on people," he goes on. "Seventy-four million [Trump-voting] people and more, they're not going away. Their concerns still exist."
Meanwhile, Levin says, House Democrats are working toward their goal to "choke the system even further" by passing a rules package for the 117th Congressthat makes it "virtually impossible for Republicans to even propose legislation or amend legislation, even though [they] only has a 10- or 11-person majority in the House."
"Nancy Pelosi … eliminated 100 years of tradition …", the host argues, "and the media are trying to intimidate conservatives and constitutionalists by projecting onto them the violence that occurred by reprobates and others who need to be tracked down and punished.
"So it seems that the lessons have not been learned," Levin concludes. "They certainly haven't been learned by the left, they certainly haven't been learned by the media, and they certainly haven't been learned by the Never Trumpers."
—-
December 13, 2020
Office of Barack and Michelle Obama
P.O. Box 91000
Washington, DC 20066
Dear President Obama,
I wrote you over 700 letters while you were President and I mailed them to the White House and also published them on my blog http://www.thedailyhatch.org .I received several letters back from your staff and I wanted to thank you for those letters.
I have been reading your autobiography A PROMISED LAND and I have been enjoying it.
Let me make a few comments on it, and here is the first quote of yours I want to comment on:
The story of how this postwar consensus broke down—starting with LBJ's signing of the Civil Rights Act of 1964 and his prediction that it would lead to the South's wholesale abandonment of the Democratic Party—has been told many times before. The realignment Johnson foresaw ended up taking longer than he had expected. But steadily, year by year—through Vietnam, RIOTS…and Nixon's southern strategy; through busing, Roe v. Wade, urban crime, and white flight; through affirmative action, the Moral Majority, union busting, and Robert Bork; through assault weapons bans and the rise of Newt Gingrich…and the Clinton impeachment—America's voters and their representatives became more and more polarized.
During 2020 I have noticed lots of riots and looting across the USA and I wanted to ask you why it is always the liberals doing that? AND WHY DIDN'T ANYONE CONDEMN THESE ACTIONS AT THE 2020 CONVENTION AND DIDN'T YOU SPEAK AT THE CONVENTION TOO?
Philadelphia Riots Another Case of Street Violence Used to Advance Radical Political Agendas
https://www.dailysignal.com/2020/10/28/philadelphia-riots-are-another-case-of-street-violence-used-to-advance-radical-political-agendas/embed/#?secret=TeMODTeKco
Philadelphia Riots Are Another Case of Street Violence Used to Advance Radical Political Agendas
James Carafano / @JJCarafano / October 28, 2020 / 4 Comments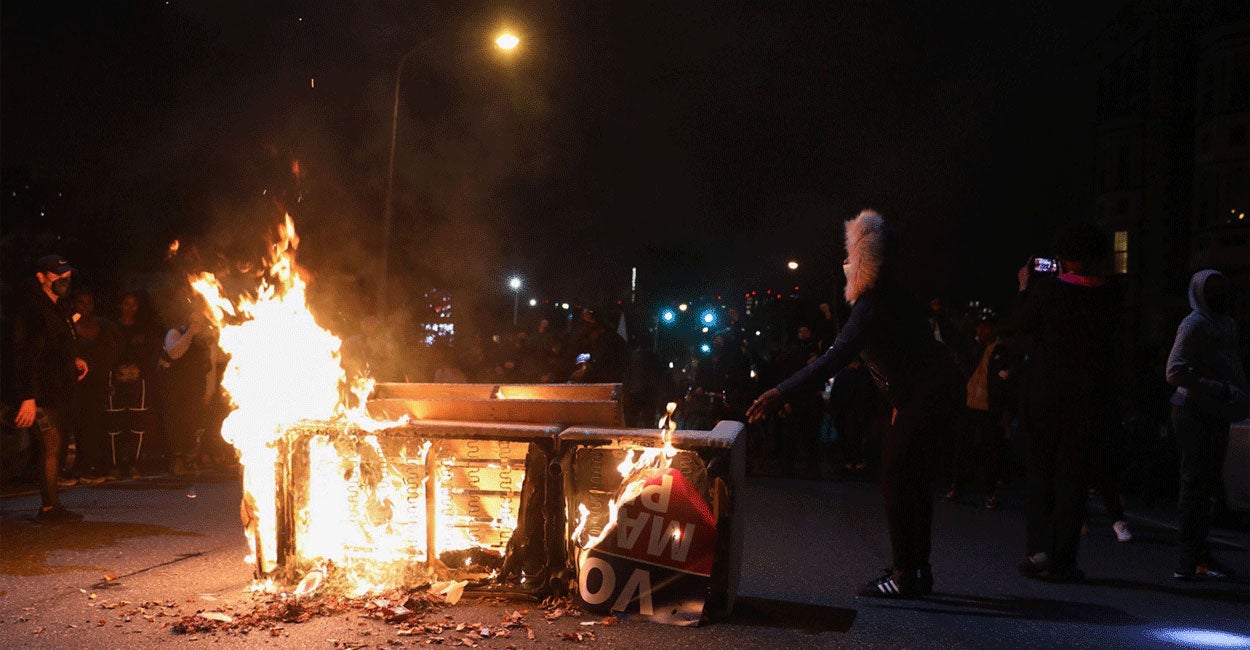 In Kenosha, Portland, Seattle, and Chicago, city officials have tolerated criminal activity performed by mobs for politically motivated reasons. Philadelphia appears to be the next hotspot for mob violence to go unchecked. Pictured: A barricade is set on fire during a night of looting and violence in Philadelphia on Oct. 27. (Photo: Gabriella Audi/AFP/Getty Images)
COMMENTARY BY
James Jay Carafano, a leading expert in national security and foreign policy challenges, is The Heritage Foundation's vice president for foreign and defense policy studies, E. W. Richardson fellow, and director of the Kathryn and Shelby Cullom Davis Institute for International Studies. Read his research.
Like the replay of a bad movie, a law enforcement incident in Philadelphia triggered an excuse for violence and looting. It remains to be seen whether the City of Brotherly Love will become the next "Kenosha," where city officials moved quickly to restore order and seek state and federal support—though sadly after 48 hours of opportunistic looting, violence, and destruction devastated the city.
Or perhaps Philadelphia will be the next Portland, Seattle, or Chicago, where systemic attacks seem to be a daily occurrence.
Police in Philadelphia are fully capable of restoring peace. The open question is whether the mayor and Larry Krasner, the former defense attorney-turned elected rogue prosecutor, will do their job and hold people accountable for their crimes.
When local, state, and federal governments work together, act quickly, and demonstrate no tolerance for organized violence to advance radical agendas, communities are kept safe and equal protection under the law is afforded for all citizens.
The left is actively working to undermine the integrity of our elections. Read the plan to stop them now. Learn more now >>
On the other hand, when local officials, the media, and politicians ignore, excuse, normalize, and enable violence, everyday Americans pay the price.
There is a plague sweeping this country that many don't want to talk about: The deliberate use of street violence to advance radical political agendas, often under a smoke screen of campaigning for civil liberties. The evidence of organized criminal activity at the root of the outbreaks in American cities is mounting.
The list of people enabling this violence sadly includes some public officials, who are principally responsible for ensuring public safety. For example, a growing threat to peaceful communities is "rogue prosecutors," former criminal defense attorneys recruited and funded by liberal billionaire backers, who—once elected—abuse their office by refusing to prosecute entire categories of crimes.
These rogue prosecutors are usurping the power of the legislature in the process, and ignoring victim's rights—all to advance their politics.
Baltimore is a perfect example. Since being sworn into office, under the watch of Baltimore City State's Attorney Marilyn J. Mosby.
Rogue prosecutors fuel street violence by refusing to prosecute rioters and looters. When confronted with the rising crimes rates, Mosby called the statistics "rhetoric."
The only way to break the cycle of violence is for local and state officials to work with each other, and if necessary, the federal government. They need to stop enabling the destruction of property and lives on their streets, and start investigating and prosecuting the individuals (and organizations) behind the riots.
It's time to start shaming and calling out the media, politicians, and advocates who excuse and normalize the violence.
There is a proven action plan for making our streets safe. It is past time for officials to start following this blueprint.
There is no time—zero time to waste. There are already fears of more violence in our streets, regardless of the outcome of the national elections.
In my hometown of Washington, D.C., downtown buildings are already boarding up in anticipation of violence on our streets after the election. If Trump wins, violence. If Biden wins, violence. This makes no sense, and it's time for it to stop.
It is time for every official and public figure, every political party, in every part of the country to publically reject violence on American streets as a legitimate form of protected speech. Violence is not protected speech, period.
The notion of deliberately destroying the lives and property of our neighbors to advance a radical political agenda is abhorrent. American leaders—of all stripes—should stand up now as one and reject these violent acts. It has gone on for too long, well before the death of George Floyd.
Leaders in Philadelphia and across America must take a principled stand to demand the end to this violence, and they need to do it before the election. In one voice, they should demand: "Leave our streets alone."
Sincerely,
Everette Hatcher III, 13900 Cottontail Lane, Alexander, AR 72002, ph 501-920-5733 everettehatcher@gmail.com
Related posts:
President Obama c/o The White House 1600 Pennsylvania Avenue NW Washington, DC 20500 Dear Mr. President, I know that you receive 20,000 letters a day and that you actually read 10 of them every day. I really do respect you for trying to get a pulse on what is going on out here. There have […]By Everette Hatcher III | Posted in David Barton, Founding Fathers, President Obama | Edit |Comments (0)
There have been many articles written by evangelicals like me who fear that our founding fathers would not recognize our country today because secular humanism has rid our nation of spiritual roots. I am deeply troubled by the secular agenda of those who are at war with religion in our public life. Lillian Kwon quoted somebody […]By Everette Hatcher III | Posted in David Barton, Founding Fathers | Edit | Comments (0)
There have been many articles written by evangelicals like me who fear that our founding fathers would not recognize our country today because secular humanism has rid our nation of spiritual roots. I am deeply troubled by the secular agenda of those who are at war with religion in our public life. Lillian Kwon quoted somebody […]By Everette Hatcher III | Posted in David Barton, Founding Fathers | Edit | Comments (0)
There have been many articles written by evangelicals like me who fear that our founding fathers would not recognize our country today because secular humanism has rid our nation of spiritual roots. I am deeply troubled by the secular agenda of those who are at war with religion in our public life. Lillian Kwon quoted somebody […]By Everette Hatcher III | Posted in David Barton, Founding Fathers | Edit | Comments (0)
There have been many articles written by evangelicals like me who fear that our founding fathers would not recognize our country today because secular humanism has rid our nation of spiritual roots. I am deeply troubled by the secular agenda of those who are at war with religion in our public life. Lillian Kwon quoted somebody […]By Everette Hatcher III | Posted in David Barton, Founding Fathers | Edit | Comments (0)
There have been many articles written by evangelicals like me who fear that our founding fathers would not recognize our country today because secular humanism has rid our nation of spiritual roots. I am deeply troubled by the secular agenda of those who are at war with religion in our public life. Lillian Kwon quoted somebody […]By Everette Hatcher III | Posted in Founding Fathers | Edit | Comments (0)
President Obama Speaks at The Ohio State University Commencement Ceremony Published on May 5, 2013 President Obama delivers the commencement address at The Ohio State University. May 5, 2013. You can learn a lot about what President Obama thinks the founding fathers were all about from his recent speech at Ohio State. May 7, 2013, […]By Everette Hatcher III | Posted in Founding Fathers, President Obama | Edit | Comments (0)
Dr. C. Everett Koop with Bill Graham. Francis Schaeffer: "Whatever Happened to the Human Race" (Episode 4) THE BASIS FOR HUMAN DIGNITY Published on Oct 7, 2012 by AdamMetropolis The 45 minute video above is from the film series created from Francis Schaeffer's book "Whatever Happened to the Human Race?" with Dr. C. Everett Koop. This […]By Everette Hatcher III | Posted in Founding Fathers, Francis Schaeffer, Prolife | Edit |Comments (1)
America's Founding Fathers Deist or Christian? – David Barton 4/6 There have been many articles written by evangelicals like me who fear that our founding fathers would not recognize our country today because secular humanism has rid our nation of spiritual roots. I am deeply troubled by the secular agenda of those who are at […]By Everette Hatcher III | Posted in David Barton, Founding Fathers | Tagged governor of connecticut, john witherspoon, jonathan trumbull | Edit | Comments (1)
3 Of 5 / The Bible's Influence In America / American Heritage Series / David Barton There were 55 gentlemen who put together the constitution and their church affliation is of public record. Greg Koukl notes: Members of the Constitutional Convention, the most influential group of men shaping the political foundations of our nation, were […]By Everette Hatcher III | Posted in Founding Fathers | Edit | Comments (0)
I do not think that John Quincy Adams was a founding father in the same sense that his father was. However, I do think he was involved in the early days of our government working with many of the founding fathers. Michele Bachmann got into another history-related tussle on ABC's "Good Morning America" today, standing […]By Everette Hatcher III | Posted in David Barton, Founding Fathers | Edit | Comments (0)
I have gone back and forth and back and forth with many liberals on the Arkansas Times Blog on many issues such as abortion, human rights, welfare, poverty, gun control and issues dealing with popular culture. Here is another exchange I had with them a while back. My username at the Ark Times Blog is Saline […]By Everette Hatcher III | Posted in Arkansas Times, Francis Schaeffer, Prolife | Edit |Comments (0)
I truly believe that many of the problems we have today in the USA are due to the advancement of humanism in the last few decades in our society. Ronald Reagan appointed the evangelical Dr. C. Everett Koop to the position of Surgeon General in his administration. He partnered with Dr. Francis Schaeffer in making the […]By Everette Hatcher III | Posted in Adrian Rogers, Francis Schaeffer | Edit | Comments (0)
Francis Schaeffer: "Whatever Happened to the Human Race" (Episode 4) THE BASIS FOR HUMAN DIGNITY Published on Oct 7, 2012 by AdamMetropolis ____________ The 45 minute video above is from the film series created from Francis Schaeffer's book "Whatever Happened to the Human Race?" with Dr. C. Everett Koop. This book really helped develop my political […]By Everette Hatcher III | Posted in Francis Schaeffer | Edit | Comments (0)
—-
—