—
I have relentlessly criticized Republicans in recent years for being profligate big spenders.
But I have some good news.The GOP is finding religion and is once again fretting about big government.
The bad news is that many of them are total hypocrites.
The only reason that they're now beating their chests about fiscal responsibility is that there's now a Democrat in the White House pushing for big government rather than a Republican in the White House pushing for big government.
Talking a few days ago with Politifact, I remarked on the GOP's battlefield conversion.

"The very narrow Democratic majorities in the House and Senate will make big policy changes difficult for Biden," said Daniel Mitchell,a conservative economist with decades of experience in Washington. "Republicans were big spenders under Trump, but they'll dust off their fiscal conservatism rhetoric with Biden in the White House. …"There will be unanimous, or near-unanimous, GOP opposition to the tax increases," Mitchell said. That could make passage difficult.
I'm not the only one to notice Republicans change their spots when Democrats are in charge.
In her Washington Post column, Catherine Rampell also notes their hypocrisy.

It's almost like clockwork. As soon as a Democrat enters the White House, Republicans pretend to care about deficits again. …And so Republicans laid the groundwork for blocking the Biden administration's request for more covid-19 fiscal relief, on the grounds that further spending is not merely unnecessary but also irresponsible. …These foul-weather fiscal hawks neglect to mention, …before the coronavirus pandemic — the Republican-controlled Senate passed and President Donald Trump signed spending bills that added…$2 trillion to deficits.
If Ms. Rampell's column focused solely on Republicans behaving inconsistently, I would fully applaud.
Unfortunately, she also used the opportunity to make some assertions that deserve some pushback. Beginning with what she said about the 2017 tax reform.
…the GOP's prized 2017 tax cuts added nearly $2 trillion to deficits.
It is true that the legislation is a short-run tax cut, but there's no long-run revenue reduction because many of the provisions expire at the end of 2025.
And, as Brian Riedl made clear in this chart, the tax cuts only play a tiny role even if all the provisions ultimately are made permanent.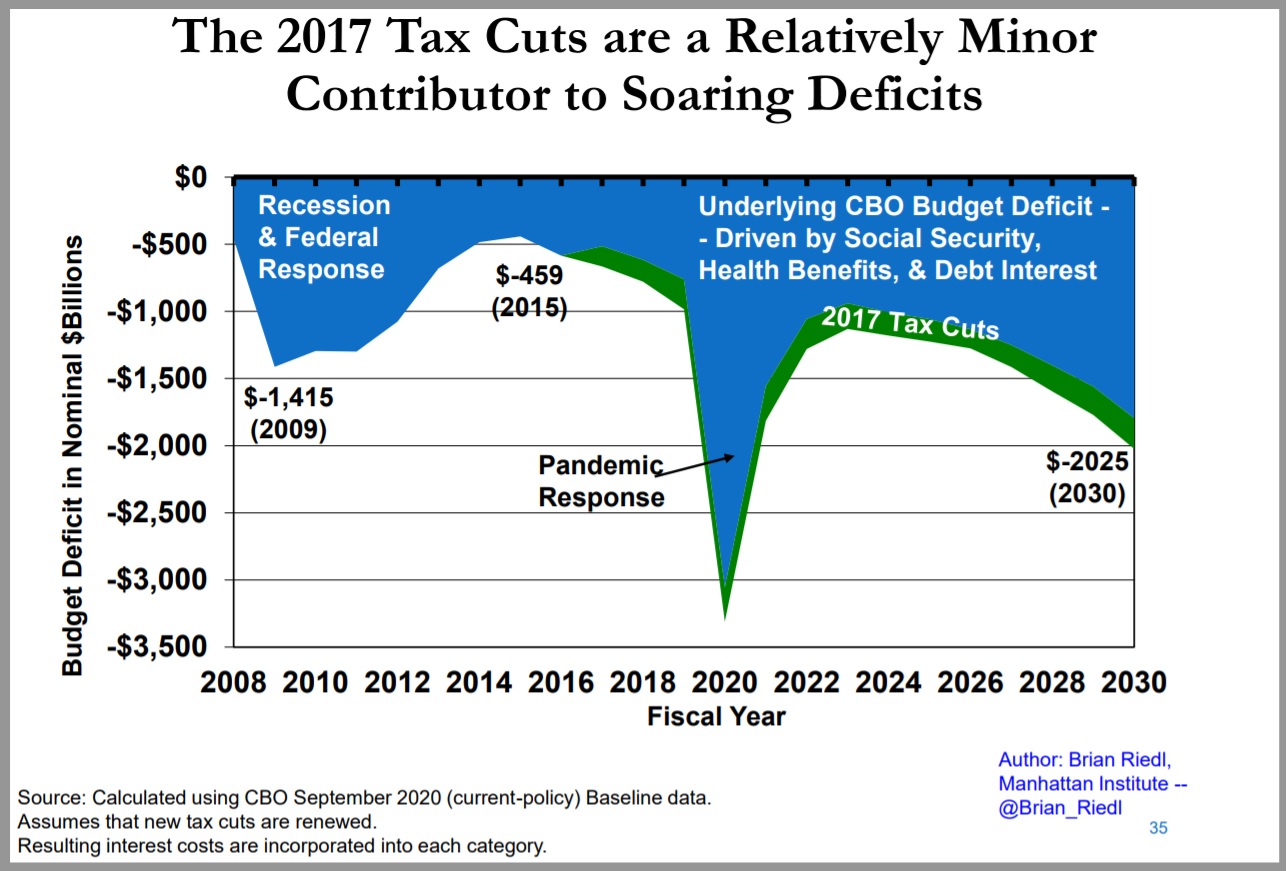 Ms. Rampell then makes a Keynesian argument that more spending would be stimulative.
…the U.S. economy actually needs more federal spending, and President Biden has proposed a $1.9 trillion plan… Republicans objecting to Biden's proposal…seem to be writing off the need for more relief entirely, at least now that a Democrat is president.
Is she right about Republican hypocrisy? Yes.
Is she right that bigger government produces growth? No.
If Biden and the Democrats were simply arguing that some level of handouts are needed and justified to compensate for government-mandated shutdowns, I wouldn't be happy, but I also wouldn't complain.
But I do object to the mechanistic argument that government can magically produce prosperity by borrowing money from the economy's left pocket and putting it in the economy's right pocket.
At best, the borrow-and-spend approach only produces a transitory bump in consumption, but does nothing for real problem of inadequate income (which is why we should focus on GDI rather than GDP).
She also engages in a bit of historical revisionism about Obama's failed stimulus from 2009.
This is, not coincidentally, almost exactly what they did about a decade ago. …Republicans suddenly demanded to turn off fiscal (and monetary) spigots once Barack Obama was elected.
In reality, Republicans didn't control either the House or Senate in Obama's first two years. He was able to adopt his so-called stimulus. And the economy was stagnant.
Republicans did win the House at the end of 2010 and were somewhat successful in controlling spending for the next few years. And that's when the economy did better.
Just like it did better during the Reagan and Clinton years when there was spending restraint.
To put this discussion in the proper context, I'll close with another chart from Brian Riedl. The long-run problem we face is not red ink. Deficits and debt are merely the symptom of the real problem of excessive government spending.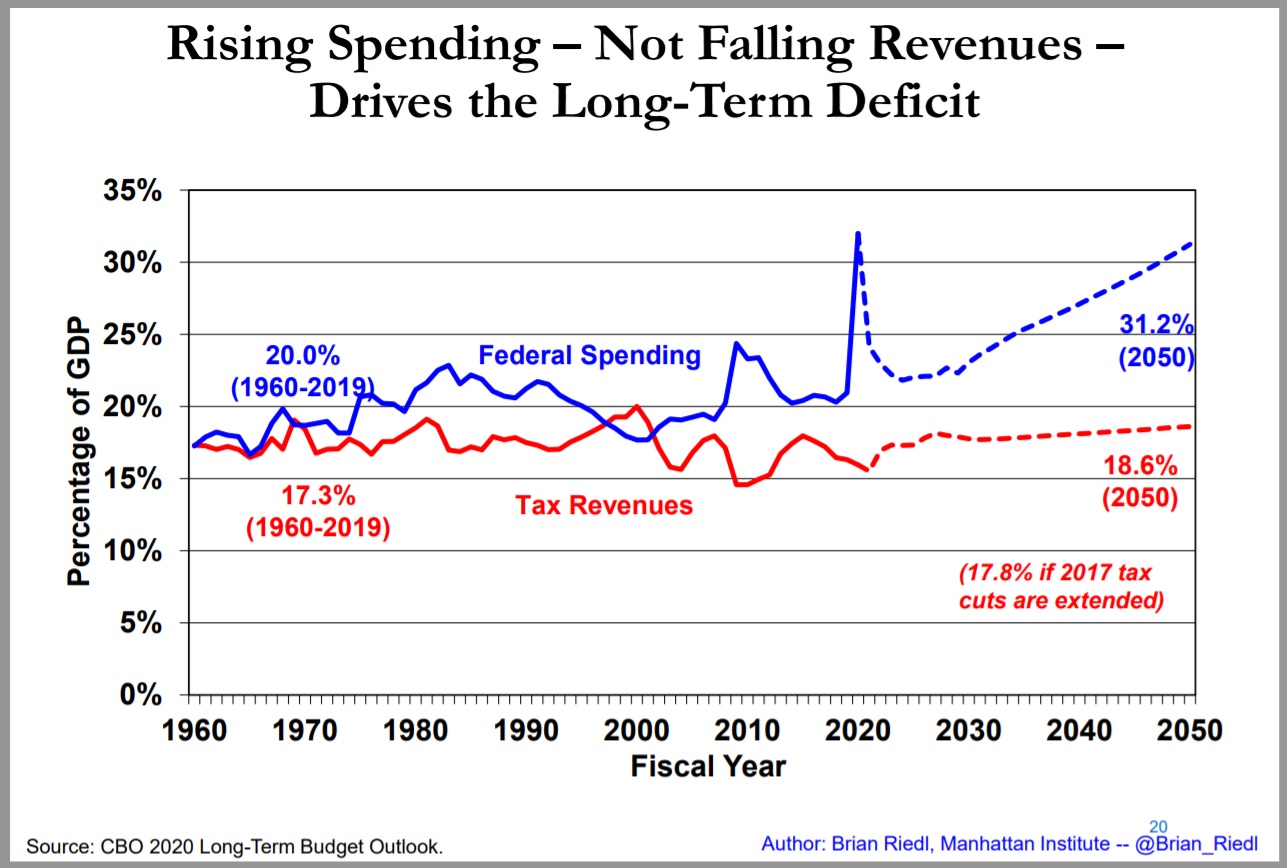 P.S. I wish Politicifact had identified me as a libertarian. I'm only willing to be called a conservative if that means Reaganism, but I worry it now means Trumpism.
—
Ronald Reagan Bill Clinton with a jar of jelly beans in November of 1992.

January 23, 2021
Office of Barack and Michelle Obama
P.O. Box 91000
Washington, DC 20066
Dear President Obama,
I wrote you over 700 letters while you were President and I mailed them to the White House and also published them on my blog http://www.thedailyhatch.org .I received several letters back from your staff and I wanted to thank you for those letters.
I have been reading your autobiography A PROMISED LAND and I have been enjoying it.
Let me make a few comments on it, and here is the first quote of yours I want to comment on:
The financial system was in a meltdown and taking the American economy with it.
Although Iraq had been the biggest issue at the start of our campaign, I had always made the need for more progressive economic policies a central part of my argument for change. As I saw it, the combination of globalization and revolutionary new technologies had been fundamentally altering the American economy for at least two decades. U.S. manufacturers had shifted production overseas, taking advantage of low-cost labor and shipping back cheap goods to be sold by big-box retailers against which small businesses couldn't hope to compete. More recently, the internet had wiped out entire categories of office work and, in some cases, whole industries.
In this new, winner-take-all economy, those controlling capital or possessing specialized, high-demand skills—whether tech entrepreneurs, hedge fund managers, LeBron James, or Jerry Seinfeld—could leverage their assets, market globally, and amass more wealth than any group in human history. But for ordinary workers, capital mobility and automation meant an ever-weakening bargaining position. Manufacturing towns lost their lifeblood. Low inflation and cheap flat-screen TVs couldn't compensate for layoffs, fewer hours and temp work, stagnant wages and reduced benefits, especially when both healthcare and education costs (two sectors less subject to cost-saving automation) kept soaring.
Inequality also had a way of compounding itself. Even middle-class Americans found themselves increasingly priced out of neighborhoods with the best schools or cities with the best job prospects. They were unable to afford the extras—SAT prep courses, computer camps, invaluable but unpaid internships—that better-off parents routinely provided their kids. By 2007, the American economy was not only producing greater inequality than almost every other wealthy nation but also delivering less upward mobility.
I believed that these outcomes weren't inevitable, but rather were the result of political choices dating back to Ronald Reagan. Under the banner of economic freedom—an "ownership society" was the phrase President Bush used—Americans had been fed a steady diet of tax cuts for the wealthy and seen collective bargaining laws go unenforced. There had been efforts to privatize or cut the social safety net, and federal budgets had consistently underinvested in everything from early childhood education to infrastructure. All this further accelerated inequality, leaving families ill-equipped to navigate even minor economic turbulence.
I was campaigning to push the country in the opposite direction. I didn't think America could roll back automation or sever the global supply chain (though I did think we could negotiate stronger labor and environmental provisions in our trade agreements). But I was certain we could adapt our laws and institutions, just as we'd done in the past, to make sure that folks willing to work could get a fair shake. At every stop I made, in every city and small town, my message was the same. I promised to raise taxes on high-income Americans to pay for vital investments in education, research, and infrastructure. I promised to strengthen unions and raise the minimum wage as well as to deliver universal healthcare and make college more affordable.
I wanted people to understand that there was a precedent for bold government action. FDR had saved capitalism from itself, laying the foundation for a post–World War II boom.
—
The housing crisis of 2008 was not caused by Reagan/Bush tax cuts but by actions of Bill Clinton as the article below states:
Ultimately, he declared, "[the] new regulations would be very costly to the economy, to the banking system, and to the communities they serve." The CRA, then, became an agent of Clinton's campaign promises, causing only unsustainable short-term prosperity for the lowest class and a dangerous precedent within the mortgage bond market.
Capital FlowsContributorOpinionGuest commentary curated by Forbes Opinion. Avik Roy, Opinion Editor.This article is more than 4 years old.
GUEST POST WRITTEN BY
Philip DeVoe
Mr. DeVoe is a freelance reporter for The Daily Caller and assistant news editor for the Hillsdale Collegian newspaper at Hillsdale College.
Director and writer Adam McKay dangerously[+]
The Community Reinvestment Act of 1977. If you haven't heard of it, I wouldn't be surprised. I wasn't surprised when nobody mentioned it after the housing market collapsed in 2008, and I wasn't surprised when few noticed in 2010 when the federal banking executives proposed changes expanding the act. I was surprised, however, when The Big Short, a movie claiming to explain the housing collapse so as to prevent another one, left out not only the CRA but also any responsibility of the federal government, since the act–and the government–is the major cause of the 2008 housing collapse yet still remains a part of the U.S. Code of Laws.
I realize Adam McKay, a disciple of Bernie Sanders and the movie's director, would be eager to pin blame upon Wall Street (whose investment bankers are certainly not entirely innocent) but his obligation to the truth, the whole truth, should've yielded a mention of the act. The best way to prevent another housing collapse, which McKay foreshadows at the end of the movie, would be to repeal the act. But Americans must first be informed of its history and implications.
The Community Reinvestment Act of 1977
Signed by U.S. President Jimmy Carter, the act requires banks wishing to receive Federal Deposit Insurance Corporation (FDIC) insurance meet the financial needs of housing borrowers in all areas of the bank's business charter–including low-income neighborhoods with a high chance for mortgage delinquency, where the loan is most likely to be subprime and unprofitable. Since banks commonly avoided granting loans for people in low-income areas in favor of the much more financially attractive higher-income ones, money was poured into the wealthy areas, leaving the impoverished ones even more impoverished.
Carter saw an opportunity for economic growth here, so he took it. His flagship act did not require banks purchase subprime loans, however, only that they fill a certain percentage of their overall mortgage portfolio with loans from low-income neighborhoods–regardless of rating–which greatly improved the economy and pulled new money into new parts of the country.
The CRA allowed Lewis Raineri of Salomon Brothers to develop collateralized debt obligations, a structuring system of mortgage bonds placing the most debt obligation upon the strongest loans in the bond and the least on the weakest. Originally a sound system, which Raineri himself supported even in 2007, the CDOs' collapse caused the collapse of the housing market, and just as the CRA allowed them to exist, it caused their death.
Clinton politics to blame
What crippled the collateralized debt obligations[+]
What crippled the CDOs was U.S. President Bill Clinton's 1995 revamp of the CRA. Needing a way to revive the country's economy, which was suffering after the savings and loan crisis of the 1980s and '90s, and make good on his campaign promise to help the lowest classes, Clinton turned his eyes to CRA reforms within a year of entering office.
The final copy of the CRA revisions earned outcry by many economists, most notably William Niskanen of the Cato Institute, who believed the 1995 revisions would be greatly harmful to the American economy. In his testimony to the Subcommittee on Financial Institutions and Consumer Credit that year, during Congressional hearings ahead of voting on the act, Niskanen revealed several unsettling problems with the revisions, including the requirement that banks purchase subprime loans, which were expected to result in losses for the banks acquiring them, in order to continue receiving benefits.
Ultimately, he declared, "[the] new regulations would be very costly to the economy, to the banking system, and to the communities they serve." The CRA, then, became an agent of Clinton's campaign promises, causing only unsustainable short-term prosperity for the lowest class and a dangerous precedent within the mortgage bond market.
In 2003, an interagency review of the 1995 revisions discovered that the federal government reviewed less than 30% of all housing loans, leading many to blame Wall Street for growing mortgage delinquency rates and CDOs composed of mostly subprime loans leading up to and after the collapse. Of course, people were unaware that the CRA was encouraging this dangerous lending practice, for which "Clinton politics," not "Wall Street greed" was to blame.
"Toxic" coercion into subprime loans
According to an article in City Journal entitled "Yes, the CRA Is Toxic," American Enterprise Institute fellow Edward Pinto wrote that Bank of America reported in 2008 that its CRA portfolio, 7% of its owned mortgages, was responsible for 29% of its losses, proving strong correlation between the government and the collapse. If Bank of America had not been coerced into purchasing subprime loans, it, and all other Wall Street banks, would have been able to contain their losses.
The loans to low-income housing, which the CRA required banks acquire, were, as Pinto says, "toxic" to the American economy.
And they weren't only toxic to the wealthy. As Patrick Bayer, Fernando Ferreira and Stephen L. Ross found in a 2014 paper published under the Real Estate Department at Penn's Wharton School of Business, "those black and Hispanic homeowners drawn into the market near the peak," that is, when the CRA benefits made it financially obligatory, "were especially vulnerable to adverse economic shocks and raise serious concerns about homeownership as a mechanism for reducing racial disparities in wealth."
Essentially, their point is that using the housing market to even out the economic playing field puts at risk those who are unable to sustain themselves should the market collapse and puts a far too heavy burden on the lowest economic bracket. Clinton's idealized resuscitation of the lower class temporarily worked, but after the market collapsed, the only people left standing were those wealthy enough to survive.
Good intentions, poor intelligence
Ultimately, therefore, the responsibility for the housing collapse rests on the shoulders of the federal government, who oversaw the mutation of the CRA into the beast it is today for personal political gain. While their intentions were good, the federal government acted irresponsibly by putting too much financial burden on the shoulders of the lower classes' subprime loans. Wall Street bankers seeking profits should have realized this mistake, but the government should never have offered incentives encouraging this practice in the first place.
McKay's elimination of the government's role in the collapse in The Big Short is dangerous on many levels. Not only does he misinform Americans unfamiliar with the causes of the collapse but also lets the true danger–the government–go unchecked in favor of gunning down Wall Street. The CRA still has yet to be repealed, and while the federal government is already responsible for the 8 million jobs lost because of 2008's collapse, if it fails to remove this toxicity from the American economy, it will be responsible for any collapses in the future emitting from a fraudulent loan market.
In the words of Niskanen, repeal the CRA. Repeal it now.
Sincerely,
Everette Hatcher III, 13900 Cottontail Lane, Alexander, AR 72002, ph 501-920-5733 everettehatcher@gmail.com
Related posts:
President Obama c/o The White House 1600 Pennsylvania Avenue NW Washington, DC 20500 Dear Mr. President, I know that you receive 20,000 letters a day and that you actually read 10 of them every day. I really do respect you for trying to get a pulse on what is going on out here. There have […]By Everette Hatcher III | Posted in David Barton, Founding Fathers, President Obama | Edit |Comments (0)
There have been many articles written by evangelicals like me who fear that our founding fathers would not recognize our country today because secular humanism has rid our nation of spiritual roots. I am deeply troubled by the secular agenda of those who are at war with religion in our public life. Lillian Kwon quoted somebody […]By Everette Hatcher III | Posted in David Barton, Founding Fathers | Edit | Comments (0)
There have been many articles written by evangelicals like me who fear that our founding fathers would not recognize our country today because secular humanism has rid our nation of spiritual roots. I am deeply troubled by the secular agenda of those who are at war with religion in our public life. Lillian Kwon quoted somebody […]By Everette Hatcher III | Posted in David Barton, Founding Fathers | Edit | Comments (0)
There have been many articles written by evangelicals like me who fear that our founding fathers would not recognize our country today because secular humanism has rid our nation of spiritual roots. I am deeply troubled by the secular agenda of those who are at war with religion in our public life. Lillian Kwon quoted somebody […]By Everette Hatcher III | Posted in David Barton, Founding Fathers | Edit | Comments (0)
There have been many articles written by evangelicals like me who fear that our founding fathers would not recognize our country today because secular humanism has rid our nation of spiritual roots. I am deeply troubled by the secular agenda of those who are at war with religion in our public life. Lillian Kwon quoted somebody […]By Everette Hatcher III | Posted in David Barton, Founding Fathers | Edit | Comments (0)
There have been many articles written by evangelicals like me who fear that our founding fathers would not recognize our country today because secular humanism has rid our nation of spiritual roots. I am deeply troubled by the secular agenda of those who are at war with religion in our public life. Lillian Kwon quoted somebody […]By Everette Hatcher III | Posted in Founding Fathers | Edit | Comments (0)
President Obama Speaks at The Ohio State University Commencement Ceremony Published on May 5, 2013 President Obama delivers the commencement address at The Ohio State University. May 5, 2013. You can learn a lot about what President Obama thinks the founding fathers were all about from his recent speech at Ohio State. May 7, 2013, […]By Everette Hatcher III | Posted in Founding Fathers, President Obama | Edit | Comments (0)
Dr. C. Everett Koop with Bill Graham. Francis Schaeffer: "Whatever Happened to the Human Race" (Episode 4) THE BASIS FOR HUMAN DIGNITY Published on Oct 7, 2012 by AdamMetropolis The 45 minute video above is from the film series created from Francis Schaeffer's book "Whatever Happened to the Human Race?" with Dr. C. Everett Koop. This […]By Everette Hatcher III | Posted in Founding Fathers, Francis Schaeffer, Prolife | Edit |Comments (1)
America's Founding Fathers Deist or Christian? – David Barton 4/6 There have been many articles written by evangelicals like me who fear that our founding fathers would not recognize our country today because secular humanism has rid our nation of spiritual roots. I am deeply troubled by the secular agenda of those who are at […]By Everette Hatcher III | Posted in David Barton, Founding Fathers | Tagged governor of connecticut, john witherspoon, jonathan trumbull | Edit | Comments (1)
3 Of 5 / The Bible's Influence In America / American Heritage Series / David Barton There were 55 gentlemen who put together the constitution and their church affliation is of public record. Greg Koukl notes: Members of the Constitutional Convention, the most influential group of men shaping the political foundations of our nation, were […]By Everette Hatcher III | Posted in Founding Fathers | Edit | Comments (0)
I do not think that John Quincy Adams was a founding father in the same sense that his father was. However, I do think he was involved in the early days of our government working with many of the founding fathers. Michele Bachmann got into another history-related tussle on ABC's "Good Morning America" today, standing […]By Everette Hatcher III | Posted in David Barton, Founding Fathers | Edit | Comments (0)
I have gone back and forth and back and forth with many liberals on the Arkansas Times Blog on many issues such as abortion, human rights, welfare, poverty, gun control and issues dealing with popular culture. Here is another exchange I had with them a while back. My username at the Ark Times Blog is Saline […]By Everette Hatcher III | Posted in Arkansas Times, Francis Schaeffer, Prolife | Edit |Comments (0)
I truly believe that many of the problems we have today in the USA are due to the advancement of humanism in the last few decades in our society. Ronald Reagan appointed the evangelical Dr. C. Everett Koop to the position of Surgeon General in his administration. He partnered with Dr. Francis Schaeffer in making the […]By Everette Hatcher III | Posted in Adrian Rogers, Francis Schaeffer | Edit | Comments (0)
Francis Schaeffer: "Whatever Happened to the Human Race" (Episode 4) THE BASIS FOR HUMAN DIGNITY Published on Oct 7, 2012 by AdamMetropolis ____________ The 45 minute video above is from the film series created from Francis Schaeffer's book "Whatever Happened to the Human Race?" with Dr. C. Everett Koop. This book really helped develop my political […]By Everette Hatcher III | Posted in Francis Schaeffer | Edit | Comments (0)
—-
—