—
Jarrett Stepman / @JarrettStepman / January 20, 2021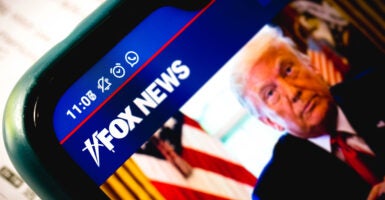 Some left-wing journalists have called for cable companies to deny subscribers access to the Fox News Channel, Newsmax, and other channels they don't like. (Photo: Rafael Henrique/SOPA Images/LightRocket/Getty Images)
COMMENTARY BY
Jarrett Stepman@JarrettStepman
Jarrett Stepman is a contributor to The Daily Signal and co-host of The Right Side of History podcast. Send an email to Jarrett. He is also the author of the new book, "The War on History: The Conspiracy to Rewrite America's Past."
As President Joe Biden took office Jan. 20 with calls for unity, his allies in the mainstream media are beating the drum for squashing political dissent, large or small, and keeping it from being heard by the American people.
It's amazing how "Resist"—once the proud motto of progressive activists—has instantly been turned on its head with the changing political winds.
It seems that "resistance" is now "insurrection," to be smashed by any means necessary. And these calls are being led not just by liberal activists, but also by journalists, people who should be expected to be champions of free speech.
MSNBC host Nicolle Wallace suggested, without irony, that perhaps more needs to be done by tech companies to suppress news outlets that peddle content that—and here she was quoting New York Times columnist Thomas Friedman—"divides and enrages" over "more authoritative news sources."
The Left has declared war on our culture, but we should never back down, nor compromise our principles. Learn more now >>
"If we can protect against counterfeit dollar bills, we should be able to protect against fake news that we now know has the potential to kill people," Wallace said.
To say that using the government in this way would be a threat to the First Amendment would be an understatement.
Oliver Darcy, a journalist at CNN, wrote in a column that news outlets such as One America News Network, Newsmax, and the Fox News Channel should have their plugs pulled by cable companies for "disseminating disinformation about the November election results to audiences of millions."
Calls to effectively silence media competitors is seemingly becoming commonplace at CNN.
"We are going to have to figure out the OANN and Newsmax problem," Alex Stamos, a former chief security officer at Facebook, told CNN's Brian Stelter on Sunday. "These companies have freedom of speech, but I'm not sure we need Verizon, AT&T, Comcast, and such bringing them into tens of millions of homes."
Perhaps it shouldn't be surprising to see a big tech executive call for suppressing speech. After all, a cabal of social media companies effectively erased then-President Donald Trump from their platforms after the Jan. 6 rioting at the Capitol.
Not only that, but they effectively shut down Parler, a Twitter alternative, for what they said was a violation of their terms of service. That may be so, but it's hard not to see these actions as aheavy-handed attempt to crush even the slightest opposition to their control of the messages the American people can see and hear.
As I wrote at the time, the Jan. 6 violence at the Capitol is being used as an excuse to call for muzzling political opposition and to label all supporters of Trump—and right-leaning Americans in general—as a danger to the republic.
It's bad enough to see powerful companies use such methods, but it's even more disconcerting to see journalists cheerleading them on.
And some in the media weren't just calling for private companies to eradicate conservative speech.
Washington Post columnist Max Boot—another CNN commentator—not only echoed those calls for cable companies to shut down speech he doesn't like, he floated the idea of using government power to do it.
"CNN (where I'm a global affairs analyst) notes that the United Kingdom doesn't have its own version of Fox News, because it has a government regulator that metes out hefty fines to broadcasters that violate minimal standards of impartiality and accuracy," Boot wrote. "The United States hasn't had that since the Federal Communications Commission stopped enforcing the 'fairness' doctrine in the 1980s. As president, Biden needs to reinvigorate the FCC. Or else the terrorism we saw on Jan. 6 may be only the beginning, rather than the end, of the plot against America."
The so-called "fairness" doctrine that Boot is suggesting is a throwback to the last time Democrats held control of both Congress and the executive branch after the election of President Barack Obama in 2008.
The Reagan administration, as Boot wrote, ended the Fairness Doctrine in the 1980s, paving the way to the explosion of conservative talk radio.
Clearly, there was a huge audience waiting to hear a different message than what the mainstream media were delivering. To the left, that was intolerable.
After Obama's election, left-wing commentators and political leaders made an aggressive push for the FCC to effectively silence talk radio, a medium that conservatives continue to dominate.
The Fairness Doctrine, a relic of the New Deal era,forced radio stations to give equal airtime to both sides of the political spectrum. There might have been some justification for the law when radio was the primary medium of mass communication, but from the very beginning, the Fairness Doctrine was used as a stealthy way to suppress political dissent.
It was particularly telling that those calling for a return to the Fairness Doctrine wanted it to apply specifically to talk radio, and not, say, the media the left dominated.
And what would giving "equal time" to views even look like in 2021?
The progressive elite's idea of political balance is giving some airtime to nominal "conservatives" like Boot and his fellow Washington Post columnist Jennifer Rubin, who use most of their time telling their readers why conservatives and Republicans are bad.
When Democrats tried to revive the Fairness Doctrine in 2008, the naked attempt to neuter conservative talk radio was as thinly veiled as the "robe" worn by the fabled emperor with no clothes. The movement fizzled out as conservatives were roused to oppose it, and Democrats were crushed in the 2010 midterm elections, in which they lost 63 House seats and six in the Senate.
That effort to muzzle speech failed more than a decade ago, but would a renewed and more ruthless attempt to silence critics really be a surprise? The media landscape has changed since 2008, with social media and other online platforms becoming even more dominant.
The result of this is that many media gatekeepers feel even more threatened by their loss of control of the "narrative" and their waning credibility in the eyes of many Americans.
This time, it might not just be conservative talk radio on the chopping block, but all other forms of right-leaning or generally anti-establishment media, too.
It's a disturbing, albeit predictable, trend unlikely to bring more unity to a deeply divided nation.
Have an opinion about this article? To sound off, please email letters@DailySignal.com and we will consider publishing your remarks in our regular "We Hear You" feature.
—
—-
—-
—-
January 13, 2021
Office of Barack and Michelle Obama
P.O. Box 91000
Washington, DC 20066
Dear President Obama,
I wrote you over 700 letters while you were President and I mailed them to the White House and also published them on my blog http://www.thedailyhatch.org .I received several letters back from your staff and I wanted to thank you for those letters.
I have been reading your autobiography A PROMISED LAND and I have been enjoying it.
Let me make a few comments on it, and here is the first quote of yours I want to comment on:
I can provide the exact quote here, because in the audience that night was a freelance writer who was recording me. To her mind, my answer risked reinforcing negative stereotypes some Californians already had about working-class white voters and was therefore worth blogging about on Huffington Post. (It's a decision I respect, by the way, though I wish she had talked to me about it before writing the story. This is what separates even the most liberal writers from their conservative counterparts—the willingness to flay politicians on their own side.)
—
If liberal writers hold Democrats feet to the fire then why did the liberal media delay reporting the news on Hunter Biden?
'This story broke in October. You didn't do it then,' former acting DNI scolded the CNN anchor
By Joseph A. Wulfsohn | Fox News
Former Acting Director of National Intelligence Ric Grenell took a shot at CNN anchor Jake Tapper Wednesday for finally acknowledged the controversies surrounding Hunter Biden.
Tapper was the first anchor on CNN to address the statement released by the president-elect's son revealing his "tax affairs" were being investigated by the Delaware U.S. Attorney's Office.
Tapper shared a CNN report about the investigation on Twitter, which caught Grenell's attention.
"This story broke in October. You didn't do it then," said Grenell, who then asked Tapper point-blank: "Were you instructed to ignore it until after the election?"
CNN did not immediately respond to Fox News' request for comment.
Grenell's question appears to be valid after recordings leaked by Project Veritas last week revealed that CNN President Jeff Zucker and Political Director David Chalian urged staff back in October not to cover the explosive New York Post report that shed light on Hunter Biden's shady business dealings overseas.
"Obviously, we're not going with the New York Post story right now on Hunter Biden," Chalian is heard saying during a conference call on Oct. 14, the same day the Post published its first Hunter Biden story.
JAKE TAPPER DECLARES HUNTER BIDEN CLAIMS 'TOO DISGUSTING' TO REPEAT ON CNN: 'THE RIGHTWING IS GOING CRAZY'
"The Trump media, you know, moves immediately from — OK, well, never mind — the [Michael Flynn] unmasking was, you know, found to be completely nonsensical to the latest alleged scandal and expects everybody to just follow suit," Zucker told his staff on Oct. 16. "So, I don't think that we should be repeating unsubstantiated smears just because the right-wing media suggests that we should."
Chalian and Zucker's messages appeared to have later resonated with Tapper, who said Oct. 22 that the allegations against Biden's son were "too disgusting" to repeat on air and that the "right wing is going crazy."
However, since the election, Tapper has struck a vastly different tone when it comes to Hunter Biden's potential business conflicts. Last week, the CNN anchor even asked Joe Biden about it during an interview.
"When your son came under scrutiny during the campaign, you vowed 'No one in my family or associated with me will be involved in any foreign operations whatsoever. Period. End of story,'" Tapper began. "Will your brothers, will your son take leave from any business interests, not just foreign but any business interests, that might create any even an appearance of impropriety?"
"My son, my family will not be involved in any business, any enterprise that is in conflict with or appears to be in conflict with an appropriate distance from the presidency and government," Biden responded.
Tapper quickly moved on to another topic without any follow-up questions.
On Twitter, however, Tapper scolded the Biden transition team over Wednesday's press release, apparently spoiling CNN's own reporting about the younger Biden's legal troubles in the process.
"CNN's @evanperez was working on the story about the US [sic] Attorney investigation and reached out to Hunter's legal team for comment Monday. They spoke on Tuesday and said they would get back to him today. They didn't. Instead the transition team issued a press release," Tapper tweeted.
He later wrote, "Note to Biden transition team: if your strategy to deal with bad news is to falsely promise a comment to journalists operating in good faith then issue a press release, you will end up getting called late in the process."
Francis Schaeffer in 1982 on the 700 Club noted:
The liberal newspapers dominated by this humanist view carried reams of material trying to get poor ole Dr. C.Everett Koop, who had been my friend for 30 years, tried to get him not accepted as the Surgeon General of the United States. When he was accepted the Washington Post ran one inch on the 3rd page. That is all.

Dr. Koop is one of the foremost pediatric surgeons in the United States, and among other honors, he was given the highest honor of the French government for his pioneering work in pediatric surgery. He also has experience in the direction of the care of public health. He was shut off not because he didn't have the qualifications but because he stood for the value of human life and behind it the Christian view.
The newspapers are supposed to make the distinction between news and the editorial page. If they want to be against us on the editorial page that is their privilege and it is our privilege not to buy their newspaper. But when they begin to have a hidden censorship on the news page that is tyranny!!
Sincerely,
Everette Hatcher III, 13900 Cottontail Lane, Alexander, AR 72002, ph 501-920-5733 everettehatcher@gmail.com
Francis Schaeffer
Related posts:
President Obama c/o The White House 1600 Pennsylvania Avenue NW Washington, DC 20500 Dear Mr. President, I know that you receive 20,000 letters a day and that you actually read 10 of them every day. I really do respect you for trying to get a pulse on what is going on out here. There have […]By Everette Hatcher III | Posted in David Barton, Founding Fathers, President Obama | Edit |Comments (0)
There have been many articles written by evangelicals like me who fear that our founding fathers would not recognize our country today because secular humanism has rid our nation of spiritual roots. I am deeply troubled by the secular agenda of those who are at war with religion in our public life. Lillian Kwon quoted somebody […]By Everette Hatcher III | Posted in David Barton, Founding Fathers | Edit | Comments (0)
There have been many articles written by evangelicals like me who fear that our founding fathers would not recognize our country today because secular humanism has rid our nation of spiritual roots. I am deeply troubled by the secular agenda of those who are at war with religion in our public life. Lillian Kwon quoted somebody […]By Everette Hatcher III | Posted in David Barton, Founding Fathers | Edit | Comments (0)
There have been many articles written by evangelicals like me who fear that our founding fathers would not recognize our country today because secular humanism has rid our nation of spiritual roots. I am deeply troubled by the secular agenda of those who are at war with religion in our public life. Lillian Kwon quoted somebody […]By Everette Hatcher III | Posted in David Barton, Founding Fathers | Edit | Comments (0)
There have been many articles written by evangelicals like me who fear that our founding fathers would not recognize our country today because secular humanism has rid our nation of spiritual roots. I am deeply troubled by the secular agenda of those who are at war with religion in our public life. Lillian Kwon quoted somebody […]By Everette Hatcher III | Posted in David Barton, Founding Fathers | Edit | Comments (0)
There have been many articles written by evangelicals like me who fear that our founding fathers would not recognize our country today because secular humanism has rid our nation of spiritual roots. I am deeply troubled by the secular agenda of those who are at war with religion in our public life. Lillian Kwon quoted somebody […]By Everette Hatcher III | Posted in Founding Fathers | Edit | Comments (0)
President Obama Speaks at The Ohio State University Commencement Ceremony Published on May 5, 2013 President Obama delivers the commencement address at The Ohio State University. May 5, 2013. You can learn a lot about what President Obama thinks the founding fathers were all about from his recent speech at Ohio State. May 7, 2013, […]By Everette Hatcher III | Posted in Founding Fathers, President Obama | Edit | Comments (0)
Dr. C. Everett Koop with Bill Graham. Francis Schaeffer: "Whatever Happened to the Human Race" (Episode 4) THE BASIS FOR HUMAN DIGNITY Published on Oct 7, 2012 by AdamMetropolis The 45 minute video above is from the film series created from Francis Schaeffer's book "Whatever Happened to the Human Race?" with Dr. C. Everett Koop. This […]By Everette Hatcher III | Posted in Founding Fathers, Francis Schaeffer, Prolife | Edit |Comments (1)
America's Founding Fathers Deist or Christian? – David Barton 4/6 There have been many articles written by evangelicals like me who fear that our founding fathers would not recognize our country today because secular humanism has rid our nation of spiritual roots. I am deeply troubled by the secular agenda of those who are at […]By Everette Hatcher III | Posted in David Barton, Founding Fathers | Tagged governor of connecticut, john witherspoon, jonathan trumbull | Edit | Comments (1)
3 Of 5 / The Bible's Influence In America / American Heritage Series / David Barton There were 55 gentlemen who put together the constitution and their church affliation is of public record. Greg Koukl notes: Members of the Constitutional Convention, the most influential group of men shaping the political foundations of our nation, were […]By Everette Hatcher III | Posted in Founding Fathers | Edit | Comments (0)
I do not think that John Quincy Adams was a founding father in the same sense that his father was. However, I do think he was involved in the early days of our government working with many of the founding fathers. Michele Bachmann got into another history-related tussle on ABC's "Good Morning America" today, standing […]By Everette Hatcher III | Posted in David Barton, Founding Fathers | Edit | Comments (0)
I have gone back and forth and back and forth with many liberals on the Arkansas Times Blog on many issues such as abortion, human rights, welfare, poverty, gun control and issues dealing with popular culture. Here is another exchange I had with them a while back. My username at the Ark Times Blog is Saline […]By Everette Hatcher III | Posted in Arkansas Times, Francis Schaeffer, Prolife | Edit |Comments (0)
I truly believe that many of the problems we have today in the USA are due to the advancement of humanism in the last few decades in our society. Ronald Reagan appointed the evangelical Dr. C. Everett Koop to the position of Surgeon General in his administration. He partnered with Dr. Francis Schaeffer in making the […]By Everette Hatcher III | Posted in Adrian Rogers, Francis Schaeffer | Edit | Comments (0)
Francis Schaeffer: "Whatever Happened to the Human Race" (Episode 4) THE BASIS FOR HUMAN DIGNITY Published on Oct 7, 2012 by AdamMetropolis ____________ The 45 minute video above is from the film series created from Francis Schaeffer's book "Whatever Happened to the Human Race?" with Dr. C. Everett Koop. This book really helped develop my political […]By Everette Hatcher III | Posted in Francis Schaeffer | Edit | Comments (0)
—-
—