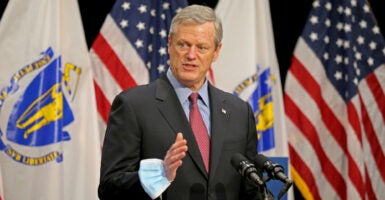 How low can a nation sink?
The history of the past century offers any number of examples.
Radical governments of the right and left have engaged in mass killings of their citizens. Acts of terrorism have taken the lives of innocent men, women, and children—even while they were dancing at weddings, sitting in cafes, visiting a hotel, or enjoying a nightclub.
Such acts are a heinous injustice, and so, too, is the most prosperous country on Earth declaring as a matter of law that the lives of its infant boys and girls are utterly worthless.
The Left has declared war on our culture, but we should never back down, nor compromise our principles. Learn more now >>
That was the news—again—out of Massachusetts over the Christmas break as the Bay State adopted a law that erased the lives of children up to, and likely through, the time of birth.
Massachusetts—founded as a haven of freedom by settlers who committed themselves to "just and equal laws" in the Mayflower Compact—passed a bill that nullifies justice and equality, ignoring all precedents of that great state.
So noxious was the measure that the state's Republican governor, Charlie Baker, who supports the 1973 Supreme Court abortion ruling in Roe v. Wade, felt compelled to veto it.
In his letter on Christmas Eve, he wrote the Legislature: "I cannot support the sections of this proposal that expand the availability of later-term abortions and permit minors age 16 and 17 to get an abortion without the consent of a parent or guardian."
Even Baker's last-minute offer to support alternate language allowing abortion to full term when there is risk to the mother's mental health was rebuffed.
Essentially, abortion law in Massachusetts now is such that the tiny being in the womb is a legal nullity. That accomplishment is cloaked by its advocates with the euphemisms of "reproductive freedom" and "abortion access."
But if taking the life of a child days from its birth is "reproductive freedom," how is taking that same life a day after its birth not also "reproductive freedom"?
If absolute liberty to take life at such a stage is "access" to health care, how is it also not "reproductive freedom" for parents of a newborn to have "access" to a cliff from which to cast their young?
Of course, our nation hasn't reached this nadir without a long approach. This week, the 48th anniversary of Roe v. Wade will arrive with its toll of more than 62 million lives lost and millions more damaged or destroyed.
The enormity of it all no longer strikes an anguished chord among many Americans. Abortion has seeped its blood-stained reality into every corner of American life.
Over the past 20 months, members of Congress, mostly Republicans, have attempted to awaken the conscience of a nation by marking a limit on when we will accept the killing of the near-born.
These members introduced in Congress the Born-Alive Abortion Survivors Protection Act. Opponents contend they oppose the measure because it isn't necessary. That's evident legal and medical nonsense, however. Massachusetts' draconian new law, joining those of New York, Vermont, and other states, clearly proves that.
So do new data from Texas. The Lone Star State revamped its abortion reporting law in 2013 to require the collection of statistics on infants born alive after abortion. Keep in mind that abortionists, wary of what has been called that "dreaded complication," take steps to end the baby's life in the womb so that it cannot be born alive, regardless of his or her health or stage of development.
The new numbers from Texas indicate that 10 infants were born alive after abortion in 2018 and 2019. Texas officials, thankfully, say they are investigating.
There's even more reason to think tragedies like this are happening in states where, unlike Texas, no legal limits exist on abortion. These horrors are not what our nation is about.
The trampling of the little guy—a boy or girl on the threshold of birth, living, breathing, able to curl a fist, suck his or her thumb, wrinkle a nose, sneeze—is not who the Democratic Party once was.
The Republican Party, said to be home to society's elite, no longer turns its back on these vulnerable children.
Some 205 members of the House—13 short of the number needed—have signed a discharge petition to force bringing the bill to the House floor.
It's time that Congress take the next step and tell every baby, rich or poor, black or white, native-born or immigrant, that he or she will not be left on the cold steel of an abortion clinic table. It's time to join hands across the aisle and make this protection national law.
The Daily Signal publishes a variety of perspectives. Nothing written here is to be construed as representing the views of The Heritage Foundation.

Dr. Francis schaeffer – The flow of Materialism(from Part 4 of Whatever happened to human race? Co-authored by Francis Schaeffer and Dr. C. Everett Koop)

Dr. Francis Schaeffer – The Biblical flow of Truth & History (intro)
Francis Schaeffer – The Biblical Flow of History & Truth (1)
Mr. Hentoff with the clarinetist Edmond Hall in 1948 at the Savoy, a club in Boston. (Nat Hentoff was a pro-life atheist)
Dr. Francis Schaeffer – The Biblical Flow of Truth & History (part 2)
Image
<img class="i-amphtml-blurry-placeholder" src="data:;base64,
Edith Schaeffer with her husband, Francis Schaeffer, in 1970 in Switzerland, where they founded L'Abri, a Christian commune.
________________
______________________
March 11, 2021
President Biden, c/o The White House
1600 Pennsylvania Avenue NW
Washington, DC 20500
Dear Mr. President,
In the film series "WHATEVER HAPPENED TO THE HUMAN RACE?" the arguments are presented  against abortion (Episode 1),  infanticide (Episode 2),   euthenasia (Episode 3), and then there is a discussion of the Christian versus Humanist worldview concerning the issue of "the basis for human dignity" in Episode 4 and then in the last episode a close look at the truth claims of the Bible.
I truly believe that many of the problems we have today in the USA are due to the advancement of humanism in the last few decades in our society. Ronald Reagan appointed the evangelical Dr. C. Everett Koop to the position of Surgeon General in his administration. He partnered with Dr. Francis Schaeffer in making the video below. It is very valuable information for Christians to have.  Actually I have included a video below that includes comments from him on this subject.
Francis Schaeffer: "Whatever Happened to the Human Race" (Episode 1) ABORTION OF THE HUMAN RACE
Published on Oct 6, 2012 by AdamMetropolis
Did you know that Francis Schaeffer and Dr. C. Everett Koop asked President Reagan in 1983 to make a pro-life proclamation?
Thus says the LORD, "A voice is heard in Ramah, Lamentation and bitter weeping. Rachel is weeping for her children; She refuses to be comforted for her children, Because they are no more."

Jeremiah 31:14-16
Sanctity of Human Life Sunday is held on the Sunday in January that falls closest to the day on which the Roe v. Wade and Doe v. Bolton decisions were handed down by the U.S. Supreme Court on January 22, 1973.
Sanctity of Life Sunday began in 1983 when the Christian Action Council (now known as Care Net), founded with the help of Francis Schaeffer and former Surgeon General C. Everett Koop, "asked President Ronald Reagan to create a special day to focus on the intrinsic value of human life." [Source]
President Reagan issued this proclamation:
Since 1973, however, more than 15 million unborn children have died in legalized abortions — a tragedy of stunning dimensions that stands in sad contrast to our belief that each life is sacred. These children, over tenfold the number of Americans lost in all our Nation's wars, will never laugh, never sing, never experience the joy of human love; nor will they strive to heal the sick, or feed the poor, or make peace among nations. Abortion has denied them the first and most basic of human rights, and we are infinitely poorer for their loss.

We are poorer not simply for lives not led and for contributions not made, but also for the erosion of our sense of the worth and dignity of every individual. To diminish the value of one category of human life is to diminish us all. Slavery, which treated Blacks as something less than human, to be bought and sold if convenient, cheapened human life and mocked our dedication to the freedom and equality of all men and women. Can we say that abortion — which treats the unborn as something less than human, to be destroyed if convenient — will be less corrosive to the values we hold dear?
It has now been 40 years since the Supreme Court Roe v. Wade decision that made abortion on demand legal in all 50 states. Since that time, the 15 million babies referred to by President Reagan has become 55 million babies.
Abortion is the greatest evil in American history and dwarfs the genocide of many other nations throughout history.
And served their idols,
Which became a snare to them.
They even sacrificed their sons and their daughters to the demons,
And shed innocent blood,
The blood of their sons and their daughters,
Whom they sacrificed to the idols of Canaan;
And the land was polluted with the blood.
Psalm 106:36–38

___________

Thank you so much for your time. I know how valuable it is. I also appreciate the fine family that you have and your commitment as a father and a husband.

Sincerely,

Everette Hatcher III, 13900 Cottontail Lane, Alexander, AR 72002, ph 501-920-5733

Related posts:

 Francis Schaeffer: "Whatever Happened to the Human Race" (Episode 1) ABORTION OF THE HUMAN RACE Published on Oct 6, 2012 by AdamMetropolis The 45 minute video above is from the film series created from Francis Schaeffer's book "Whatever Happened to the Human Race?" with Dr. C. Everett Koop. This book  really helped develop my political views […]

.