—-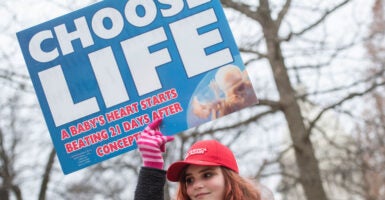 January 22 is National Sanctity of Human Life Day in America, as designated by President Donald Trump in one of his final acts before leaving office this week. While that may not mean much to some, it resonates deeply with others.
There are many individuals and organizations that advocate for the needs of human beings, from children to senior citizens. However, there remains an urgent need for more Americans to advocate for our most vulnerable population, the preborn—especially on Jan. 22, the 48thanniversary of the Supreme Court's infamous 1973 Roe v. Wade decision, which effectively legalized abortion nationwide.
America remains one of just a handful of countries that permits elective abortions throughout pregnancy. Consider:
• 1 out of every 5 preborn American babies is aborted.
The Left has declared war on our culture, but we should never back down, nor compromise our principles. Learn more now >>
• About 2,500 abortions are performed each day in the U.S.
• 60,000,000 American children have been aborted since 1973.
As tragic as those numbers are, abortion's impact on black Americans is even more alarming.
Consider also the following comparisons of abortion vis-a-vis the black population:
• More than 20,000,000 black babies have been aborted since 1973.
• According to the U.S. census, there were 18,871,831 blacks living in America in 1960.
That means that since 1973, more black babies have been killed by surgical abortion than the entire U.S. black population of 1960.
But it's not enough just to know and mourn abortion's death toll. We must also answer the call to do something about it.
As part of the Douglass Leadership Institute's Strengthening the Family initiative, we've launched our new Jeremiah 1:5 Project. It derives directly from the Bible verse Jeremiah 1:5, which says:
I knew you before I formed you in your mother's womb. Before you were born, I set you apart and appointed you as my prophet to the nations.
In that verse, there are three life-affirming principles:
1) The purview of God (God saw and knew Jeremiah, even in the womb.)
2) Personhood even in the womb (Preborn lives matter to Him.)
3) God assigns purpose in the womb. (We are each created to do something special.)
The goals of the Jeremiah 1:5 Project are to increase awareness of abortion and its impact on the black community and to decrease the support for abortion in the black community.
Building on the Douglass Leadership Institute's success with its strategic partner, the Church of God in Christ, which recently passed a historic resolution affirming the sanctity of life, the institute has secured the signatures of more than 500 black pastors choosing to boldly, unapologetically, and compassionately stand up and speak up for life.
They are doing so in the spirit of Proverbs 24:11 (NIV): "Rescue those being led away to death; hold back those staggering toward slaughter."
The project's focus is primarily—though not exclusively—geared toward black pastors in response to Planned Parenthood founder Margaret Sanger's desire to control the birth rate of black Americans.
In 1939, Sanger wrote in a historic and infamous letter to Dr. Clarence Gamble (of the Procter & Gamble fortune):
We should hire three or four colored ministers, preferably with social-service backgrounds, and with engaging personalities. The most successful educational approach to the Negro is through a religious appeal.

We don't want the word to go out that we want to exterminate the Negro population, and the minister is the man who can straighten out that idea if it ever occurs to any of their more rebellious members.
Conversely, the Douglass Leadership Institute believes the black pastors who have joined its project will be key to ending abortion's toll on the black community.
But while the primary audience is black pastors, many pastors of other races and ethnicities have also chosen to join this pivotal project. Each of these clergymen and clergywomen have courageously committed to affirm the dignity and value of all human life, regardless of gestational age.
They have also committed to pray, preach, and teach the sanctity of human life from the pulpit, and to invite their pastoral peers to do likewise.
Life is a gift, and it is precious. It must be protected, and the Douglass Leadership Institute's Jeremiah 1:5 Project is positioned to do just that.
A new administration has entered the White House and may not be committed to protect our vulnerable preborn citizens. For that reason, it is critically important that those who value life in all of its phases and stages remain vigilant.
We must continue to diligently stand up, speak up, and most of all, never give up in the battle, because lives depend on it, born and preborn alike.
The Daily Signal publishes a variety of perspectives. Nothing written here is to be construed as representing the views of The Heritage Foundation.
Have an opinion about this article? To sound off, please email letters@DailySignal.com and we will consider publishing your remarks in our regular "We Hear You" feature.
Dear Reverend Warnock,
We are a coalition of Black Christian ministers who, like you, feel called by God to preach the Bible, advocate for justice and fight against societal evils. We applaud your commendable effortsto share Christ while pursuing political solutions to our most pressing problems today. But precisely because we share so much in common with you, we feel compelled to confront your most recent statements concerning abortion. You have gone on the record saying that you are a " pro-choice pastor " who will "always fight for reproductive justice." You have  publicly expressed your views that abortion is an exercise of "human agency and freedom" that is fully consistent with your role as a shepherd of God's people.

We believe these statements represent grave errors of judgment and a lapse in pastoral responsibility, and we entreat you to reconsider them. As a Christian pastor and as a Black leader, you have a duty to denounce the evil of abortion, which kills a disproportionate number of Black children. Your open advocacy of abortion is a scandal to the faith and to the Black community.

Abortion is fundamentally in conflict with the plain reading of the Bible. The Bible clearly teaches that human life is created by God beginning at conception. As Psalm 139 proclaims: "You knitted me together in my mother's womb. I praise you, for I am wonderfully and fearfullymade." What human being could possibly have the right to blot out an innocent life that God has wonderfully and fearfully made?

Abortion prematurely thwarts God's providential and loving plan for a promising human life. And by terminating an innocent unborn life in the womb, abortion directly violates the seventh commandment: "Thou shalt not kill." God demands that every faithful Christian protect and uphold the sanctity of innocent human life, at every stage of life. Supporting abortion represents a serious abdication of and a transgression against that responsibility, just like the disrespect of the poor, the disabled, or the elderly.

Couching abortion in the language of "reproductive justice" may be savvy marketing, but killing an innocent human life has nothing to do either with reproduction or with justice. Do American adults really need another public voice urging them to put their own short-term desires ahead of the needs of their children? As a pastor who speaks for the Christian community, we implore youto speak the plain truth about a practice as barbaric and destructive as abortion.
And then there is the uniquely devastating impact that abortion has on the Black communities you serve. The pro-abortion movement in America has been characterized by racism and white supremacy since its inception. And to this day, abortion continues to unequally and disproportionately harm Black lives, perpetuating systemic racism. Despite making up only 13% of the female population, Black women represent 36% of all abortions, and Black women are almost five times more likely than their white counterparts to receive an abortion. In some cities across the country, more Black children are aborted every year  than are born alive.
Can you in good conscience defend abortion, knowing that abortion kills
474 Black babies for
every 1000 live births
? Abortion decimates Black communities, disrupts Black families and
inflicts untold harm on Black women. Black women and Black families need your advocacy;
they need your protection, and they need your support. But they do not need Black pastors
making excuses for the racism in the abortion industry. Killing Black lives, especially killing
unborn Black lives, does nothing but brutalize and scar vulnerable Black communities who are
already suffering so much.
For all of the above reasons, we entreat you to reconsider your public advocacy for abortion.
Unborn Black, brown and white lives are so much more than clumps of cells, burdensome
inconveniences, or health problems. They are sacred human persons endowed by God with
inalienable dignity and worth. We implore you to uphold the Biblical defense of life and to fight
against the systemic racism of abortion.

Bishop Garland Hunt
Father's House
 Norcross, GA
Bishop

Wellington Boone
Fellowship of International Churches
Atlanta, GA
Bishop

 Flynn Johnson
Metro City Church
Atlanta, GA

Bishop Michael Paden
GA Metro Ecclesiastical Jurisdiction COGIC
Atlanta, GA
Bishop John Reid
John Reid Ministries
Cumming, GA

pastor

Frankie Vega
Awakening Reformation Center 
Smyrna, GA

Pastor Everett Spencer 
 New Dimensions Church
 Newnan, GA
Pastor Stacy Frison
Grace Christian Fellowship
Sugar Hill, GA
Pastor Arnold Murray
Georgia
Pastors Network 
Cumming, GA
Pastor

James Leak 
Georgia Pastors Network 
Lawrenceville, GA

Evangelist  Alveda King
Alveda King Ministries
Atlanta, GA
Rev.

Harriet Bradley
Democrats for Life
Atlanta, GA
Gerard Henry
Former Host of BET's Lift Every Voice
Alpharetta, GA
Min.

Catherine Davis
Restoration Project
Stone Mountain, GA

Min.Michael Lancaster 
Frederick Douglass Foundation of GA
Suwanee, GA
Bishop

Jim Lowe
Guiding Light Church
Birmingham, AL
Bishop Aubrey Shines
Conservative Clergy of Color 
Tampa, FL
Rev.

 AD Lenoir 
Westfield Baptist Church
Miami, FL

Rev. Lorenzo Nea New Bethel AME ChurchJackson, MSRev. Dean NelsonHuman Coalition ActionLawrenceville, GARev. Joseph Parker Bethlehem AME ChurchWinona, MSRev. Arnold CulbreathDirector Douglass Leadership InstituteCincinnati, OHRev. Marc LittleCURE America ActionWashington, DCRev. Kevrick McKainDouglass Leadership InstituteGreensboro, NCRev. Walter HoyeIssues 4 LifeUnion City, CABishop Vincent MathewsCOGIC World MissionsMemphis, TNApostle Terrell MurpheyLife Center InternationalMarietta, GADr. Dwayne HardinThe Embassy (church)Atlanta, G
——
Former NFL coach Tony Dungy is a man who takes his Christian faith very seriously, and when it comes to Rev. Raphael Warnock, who is running for U.S. Senate in Georgia, he wasn't so sure about him.
Warnock, a Democrat and pastor at Ebenezer Baptist Church, is in the middle of a runoff election against Sen. Kelly Loeffler, R-Ga.
Warnock tweeted Tuesday he was a "pro-choice pastor," which inherently goes against the pro-life views of most Christians.
WARNOCK COMPARED AMERICA TO COMMUNIST CUBA, SAID FIDEL CASTRO HAD 'COMPLEX' LEGACY IN RESURFACED VIDEO
When a Twitter user pointed out on Wednesday that "pro-choice pastors" do exist, the Super Bowl champion head coach appeared skeptical.
"Rev Warner may be a pastor. My question would be 'Is he a Christian?'  That is, does he follow the teachings of Jesus and does he believe that the Bible is the absolute word of God?" tweeted, who is a football commentaror for NBC.
He added: "I would think it would be difficult for someone who believes that God sees us when we are in the womb (Psalm 139:13-16) to think that it is OK to choose not to bring that life to fruition."
On Thursday, another Twitter user said being pro-choice didn't mean that a person was pro-abortion. Dungy replied, "Please read Psalm 139:13-16.  Then tell me if you think God puts babies in the womb or man does?  If you believe they randomly get there then I have no argument. But if you believe God puts them there, then how does anyone have a right to 'choose' which ones survive?"
LOEFFLER AD BLITZ TARGETS WARNOCK'S ALLEGED PAST DISMISSALS OF CRITIQUES ON SOCIALISM
He then clarified his position in another way.
"What if I was advocating for the right to kill someone who was already born? Would that be morally OK?  Of course not. The only question in this debate is what we think of the unborn baby? Is it a life or is it not?"
CLICK HERE FOR MORE SPORTS COVERAGE ON FOXNEWS.COM
Dungy is not one to shy away from his faith. In 2006, it was noted that Dungy nearly put his football career on pause to join the prison ministry. And over the course of his career he worked in community service organizations and was a public speaker for the Fellowship of Christian Athletes.
Everyone has an opportunity to influence others. We all need to lo0k at what kind of impact we are having on those closest to us.(My father got his picture taken with Tony Dungy and Ken Whitten at a golf tournament in Memphis when Dungy spoke to a group at Bellevue Baptist a few years ago.)
May 9, 2012
By JONI B. HANNIGAN
Managing Editor
WISDOM Tony Dungy, host of NBC's "Football Night in America," and member of Central Baptist Church in Tampa, joins Ken Whitten, senior pastor of Idlewild Baptist Church in Tampa, where he was formerly a member, and Mac Brunsoon, senior pastor of First Baptist Church in Jacksonville, for an Impact for Living men's conference at First Baptist April 20-21. Photo courtesy Sarah Orgunov/FBC
JACKSONVILLE (FBW)—More than 2,000 men gathered at Jacksonville's First Baptist Church April 20-21 to hear football coaching legend Tony Dungy and host of "The NFL Today" James Brown talk about how they hope to finish strong—"Living a Legacy of Eternal Impact."
Another local sport's personality Tony Boselli, former NFL Jaguar and broadcast analyst, joined the church's senior pastor, Mac Brunson; Ken Whitten senior pastor of Idlewild Baptist Church in Lutz; Daniel Crews, popular vocalist in residence from First Baptist Church in Atlanta; and others for the two-day Impact for Living conference.
Dungy, a member of Central Tampa Baptist Church and host of NBC's "Football Night in America," asked participants, "What is your platform?"
While it might be tempting to wish for a large platform like those of megachurch pastors like Brunson or Whitten, or to be on television like James Brown—or to have a voice like Daniel Crews—Dungy told the men each has a platform.
"Your platform may not be like theirs, but you certainly have one already," Dungy said, asking who has family, job or friends. "God has given you one."
Figuring out your own platform is important, he said, as is asking yourself whom you impact and how you impact them. If you are a Christian, your platform is "huge," he said.
"It really is—God expects big things," Dungy said.
Quoting from Acts 1:8, Dungy said Jesus was telling the disciples what would happen once He left the earth. "You will receive power when the Holy Spirit comes on you. You will be my witnesses," Dungy quoted.
The disciples' platform can be referenced by a modern day comparison to Jerusalem, Judea, Samaria, and the ends of the earth, Dungy said.
Jerusalem for Dungy was his like home. "My father made a tremendous impact on me," he recalled, describing the older Dungy as an example of James 1. He was slow to get angry and he advised his son to not complain, but instead to solve problems. Dungy said he didn't know his father was a Tuskeegee Airman until his funeral. "He has a Ph.D in biology, but he seldom talked."
Dungy said words matter, and told of getting into a debate with a colleague a few years ago who uses profanity. "I agree to disagree on this point," Dungy said. "When I get mad, I say, 'You got to be kidding.'"
Dungy recalled an incident when his 11-year-old son was upset about a Hot Wheel car and sputtered, "You've GOT to be kidding!"
"I was so pleased. Why did he say that? He thinks that's what you are supposed to say when you get mad," Dungy laughed.
Reminiscing about another sweet family moment, Dungy said one of his biggest thrills came after watching his son Eric throw a touchdown pass at the University of Oregon last year. Responding to a newspaper reporter for this school who asked him what was the best thing his dad ever told him about football, Dungy said Eric told the reporter, "What does it profit a man to gain the whole world and forfeit his soul."
"How well are you doing in Jerusalem, in your home? You have a platform. What will your kids say 40 years from now?" Dungy asked.
Judea is your surrounding area, your neighborhood, Dungy told the men. Naming people in his life who encouraged him when he was raising young children, Dungy said he was too focused on himself earlier in his life, but has since begun teaching a Bible study for couples in his home. "I feel better about what I am doing in Judea right now."