—
Trump: Let me be clear, I condemn the KKK, white supremacists and the President Trump
Gutfeld on Trump getting rid of critical race theory
Ben Carson: I've never seen evidence of Trump being racist
January 16, 2021
Office of Barack and Michelle Obama
P.O. Box 91000
Washington, DC 20066
Dear President Obama,
I wrote you over 700 letters while you were President and I mailed them to the White House and also published them on my blog http://www.thedailyhatch.org .I received several letters back from your staff and I wanted to thank you for those letters.

There are several issues raised in your book that I would like to discuss with you such as the minimum wage law, the liberal press, the cause of 2007 financial meltdown, and especially your pro-choice (what I call pro-abortion) view which I strongly object to on both religious and scientific grounds, Two of the most impressive things in your book were your dedication to both the National Prayer Breakfast (which spoke at 8 times and your many visits to the sides of wounded warriors!!
I have been reading your autobiography A PROMISED LAND and I have been enjoying it.
Let me make a few comments on it, and here is the first quote of yours I want to comment on:
Over the years, that trust proved difficult to sustain. In particular, the fault line of race strained it mightily. Accepting that African Americans and other minority groups might need extra help from the government—that their specific hardships could be traced to a brutal history of discrimination rather than immutable characteristics or individual choices—required a level of empathy, of fellow feeling, that many white voters found difficult to muster. Historically, programs designed to help racial minorities, from "forty acres and a mule" to affirmative action, were met with open hostility. Even universal programs that enjoyed broad support—like public education or public sector employment—had a funny way of becoming controversial once Black and brown people were included as beneficiaries.
And harder economic times strained civic trust. As the U.S. growth rate started to slow in the 1970s—as incomes then stagnated and good jobs declined for those without a college degree, as parents started worrying about their kids doing at least as well as they had done—the scope of people's concerns narrowed. We became more sensitive to the possibility that someone else was getting something we weren't and more receptive to the notion that the government couldn't be trusted to be fair.
Promoting that story—a story that fed not trust but resentment—had come to define the modern Republican Party. With varying degrees of subtlety and varying degrees of success, GOP candidates adopted it as their central theme, whether they were running for president or trying to get elected to the local school board. It became the template for Fox News and conservative radio, the foundational text for every think tank and PAC the Koch Brothers financed: The government was taking money, jobs, college slots, and status away from hardworking, deserving people like us and handing it all to people like them—those who didn't share our values, who didn't work as hard as we did, the kind of people whose problems were of their own making.
Robert L. Woodson Sr. / @BobWoodson / July 06, 2020 / 348 Comments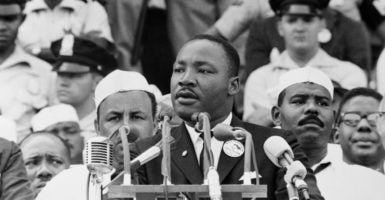 Martin Luther King was confident in the belief that the success of his quest for equality was rooted in the promise of America's founding vision and documents and the progress that has been made toward their realization. Pictured: King gives his "I Have a Dream" speech to a crowd before the Lincoln Memorial during the March on Washington in Washington, D.C., Aug. 28, 1963. (Photo: Bettmann/Getty Images)
COMMENTARY BY
Robert L. Woodson Sr.@BobWoodson
Robert L. Woodson Sr. is founder and president of the Woodson Center, formerly known as the Center for Neighborhood Enterprise.
One name that goes conspicuously unmentioned by those self-proclaimed champions of racial justice such as Black Lives Matters is an internationally acclaimed American hero who lived his life for racial equality. Martin Luther King Jr. gave his life for it, too.
King's quest for equality and his legacy are inconvenient for today's vigilantes because his efforts contrasted sharply with theirs—both with regard to their goal and means.
While today's self-righteous violent protestershave left vulnerable inner-city neighborhoods devastated and residents in tears of anguish, Kingstaked all he had on a belief in the unifying power of passive resistance and nonviolence, as did others who brought about worldwide change, from Mahatma Gandhi to Nelson Mandela.
Today's racial-grievance opportunists portray blacks as impotent victims, unable to move forward or upward under the weight of a legacy of slavery and the all-purpose villain of institutional racism.
Stand for your principles in 2021—even in the face of Congress, the media, and the radical Left ganging up on conservatives and our values. Learn more now >>
In their agenda, equality of opportunitymakes no difference. Instead, their proclaimed goal is to demand equality of outcome by monetizing the suffering of their ancestors as reparations—checks that would be handed to them.
The demand for reparations ignores problematic issues of who should pay for and who should receive remuneration and the situation of the descendants of blacks who owned slaves and of those who arrived on our nation's shores—penniless but filled with hope—long after the end of slavery.
The accounts of sports superstars of the NFL and NBA who were once millionaires but ended up bankrupt can serve as cautionary tales regarding the inconsequential impact of cash payouts in the absence of qualities such as delayed gratification, personal restraint, and foresight.
In contrast with today's racial justice vigilantes, King did not advocate lowering the bar for standards of behavior and ethical values among those he represented. The most aspirational element of his famous Dream was that his children would one day be judged by the content of their character.
The history of the black community is replete with evidence that, even against the greatest odds and oppression, moral qualities of personal responsibility, determination, integrity, and mutual assistance were sufficient to empower men and women to achieve success.
In 1917, in the Bronzeville area of Chicago, there were 731 black-owned businesses. Blacks owned $100 million in real estate there in 1929. Some 192 local churches provided social services.
In Philadelphia, blacks dominated the catering business until the end of the 19th century, making that city's catering famous across the country. James Forten, one of Philadelphia's principal sailmakers, employed more than 40 white and black workers and had a fortune of $100,000 in the 1830s.
The Chesapeake and Marine Railroad and Dry Dock Co. was formed by black Baltimore dockworkers after 1,000 black workers lost their jobs in 1863. In St. Louis, Madam C. J. Walker made a million dollars with the invention of the first commercially successful hair-straightening process.
In the first 50 years after the Emancipation Proclamation, black Americans had accumulated a personal wealth of $700 million. They owned more than 40,000 businesses, 40,000 churches, and 937,999 farms. The literacy rate had climbed from 5% to 70%.
Black commercial enclaves in Durham, North Carolina, and the Greenwood Avenue section of Tulsa, Oklahoma, were together known as the Negro Wall Street.
In an era of legalized discrimination, the marriage rate in the black community was higher than it was in the white community despite times of economic deprivation and racism.
In 1925 in New York City, 85% of black families had a man and woman raising children. In stark contrast, the current rate of births to unwed mothers is above 75%.
Today, young black men who take responsibility to raise and nurture their children significantly increase those children's chances for academic success and educational attainment and decrease the likelihood that they will drop out of school, spend time in prison, or engage in destructive or self-destructive behavior.
King said that we must reach down into the deep, dark regions of our souls and sign our own Emancipation Proclamation. In looking back, we need to rediscover the standards and institutions that blacks historically embraced to accomplish the liberation of mind and spirit that allowed them to survive and thrive.
Intertwined with the agenda of today's racial justice warriors is the ultimate goal of the destruction of the nation. King was confident in the belief that the success of his quest for equality was rooted in the promise of America's founding vision and documents and the progress that has been made toward their realization. In his "Letter From a Birmingham Jail" he wrote:
One day the South will know that when these disinherited children of God sat down at lunch counters, they were in reality standing up for what is best in the American dream and for the most sacred values in our Judeo-Christian heritage, thereby bringing our nation back to those great wells of democracy which were dug deep by the founding fathers in their formulation of the Constitution and Declaration of Independence … . We will reach the goal of freedom in Birmingham and all over the nation because the goal of America is freedom … and our destiny is tied up with America's destiny.
Originally published in RealClearPolitics
Sincerely,
Everette Hatcher III, 13900 Cottontail Lane, Alexander, AR 72002, ph 501-920-5733 everettehatcher@gmail.com
Related posts:
President Obama c/o The White House 1600 Pennsylvania Avenue NW Washington, DC 20500 Dear Mr. President, I know that you receive 20,000 letters a day and that you actually read 10 of them every day. I really do respect you for trying to get a pulse on what is going on out here. There have […]By Everette Hatcher III | Posted in David Barton, Founding Fathers, President Obama | Edit |Comments (0)
There have been many articles written by evangelicals like me who fear that our founding fathers would not recognize our country today because secular humanism has rid our nation of spiritual roots. I am deeply troubled by the secular agenda of those who are at war with religion in our public life. Lillian Kwon quoted somebody […]By Everette Hatcher III | Posted in David Barton, Founding Fathers | Edit | Comments (0)
There have been many articles written by evangelicals like me who fear that our founding fathers would not recognize our country today because secular humanism has rid our nation of spiritual roots. I am deeply troubled by the secular agenda of those who are at war with religion in our public life. Lillian Kwon quoted somebody […]By Everette Hatcher III | Posted in David Barton, Founding Fathers | Edit | Comments (0)
There have been many articles written by evangelicals like me who fear that our founding fathers would not recognize our country today because secular humanism has rid our nation of spiritual roots. I am deeply troubled by the secular agenda of those who are at war with religion in our public life. Lillian Kwon quoted somebody […]By Everette Hatcher III | Posted in David Barton, Founding Fathers | Edit | Comments (0)
There have been many articles written by evangelicals like me who fear that our founding fathers would not recognize our country today because secular humanism has rid our nation of spiritual roots. I am deeply troubled by the secular agenda of those who are at war with religion in our public life. Lillian Kwon quoted somebody […]By Everette Hatcher III | Posted in David Barton, Founding Fathers | Edit | Comments (0)
There have been many articles written by evangelicals like me who fear that our founding fathers would not recognize our country today because secular humanism has rid our nation of spiritual roots. I am deeply troubled by the secular agenda of those who are at war with religion in our public life. Lillian Kwon quoted somebody […]By Everette Hatcher III | Posted in Founding Fathers | Edit | Comments (0)
President Obama Speaks at The Ohio State University Commencement Ceremony Published on May 5, 2013 President Obama delivers the commencement address at The Ohio State University. May 5, 2013. You can learn a lot about what President Obama thinks the founding fathers were all about from his recent speech at Ohio State. May 7, 2013, […]By Everette Hatcher III | Posted in Founding Fathers, President Obama | Edit | Comments (0)
Dr. C. Everett Koop with Bill Graham. Francis Schaeffer: "Whatever Happened to the Human Race" (Episode 4) THE BASIS FOR HUMAN DIGNITY Published on Oct 7, 2012 by AdamMetropolis The 45 minute video above is from the film series created from Francis Schaeffer's book "Whatever Happened to the Human Race?" with Dr. C. Everett Koop. This […]By Everette Hatcher III | Posted in Founding Fathers, Francis Schaeffer, Prolife | Edit |Comments (1)
America's Founding Fathers Deist or Christian? – David Barton 4/6 There have been many articles written by evangelicals like me who fear that our founding fathers would not recognize our country today because secular humanism has rid our nation of spiritual roots. I am deeply troubled by the secular agenda of those who are at […]By Everette Hatcher III | Posted in David Barton, Founding Fathers | Tagged governor of connecticut, john witherspoon, jonathan trumbull | Edit | Comments (1)
3 Of 5 / The Bible's Influence In America / American Heritage Series / David Barton There were 55 gentlemen who put together the constitution and their church affliation is of public record. Greg Koukl notes: Members of the Constitutional Convention, the most influential group of men shaping the political foundations of our nation, were […]By Everette Hatcher III | Posted in Founding Fathers | Edit | Comments (0)
I do not think that John Quincy Adams was a founding father in the same sense that his father was. However, I do think he was involved in the early days of our government working with many of the founding fathers. Michele Bachmann got into another history-related tussle on ABC's "Good Morning America" today, standing […]By Everette Hatcher III | Posted in David Barton, Founding Fathers | Edit | Comments (0)
I have gone back and forth and back and forth with many liberals on the Arkansas Times Blog on many issues such as abortion, human rights, welfare, poverty, gun control and issues dealing with popular culture. Here is another exchange I had with them a while back. My username at the Ark Times Blog is Saline […]By Everette Hatcher III | Posted in Arkansas Times, Francis Schaeffer, Prolife | Edit |Comments (0)
I truly believe that many of the problems we have today in the USA are due to the advancement of humanism in the last few decades in our society. Ronald Reagan appointed the evangelical Dr. C. Everett Koop to the position of Surgeon General in his administration. He partnered with Dr. Francis Schaeffer in making the […]By Everette Hatcher III | Posted in Adrian Rogers, Francis Schaeffer | Edit | Comments (0)
Francis Schaeffer: "Whatever Happened to the Human Race" (Episode 4) THE BASIS FOR HUMAN DIGNITY Published on Oct 7, 2012 by AdamMetropolis ____________ The 45 minute video above is from the film series created from Francis Schaeffer's book "Whatever Happened to the Human Race?" with Dr. C. Everett Koop. This book really helped develop my political […]By Everette Hatcher III | Posted in Francis Schaeffer | Edit | Comments (0)
—-
—