Ep. 4 – From Cradle to Grave [6/7]. Milton Friedman's Free to Choose (1980)
January 28, 2021
President Biden c/o The White House
1600 Pennsylvania Avenue NW
Washington, DC 20500
Dear Mr. President,
Thank you for taking time to have your office try and get a pulse on what is going on out here in the country.
I read this article on January 15, 2021 about your announcement the previous night concerning your first proposal to Congress.
President-elect Joe Biden called Thursday night for a $1.9 trillion COVID-19 package that will include another round of relief checks for most Americans, a bailout for state and local governments, boosted unemployment payments, and a higher federal minimum wage.
Biden is also proposing $170 billion to assist in reopening schools and a $350 billion bailout of state and local governments. And on top of all that, Biden called for raising the national minimum wage to $15 an hour.
Those last two details may be the most contentious details. Democrats pushed for a similar bailout in earlier negotiations over COVID stimulus bills, but Senate Republicans blocked them. Democrats will have a slim Senate majority once the winners of two Georgia run-off elections are sworn-in, but the case for a state bailout remains shaky.
The big unanswered question is how Biden plans to pay for it all. Thanks to years of poor budgeting and overzealous spending by Congress and President Donald Trump, America faces a $3 trillion budget deficit and a national debt that's zooming towards $30 trillion. An additional $1.9 trillion will only add to the nation's already overburdened credit card.
Biden did not address plans for spending offsets or tax increases in his speech. An unnamed Biden official told The Wall Street Journal on Thursday that the president-elect did not believe now was the time for worrying about widening budget deficits and that Biden's focus was on the more immediate emergency.
I wanted to let you know what I think about the minimum wage increase you have proposed for the whole country and I wanted to quote Milton Friedman who you are familiar with and you made it clear in July that you didn't care for his views! Let me challenge you to take a closer look at what he had to say!
The cost of living varies enormously across the country.
Rep. Donald Norcross ("Biden's Good Case for a $15 Minimum Wage," Letters, Oct. 12) bases his argument for an increase in the minimum wage, in part, on the cost of apartment rent in New Jersey. He has no one to blame but himself. Rents are driven by high taxes (sales, income, real estate, energy, employment, etc.) and restrictions on building new housing imposed by politicians like himself. Cut the taxes and red tape and rents will follow.
George Roeck
Westfield, N.J.
The cost of living varies enormously across the country—ask anyone living in New York or San Francisco. These people likely need far more than $15 an hour to survive with one job. However, people living in many other places can do well enough on a lower minimum wage. The basic economic laws of supply and demand will determine what wages actually are, as evidenced in the three years before the Covid-19 virus decimated the economy. We had full employment, wages were rising rapidly across all levels, especially at the bottom, and the "employees wanted" sections of newspapers across the nation were larger than ever.
Some states recently raised their minimum wage which, not surprisingly, resulted in employers laying off workers, the net result being that those most in need suffer the most. So what we have again are politicians, most of whom have never actually run a business, trying to manipulate something to gain votes in an election. Kindly let us run our businesses as we know how to do it far better than you.
Peter I. Volny
Fountain Hills, Ariz.
Rep. Norcross, says that "the federal minimum wage . . . isn't livable no matter where you reside." That statement doesn't hold up to scrutiny. Most of those earning the minimum wage aren't heads of households, as Mr. Norcross implies. They are unskilled workers who are starting out, typically teenagers. More than doubling the minimum wage would effectively price them out of the workforce, snatching away from them the first rung of the ladder of economic advancement, denying those laborers the opportunity to learn skills that would enable them to move up to higher levels of income.
To paraphrase Nobel Laureate Milton Friedman: "Would you rather have no job at $15 an hour than a job at $7.25 an hour?"
Scott Kaufmann
Kansas City, Kan.
_____________
Thank you so much for your time. I know how valuable it is. I also appreciate the fine family that you have and your commitment as a father and a husband.
Sincerely,
Everette Hatcher III, 13900 Cottontail Lane, Alexander, AR 72002, ph 501-920-5733
Williams with Sowell – Minimum Wage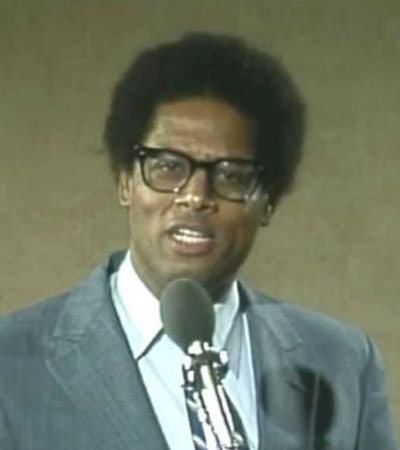 Thomas Sowell – Reducing Black Unemployment
—-
Ronald Reagan with Milton Friedman
Milton Friedman The Power of the Market 2-5