Ep. 4 – From Cradle to Grave [6/7]. Milton Friedman's Free to Choose (1980)
February 1, 2021
President Biden c/o The White House
1600 Pennsylvania Avenue NW
Washington, DC 20500
Dear Mr. President,
Thank you for taking time to have your office try and get a pulse on what is going on out here in the country.
I read this article on January 15, 2021 about your announcement the previous night concerning your first proposal to Congress.
President-elect Joe Biden called Thursday night for a $1.9 trillion COVID-19 package that will include another round of relief checks for most Americans, a bailout for state and local governments, boosted unemployment payments, and a higher federal minimum wage.
Biden is also proposing $170 billion to assist in reopening schools and a $350 billion bailout of state and local governments. And on top of all that, Biden called for raising the national minimum wage to $15 an hour.
Those last two details may be the most contentious details. Democrats pushed for a similar bailout in earlier negotiations over COVID stimulus bills, but Senate Republicans blocked them. Democrats will have a slim Senate majority once the winners of two Georgia run-off elections are sworn-in, but the case for a state bailout remains shaky.
I wanted to let you know what I think about the minimum wage increase you have proposed for the whole country and I wanted to quote Milton Friedman who you are familiar with and you made it clear in July that you didn't care for his views! Let me challenge you to take a closer look at what he had to say!
AEIdeas
February 13, 2013
From Milton Friedman:
The fact is, the programs labeled as being "for the poor," or "for the needy," [by politicians like President Obama] almost always have effects exactly the opposite of those which their well-intentioned sponsors intend them to have.

Let me give you a very simple example – take the minimum wage law. Its well-meaning sponsors [like President Obama]– there are always in these cases two groups of sponsors – there are the well-meaning sponsors and there are the special interests, who are using the well-meaning sponsors as front men. You almost always when you have bad programs have an unholy coalition of the do-gooders on the one hand, and the special interest on the other. The minimum wage law is as clear a case as you could want. The special interests are of course the trade unions – the monopolistic trade craft unions. The do-gooders believe that by passing a law saying that nobody shall get less than $9 per hour (adjusted for today) or whatever the minimum wage is, you are helping poor people who need the money. You are doing nothing of the kind. What you are doing is to assure, that people whose skills, are not sufficient to justify that kind of a wage will be unemployed.

The minimum wage law is most properly described as a law saying that employers must discriminate against people who have low skills. That's what the law says. The law says that here's a man who has a skill that would justify a wage of $5 or $6 per hour (adjusted for today), but you may not employ him, it's illegal, because if you employ him you must pay him $9 per hour. So what's the result? To employ him at $9 per hour is to engage in charity. There's nothing wrong with charity. But most employers are not in the position to engage in that kind of charity. Thus, the consequences of minimum wage laws have been almost wholly bad. We have increased unemployment and increased poverty.

Moreover, the effects have been concentrated on the groups that the do-gooders would most like to help. The people who have been hurt most by the minimum wage laws are the blacks. I have often said that the most anti-black law on the books of this land is the minimum wage law.

There is absolutely no positive objective achieved by the minimum wage law. Its real purpose is to reduce competition for the trade unions and make it easier for them to maintain the higher wages of their privileged members.
Bottom Line:
Update: The current (January) teenage unemployment rate was 23.4%, and 37.8% for black teenagers.
_____________
Thank you so much for your time. I know how valuable it is. I also appreciate the fine family that you have and your commitment as a father and a husband.
Sincerely,
Everette Hatcher III, 13900 Cottontail Lane, Alexander, AR 72002, ph 501-920-5733
Williams with Sowell – Minimum Wage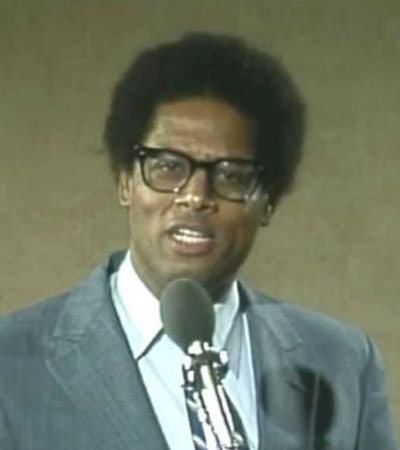 Thomas Sowell – Reducing Black Unemployment
—-
Ronald Reagan with Milton Friedman
Milton Friedman The Power of the Market 2-5