Gaetz: The Left Wants to Lecture About 'Lighting Flames?' They Lit Actual Fires Katie Pavlich  |  @KatiePavlich  | January 13, 2021
Debate over impeaching President Donald Trump for a second time is ongoing on Capitol Hill. House Democrats and Republicans are making their arguments on the House floor and will vote Wednesday afternoon.
During his remarks, Republican Matt Gaetz blasted Democrats for their hypocrisy on violence.
"I denounce political violence from all ends of the spectrum, but make no mistake, the left in America has incited far more political violence than the right. For months our cities burned. Police stations burned. Our businesses were shattered. And they said nothing. Or they cheerled for it and they fundraised for it and they allowed it to happen in the greatest country in the world," Gaetz said. "Now some have cited the metaphor that the President lit the flame. Well they lit actual flames! Actual fires!"
Last year's riots, which were conducted by Antifa and Black Lives Matter, were the most expensive in U.S. history. They were encouraged by leading Democrats like Senator Kamala Harris, who helped raise money to bail rioters out of jail.
The vandalism and looting following the death of George Floyd at the hands of the Minneapolis police will cost the insurance industry more than any other violent demonstrations in recent history, Axios has learned.

That number could be as much as $2 billion and possibly more, according to the Insurance Information Institute (or Triple-I), which compiles information from PCS as well as other firms that report such statistics.

The protests related to George Floyd's death are also different because they are so widespread. "It's not just happening in one city or state — it's all over the country," Loretta L. Worters of the Triple-I tells Axios.

"And this is still happening, so the losses could be significantly more."
Ken Paxton to Newsmax TV: Trump Not Accountable for Capitol Riot
Texas Attorney General Ken Paxton told Newsmax TV on Friday that President Donald Trump cannot be held "responsible for the acts that someone else has done," when it comes to the riot at the Capitol on Wednesday.
"We're talking about 1st Amendment rights here," Paxton told "John Bachman Now" on Friday. "I sat and listened to the president's speech … I never once thought that that speech would mean that people would go and do bad things."
He went on to say, "A small percentage of people decided they were going to go do this, we don't know why they did it, we don't know what their motivations were, we don't know what they would have done without the speeches."
Paxton said, "I don't think you can hold President Trump or anybody else responsible for the acts that someone else has done," and noted, "I certainly think what they did was awful."
Read Newsmax: Newsmax – Breaking News | News Videos | Politics, Health, Finance
Urgent: Do you approve of Pres. Trump's job performance? Vote Here Now!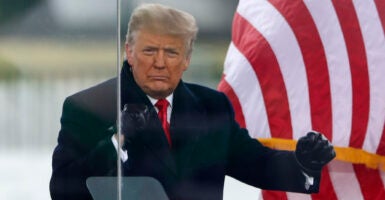 After the riot at the Capitol, congressional Democrats increasingly are calling for the removal of President Donald Trump before his term expires Jan. 20, either through a second impeachment or by invoking the 25th Amendment.
Rep. Katherine Clark, D-Mass., an assistant House speaker, said lawmakers could vote on impeachment within a week.
After vowing never to concede the 2020 presidential contest at a rally Wednesday, Trump announced the next day that he is committed to an orderly transition to the presidency of Joe Biden.
Theoretically, if Trump were removed from office, it would create two historic precedents.
The demand for socialism is on the rise from young Americans today. But is socialism even morally sound? Find out more now >>
First, Trump would be the first president to be impeached twice. And second, if Vice President Mike Pence were to become the 46th president–with a term expiring Jan. 20–it would be the shortest presidential term American history. President William Henry Harrison died 31 days into his term.
Here are six things to know about efforts to boot Trump from office before his term ends in less than two weeks.
1. Could Opponents Use 25th Amendment?
House Speaker Nancy Pelosi, D-Calif., and Senate Democratic Leader Charles Schumer, D-N.Y., have called for Pence and the Trump Cabinet to use the 25th Amendment to remove Trump from office.
Pelosi said the House could move to impeach Trump if his Cabinet didn't act. On Friday, she issued a statement calling for Trump to resign or face impeachment:
It is the hope of Members that the president will immediately resign. But if he does not, I have instructed the Rules Committee to be prepared to move forward with Congressman Jamie Raskin's 25th Amendment legislation and a motion for impeachment. Accordingly, the House will preserve every option–including the 25th Amendment, a motion to impeach or a privileged resolution for impeachment.
Raskin, a Maryland Democrat, introduced his 25th Amendment legislation in October.
But legal experts say the 25th Amendment is not in play in this case, primarily because Pence reportedly has no plans to call the Cabinet together to remove Trump.
"The 25th Amendment wouldn't be applicable here," Ross Garber, a lawyer who specializes in political investigations and impeachment and teaches at Tulane Law School, told The Daily Signal.
Garber represented four governors who faced state impeachment investigations in Connecticut, South Carolina, Alabama, and Missouri.
The 25th Amendment to the Constitution allowsfor the vice president and a majority of Cabinet secretaries to determine that a president is physically or mentally unfit to carry out the duties of the office. It provides for the vice president to become acting president on a temporary basis.
Congress then could remove the president from office permanently with a two-thirds vote of both the House and Senate. That would be an even higher bar to reach than impeachment, because the latter requires only a simple majority in the House to remove a president, but two-thirds of the Senate.
Congress adopted the 25th Amendment in 1967, about three years after the assassination of President John F. Kennedy. The move was based on the concern about what to do while a president was still alive but experiencing a health crisis.
"The 25th Amendment is for when a president is unable to fulfill the duties of the office for either physically or mental reasons," John Malcolm, director of the Meese Center for Legal and Judicial Studies at The Heritage Foundation, told The Daily Signal.
"I don't think it's appropriate as a matter of constitutional law," added Malcolm, also a former deputy assistant attorney general in the Justice Department's Criminal Division.
And it's not practical since Pence doesn't plan to invoke the option, he said.
Rep. Adam Kinzinger, R-Ill., became the first GOP lawmaker to call for Trump's removal under the 25th Amendment.
"It's time to invoke the 25th Amendment and end this nightmare," said Kinzinger, who also said he would back impeaching Trump.
2. What Could Trump Be Impeached For?
The charges that Democrats most often talk about are sedition, incitement to riot, and insurrection, or in aiding and abetting a riot or seditious acts.
This approach would be different from the House's 2019 impeachment of Trump on two articles that did not allege a crime, but specified abuse of power and obstruction of Congress.
"It's not sedition, that would be ridiculous, or aiding and abetting," said Robert Ray, a former independent counsel who investigated President Bill Clinton and was a lawyer for Trump in the 2020 Senate impeachment trial.
"But an impeachment alleging incitement [of a riot] or aiding and abetting would not suffer the same defect as the earlier impeachment," Ray told The Daily Signal. "At least there would be an alleged crime. A factual basis would be the challenge."
The federal statute on sedition defines it as conduct promoting the overthrow of the U.S. government.
Both Republicans and Democrats referred to the mob that broke into the Capitol and overwhelmed police as an "insurrection."
Federal law defines an insurrectionist as "Whoever incites, sets on foot, assists, or engages in any rebellion or insurrection against the authority of the United States or the laws thereof, or gives aid or comfort thereto."
Federal riot law includes provision on those "with intent" to "incite a riot," or to "aid and abet any person in inciting or participating in or carrying out a riot."
In Trump's speech Wednesday at the "Save America Rally" before the riot, which many on both sides criticized as inflammatory, the president said at one point: " I know that everyone here will soon be marching over to the Capitol building to peacefully and patriotically make your voices heard."
However, Trump also told the crowd: "Fraud breaks up everything, doesn't it? When you catch somebody in a fraud, you're allowed to go by very different rules."
The president also said: "We fight like hell and if you don't fight like hell, you're not going to have a country anymore."
U.S. Capitol Police announced Thursday night that Officer Brian Sicknick, 42, had died of his injuries and that authorities were treating the 12-year veteran's death as a homicide. He was the fifth person to die as a result of the chaos at the Capitol.
Twitter, the social media platform that Trump long has used to spread his message, announcedlate Friday that it had "permanently suspended" his account "due to the risk of further incitement of violence."
Heritage's Malcolm said earlier that he didn't want to guess what the House's articles of impeachment would say, but said he thought sedition would be a stretch.
"I don't think the president was trying to set up a coup to take over the government, but his words were certainly unwise and inflammatory," Malcolm said.
Beyond his words at the rally are news reports that the president resisted securing the Capitol and that senior Trump administration officials had to go around him to bring in the D.C. National Guard to help bring order to the building.
"A key issue to focus on is what the president did after the riots and whether he refused to deploy forces to secure the Capitol," Garber said. "If that is true, it's hard to justify."
All impeachment proceedings should be based on whether an officeholder poses a danger to the country, the government, or the office, Garber said.
"That should always be the justification for impeachment," Garber said. "It's not to censure or punish. It's meant to protect the country. … You could make an argument that the president has enormous power he could exercise in 12 days."
Rep. Ilhan Omar, D-Minn., announced Wednesday that she was drawing up articles of impeachment against Trump.
The House impeached Trump on Dec. 18, 2019, on charges of abuse of power and obstruction of Congress in connection with his telephone conversation with Ukrainian President Volodymyr Zelenskyy in which the two leaders discussed Biden's son, Hunter Biden, as well as U.S. military aid.
The Senate acquitted Trump on Feb. 5, 2020.
3. Time Expiring for a Senate Trial?
Although only one Senate Republican, Mitt Romney of Utah, voted to remove Trump in last year's trial, Sen. Ben Sasse, R-Neb., said Friday morning that he would consider supporting articles of impeachment if the House sent them to the Senate.
Sen. Lisa Murkowski, R-Alaska, called Friday for Trump to resign.
Even if the House impeaches Trump next week, the likelihood that the Senate could or would reconvene in time to hold a trial before President-elect Joe Biden's inauguration Jan. 20 seems unlikely, Malcolm said.
"The House could draft articles of impeachment and vote on it in 12 days," Malcolm said. "I do not think there is time for a Senate trial. But Trump could be the first president in American history to be impeached twice."
The Senate would have to come back into session to address House charges against Trump. The Senate calendar has the body scheduled to be in recess until Jan. 20.
Still, that early return to Washington is not impossible, Garber said.
"There is conceivably time to do this. Impeachment doesn't have to be drawn out," he said. "Impeachment is intended to be a measure in an emergency."
4. What's the Point of Impeaching Trump Now?
Article I, Section 3, Clause 7 of the Constitution says that if a federal official is convicted in an impeachment trial, "judgment in cases of impeachment shall not extend further than to removal from office, and disqualification to hold and enjoy any office of honor, trust or profit under the United States."
Legal experts debate whether disqualification from running for future office requires the same two-thirds majority as removal from office, or just a simple majority.
"It would not be wise to rush an impeachment for the purpose of preventing him from holding office again and bar him from running in 2024," Ray said. "That should be something voters could decide."
So the House could impeach and the Senate–soon to be under slim Democratic control–could hold a trial even after Trump leaves office. It basically would be to disqualify Trump from running for president again, as many suspect he will do in 2024.
5. Could Trump Be Impeached After Leaving?
Precedent going back to the scandal-plagued Grant administration's War Secretary William Belknap suggests that retroactive impeachment could occur.
Belknap ran what is now the Defense Department for almost eight years. In 1876, a House investigation found evidence that he took part in kickbacks and corruption involving a military vendor that paid $20,000 to the war secretary.
On March 2, 1876, Belknap resigned from office just minutes before the House was scheduled to impeach him. If he thought this would preclude impeachment, he was wrong.
The House approved five articles of impeachment, including one that accused Belknap of "criminally disregarding his duty as Secretary of War and basely prostituting his high office to his lust for private gain."
The fact that Belknap no longer held office didn't prevent the Senate from holding a trial. On Aug. 1, 1876, a Senate majority voted in favor of all five articles of impeachment–well short of the two-thirds required to convict. The former war secretary was acquitted and never prosecuted.
Such drama would consume much of Washington if it occurred with Trump, Ray said, and that likely isn't what Biden wants.
"Is this really how Biden wants to begin his administration?" Ray said. "It's not really in the country's best interest, and it isn't in the Democratic Party's best interest."
6. Could Biden Justice Department Charge Trump After He Leaves?
Many on the left have clamored for Trump to be prosecuted for something–anything–after leaving office well before the Capitol riot occurred.
Biden announced this week that he will nominate a federal judge, Merrick Garland, to be his attorney general. President Barack Obama nominated Garland to the Supreme Court in 2015, but the Republican-led Senate declined to consider the nomination.
The Garland choice makes a political prosecution somewhat unlikely, Ray said.
Ray secured a plea deal with Bill Clinton just before the 43rd president left office in which Clinton agreed to surrender his law license and admit to making misleading statements under oath to avoid future prosecution.
"In the past, the judgment of the Justice Department was to leave well enough alone with former presidents," Ray said.
Ken McIntyre contributed to this report.
March 8, 2021
President Biden c/o The White House
1600 Pennsylvania Avenue NW
Washington, DC 20500
Dear Mr. President,
I read in A PROMISED LAND these words about the transition period for Obama/Biden:
"President Bush would end up doing all he could to make the eleven weeks between my election and his departure go smoothly. Every office in the White House provided my team with detailed 'how to' manuals. His staffers made themselves available to meet with their successors, answer questions, and even be shadowed as they carried out their duties. The Bush daughters, Barbara and Jenna, by that time young adults, rearranged their schedules to give Malia and Sasha their own tour of the 'fun' parts of the White House. I promised myself that when the time came, I would treat my successor the same way."
How did you and President Obama treat Donald Trump's transition to power? Also Bush did not say one thing negative about you and President Obama during your time in White House! Did you and President Obama extend the same courtesy that the President who followed you?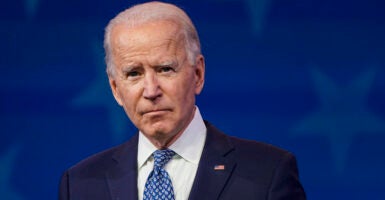 After Nov. 3, the meaning of some words and concepts abruptly changed. Have you noticed how new realities have replaced old ones?
Media cross-examination of the president is now an out-of-date idea. The time for gotcha questions has come and gone. Why ask a president whether he is a traitor or a crook when you can focus on his favorite flavor of milkshake or compliment him on his socks?
The old pre-election truth was that new vaccines take years to develop. The new postelection truth is that it's no big deal to bring out new vaccines in nine months.
Impeaching a first-term president after his first midterm election—on a strictly partisan vote, for political reasons other than the Constitution's "treason, bribery, or other high crimes and misdemeanors"—is now a terrible idea.
Stand for your principles in 2021—even in the face of Congress, the media, and the radical Left ganging up on conservatives and our values. Learn more now >>
Worse would be to appoint a special counsel to harass a president on unfounded charges of collusion with China. An even scarier notion would be a conservative dream team of partisan lawyers hounding a President Joe Biden—using a 22-month, $40 million blank check.
It would be unprofessional for university psychologists and physicians from a distance to diagnose, in pop fashion, the mental faculties of a President Biden.
Certainly, there would never be talk about Department of Justice officials contemplating wearing a wire as part of an entrapment scheme to remove a President Biden through the 25th Amendment. That would almost constitute a coup attempt.
Almost as bad would be for the holdover FBI director to start "memorializing" his private conversations with Biden on FBI devices. He might then leak such memos to the press—just in case he were to be fired for secretly investigating Biden for "Chinese collusion" and then lying about such a probe.
What happened to the Logan Act? Not long ago it was assumed to be a critically needed guardrail. Wouldn't it now ensure that presidential transition team members were not calling foreign leaders while Donald Trump is still president? How has it suddenly become a defunct, ossified relic?
Leaking classified material would be about the worst thing government officials could do. Imagine if a Trump holdover, burrowed into the new Biden administration, released a transcript of Biden's private conversations with the Mexican president or the Australian prime minister.
Such a breach of trust would be almost as bad as a turncoat anti-Biden mole seeking to resist presidential directives. Imagine if this anonymous staffer were given an op-ed in The New York Times to claim that a cadre of old-time Democrats was shocked by Biden's cognitive decline and resisting his directives.
Is extending security clearances to former high-level officials-turned-cable TV pundits still a bad idea? Who would wish to see, for instance, former Director of National Intelligence John Ratcliffe issuing warnings each night on Fox News? With a wink-and-nod hat tip to his "confidential sources," Ratcliffe could spin conspiracy theories that Biden is facing bombshell disclosures about his family misadventures with the Chinese.
Is it still important that we keep the tradition of retired high-ranking military officers—all subject to the requirements of the Uniform Code of Military Justice—not disparaging the president?
Who would want former Pentagon officials, some of them serving on the boards of military contractors, warning us that Biden should be removed because of cognitive challenges? Certainly, generals and admirals should not compare a President Biden's policies to those of Mussolini or the Nazis.
At least "dark money" no longer exists. The old idea of right-wing billionaires pouring money into candidates' political campaigns was supposedly a dangerous practice. It would be far more civic-minded for left-wing billionaires to pour hundreds of millions of dollars into the coffers of nonpartisan state bureaucracies entrusted with guaranteeing the sanctity of national elections.
And apparently after, not before, an election is the proper time to announce critically important news.
Like the rollout of a safe and effective COVID-19 vaccine?
Like a $900 billion stimulus package?
Like a revised upward Fannie Mae report on the economy?
Like the ties between a Democratic member of the House Intelligence Committee and a suspected Chinese spy?
Like a federal investigation of Biden's son and his possible profiteering with rich Chinese elites affiliated with China's government?
To keep track of our brave new American world is easy.
Just consider everything said to be bad by the "Animal Farm" media before Nov. 3 as now good. And remember that everything said to be good two months ago is now actually bad.
(C)2020 Tribune Content Agency, LLC
________
Thank you so much for your time. I know how valuable it is. I also appreciate the fine family that you have and your commitment as a father and a husband.
Sincerely,
Everette Hatcher III, 13900 Cottontail Lane, Alexander, AR 72002, ph 501-920-5733
Related Posts:
ABORTION – THE SILENT SCREAM 1 / Extended, High-Resolution Version (with permission from APF). Republished with Permission from Roy Tidwell of American Portrait Films as long as the following credits are shown: VHS/DVDs Available American Portrait Films Call 1-800-736-4567 http://www.amport.com The Hand of God-Selected Quotes from Bernard N. Nathanson, M.D., Unjust laws exist. Shall we […]
Dr. Bernard N. Nathanson, a leading pro-life advocate and convert to Catholicism, died at the age of 84 on Monday a week ago in his New York home, after a long struggle with cancer. The Hand of God-Selected Quotes from Bernard N. Nathanson, M.D., Chapter 12 is titled To The Thanatoriums, an allusion the Walker […]
:
Francis Schaeffer: "Whatever Happened to the Human Race" (Episode 1) ABORTION OF THE HUMAN RACE Published on Oct 6, 2012 by AdamMetropolis The 45 minute video above is from the film series created from Francis Schaeffer's book "Whatever Happened to the Human Race?" with Dr. C. Everett Koop. This book really helped develop my political views […]