—
Trump: Let me be clear, I condemn the KKK, white supremacists and the President Trump
Gutfeld on Trump getting rid of critical race theory
Ben Carson: I've never seen evidence of Trump being racist
January 3, 2021
Office of Barack and Michelle Obama
P.O. Box 91000
Washington, DC 20066
Dear President Obama,
I wrote you over 700 letters while you were President and I mailed them to the White House and also published them on my blog http://www.thedailyhatch.org .I received several letters back from your staff and I wanted to thank you for those letters.

There are several issues raised in your book that I would like to discuss with you such as the minimum wage law, the liberal press, the cause of 2007 financial meltdown, and especially your pro-choice (what I call pro-abortion) view which I strongly object to on both religious and scientific grounds, Two of the most impressive things in your book were your dedication to both the National Prayer Breakfast (which spoke at 8 times and your many visits to the sides of wounded warriors!!
I have been reading your autobiography A PROMISED LAND and I have been enjoying it.
Let me make a few comments on it, and here is the first quote of yours I want to comment on:
Over the years, that trust proved difficult to sustain. In particular, the fault line of race strained it mightily. Accepting that African Americans and other minority groups might need extra help from the government—that their specific hardships could be traced to a brutal history of discrimination rather than immutable characteristics or individual choices—required a level of empathy, of fellow feeling, that many white voters found difficult to muster. Historically, programs designed to help racial minorities, from "forty acres and a mule" to affirmative action, were met with open hostility. Even universal programs that enjoyed broad support—like public education or public sector employment—had a funny way of becoming controversial once Black and brown people were included as beneficiaries.
     And harder economic times strained civic trust. As the U.S. growth rate started to slow in the 1970s—as incomes then stagnated and good jobs declined for those without a college degree, as parents started worrying about their kids doing at least as well as they had done—the scope of people's concerns narrowed. We became more sensitive to the possibility that someone else was getting something we weren't and more receptive to the notion that the government couldn't be trusted to be fair.
     Promoting that story—a story that fed not trust but resentment—had come to define the modern Republican Party. With varying degrees of subtlety and varying degrees of success, GOP candidates adopted it as their central theme, whether they were running for president or trying to get elected to the local school board. It became the template for Fox News and conservative radio, the foundational text for every think tank and PAC the Koch Brothers financed: The government was taking money, jobs, college slots, and status away from hardworking, deserving people like us and handing it all to people like them—those who didn't share our values, who didn't work as hard as we did, the kind of people whose problems were of their own making.
POLITICSNEWS
Mary Margaret Olohan / @MaryMargOlohan /October 02, 2020 / 26 Comments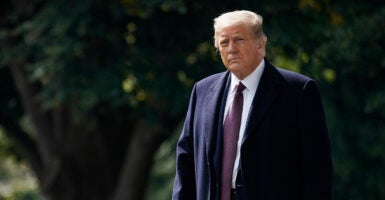 "I don't know much about the Proud Boys, almost nothing, but I condemn that," President Donald Trump says. Pictured: Trump walks to Marine One on the South Lawn of the White House Oct. 1, 2020, in Washington, D.C. (Photo: Drew Angerer/Getty Images)
President Donald Trump condemned white supremacists, the Ku Klux Klan, and the Proud Boys in a Thursday evening interview.
"I've said it many times, let me be clear again, I condemn the KKK, I condemn all white supremacists, I condemn the Proud Boys," Trump told Fox News host Sean Hannity. "I don't know much about the Proud Boys, almost nothing, but I condemn that."
"He should condemn also Antifa," Trump added, referring to former Vice President Joe Biden. "Antifa is a horrible group of people. They kill people, what they do to people, and they are causing insurrection, causing riots."
"He doesn't want to do that, but the press doesn't go after him. And that's a really bad group of people," Trump added.
Stand for your principles in 2021—even in the face of Congress, the media, and the radical Left ganging up on conservatives and our values. Learn more now >>
"I condemn them. If I say it 100 times, it won't be enough because it's fake news," the president continued.
His comments come after moderator Chris Wallace asked Trump to condemn white supremacists during Tuesday night's debate.
"I'm willing to do that," Trump said. "I'm willing to do anything. I want to see peace."
The president emphasized that most of the violence he has seen lately has been caused by Antifa, while Biden and Wallace pushed him to condemn white supremacist groups.
"What do you want to call them?" Trump asked. "Give me a name. Give me a name. Who would you like me to condemn?"
When Biden named the Proud Boys, Trump responded: "Proud Boys, stand back and stand by. Somebody has to do something about Antifaand the left because this is not a right-wing problem, this is a left-wing."
The president walked back this statement to reporters at the White House Wednesday.
"I don't know who the Proud Boys are. I mean, you'll have to give me a definition because I don't know who they are. They have to stand down, let law enforcement do their work," Trump told reporters. "But whoever they are, they have to stand down."
Content created by The Daily Caller News Foundation is available without charge to any eligible news publisher that can provide a large audience. For licensing opportunities of this original content, email licensing@dailycallernewsfoundation.org.
A Note for our Readers:
As we remain vigilant on the offense against the extremism of the radical left, you know we must continue to stand for conservative principles in 2021, even in the face of Congress, the media, and the radical left ganging up on conservatives and on our values. Because ultimately, you know that a return to America's core values can help us overcome current social unrest and build a better tomorrow.

That is why we're asking conservatives like you to unite around our shared True North principles and to be the ones who give us the strength to fight for the bedrock principles of limited government, economic growth, and personal freedom with a special year-end gift to The Heritage Foundation before Dec. 31.

In 2021, we'll focus on the Fight for America and uphold and protect the Constitution, defend the rule of law, expose attempts to undermine our institutions, launch a nationwide educational effort to expose people—especially young people—to your conservative values, and defend the pillar of free speech against the leftist mobs who seek to cancel you.

That is why finishing this year strong is so critical. The Heritage Foundation is challenging you to rise up and claim more victories for conservative values as we provide leadership, guidance, and a steady hand in our efforts to achieve conservative policy victories, not only for you and your family today, but for the future generations of America
Sincerely,
Everette Hatcher III, 13900 Cottontail Lane, Alexander, AR 72002, ph 501-920-5733 everettehatcher@gmail.com
Related posts:
President Obama c/o The White House 1600 Pennsylvania Avenue NW Washington, DC 20500 Dear Mr. President, I know that you receive 20,000 letters a day and that you actually read 10 of them every day. I really do respect you for trying to get a pulse on what is going on out here. There have […]By Everette Hatcher III | Posted in David Barton, Founding Fathers, President Obama | Edit |Comments (0)
There have been many articles written by evangelicals like me who fear that our founding fathers would not recognize our country today because secular humanism has rid our nation of spiritual roots. I am deeply troubled by the secular agenda of those who are at war with religion in our public life. Lillian Kwon quoted somebody […]By Everette Hatcher III | Posted in David Barton, Founding Fathers | Edit | Comments (0)
There have been many articles written by evangelicals like me who fear that our founding fathers would not recognize our country today because secular humanism has rid our nation of spiritual roots. I am deeply troubled by the secular agenda of those who are at war with religion in our public life. Lillian Kwon quoted somebody […]By Everette Hatcher III | Posted in David Barton, Founding Fathers | Edit | Comments (0)
There have been many articles written by evangelicals like me who fear that our founding fathers would not recognize our country today because secular humanism has rid our nation of spiritual roots. I am deeply troubled by the secular agenda of those who are at war with religion in our public life. Lillian Kwon quoted somebody […]By Everette Hatcher III | Posted in David Barton, Founding Fathers | Edit | Comments (0)
There have been many articles written by evangelicals like me who fear that our founding fathers would not recognize our country today because secular humanism has rid our nation of spiritual roots. I am deeply troubled by the secular agenda of those who are at war with religion in our public life. Lillian Kwon quoted somebody […]By Everette Hatcher III | Posted in David Barton, Founding Fathers | Edit | Comments (0)
There have been many articles written by evangelicals like me who fear that our founding fathers would not recognize our country today because secular humanism has rid our nation of spiritual roots. I am deeply troubled by the secular agenda of those who are at war with religion in our public life. Lillian Kwon quoted somebody […]By Everette Hatcher III | Posted in Founding Fathers | Edit | Comments (0)
President Obama Speaks at The Ohio State University Commencement Ceremony Published on May 5, 2013 President Obama delivers the commencement address at The Ohio State University. May 5, 2013. You can learn a lot about what President Obama thinks the founding fathers were all about from his recent speech at Ohio State. May 7, 2013, […]By Everette Hatcher III | Posted in Founding Fathers, President Obama | Edit | Comments (0)
Dr. C. Everett Koop with Bill Graham. Francis Schaeffer: "Whatever Happened to the Human Race" (Episode 4) THE BASIS FOR HUMAN DIGNITY Published on Oct 7, 2012 by AdamMetropolis The 45 minute video above is from the film series created from Francis Schaeffer's book "Whatever Happened to the Human Race?" with Dr. C. Everett Koop. This […]By Everette Hatcher III | Posted in Founding Fathers, Francis Schaeffer, Prolife | Edit |Comments (1)
America's Founding Fathers Deist or Christian? – David Barton 4/6 There have been many articles written by evangelicals like me who fear that our founding fathers would not recognize our country today because secular humanism has rid our nation of spiritual roots. I am deeply troubled by the secular agenda of those who are at […]By Everette Hatcher III | Posted in David Barton, Founding Fathers | Tagged governor of connecticut, john witherspoon, jonathan trumbull | Edit | Comments (1)
3 Of 5 / The Bible's Influence In America / American Heritage Series / David Barton There were 55 gentlemen who put together the constitution and their church affliation is of public record. Greg Koukl notes: Members of the Constitutional Convention, the most influential group of men shaping the political foundations of our nation, were […]By Everette Hatcher III | Posted in Founding Fathers | Edit | Comments (0)
I do not think that John Quincy Adams was a founding father in the same sense that his father was. However, I do think he was involved in the early days of our government working with many of the founding fathers. Michele Bachmann got into another history-related tussle on ABC's "Good Morning America" today, standing […]By Everette Hatcher III | Posted in David Barton, Founding Fathers | Edit | Comments (0)
I have gone back and forth and back and forth with many liberals on the Arkansas Times Blog on many issues such as abortion, human rights, welfare, poverty, gun control and issues dealing with popular culture. Here is another exchange I had with them a while back. My username at the Ark Times Blog is Saline […]By Everette Hatcher III | Posted in Arkansas Times, Francis Schaeffer, Prolife | Edit |Comments (0)
I truly believe that many of the problems we have today in the USA are due to the advancement of humanism in the last few decades in our society. Ronald Reagan appointed the evangelical Dr. C. Everett Koop to the position of Surgeon General in his administration. He partnered with Dr. Francis Schaeffer in making the […]By Everette Hatcher III | Posted in Adrian Rogers, Francis Schaeffer | Edit | Comments (0)
Francis Schaeffer: "Whatever Happened to the Human Race" (Episode 4) THE BASIS FOR HUMAN DIGNITY Published on Oct 7, 2012 by AdamMetropolis ____________ The 45 minute video above is from the film series created from Francis Schaeffer's book "Whatever Happened to the Human Race?" with Dr. C. Everett Koop. This book really helped develop my political […]By Everette Hatcher III | Posted in Francis Schaeffer | Edit | Comments (0)
—-
—