__
Francis Schaeffer noted:
let us think of the sex relationship. What is man's attitude towards  the girl? It is possible, and common in the  modern setting, to have a "playboy" attitude, or  rather a "plaything" attitude, where the "play-  mate" becomes the "plaything." Here, the girl is  no more than a sex object.
But what is the Christian view? Somebody  may offer at this point the rather romantic no-  tion, "You shouldn't look for any pleasure for  yourself; you should just look for the other per-  son's pleasure." But that is not what the Bible  says. We are to love our neighbor as ourselves.  We have a right to pleasure, too. But what we  do not have a right to do is to forget that the  girl is a person and not an animal, or a plant, or  a machine. We have the right to have our plea-  sure in a sexual relationship, but we have no  right whatsoever to exploit a partner as a sex  object.
There should be a conscious limitation upon  our pleasure. We impose a limit—a self-imposed  limit—in order to treat the wife fairly as a per-  son. So although a husband could do more, he  does not do everything he could do, because he  must treat her also as a person and not just as  a thing with no value. And if he does so treat  her, eventually he loses, because love is gone,  and all that is left is just a mechanical, chemical  sexuality; humanity is lost as he treats her as  less than human. Eventually not only her  humanity is diminished, but his as well. In con-  trast, if he does less than he could do, even-  tually he has more, for he has a human rela-  tionship; he has love and not just a physical  act. It is like the principle of the boomerang—it  can come full circle and destroy the destroyer.
story of JEFF ALLEN
—-
——
Blondie grew up with punk, which began in the mid‐70's as a loose movement of bands wanting to recycle the raw, high‐powered energy of 50's and early 60's rock‐and‐roll. They were reacting against the overproduced, too‐slick sound of most pop music — the mindless, repetitive rhythms of disco and the bland creaminess of studio‐created pop, both of which monopolized the airwaves.
Bands like the Ramones toured England, where their punk attitude — they behaved onstage like truculent street toughs — was adopted by English pub bands as a vehicle for the political outrage expressed by the theater's "Angry Young Men" two decades earlier. Punk music was minimalist, some said chaotic; its lyrics emphasized alternating currents of nihilism and sentimentality. When more musicianly and cerebral groups, such as Talking Heads, came onto the scene, English music writers invented the umbrella term "new wave" to encompass all late‐70's groups, however disparate, which were aiming to restore gut feeling to rock‐and‐roll.
—
Color me your color, baby
Color me your car
Color me your color, darling
I know who you are
Come up off your color chart
I know where you're comin' from
Call me (call me) on the line
Call me, call me any, anytime
Call me (call me) my love
You can call me any day or night
Call me
Cover me with kisses, baby
Cover me with love
Roll me in designer sheets
I'll never get enough
Emotions come, I don't know why
Cover up love's alibi
Call me (call me) on the line
Call me, call me any, anytime
Call me (call me) oh love
When you're ready we can share the wine
Call me
Oh, oh, oh, oh, oh, he speaks the languages of love
Oh, oh, oh, oh, oh, amore, chiamami, chiamami
Oh, oh, oh, oh, oh, appelle-moi mon cherie, appelle-moi
Anytime, anyplace, anywhere, any way
Anytime, anyplace, anywhere, any day-ay
Call me (call me) my love
Call me, call me any, anytime
Call me (call me) for a ride
Call me, call me for some overtime
Call me (call me) my love
Call me, call me in a sweet design
Call me (call me), call me for your lover's lover's alibi
Call me (call me) on the line
Call me, call me any, anytime
Call me (call me)
Oh, call me, oh, oh, ah
Call me (call me) my love
Call me, call me any, anytime
Songwriters: Deborah Harry / Giorgio Moroder
Call Me lyrics © Sony/ATV Music Publishing LLC
__
Search
"Call Me" is a song by the American new wave band Blondie and the theme to the 1980 film American Gigolo. Released in the US in early 1980 as a single, "Call Me" was No. 1 for six consecutive weeks on the Billboard Hot 100 chart, where it became the band's biggest single and second No. 1.[1] It also hit No. 1 in the UK and Canada, where it became their fourth and second chart-topper, respectively. In the year-end chart of 1980, it was Billboard's No. 1 single and RPM magazine's No. 3 in Canada.[4][5]
Song and single information
Edit
"Call Me" was the main theme song of the 1980 film American Gigolo. It is played in the key of D minor. Italian disco producer Giorgio Moroder originally asked Stevie Nicks from Fleetwood Mac to help compose and perform a song for the soundtrack, but she declined as a recently signed contract with Modern Records prevented her from working with Moroder. It was at this time that Moroder turned to Debbie Harry and Blondie. Moroder presented Harry with a rough instrumental track called "Man Machine". Harry was asked to write the lyrics and melody, a process that Harry states took a mere few hours.[6] The lyrics were written from the perspective of the main character in the film, a male prostitute.[7] Harry said the lyrics were inspired by her visual impressions from watching the film and that "When I was writing it, I pictured the opening scene, driving on the coast of California."[8] The completed song was then recorded by the band, with Moroder producing. The bridge of the original English-language version also includes Harry singing "Call me, my darling" in Italian ("Amore, chiamami") (Love, call me) and in French ("Appelle-moi, mon chéri") (Call me, my darling).
In the US, the song was released by three record companies: the longest version (at 8:06) on the soundtrack album by Polydor, the 7″ and 12″ on Blondie's label Chrysalis, and a Spanish-language 12″ version, with lyrics by Buddy and Mary McCluskey, on the disco label Salsoul Records. The Spanish version, titled "Llámame", was meant for release in Mexico and some South American countries. This version was also released in the US and the UK and had its CD debut on Chrysalis/EMI's rarities compilation Blonde and Beyond (1993). In 1988, a remixed version by Ben Liebrand taken from the Blondie remix album Once More into the Bleachwas issued as a single in the UK. In 2001, the "original long version" appeared as a bonus track on the Autoamerican album re-issue.
Harry recorded an abbreviated version of the song that was backed by the Muppet Band for her guest appearance on The Muppet Show in August 1980. It was first broadcast in January 1981.
Popularity and acclaim
Edit
The single was released in the United States in February 1980. It peaked at No. 1 and remained there for six consecutive weeks until it was knocked off by Lipps, Inc.'s worldwide smash hit "Funkytown" and was certified Gold (for one million copies sold) by the RIAA. It also spent four weeks at No. 2 on the US dance chart. The single was also No. 1 on Billboard magazine's 1980 year-end chart. The song lists at No. 57 on Billboard's All Time Top 100.[9] It was released in the UK two months later, where it became Blondie's fourth UK No. 1 single in little over a year. The song was also played on a British Telecom advert in the 1980s. 25 years after its original release, "Call Me" was ranked at No. 283 on the list of Rolling Stone's 500 Greatest Songs of All Time. In 1981, the Village Voice ranked "Call Me" as the third-best song of the year 1980 on its annual year-end critics' poll, Pazz & Jop.[10]
In 1981, the song was nominated for a Grammy Award for Best Rock Performance by a Duo or Group with Vocal, as well as for a Golden Globe for Best Original Song.
Blondie's Top 10 Rock Band Memories
Debbie Harry and Chris Stein talk to us about mosh pits, inventing their look, and taking advice from Bowie.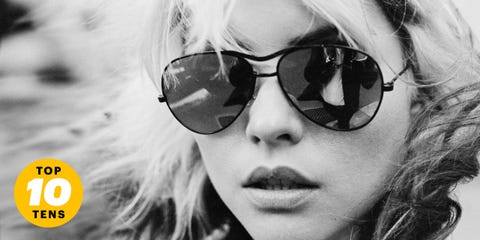 CHRIS STEIN/NEGATIVE, RIZZOLI NEW YORK
Blondie has now been a band for over 40 years. The punk-inspired New Wave group came together in New York City in 1974, founded by singer Debbie Harry and guitarist Chris Stein, and has since become known around the world for their music and, importantly, their style. The band will embark on a lengthy North American tour this spring, which kicks off June 27 in Manhattan's Madison Square Garden. Stein also recently unveiled an exhibition of his photographs at Paul Smith in Los Angeles in celebration of the band's 40th anniversary (the exhibition runs until May 24). Harry and Stein, who are just as cool as ever, recounted some of Blondie's most memorable moments for Esquire during an interview at the Hollywood Roosevelt hotel in LA, reminding us just how impressive the band's career has been.
1. Blondie's First Ever Show
CHRIS STEIN: "Somehow I have a photograph of the first show. It was at one of those places on Third Avenue. It was right near where they shot Taxi Driver. My memory is enhanced by the photograph. For some weird reason I would give my camera to people in the audience so I have one frame of us playing, which was that first show with Gary and Clem."
DEBBIE HARRY: "Back then I was always nervous. We were winging it a lot. We didn't know what was going to happen, whether it was crap. It was all new and it was pretty exciting so we would just go for it."
CS: "It took me 40 years to get rid of the nerves."
2. First Radio Hit
CS: "I first heard one of our songs on the radio on 17th Street. It was one of our first singles."
DH: "One time that really stuck out in my mind was when somebody went by in a car and 'Rip Her to Shreds' was on. I didn't know exactly what it was at first but I really liked it. And then I realized it was 'Rip Her to Shreds.' I thought, 'Well, gee, that sounds really good.'"
3. How Their Best Songs Came About
CS: "When I first started 'Maria' I knew that was going to be successful, even though we had been on this long hiatus. I really thought 'Tide Is High' was going to be a hit. We had already had hits and been in that position, but I knew with that one before we even recorded it that it had the potential. I like to think I'm inspired all the time."
DH: "I can tell over time in a period of years that there have been moments where something will be so synchronistic. You're working with other people and all of a sudden it all just comes together. That's a very exciting moment. There have been several. One was 'Heart of Glass.' It was a moment like that initially. Also 'X Offender' happened like that. It's kind of amazing and everybody knows it when it's happening. 'Heart of Glass' came from Chris noodling with the guitar. We'd be sitting around and he'd be noodling with the guitar. I remember him repeating that phrase."
CS: "There's one bit that's on the demo version that didn't make it into the final version. We did a lot of [the song] in an apartment on First Avenue with a little multitrack tape recorder."
4. Their Beatlemania Moment
CS: "It was all very fast. It was quick and a lot of things happened so there wasn't one moment [where we felt successful]. When 'Heart of Glass' was No. 1 in the U.S. that was a big deal. Then we did this in-store appearance in London and all these kids showed up and traffic was stopped. It was incredible. It was a total Beatlemania thing."
DH: "One of the early times that happened was a CBGB show. We were just about to go out on the road and they oversold the club. It was so crowded. You couldn't walk from one end to the other. If you got in there, you stood there. Somebody called the fire department and they came. We were playing and all of sudden we saw these helmets trying to wade through this crowd. It was pretty funny."
CS: "I always thought it was Rod Swenson [who called the fire department] because he was filming and it just made for good footage. I've always suspected that."
5. Hanging Out with David Bowie and Iggy Pop
CS: "It happens all the time that you meet your idols. It still goes on. I just met RuPaul and that was totally exciting. But when we did the Idiot Tour [in 1977] with Iggy [Pop] and David Bowie that was a real big deal for us. We had been playing around and we heard that they wanted us to open for them on the tour. It was really exciting. I remember we did a show in the city at Max's and we got into this really shitty RV and drove to Canada. I think it was Montreal. Everybody was very tired and we staggered out into the hall and the two of them were just waiting for us in the hallway. It was mind-boggling."
DH: "[Bowie] was in his more natural sort of period. He had his natural hair color. He was very low-key."
CS: "He was very charmed by the New Wave stuff. I remember he talked about Tom Verlaine's hairdo a lot."
DH: "They were really interested in having a dynamic show. [Bowie] gave me advice on working the stage. I moved around but it was about delivery as an actor. Inevitably you have to take the advice. If he'd said 'Get out of town' I probably would have done that too."
6. Traveling Around the Globe
DH: "Initially Bangkok was the coolest place we went. It was very primitive. Where we were staying there were open sewers and lepers on the street begging and stuff like that. The curfew from the Vietnam War was still in place. The atmosphere was much, much different then."
CS: "We played there on New Year's Eve in 1977, into 1978, and they lifted the curfew and everyone went crazy. That was exciting. We played in the Ambassador Hotel."
DH: "That was also a very interesting experience because they had a magnificent PA and soundboard but they had never set it up before. They had hundreds of guys and they didn't have any of the cables marked for their compatible ports where they were supposed to go. So every time they would run a cable they would have to go through every test to see where it went. It took them like three days to set up the PA. It sounded okay."
CS: "It sounded fine. They had a gigantic flower arrangement that said 'Blondie' in the font from the first record, too. We did several more shows there later."
7. Near-Death Experiences
CS: "There was this great moment where we were in the U.K. city of Dunstable and a huge bunch of skinheads jumped up onstage. They were doing this Dawn of the Dead dance. I remember physically dragging [Debbie] offstage while they were there. I don't know how scary it was, but it was incredible and did stop the show."
DH: "One time that was scary was in Belgium and they had this old system of electricity. It didn't really have a ground so we couldn't touch anything. You couldn't touch the microphone stand. Everything was live. It was very funny because there's only two places in the world where this kind of system existed and one was in Belgium and one was in Thailand. We had been through both. You don't touch anything."
CS: "There were a couple people who had been electrocuted. Most famously the guy from a band called Stone the Crows, who had been electrocuted dead onstage."
8. Best Performances
DH: "I liked that one we did recently where we got the iPhones."
CS: "iTunes Festival. That was a good one. I liked Riot Fest in Chicago. Wherever there's a mosh pit. We don't usually get mosh pits, but occasionally, when we do, it's inspiring. When all the guys are beating the shit out of each other, we play better. When we first started there was no rock dance in New York at all. It just didn't exist."
DH: "That was one of our goals: to bring dancing back into music."
CS: "Going to the U.K. and doing our very first show there, which was a warmup show in Bristol. Everybody was going crazy physically. That was a great moment. There's a tribal element in concerts, even now, even if you go to see Skrillex. There's a tribal element going on there."
9. How They Invented a Look
CS: "The boys always embraced the British mod sensibility. We liked that, even more than the punk, ripped-up aesthetic. We never went much into the torn shirts and stuff. I don't know how calculated it was—it was just what we liked doing. We certainly never had a stylist."
DH: "It was what was available to us. If everybody could agree on it and we felt like it was cool and it was affordable and we could lay our hands on it, that was pretty much what we did. It was a real amalgamation of some leather jackets, tee-shirts, and the peg-leg pants. Somebody showed up with this bright blue suit once and said, 'Oh yeah, they're up there on 14th Street for $5. You've got to go up there. They have all different colors.' That kind of thing would happen."
CS: "When we first came to Melrose [in Los Angeles] there were about three stores."
DH: "There was a junk store way down on Sunset that was good. I found my motorcycle jacket out here on Melrose. Up until then all the motorcycle jackets were so big and so heavy so it was a child's motorcycle jacket."
CS: "It was a couple hundred bucks! It was expensive. I remember debating with you because it was so expensive. There were no designer motorcycle jackets at the time."
10. Rock and Roll Hall of Fame Induction
DH: "I couldn't believe that it was true. I had always been scoffing the whole thing. I thought 'Who cares about that?' But I think it made a lot of difference for us becoming credible in a lot of people's minds. We were credible to a small degree, but I think it launched us into being considered a real part of the shift in music. When music took a directional change and that put us there and we became identified with that and more legitimate. For a long time that music was considered a joke and not to be taken seriously, but in a way we were part of the great tradition of rock and roll in that the best aspects of it have always been counterculture."
Francis Schaeffer noted:
I have lots of young people and older ones come to us from the ends of the earth. And as they come to us, they have gone to the end of this logically and they are not living in a romantic setting. They realize what the situation is. They can't find any meaning to life. It's the meaning to the black poetry. It's the meaning of the black plays. It's the meaning of all this. It's the meaning of the words "punk rock."
–
"They are the natural outcome of a change from a Christian World View to a Humanistic one…
The result is a relativistic value system. A lack of a final meaning to life — that's first. Why does human life have any value at all, if that is all that reality is? Not only are you going to die individually, but the whole human race is going to die, someday. It may not take the falling of the atom bombs, but someday the world will grow too hot, too cold. That's what we are told on this other final reality, and someday all you people not only will be individually dead, but the whole conscious life on this world will be dead, and nobody will see the birds fly. And there's no meaning to life.
As you know, I don't speak academically, shut off in some scholastic cubicle, as it were. I have lots of young people and older ones come to us from the ends of the earth. And as they come to us, they have gone to the end of this logically and they are not living in a romantic setting. They realize what the situation is. They can't find any meaning to life. It's the meaning to the black poetry. It's the meaning of the black plays. It's the meaning of all this. It's the meaning of the words "punk rock." And I must say, that on the basis of what they are being taught in school, that the final reality is only this material thing, they are not wrong. They're right! On this other basis there is no meaning to life and not only is there no meaning to life, but there is no value system that is fixed, and we find that the law is based then only on a relativistic basis and that law becomes purely arbitrary.
—
OUTLINE OF ECCLESIATES BY SCHAEFFER
_______
William Lane Craig on Man's predicament if God doesn't exist
Read Waiting for Godot by Samuel Beckett. During this entire play two men carry on trivial conversation while waiting for a third man to arrive, who never does. Our lives are like that, Beckett is saying; we just kill time waiting—for what, we don't know.
Thus, if there is no God, then life itself becomes meaningless. Man and the universe are without ultimate significance.
Francis Schaeffer looks at Nihilism of Solomon and the causes of it!!!
Notes on Ecclesiastes by Francis Schaeffer
Solomon is the author of Ecclesiastes and he is truly an universal man like Leonardo da Vinci.
Two men of the Renaissance stand above all others – Michelangelo and Leonardo da Vinci and it is in them that one can perhaps grasp a view of the ultimate conclusion of humanism for man. Michelangelo was unequaled as a sculptor in the Renaissance and arguably no one has ever matched his talents.
The other giant of the Renaissance period was Leonardo da Vinci – the perfect Renaissance Man, the man who could do almost anything and does it better than most anyone else. As an inventor, an engineer, an anatomist, an architect, an artist, a chemist, a mathematician, he was almost without equal. It was perhaps his mathematics that lead da Vinci to come to his understanding of the ultimate meaning of Humanism. Leonardo is generally accepted as the first modern mathematician. He not only knew mathematics abstractly but applied it in his Notebooks to all manner of engineering problems. He was one of the unique geniuses of history, and in his brilliance he perceived that beginning humanistically with mathematics one only had particulars. He understood that man beginning from himself would never be able to come to meaning on the basis of mathematics. And he knew that having only individual things, particulars, one never could come to universals or meaning and thus one only ends with mechanics. In this he saw ahead to where our generation has come: everything, including man, is the machine.
Leonardo da Vinci compares well to Solomon and they  both were universal men searching for the meaning in life. Solomon was searching for a meaning in the midst of the details of life. His struggle was to find the meaning of life. Not just plans in life. Anybody can find plans in life. A child can fill up his time with plans of building tomorrow's sand castle when today's has been washed away. There is  a difference between finding plans in life and purpose in life. Humanism since the Renaissance and onward has never found it and it has never found it since. Modern man has not found it and it has always got worse and darker in a very real way.
We have here the declaration of Solomon's universality:
1 Kings 4:30-34
English Standard Version (ESV)
30 so that Solomon's wisdom surpassed the wisdom of all the people of the east and all the wisdom of Egypt. 31 For he was wiser than all other men, wiser than Ethan the Ezrahite, and Heman, Calcol, and Darda, the sons of Mahol, and his fame was in all the surrounding nations. 32 He also spoke 3,000 proverbs, and his songs were 1,005. 33 He spoke of trees, from the cedar that is in Lebanon to the hyssop that grows out of the wall. He spoke also of beasts, and of birds, and of reptiles, and of fish. 34 And people of all nations came to hear the wisdom of Solomon, and from all the kings of the earth, who had heard of his wisdom.
_________________________
Here is the universal man and his genius. Solomon is the universal man with a empire at his disposal. Solomon had it all.
Ecclesiastes 1:3
English Standard Version (ESV)
3 What does man gain by all the toil
    at which he toils under the sun?
Schaeffer noted that Solomon took a look at the meaning of life on the basis of human life standing alone between birth and death "under the sun." This phrase UNDER THE SUN appears over and over in Ecclesiastes.
(Added by me:The Christian Scholar Ravi Zacharias noted, "The key to understanding the Book of Ecclesiastes is the term UNDER THE SUN — What that literally means is you lock God out of a closed system and you are left with only this world of Time plus Chance plus matter." )
Man is caught in the cycle
Ecclesiastes 1:1-7
English Standard Version (ESV)
All Is Vanity
1 The words of the Preacher, the son of David, king in Jerusalem.
2 Vanity of vanities, says the Preacher,
    vanity of vanities! All is vanity.
3 What does man gain by all the toil
    at which he toils under the sun?
4 A generation goes, and a generation comes,
    but the earth remains forever.
5 The sun rises, and the sun goes down,
    and hastens to the place where it rises.
6 The wind blows to the south
    and goes around to the north;
around and around goes the wind,
    and on its circuits the wind returns.
7 All streams run to the sea,
    but the sea is not full;
to the place where the streams flow,
    there they flow again.
8 All things are full of weariness;
    a man cannot utter it;
the eye is not satisfied with seeing,
    nor the ear filled with hearing.
9 What has been is what will be,
    and what has been done is what will be done,
    and there is nothing new under the sun.
10 Is there a thing of which it is said,
    "See, this is new"?
It has been already
    in the ages before us.
_____________
Solomon is showing a high degree of comprehension of evaporation and the results of it. Seeing also in reality nothing changes. There is change but always in a set framework and that is cycle. You can relate this to the concepts of modern man. Ecclesiastes is the only pessimistic book in the Bible and that is because of the place where Solomon limits himself. He limits himself to the question of human life, life under the sun between birth and death and the answers this would give.
Ecclesiastes 1:4
English Standard Version (ESV)
4 A generation goes, and a generation comes,
    but the earth remains forever.
___________________
Ecclesiastes 4:16
English Standard Version (ESV)
16 There was no end of all the people, all of whom he led. Yet those who come later will not rejoice in him. Surely this also is vanity and a striving after wind.
__________________________
In verses 1:4 and 4:16 Solomon places man in the cycle. He doesn't place man outside of the cycle. Man doesn't escape the cycle. Man is only cycle. Birth and death and youth and old age. With this in mind Solomon makes this statement.
Ecclesiastes 6:12
12 For who knows what is good for a man during his lifetime, during the few years of his futile life? He will spend them like a shadow. For who can tell a man what will be after him under the sun?
____________________
There is no doubt in my mind that Solomon had the same experience in his life that I had as a younger man. I remember standing by the sea and the moon arose and it was copper and beauty. Then the moon did not look like a flat dish but a globe or a sphere since it was close to the horizon. One could feel the global shape of the earth too. Then it occurred to me that I could contemplate the interplay of the spheres and I was exalted because I thought I can look upon them with all their power, might, and size, but they could contempt nothing and I felt as man as God. Then came upon me a horror of great darkness because it suddenly occurred to me that although I could contemplate them and they could contemplate nothing yet they would continue to turn in ongoing cycles when I saw no more forever and I was crushed.
THIS IS SOLOMON'S FEELING TOO. The universal man, Solomon, beyond our intelligence with an empire at his disposal with the opportunity of observation so he could recite these words here in Ecclesiastes 6:12, "For who knows what is good for a man during his lifetime, during the few years of his futile life? He will spend them like a shadow. For who can tell a man what will be after him under the sun?"
Lack of Satisfaction in life
In Ecclesiastes 1:8 he drives this home when he states, "All things are wearisome; Man is not able to tell it. The eye is not satisfied with seeing, Nor is the ear filled with hearing." Solomon is stating here the fact that there is no final satisfaction because you don't get to the end of the thing. THERE IS NO FINAL SATISFACTION. This is related to Leonardo da Vinci's similar search for universals and then meaning in life. 
In Ecclesiastes 5:11 Solomon again pursues this theme, "When good things increase, those who consume them increase. So what is the advantage to their owners except to look on?"  Doesn't that sound modern? It is as modern as this evening. Solomon here is stating the fact there is no reaching completion in anything and this is the reason there is no final satisfaction. There is simply no place to stop. It is impossible when laying up wealth for oneself when to stop. It is impossible to have the satisfaction of completion. 
Pursuing Learning
Now let us look down the details of his searching.
In Ecclesiastes 1: 13a we have the details of the universal man's procedure. "And I set my mind to seek and explore by wisdom concerning all that has been done under heaven."
So like any sensible man the instrument that is used is INTELLECT, and RAITIONALITY, and LOGIC. It is to be noted that even men who despise these in their theories begin and use them or they could not speak. There is no other way to begin except in the way they which man is and that is rational and intellectual with movements of that is logical within him. As a Christian I must say gently in passing that is the way God made him.
So we find first of all Solomon turned to WISDOM and logic. Wisdom is not to be confused with knowledge. A man may have great knowledge and no wisdom. Wisdom is the use of rationality and logic. A man can be very wise and have limited knowledge. Here he turns to wisdom in all that implies and the total rationality of man.
Works of Men done Under the Sun
After wisdom Solomon comes to the great WORKS of men. Ecclesiastes 1:14,  "I have seen all the works which have been done under the sun, and behold, all is [p]vanity and striving after wind." Solomon is the man with an empire at this disposal that speaks. This is the man who has the copper refineries in Ezion-geber. This is the man who made the stables across his empire. This is the man who built the temple in Jerusalem. This is the man who stands on the world trade routes. He is not a provincial. He knew what was happening on the Phonetician coast and he knew what was happening in Egypt. There is no doubt he already knew something of building. This is Solomon and he pursues the greatness of his own construction and his conclusion is VANITY AND VEXATION OF SPIRIT.
Ecclesiastes 2:18-20
18 Thus I hated all the fruit of my labor for which I had labored under the sun, for I must leave it to the man who will come after me. 19 And who knows whether he will be a wise man or a fool? Yet he will have control over all the fruit of my labor for which I have labored by acting wisely under the sun. This too is vanity. 20 Therefore I completely despaired of all the fruit of my labor for which I had labored under the sun.
He looked at the works of his hands, great and multiplied by his wealth and his position and he shrugged his shoulders.
Ecclesiastes 2:22-23
22 For what does a man get in all his labor and in his striving with which he labors under the sun? 23 Because all his days his task is painful and grievous; even at night his mind does not rest. This too is vanity.
Man can not rest and yet he is never done and yet the things which he builds will out live him. If one wants an ironical three phrases these are they. There is a Dutch saying, "The tailor makes many suits but one day he will make a suit that will outlast the tailor."
God has put eternity in our hearts but we can not know the beginning or the end of the thing from a vantage point of UNDER THE SUN
Ecclesiastes 1:16-18
16 I said to myself, "Behold, I have magnified and increased wisdom more than all who were over Jerusalem before me; and my mind has observed a wealth of wisdom and knowledge." 17 And I set my mind to know wisdom and to know madness and folly; I realized that this also is striving after wind.18 Because in much wisdom there is much grief, and increasing knowledge results in increasing pain.
Solomon points out that you can not know the beginnings or what follows:
Ecclesiastes 3:11
11 He has made everything  appropriate in its time. He has also set eternity in their heart, yet so that man will not find out the work which God has done from the beginning even to the end.
Ecclesiastes 1:11
11 There is no remembrance of earlier things; And also of the later things which will occur, There will be for them no remembrance among those who will come later still.
Ecclesiastes 2:16
16 For there is no lasting remembrance of the wise man as with the fool, inasmuch as in the coming days all will be forgotten. And how the wise man and the fool alike die!
You bring together here the factor of the beginning and you can't know what immediately follows after your death and of course you can't know the final ends. What do you do and the answer is to get drunk and this was not thought of in the RUBAIYAT OF OMAR KAHAYYAM:
Ecclesiastes 2:1-3
I said to myself, "Come now, I will test you with pleasure. So enjoy yourself." And behold, it too was futility. 2 I said of laughter, "It is madness," and of pleasure, "What does it accomplish?" 3 I explored with my mind how to stimulate my body with wine while my mind was guiding me wisely, and how to take hold of folly, until I could see what good there is for the sons of men to do under heaven the few years of their lives.
You know, my Friends, with what a brave Carouse
I made a Second Marriage in my house;
Divorced old barren Reason from my Bed,
And took the Daughter of the Vine to Spouse.
from the Rubaiyat of Omar Khayyam (Translation by Edward Fitzgerald)
A perfectly good philosophy coming out of Islam, but Solomon is not the first man that thought of it nor the last. In light of what has been presented by Solomon is the solution just to get intoxicated and black the think out? So many people have taken to alcohol and the dope which so often follows in our day. This approach is incomplete, temporary and immature. Papa Hemingway can find the champagne of Paris sufficient for a time, but one he left his youth he never found it sufficient again. He had a lifetime spent looking back to Paris and that champagne and never finding it enough. It is no solution and Solomon says so too.
Ecclesiastes 2:4-11
4 I enlarged my works: I built houses for myself, I planted vineyards for myself; 5 I made gardens and parks for myself and I planted in them all kinds of fruit trees; 6 I made ponds of water for myself from which to irrigate a forest of growing trees. 7 I bought male and female slaves and I had homeborn slaves. Also I possessed flocks and herds larger than all who preceded me in Jerusalem. 8 Also, I collected for myself silver and gold and the treasure of kings and provinces. I provided for myself MALE AND  FEMALE SINGERS AND THE PLEASURES OF MEN–MANY CONCUBINES.
9 Then I became great and increased more than all who preceded me in Jerusalem. My wisdom also stood by me. 10 All that my eyes desired I did not refuse them. I did not withhold my heart from any pleasure, for my heart was pleased because of all my labor and this was my reward for all my labor.11 Thus I considered all my activities which my hands had done and the labor which I had exerted, and behold all was vanity and striving after wind and there was no profit under the sun.
He doesn't mean there is no temporary profit but there is no real profit. Nothing that lasts. The walls crumble if they are as old as the Pyramids. You only see a shell of the Pyramids and not the glory that they were. This is what Solomon is saying. Look upon Solomon's wonder and consider the Cedars of Lebanon which were not in his domain but at his disposal.
Ecclesiastes 6:2
2 a man to whom God has given riches and wealth and honor so that his soul lacks nothing of all that he desires; yet God has not empowered him to eat from them, for a foreigner enjoys them. This is vanity and a severe affliction.
Can someone stuff himself with food he can't digest? Solomon came to this place of strife and confusion when he went on in his search for meaning.
 Oppressed have no comforter
Ecclesiastes 4:1
 Then I looked again at all the acts of oppression which were being done under the sun. And behold I saw the tears of the oppressed and that they had no one to comfort them; and on the side of their oppressors was power, but they had no one to comfort them.
Between birth and death power rules. Solomon looked over his kingdom and also around the world and proclaimed that right does not rule but power rules.
Ecclesiastes 7:14-15
14 In the day of prosperity be happy, but in the day of adversity consider—God has made the one as well as the other so that man will not discover anything that will be after him.
15 I have seen everything during my lifetime of futility; there is a righteous man who perishes in his righteousness and there is a wicked man who prolongs his life in his wickedness.
Ecclesiastes 8:14
14 There is futility which is done on the earth, that is, there are righteous men to whom it happens according to the deeds of the wicked. On the other hand, there are evil men to whom it happens according to the deeds of the righteous. I say that this too is futility.
We could say it in 20th century language, "The books are not balanced in this life."
Pursuing Ladies
If one would flee to alcohol, then surely one may choose sexual pursuits to flee to. Solomon looks in this area too.
Ecclesiastes 7:25-28
25 I directed my mind to know, to investigate and to seek wisdom and an explanation, and to know the evil of folly and the foolishness of madness. 26 And I discovered more bitter than death the woman whose heart is snares and nets, whose hands are chains. One who is pleasing to God will escape from her, but the sinner will be captured by her.
27 "Behold, I have discovered this," says the Preacher, "adding one thing to another to find an explanation, 28 I have looked for other answers but have found none. I found one man in a thousand that I could respect, but not one woman. (Good News Translation on verse 28)
One can understand both Solomon's expertness in this field and his bitterness.
I Kings 11:1-3 (New American Standard Bible) 
11 Now King Solomon loved many foreign women along with the daughter of Pharaoh: Moabite, Ammonite, Edomite, Sidonian, and Hittite women, 2 from the nations concerning which the Lord had said to the sons of Israel, "You shall not associate with them, nor shall they associate with you, for they will surely turn your heart away after their gods." Solomon held fast to these in love. 3 He had seven hundred wives, princesses, and three hundred concubines, and his wives turned his heart away.
An expert but also the reason for his bitterness. Certainly there have been many men over the centuries who have daydreamed of Solomon's wealth in this area [of women], but at the end it was sorry, not only sorry but nothing and less than nothing. The simple fact is that one can not know woman in the real sense by pursuing 1000 women. It is not possible. Woman is not found this way. All that is left in this setting if one were to pursue the meaning of life in this direction is this most bitter word found in Ecclesiastes 7:28, "I have looked for other answers but have found none. I found one man in a thousand that I could respect, but not one woman." (Good News Translation on verse 28) He was searching in the wrong way. He was searching for the answer to life in the limited circle of that which is beautiful in itself but not an answer finally in sexual life. More than that he finally tried to find it in variety and he didn't even touch one woman at the end.
—-
Last letter I wrote to Hugh Hefner seen below:
Larry Joe Speaks  (August 20, 1947 to April 7, 2017)
__
__
________
____
Francis Schaeffer pictured above
_______
June 30, 2017
Hugh Hefner
Playboy Mansion16236 Charing Cross RoadLos Angeles, CA 90024
Dear Hugh,
I started these series of letters on the meaning of it all on April 7, 2017 when  my good friend Larry Speaks died. Larry's favorite sermon was WHO  IS JESUS? by Adrian Rogers and he gave hundreds of CD copies of that sermon away. I actually ran the copies off  for him and since the sermon was only 37 minutes long and the CD went 60 minutes, I also put on there another sermon by Bill Elliff too called WHAT WILL HAPPEN AT THE END OF TIME? Later in this letter I want to share a portion of that message with you. All of these letters I have written you have dealt with what Solomon had to say concerning the search for satisfaction in life UNDER THE SUN (without God in the picture.) Probably his most disappointing discovery was that being a ladies man left him unsatisfied.
Ecclesiastes 2:8-10The Message (MSG)
I piled up silver and gold,
loot from kings and kingdoms.
I gathered a chorus of singers to entertain me with song,
and—most exquisite of all pleasures—
    voluptuous maidens for my bed.
9-10 Oh, how I prospered! I left all my predecessors in Jerusalem far behind, left them behind in the dust. What's more, I kept a clear head through it all. Everything I wanted I took—I never said no to myself. I gave in to every impulse, held back nothing. I sucked the marrow of pleasure out of every task—my reward to myself for a hard day's work!
1 Kings 11:1-3 English Standard Version (ESV)
11 Now King Solomon loved many foreign women, along with the daughter of Pharaoh: Moabite, Ammonite, Edomite, Sidonian, and Hittite women, 2 from the nations concerning which the Lord had said to the people of Israel, "You shall not enter into marriage with them, neither shall they with you, for surely they will turn away your heart after their gods." Solomon clung to these in love. 3 He had 700 wives, who were princesses, and 300 concubines. And his wives turned away his heart.
Francis Schaeffer observed concerning Solomon, "You can not know woman but knowing 1000 women."
King Solomon in Ecclesiastes 2:11 sums up his search for meaning in the area of the Sexual Revolution with these words, "…behold, all was vanity and a striving after wind, and there was nothing to be gained under the sun."
__
In fact, the Book of Ecclesiastes shows that Solomon came to the conclusion that NOTHING in life gives true satisfaction without God including knowledge (1:16-18), LADIES and liquor (2:1-3, 8, 10, 11), and great building projects (2:4-6, 18-20). You can only find a lasting meaning to your life by looking above the sun and bring God back into the picture.
Solomon's experiment was a search for meaning to life "under the sun." Then in last few words in the Book of Ecclesiastes he looks above the sun and brings God back into the picture: "The conclusion, when all has been heard, is: Fear God and keep His commandments, because this applies to every person. For God will bring every act to judgment, everything which is hidden, whether it is good or evil."
Keith Hefner and Hugh Hefner
According to the Bible God will bring every act to judgment!!! Below is a portion of Bill Elliff's message that deals with this:
WHAT WILL HAPPEN AT THE END OF TIME? I want to look at this picture of what will happen to everyone of us at the end of time. Let's read our scripture passage.
Luke 12:1-10 English Standard Version (ESV)
Beware of the Leaven of the Pharisees
12 In the meantime, when so many thousands of the people had gathered together that they were trampling one another, he began to say to his disciples first, "Beware of the leaven of the Pharisees, which is hypocrisy. 2 Nothing is covered up that will not be revealed, or hidden that will not be known. 3 Therefore whatever you have said in the dark shall be heard in the light, and what you have whispered in private rooms shall be proclaimed on the housetops.
Have No Fear
4 "I tell you, my friends, do not fear those who kill the body, and after that have nothing more that they can do. 5 But I will warn you whom to fear: fear him who, after he has killed, has authority to cast into hell. Yes, I tell you, fear him! 6 Are not five sparrows sold for two pennies?[b]And not one of them is forgotten before God. 7 Why, even the hairs of your head are all numbered. Fear not; you are of more value than many sparrows.
Acknowledge Christ Before Men
8 "And I tell you, everyone who acknowledges me before men, the Son of Man also will acknowledge before the angels of God, 9 but the one who denies me before men will be denied before the angels of God. 10 And everyone who speaks a word against the Son of Man will be forgiven, but the one who blasphemes against the Holy Spirit will not be forgiven.
___________
What will happen at the end of time?
FIRST OF ALL, Jesus says it will be a time of the revelation of the secrets of your life.
A great time of revealing and uncovering, when unknown things to some become known to all. There is coming a day when what you really are will be revealed.
There is something inside us that thinks we can hide things from each other and hide things from God. Have you ever played HIDE AND SEEK with a group of young children? They will hide in plain view but in their mind they are hidden. My smallest children will put their hands over their eyes and they think that since they can't see me that they are hidden from my sight. But the truth of the matter is that I can see them so clearly and sometimes we think that because we can't see God that He can't see us. Last week we read Hebrews 4:13 that says, "And not a creature exists that is concealed from His sight, but all things are open and exposed, and revealed to the eyes of Him with whom we have to give account." One day the secrets of our heart will be revealed. In the brief days of our life, 20, 30, 40, 50, 60, 70 years that God may give you, or maybe a few years beyond that, we may do a good job of hiding those secrets, but one day the secrets of our lives will be revealed before God.
NEXT after the revelation of the secrets of your life there will be a great revelation of God's authority.
Do you know what a sovereign is? A sovereign is one who has complete authority. He has the authority and he has the authority to carry it out.
There are 3 kinds of authority. First, voluntary authority such as you choosing to work for an employer. Second, seized authority like a murderer. Third, God is an absolute authority and He is the sovereign and He is over everything. It is right for Him to be over everything because He made everything. He is a God of perfect love,  a God of perfect mercy, a God of perfect grace, a God of perfect compassion, but He is a God of perfect righteousness.  If He was any less than that then He wouldn't be God. He is a God of perfect holiness and authority. He has wooed us and called us and given us every opportunity to come, but He is a God who one day who will reveal. He has absolute authority over your life.
Look again at verses 4 and 5:
4 "I tell you, my friends, do not fear those who kill the body, and after that have nothing more that they can do. 5 But I will warn you whom to fear: fear him who, after he has killed, has authority to cast into hell. Yes, I tell you, fear him!
God has the authority to do that. There is coming a day when there will be a great separation and a great dividing. It is all over the scriptures. God has given us the moment of grace to come and trust in Him and give our lives to Him, but one day the door will be closed and then the division will come. He will say to some come into my kingdom that I have prepared for you and he will say to others you are headed to an eternity separated. You have chosen your fate for all eternity. There will permanent separation from God in hell.
FINALLY, it will be a day of the revelation of the substance of your relationship to God.
Look at verses 8 and 9: 8 "And I tell you, everyone who acknowledges me before men, the Son of Man also will acknowledge before the angels of God, 9 but the one who denies me before men will be denied before the angels of God.
The Pharisees said they had a relationship with God but they were hypocrites and there was no substance to their relationship. Jesus is saying that when the secrets of your heart are revealed God will determine the substance of your relationship to God and whether it is real or not.
The answer to find meaning in life is found in putting your faith and trust in Jesus Christ. The Bible is true from cover to cover and can be trusted. Below is a piece of that evidence given by Francis Schaeffer concerning the accuracy of the Bible.
Thanks for your time.
Sincerely,
Everette Hatcher, everettehatcher@gmail.com, http://www.thedailyhatch.org, cell ph 501-920-5733, Box 23416, LittleRock, AR 72221
—-
In 1978 I heard the song "Dust in the Wind" by Kansas when it rose to #6 on the charts. That song told me thatKerry Livgren the writer of that song and a member of Kansas had come to the same conclusion that Solomon had. I remember mentioning to my friends at church that we may soon see some members of Kansas become Christians because their search for the meaning of life had obviously come up empty even though they had risen from being an unknown band to the top of the music business and had all the wealth and fame that came with that. Furthermore, like Solomon and Coldplay, they realized death comes to everyone and "there must be something more."
Livgren wrote:
"All we do, crumbles to the ground though we refuse to see, Dust in the Wind, All we are is dust in the wind, Don't hang on, Nothing lasts forever but the Earth and Sky, It slips away, And all your money won't another minute buy."
Both Kerry Livgren and Dave Hope of Kansas became Christians eventually. Kerry Livgren first tried Eastern Religions and Dave Hope had to come out of a heavy drug addiction. I was shocked and elated to see their personal testimony on The 700 Club in 1981 and that same  interview can be seen on youtube today. Livgren lives in Topeka, Kansas today where he teaches "Diggers," a Sunday school class at Topeka Bible Church. Hope is the head of Worship, Evangelism and Outreach at Immanuel Anglican Church in Destin, Florida.
The movie maker Woody Allen has embraced the nihilistic message of the song "Dust in the Wind" by Kansas. David Segal in his article, "Things are Looking Up for the Director Woody Allen. No?" (Washington Post, July 26, 2006), wrote, "Allen is evangelically passionate about a few subjects. None more so than the chilling emptiness of life…The 70-year-old writer and director has been musing about life, sex, work, death and his generally futile search for hope…the world according to Woody is so bereft of meaning, so godless and absurd, that the only proper response is to curl up on a sofa and howl for your mommy."
The song "Dust in the Wind" recommends, "Don't hang on." Allen himself says, "It's just an awful thing and in that context you've got to find an answer to the question: 'Why go on?' "  It is ironic that Chris Martin the leader of Coldplay regards Woody Allen as his favorite director.
Lets sum up the final conclusions of these gentlemen:  Coldplay is still searching for that "something more." Woody Allen has concluded the search is futile. Livgren and Hope of Kansas have become Christians and are involved in fulltime ministry. Solomon's experiment was a search for meaning to life "under the sun." Then in last few words in the Book of Ecclesiastes he looks above the sun and brings God back into the picture: "The conclusion, when all has been heard, is: Fear God and keep His commandments, because this applies to every person. For God will bring every act to judgment, everything which is hidden, whether it is good or evil."
You can hear Kerry Livgren's story from this youtube link:
(part 1 ten minutes)
(part 2 ten minutes)
Kansas – Dust In The Wind
Ecclesiastes 1
Published on Sep 4, 2012
Calvary Chapel Spring Valley | Sunday Evening | September 2, 2012 | Pastor Derek Neider
_____________________
Featured artist is Marcel Dzama
Related posts
Johnny Cash a Christian?May 23, 2012 – 10:32 amI got to see Johnny Cash perform in Memphis in 1978 and I actually knew his nephew very well. He was an outspoken Christian and evangelical. Here is an article that discusses this. Johnny Cash's Complicated Faith Dave Urbanski <!– var fbShare = { google_analytics: 'true', } tweetmeme_source = 'RELEVANTMag'; –> Unwrapping the enigma of […]By Everette Hatcher III | Posted in Current Events | Edit | Comments (0)Johnny Cash (Part 3)December 23, 2011 – 12:57 amI got to hear Johnny Cash sing in person back in 1978.  Here is a portion of an article about his Christian Testimony. The Man Came Around   A Walking Contradiction Cash's daughter, singer-songwriter Rosanne Cash, once pointed out that "my father was raised a Baptist, but he has the soul of a mystic. He's […]By Everette Hatcher III | Posted in Current Events | Tagged christian testimony, prayer of thanksgiving, seven deadly sins, spiritual element, walking contradiction | Edit | Comments (0)Johnny Cash (Part 2)December 22, 2011 – 12:55 amI got to hear Johnny Cash sing in person back in 1978 at a Billy Graham Crusade in Memphis. Here is a portion of an article about his Christian Testimony. The Man Came Around Cash also made major headlines when he shared his faith on The Johnny Cash Show, a popular variety program on ABC […]By Everette Hatcher III | Posted in Current Events | Tagged billy graham crusade, christian testimony, evangelist billy graham, folsom prison blues, kris kristofferson | Edit | Comments (0)Johnny Cash (Part 1)December 21, 2011 – 12:51 amI got to hear Johnny Cash sing in person back in 1978. Here is a portion of an article about his Christian Testimony. The Man Came Around Johnny Cash was not ashamed of his Christian faith—though it was sometimes a messy faith—and even got some encouragement from Billy Graham along the way. Dave Urbanski | […]By Everette Hatcher III | Posted in Current Events | Tagged conservative bible, dave urbanski, jesus of nazareth, nickel and dime, true vine | Edit | Comments (0)
People in the Johnny Cash video "God's Gonna Cut You Down"May 11, 2012 – 12:10 pmWikipedia noted: Johnny Cash recorded a version of "God's Gonna Cut You Down" on American V: A Hundred Highways in 2003, with an arrangement quite different from most known gospel versions of the song. A music video, directed by Tony Kaye,[1] was made for this version in late 2006. It featured a number of celebrities, […]By Everette Hatcher III | Posted in Current Events | Tagged Amy Lee, chris martin | Edit | Comments (0)
_________
__