–
Since 1980 when I first saw Walter Williams on the Milton Friedman film series FREE TO CHOOSE I have been a big fan of his and read his articles and books with great interest. I even had the honor of corresponding with him. His articles have featured many times on my blog and I was sad to see that he passed away yesterday. Here are some links to some of his best articles here, and here.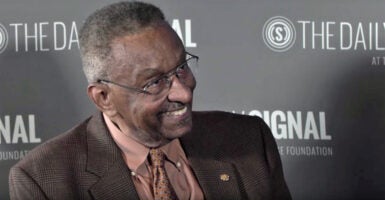 Walter E. Williams loved teaching. Unlike too many other teachers today, he made it a point never to impose his opinions on his students.
Those who read Walter Williams' syndicated newspaper columns know that he expressed his opinions boldly and unequivocally there. But not in the classroom.
Walter, a professor of economics at George Mason University for 40 years, once said he hoped that, on the day he died, he would have taught a class that day. And that is just the way it was when he died Wednesday, Dec. 2.
He was my best friend for half a century. There was no one I trusted more or whose integrity I respected more.
The left is actively working to undermine the integrity of our elections. Read the plan to stop them now. Learn more now >>
Since he was younger than me, I chose him to be my literary executor, to take control of my books after I was gone. But his death at age 84 is a reminder that no one really has anything to say about such things.
As an economist, Walter Williams never got the credit he deserved. His book "Race & Economics: How Much Can Be Blamed on Discrimination?" is a must-read introduction to the subject. Amazon has it ranked fifth in sales among civil rights books, nine years after it was published.
Another book of his, on the effects of economics under the white supremacist apartheid regime in South Africa, was titled "South Africa's War Against Capitalism." He went to South Africa to study the situation directly. Many of the things he brought out have implications for racial discrimination in other places around the world.
I have had many occasions to cite Walter Williams' research in my own books. Most of what others say about higher prices in low-income neighborhoods today has not yet caught up to what Walter said in his doctoral dissertation decades ago.
Despite his opposition to the welfare state as something doing more harm than good, Walter was privately very generous with both his money and his time in helping others.
He figured he had a right to do whatever he wanted to with his own money, but that politicians had no right to take his money to give away, in order to get votes.
In a letter dated March 3, 1975, Walter said: "Sometimes it is a very lonely struggle trying to help our people, particularly the ones who do not realize that help is needed."
In the same letter, he mentioned a certain hospital that "has an all but written policy of prohibiting the flunking of black medical students."
Not long after this, a professor at a prestigious medical school revealed that black students there were given passing grades without having met the standards applied to other students. He warned that trusting patients would pay—some with their lives—for such irresponsible double standards. That has in fact happened.
As a person, Walter Williams was unique. I have heard of no one else described as being "like Walter Williams."
Holding a black belt in karate, Walter was a tough customer. One night three men jumped him—and two of those men ended up in a hospital.
The other side of Walter came out in relation to his wife, Connie. She helped put him through graduate school—and after he received his Ph.D., she never had to work again, not even to fix his breakfast.
Walter liked to go to his job at 4:30 a.m. He was the only person who had no problem finding a parking space on the street in downtown Washington.
Around 9 o'clock or so, Connie—now awake—would phone Walter and they would greet each other tenderly for the day.
We may not see his like again. And that is our loss.
COPYRIGHT 2020 CREATORS.COM
Editor's note: Walter E. Williams' columns published by The Daily Signal may be found here.
——-
Last week, U.S. Attorney General William Barr told a University of Notre Dame Law School audience that attacks on religious liberty have contributed to a moral decline that's in part manifested by increases in suicides, mental illness and drug addiction. Barr said that our moral decline is not random but "organized destruction." Namely that "Secularists and their allies have marshaled all the forces of mass communication, popular culture, the entertainment industry, and academia in an unremitting assault on religion and traditional values."
The attorney general is absolutely correct. Whether we have the stomach to own up to it or not, we have become an immoral people left with little more than the pretense of morality. The left's attack on religion is just the tiny tip of the iceberg in our nation's moral decline. You say: "That's a pretty heavy charge, Williams. You'd better be prepared to back it up with evidence!" I'll try with a few questions for you to answer.
Do you believe that it is moral and just for one person to be forcibly used to serve the purposes of another? And, if that person does not peaceably submit to such use, do you believe that there should be the initiation of force against him? Neither question is complex and can be answered by either a yes or no. For me the answer is no to both questions. I bet that nearly every college professor, politician or even minister could not give a simple yes or no response.
A no answer, translated to public policy, would slash the federal budget by no less than two-thirds to three-quarters. After all most federal spending consist of taking the earnings of one American to give to another American in the form of farm subsidies, business bailouts, aid to higher education, welfare and food stamps. Keep in mind that Congress has no resources of its own. Plus there's no Santa Claus or tooth fairy that gives Congress resources. Thus, the only way that Congress can give one American a dollar is to first, through intimidation and coercion, confiscate that dollar from some other American.
Such actions by the U.S. Congress should offend any sense of moral decency. If you're a Christian or a Jew, you should be against the notion of one American living at the expense of some other American. When God gave Moses the Eighth Commandment — "Thou shalt not steal" — I am sure that He did not mean thou shalt not steal unless there is a majority vote in the U.S. Congress. By the way, I do not take this position because I don't believe in helping our fellow man. I believe that helping those in need by reaching into one's own pocket to do is praiseworthy and laudable. But helping one's fellow man in need by reaching into somebody else's pockets to do so is worthy of condemnation.
We must own up to the fact that laws and regulations alone cannot produce a civilized society. Morality is society's first line of defense against uncivilized behavior. Religious teachings, one way of inculcating morality, have been under siege in our country for well over a half a century. In the name of not being judgmental and the vision that one lifestyle or set of values is just as good as another, traditional moral absolutes have been abandoned as guiding principles. We no longer hold people accountable for their behavior and we accept excuses. The moral problems Attorney General William Barr mentioned in his speech, plus murder, mayhem and other forms of anti-social behavior, will continue until we regain our moral footing.
In 1798, John Adams, a leading Founding Father and our second president said: "Our Constitution was made only for a moral and religious people. It is wholly inadequate to the government of any other." I am all too afraid that a historian, writing a few hundred years from now, will note that the liberty American enjoyed was simply a historical curiosity. Then it all returned to mankind's normal state of affairs — arbitrary abuse and control by the powerful elite.
Walter E. Williams is a professor of economics at George Mason University. To find out more about Walter E. Williams and read features by other Creators Syndicate writers and cartoonists, visit the Creators Syndicate webpage at http://www.creators.com.
Dr. Walter Williams Highlights from – Testing Milton Friedman
Milton Friedman PBS Free to Choose 1980 Vol 8 of 10 Who Protects the Worker
Walter E Williams – A Discussion About Fairness & Redistribution
Testing Milton Friedman: Equality of Opportunity – Full Video
March 23, 2011 by Dan Mitchell
I've been fortunate to know Walter Williams ever since I began my Ph.D. studies at George Mason University in the mid-1980s. He is a very good economist, but his real value is as a public intellectual.
He also has a remarkable personal story, which he tells in his new autobiography,Up from the Projects. I've read the book and urge you to do the same. It's very interesting and, like his columns, crisply written.
To get a flavor for Walter's strong principles and blunt opinions, watch this video from Reason TV. I won't spoil things, but the last couple of minutes are quite sobering.
Walter Williams: Up From the Projects
I suppose a personal story might be appropriate at this point. My ex also was at George Mason University, and she was Walter's research assistant. Walter would give multiple-choice tests to students taking his entry-level classes and she was responsible for grading them by sending them through a machine that would "click" for every wrong answer. For almost every student, it sounded like a machine gun was going off. Suffice to say, Walter's classes were not easy.
So while I'm glad to say he's my friend, I'm also happy I never took one of his classes.
Related posts:
__________