—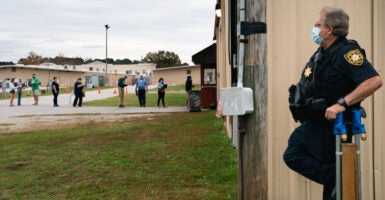 Celebrities and politicians urging people to visit Georgia and falsely claim residency for the sole purpose of voting in two critical U.S. Senate runoff elections Jan. 5 are advocating criminal actions and should be ashamed of themselves. This call for voter fraud should be rejected.
The Georgia runoff elections are extraordinarily important because they will determine which political party controls the U.S. Senate.
Results of the Nov. 3 election gave Republicans 50 seats in the 100-member Senate and gave Democrats 48. If Republicans win one of the Georgia seats Jan. 5, they will hold a 51-49 majority in the Senate; if the GOP wins both seats, it will hold a 52-48 majority.
But if Democrats win both Georgia races, the Senate will be split 50-50 between the two parties. Assuming that President Donald Trump's lawsuits fail and he is replaced by Joe Biden as president Jan. 20, Kamala Harris will be vice president and can break the 50-50 tie in the Senate to give Democrats majority control of the chamber by the slimmest possible margin.
The left is actively working to undermine the integrity of our elections. Read the plan to stop them now. Learn more now >>
Multiple candidates ran for the two Senate seats representing Georgia, preventing any candidate from gaining a majority. As a result, Georgia law requires the top two candidates for each seat to face each other in runoff elections to be held Jan. 5.
It is a felony for people to visit Georgia and falsely claim to be residents just so they can vote. Millions of us have visited states on vacation or business, but that doesn't make us residents entitled to vote there.
Georgia Code §21-2-561 states that providing false information when you are registering to vote is a felony. So is voting by an "unqualified elector" under §21-2-571. So if you register to vote when you know that your assertion of residency is false, and then you vote or even just attempt to vote Jan. 5 knowing you are not a qualified voter of the state, you have violated both of these state criminal statutes.
The punishment for this illegal activity under Georgia law is a minimum of one year and a maximum of up to 10 years in prison and as much as a $100,000 fine. Georgia obviously takes this crime very seriously.
No matter how interested nonresidents of Georgia are in that state's crucial election, they should not listen to the ill-informed, manipulative, and reckless tweets and calls for them to break the law and pretend to be Georgia residents just so they can vote in the two Senate races.
This call for illegal voting—coming primarily from Democrats—is a basic betrayal of the democratic process. Everyone who urges or participates in this criminal activity should be ashamed of themselves and deserves to be criticized, no matter who they are and which party they favor.
Fox News reports, for example, that in a now-deleted tweet, New Yorker journalist Eric Levitz wrote: "These run-offs will decide which party controls the Senate and thus, whether we'll have any hope for a large stimulus/climate bill. If you have the means and fervor to make a temporary move to GA, believe anyone who registers by Dec 7 can vote in these elections."
Former Democratic presidential candidate Andrew Yang also tweeted that he and his wife are moving to Georgia to help the two Democratic contenders.
In the Nov. 3 election in Georgia, Republican Sen. David Perdue received 49.71% of the vote and Democratic challenger Jon Ossoff received 47.96%, forcing them into a runoff.
The other Senate race on the ballot Nov. 3 was a special election. Republican Sen. Johnny Isakson retired in 2018, before the end of his term. Republican Kelly Loeffler was appointed by Gov. Brian Kemp to fill the seat until the special election.
She and Rep. Doug Collins split the Republican vote Nov. 3; Loeffler received 25.9% and Collins got 19.95%. Democrat Raphael Warnock got the highest vote total, with 32.91%. Therefore, the two top vote-getters, Loeffler and Warnock, will be in the Jan. 5 runoff election.
Dec. 7 is the deadline to register to vote in Georgia for the Jan. 5 election for any residents of the state who have not already registered, including voters who have just moved to Georgia. But under the Georgia Election Code, §21-2-217, you have to be an actual resident of the state to vote, not just a visitor.
Georgia law says that a voter cannot be in the state "for temporary purposes only without the intention of making [Georgia] such person's permanent place of abode." In other words, if you head to Georgia for the primary purpose of helping the candidates in the special election with no intention of actually staying in the state and living there, you are not eligible to register or vote.
Those who think they can get around this requirement by simply lying and asserting their intention to make Georgia their permanent abode should beware. Under the law, county registrars are given the authority to consider a long list of other factors that may contradict the "applicant's expressed intent."
These factors include an individual's "business pursuits, employment, income sources, residence for income tax purposes … leaseholds, sites of personal and real property owned by the applicant, motor vehicle and other personal property registration, and other such factors that registrars may reasonably deem necessary to determine" the applicant's legal residence for voting purposes.
And it is not just registrars. Under Georgia law, §21-2-230, any registered voter can challenge the eligibility of any other registrant in his or her county or municipality. So there is an entire army of grassroots Georgia voters out there who can be, and should be, on the lookout for out-of-staters registering to vote who falsely claim to live in their neighborhoods and their communities.
The Jan. 5 Senate races in Georgia are understandably capturing national attention, and both Republicans and Democrats are mounting major efforts to win the seats. That's how democracy is supposed to work. But having out-of-state voters visit a state for a few weeks to masquerade as Georgia residents is not a democratic exercise—it's a crime.
Anyone who visits Georgia temporarily and falsely claims to be a resident cheats the real residents of the state—no matter which side of the political aisle they favor—by interfering in their choice of who should represent them in Congress. There's no justification for that, no matter how passionate you are about the outcome of an election.
Vote in your own home state when elections are held—not in the home state of others.
Originally published by Fox News
<img class="i-amphtml-blurry-placeholder" src="data:;base64,
(CNN)There seemed to be one safe bet when it came to the 2020 election results: Democrats would easily hold on to their majority in the House of Representatives. Not only that, but the conventional wisdom held that Democrats would pick up more than the 235 seats they won in the 2018 midterm elections.
While Democrats will have a majority next Congress, Republicans vastly outperformed expectations and nearly pulled off an election shocker.
As of this writing, CNN has projected that Democrats have won in 219 seats. Republicans have been projected the winners in 203 seats. There are 13 races outstanding, per CNN projections.
Of those 13, the Democratic candidates lead in a mere two of them. (One of these 13 is going to a runoff, where the Republicans are heavily favored to win.)
In other words, if every one of those 13 seats went to the party leading in them right now, Democrats would have 221 seats to the Republicans' 214 seats in the next Congress.
Talk about a fairly close call for Democrats.
Now, Democrats may end up winning a few of the seats where they are currently trailing, but chances are they will end up at or south of 225 seats.
Compare that to what most quantitative forecasters who look at a slew of indicators predicted. Jack Kersting came the closest at 238 seats. FiveThirtyEight clocked in at 239 seats. The Economist modelpredicted that Democrats would win a median of 244 seats in their simulations.
While much attention was paid to the polling misses on the presidential level, they were more accurate by comparison. In the presidential race, the final polling averages got every state right, except for Florida and North Carolina.
Indeed, the forecasts for the presidential race were considerably better than for the House races. The race raters at the Crystal Ball, for example, got every state but North Carolina correct on the presidential level.
Any sort of shy Trump vote was far smaller than a potential shy House Republican vote.
Of course, the value of quantitative forecasts is that they don't just provide one number. They provide the probability of different outcomes occurring.
In that regard, the Republican performance is even more astounding.
The Economist said there was less than a 1-in-100 chance Democrats would have 221 seats or fewer in the next Congress. The chance they would get 225 seats or fewer was 1-in-100.
FiveThirtyEight's forecast gave Republicans a realistic, but still fairly low shot of what seems to have happened. The chance Democrats would earn 221 seats or fewer was approximately 1-in-17, while the chance they'd have 225 seats or fewer was approximately 1-in-10.
I should note that 1-in-10 probabilities happen all the time. There's a reason something is a 1-in-10 chance and not 0%. That said, Republicans simply did better than what folks thought.
A large part of what happened was that the national political environment was more friendly to Republicans than what polls suggested. The final average of generic congressional ballot polls had Democrats ahead by 7 points nationally. Democrats are only ahead by 2 points in the national House vote right now. That may end up closer to 3 points once the votes are all tallied.
A 4- or 5-point miss is considerable.
If Democrats had done 5 points better in every race than they currently are doing, they'd be ahead in 239 seats. That, of course, is right in line with the forecasts.
A lot of these quantitative forecasts also rely upon House ratings from groups like the Cook Political Report, Inside Elections and The Crystal Ball.
These too seemed to undersell Republican chances. Take the Cook Political Report ratings, which have historically been very good.
As of this writing, Republicans are leading in 27 of the 27 seats the Cook Political Report deemed toss-up before the election. They are ahead in all 26 of the seats that were deemed either leaning or likely Republican. Republicans are also leading in 7 of the 36 seats that were either leaning or likely to be taken by the Democrats.
That is, Republicans not only pretty much swept the tossups, but they marched into Democratic territory as well.
The Crystal Ball, which bravely has no tossups in its final rating, had Democrats net gaining 10 House seats. It will actually be the Republicans who will likely net gain 10 seats or more.
The end result of which is that Republicans are much closer to a House majority than we believed they would be after 2020 and have put themselves in a strong position heading into the 2022 midterms.
The Democrats majority is shrinking and three dozen races have yet to be called
House Speaker Nancy Pelosi's majority has shrunk in House, a shock to Democrats and pollsters who were projecting the California Democrat would expand her caucus after Tuesday's election.
Democrats were optimistic they could flip roughly 10 seats but their expansion efforts came up short, especially in Texas, and they ended up losing seats in Flordia, Oklahoma, Minnesota and elsewhere.
DEM CAUCUS ERUPTS AS MEMBERS SAY PARTY'S LEFTWARD DRIFT HURT MODERATES IN ELECTION
As of 3 p.m. on Friday, Democrats had won 212 seats compared to Republicans' 194. Another 29 races have yet to be called. Democrats had a net loss of four seats.
Outstanding races are in New York, California, Pennsylvania, Illinois, Utah, Arizona, and elsewhere. When all those votes are counted, Republicans are optimistic their numbers could swell to 208 and beyond, according to the National Republican Congressional Committee.
What's known is that Republicans have flipped at least seven seats from blue to red and an eighth seat in Michigan that was most recently occupied by a Libertarian. Here's a snapshot of the GOP victories:
GOP gains in the House
–In Florida, Republican candidate Carlos Gimenez defeated freshman Democratic Rep. Debbie Mucarsel-Powell in the 26th district. Republican Maria Elvira Salazar defeated freshman Democratic Rep. Donna Shalala in the 27th district.
–In Oklahoma, Republican Stephanie Bice unseated freshman Democratic Rep. Kendra Horn. Horn flipped the seat from red to blue last cycle.
— In South Carolina, freshman congressman Democrat Joe Cunningham was projected to lose his reelection to state GOP Rep. Nancy Mace, flipping South Carolina's 1st District back to red.
— In Minnesota, Republican Michelle Fischbach ousted longtime Democratic Rep. Collin Peterson, toppling the powerful chairman of the House Agriculture Committee in the most pro-Trump district held by a Democrat.
— In New Mexico, Republican Yvette Herrell defeated freshman Rep. Xochitl Torres Small, a freshman Democrat who flipped the 2nd Congressional seat from red to blue in 2018.
— In Iowa's First Congressional District, Republican state representative and former TV news anchor Ashley Hinson defeated Democratic incumbent Abby Finkenauer.
– In West Michigan, Republican Peter Meijer, an Iraq war veteran whose grandfather started Meijer superstores, defeated Democrat Hillary Scholten, a former Department of Justice and nonprofit lawyer. The Third Congressional District was open after Rep. Justin Amash, a Republican-turned-Libertarian, did not seek reelection.
CLICK HERE TO VIEW HOUSE RESULTS
Republicans say more victories are on the horizon
.
Party officials are most optimistic about reclaiming two seats in New York that Democrats flipped in 2018. Votes are still being counted but Republican Nicole Malliotakis has a notable lead over freshman Rep. Max Rose in the Staten Island-Brooklyn district. And former GOP Rep. Claudia Tenney was also ahead in the 22nd District seat she lost two years ago to Rep. Anthony Brindisi.
Democrats have gained two open seats in North Carolina thanks to redrawn congressional maps that favored them and will welcome Deborah Ross and Kathy Manning to their caucus in January.
And Democrats flipped Georgia's 7th Congressional District held by retiring Rep. Rob Woodall, R-Ga. Democrat Carolyn Bourdeaux beat GOP candidate Rich McCormick in the suburban Atlanta district, the Associated Press called on Friday.
That means Democrats so far have a net loss of four seats in the House.
WHERE THINGS STAND: BATTLE FOR THE SENATE
Democrats think they can hold onto many close races that have not been called and have two other possible pick-up opportunities by defeating Rep. Jeff Van Drew in New Jersey and Rep. Mike Garcia in California.
On a call Thursday afternoon with Democratic House members, Rep. Cheri Bustos, head of the Democratic Congressional Campaign Committee (DCCC), expressed frustration with the polling and election forecasts that all pointed to House Democrats expanding their majority.
"I'm furious," Bustos told her colleagues, according to a source familiar with the call. "Something went wrong here across the entire political world. Our polls, Senate polls, Gov polls, presidential polls, Republican polls, public polls, turnout modeling, and prognosticators all pointed to one political environment – that environment never materialized."
I have written about the tremendous increase in the food stamp program the last 9 years before and that means that both President Obama and Bush were guilty of not trying to slow down it's growth. Furthermore, Republicans have been some of the biggest supporters of the food stamp program. Milton Friedman had a good solution to help end the welfare state and wish more people would pay attention to it.   Growing government also encourages waste and hurt growth but more importantly it causes people to become dependent on the government as this article and cartoon below show.
My great fear is that the "social capital" of self reliance in America will slowly disappear and that the United States will turn into a European-style welfare state.
That's the message in the famous "riding in the wagon" cartoons that went viral and became the most-viewed post on this blog.
Well, this Glenn McCoy cartoon has a similar theme.
The only thing I would change is that the rat would become a "pro-government voter" or "left-wing voter" instead of an "Obama voter." Just like I wasn't satisfied with an otherwise very good Chuck Asay cartoon showing the struggle between producers and moochers.
That's for two reasons. First, I'm not partisan. My goal is to spread a message of liberty, not encourage people to vote for or against any candidate.
Second, I've been very critical of Obama, but I was also very critical of Bush. Indeed, Bush was a bigger spender than Obama! And Clinton was quite good, so party labels often don't matter.
But I'm getting wonky. Enjoy the cartoon and feel free to share it widely.
Eight Reasons Why Big Government Hurts Economic Growth
Uploaded on Aug 17, 2009
This Center for Freedom and Prosperity Foundation video analyzes how excessive government spending undermines economic performance. While acknowledging that a very modest level of government spending on things such as "public goods" can facilitate growth, the video outlines eight different ways that that big government hinders prosperity. This video focuses on theory and will be augmented by a second video looking at the empirical evidence favoring smaller government.
Related posts: