_
Bill Maher and Richard Dawkins
__
__
__
Francis and Edith Schaeffer at their home in Switzerland with some visiting friends
__
Schaeffer with his wife Edith in Switzerland.
Richard Dawkins and John Lennox
_
_
_
Dawkins, Hitchens, Dennett, Harris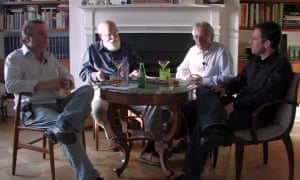 April 15, 2019
Richard Dawkins c/o Richard Dawkins Foundation,
Washington, DC 20005
Dear Mr. Dawkins,
i have enjoyed reading about a dozen of your books and some of the most intriguing were The God Delusion, An Appetite for Wonder: The Making of a Scientist, and Brief Candle in the Dark: My Life in Science.
I wanted to comment on something you wrote in your book Science in the Soul: Selected Writings of a Passionate Rationalist, and here is the quote on page 310:
Thanks to evidence-based reason we are blessedly liberated from ancient fears of ghosts and devils, evil spirits and djinns, magic spells and witches' curses.
Do we really know this is absolute truth from science?
By Winkie Pratney
The Bible isn't like any other book that's ever been written. The claims of the Bible are unlike any other book – it's not a human book! God called His Word living. But unless you have a rock-solid commitment to truth, the Bible won't change your life – it will only be so many words in a sea of words.
Many of the Eastern thought forms use Scripture. They use it to capture people's hearts. That's because the Bible is so powerful you can't ignore it. God has built life into His Word, and all of the strong cults rip it off. They steal bites out of theBible and use it They use the truth of it to try, to justify the lies they tell. Just the fact that pieces taken out of context are powerful enough to draw men's hearts should tell you what the whole Word, used under the inspiration of the Holy Spirit, can do!
Some Credentials
Here aresome facts that will bevaluable for anyone with an open heart. Now, you don't have to throw your mind away in order to believe these facts, but if you don't want to believe, nothing will convince you. Mark Twain said, "It's not the things I don'tunderstand in the Bible that bother me, it's the things I do understand!" This accurate insight exposes the real reason most people are afraid to study the Scriptures. They're afraid they might meet the Author, and they know they're not ready to do that…
So what are this book's credentials? I could say to you, "I've just written a book and it's the Word of God. It's a great book… took me a whole year to write it." And you would have every right to say, "Prove it!" In the various world religions, there are 30 or 40 books, each one claiming to be a superior revelation. Jesus said, "Heaven and earth will pass away, but My words shall not pass away." (Matt. 24:35)
The Bible doesn't attempt to defend its inspiration. You won't find any verse that says, "This book is really true, so you better believe it!!" But here is an interesting thing: Genesis opens with the words, "God said" nine times in the first chapter. The statement, "Thus says the Lord" appears 23 times in the last Old Testament book Malachi. So you have "God says" from Genesis to Malachi. "The Lord spoke" appears 560 times in the first five books of the Bible and at least 3800 times in the whole of the Old Testament! Isaiah claims at least 40 times that his message came directly from the Lord; Ezekiel, 60 times; and Jeremiah, 100 times! And the Lord Jesus quoted from at least 24 different Old Testament books – that's right, He just quoted.
In the mid-1700s Voltaire, one of the most influential writers of his day, held a copy of the Bible in his hand and stated that within 100 years from his time, Christianity would be swept from existence and would pass into history. What's hilarious is that merely 50 years after his death, the Geneva Bible Society used his house and press to print and distribute stacks of Bibles! They even made his house their headquarters! God has an incredible sense of humor!
Could You Write The Bible?
Say you were going to write a book, and this was how you had to write it: For a start find 40 different writers – totally different writers. Get some who are highly educated, even doctors – then get some farmers. Go dig a guy off a ranch somewhere and say, "I'd like you to help me write a book." Then find some fishermen. Go down to the wharf and find a couple of guys from San Francisco and say, "Hey! listen help me write a book." And they say, "Sure, fine… we'll help you." And then you get all of them to write on the following things: religion, poetry, ethics, science, philosophy, the creation of the universe and where it's going – and ask them to throw in a few things about where they think it will all end.
Next, you need to collect all that information, and then… oh, by the way, you have to separate these people so they can't communicate by phone or telegraph… only possibly word of mouth, passed down over the years. Ah yes, years… you collect all this stuff over about one and a half thousand years, and compile the whole thing in one book. What would you have? I know what you'd have – you'd have the most motley junk you've ever seen in your life, with people totally contradicting each other! I suggest you take a biology textbook from 60 years ago, and compare it with one today. And that's just 60 years! But that's not what you have when you read your Bible. The more you read this book, the more you see the incredible unity of it. Because the more you get into it, the more incredibly detailed it is, and you find there are not 40 people who wrote it, but One Person.
The Bible: Your Science Book
The Bible is scientifically accurate. The God of the Bible is the God who created the universe. True science and Scripture will always agree – they both have the same Author! No statement in the Scriptures is scientifically incorrect. Science can tabulate the "what," analyze the "how," and probe for the "why," but it can't tell us the "where from," nor the reason for which the universe exists. It can't say who you are or why you are here. It can tell us what we're able to do, but not what we ought to do.
At the same time the Bible was written, people thought the world was fiat and held up by three elephants. Big elephants. Someone asked, "What holds the world up?" Another said, "Three elephants." Then someone ventured to ask, "And what holds up the elephants??" Someone answered, "A big tortoise." And so the early sciences grew.
Now, listen to what God said. Remember, this wasn't written in the last hundred years, or even the last thousand. This comes from over 2500 years ago… "Have you not known? Have you not heard? … Have you not understood from the foundations of the earth? It is He that sits upon the circle of the earth." (Isaiah 40:21-22) The word "circle" is the word "sphere" in Hebrew. Also, "He stretches out the north over empty space, and hangs the earth on nothing." (Job 26:7) Well, so much for elephants!
There are many other astounding scientific facts in Scripture, presented centuries before it became part of man's "knowledge."
Argument Melts Down
"But the day of the Lord will come like a thief in which the heavens will pass away with a roar and the elements will be destroyed with intense heat, and the earth and its works will be burned up." (II Pet. 3:10)This very verse wasused nearly a century ago to prove that the Bible couldn't have been divinely inspired because, "How could there be a fire big enough to burn the whole world? Silly fisherman!" It took over two more generations for science to catch up to what God had spoken through Peter, that an atomic reaction could actually melt the basic building blocks of matter itself. God was prophesying how the world would end.
In fact, two verses later we find these words, "…the heavens will be destroyed by burning, and the elements will melt with intense heat!" (vs. 12)Do you know what the word "destroy" is? It's a Greek word that literally means to untie. That's an atomic physics statement from a fisherman! These and countless other examples show us how the Lord has hidden unsurpassed knowledge and wisdom in His Word.
Lots Of Lucky Guesses?
If there's one thing the Bible dares to do, that no other book in the world does, it's to accurately predict the future. God can arrange the situations and circumstances of history to bring about patterns laid down before the foundation of the world. The outline of many of these patterns is revealed in the Bible.
There are about 3,856 verses directly or indirectly concerned with prophecy in Scripture – about one verse in six tells of future events! God's challenge to the world is "Prove Me now – I am the Lord… I will speak, and the word that I speak shall come to pass." (See Jer. 28:9; Ezek. 12:25, 24:14)Buddhists, Confucianists, and Muslims have their own sacred writings, but in them the element of prophecy is obviously absent. The destruction of Tyre, the invasion of Jerusalem, the fall of Babylon and Rome – each were accurately predicted in the Bible and fulfilled to the smallest details.
In the brief life of Jesus alone we see over 300 fulfilled prophecies. The odds that these would all coincide by accident in one person are laughable. By the laws of chance, the conservative odds of even just 48 of those prophecies being fulfilled by one man are one in 10157. (That's 1 followed by 157 zeros!!!) Let me try to give you an idea of how immense this number is.
We'll take a very small object, let's say an electron. (Electrons are so small that if you lined them up, it would take 2½ quadrillionof them to equal one inch.) Now let's go back to our figure of 10157. If you tried to put this many electrons into a big pile, it would be 10,000,000,000 times lager than the universe as we know it – which scientists calculate to be 6,000,000,000 light-years across. (A light-year is the distance that light will travel in one year,moving at the speed of 186,000 miles per second.)
Now, take just one electron out and color it red. Stir it back into this pile for a hundred thousand years with all the others. Then blindfold a man and send him in to pick it out – first time! Impossible? These would be the same odds that one man would live and die according to only 48 of the prophecies about the Messiah, if it were only an accident. The Scriptures specifically predict events and happenings that are as modern as tomorrow's news release.
No Other Conclusion
You can put any test you like on this book and nothing is even in the same category, not even in the same class. It's not just a book – it is God who has spoken in history, and that's why He says that His word is "living and active and sharper than any two-edged sword"! (Heb. 4:12) Only the 66 books of the Scriptures bear this divine seal. No other work of man in any language even faintly resembles the intricate structure and design of the Bible. The fact remains – only an infinite mind could have devised this Book of books.
The Bible is a book with a universal message for all men. It's the only volume that a child and scholar may find equal delight in. Its simple, life-related principles can work in any country, transcending barriers of culture and race to bring peace, love, joy, and forgiveness. Only the Bible can make bad men good inside, transforming the rebel into the saint.
The greatest proof of the Bible is the difference its message can make in your life. If you haven't done so – will you ask God the Holy Spirit to reveal the truth of His power to your heart through its pages? But pray honestly, "God, I don't know if this is Your Word or not, but if it is and You can help me, please show Yourself to me as I read," and God will meet you in a living demonstration of His reality.
Let me quote from my former pastor Adrian Rogers:
Skeptics seem to think that the Bible is full of scientific errors. However, before an individual can make that assertion, they had better make sure they know both science and Scripture. You see, I have heard unbelievers state that the Bible is not a book of science, but a book of religion, which is basically true. It is not written to teach us about science, but to teach us about God. But the God of salvation and the God of creation are the same. Science doesn't take God by surprise. A close look at Scripture reveals that it is scientifically accurate.
Every now and then science may disagree with the Bible, but usually science just needs time to catch up. For example, in 1861 a French scientific academy printed a brochure offering 51 incontrovertible facts that proved the Bible in error. Today there is not a single reputable scientist who would support those supposed "facts," because modern science has disproved them all!
The ancients believed the earth was held up by Atlas, or resting on pillars, or even seated on the backs of elephants. But today we know the earth is suspended in space, a fact the Word of God records in Job 26:7: "He . . . hangeth the earth upon nothing." God revealed the facts of cosmology long before man had any idea of the truth.
For centuries man believed the earth was flat, but now we know the earth is a globe. The prophet Isaiah, writing 750 years before the birth of Christ, revealed that "God sitteth upon the circle of the earth" (Isaiah 40:22). The word translated here as "circle" was more commonly translated "sphere." In other words, Isaiah explained that the earth was a globe centuries before science discovered it.
When Ptolemy charted the heavens, he counted 1026 stars in the sky. But with the invention of the telescope man discovered millions and millions of stars, something that Jeremiah 33:22 revealed nearly three thousand years ago: "The host of heaven cannot be numbered." How did these men of God know the truth of science long before the rest of the world discovered it? They were moved by the Holy Spirit to write the truth. God's Word is not filled with errors. It is filled with facts, even scientific facts.
When the black plague was killing one quarter of Europe's population in the fourteenth century, it was the church, not science, that helped overcome the dread disease. The leaders in the church noticed the instructions given by the Lord to Moses in Leviticus 13:46: "All the days wherein the plague shall be in him he shall be defiled; he is unclean: he shall dwell alone; without the camp shall his habitation be." These early believers did not know microbiology or understand what germs were, but they could understand a clear teaching to quarantine someone who was sick. So they followed the Biblical dictum, quarantined those sick with the plague, and stopped it from spreading. The Bible had its science correct even before man discovered the truth! Don't accept the charge that the Bible is filled with scientific errors. Modern science seems determined to explain God away, and refuses to acknowledge any evidence of the supernatural. But the science of Scripture is one reason to accept the Bible as God's word. 

Francis Schaeffer has correctly argued:
The universe was created by an infinite personal God and He brought it into existence by spoken word and made man in His own image. When man tries to reduce [philosophically in a materialistic point of view] himself to less than this [less than being made in the image of God] he will always fail and he will always be willing to make these impossible leaps into the area of nonreason even though they don't give an answer simply because that isn't what he is. He himself testifies that this infinite personal God, the God of the Old and New Testament is there.
Instead of making a leap into the area of nonreason the better choice would be to investigate the claims that the Bible is a historically accurate book and that God created the universe and reached out to humankind with the Bible. Below is a piece of that evidence given by Francis Schaeffer concerning the accuracy of the Bible.
TRUTH AND HISTORY (chapter 5 of WHATEVER HAPPENED TO THE HUMAN RACE?, under footnote #94)
There is also a confirmation of what the Bible says concerning the Egyptian King Tirhakah who came up to oppose the Assyrians. Confirmation of his reality is typified by a sphinx-ram in the British Museum (British Museum Ref. B.B.1779). The small figure between the legs of the ram is a representation of King Tirhakah. The Bible says that when Sennacherib heard that Tirhakah, king of Eqypt, was coming to fight against him, he sent messengers to tell Hezekiah that help from Egypt would be of no use to him.
2 Kings 19:9, 10 9 Now the king heard concerning Tirhakah king of Cush, "Behold, he has set out to fight against you." So he sent messengers again to Hezekiah, saying,10 "Thus shall you speak to Hezekiah king of Judah: 'Do not let your God in whom you trust deceive you by promising that Jerusalem will not be given into the hand of the king of Assyria. (Isaiah 37:9-10 also says about the same thing.)
The date of Sennacherib's campaign in Palestine is 701 B.C., and something which has often puzzled historians is the role of Tirhakah, who was not king of Egypt and Ethiopia until 690 B.C. But the solution to this problem is simple. In 701 B.C. Tirhakah was only a prince at the side of his military brother, the new Pharaoh Shebitku, who sent Tirhakah with an army to help Hezekiah fend off the Assyrian advance. But the story in Kings and Isaiah does not end in 701 B.C. It carries right through to the death of Sennacherib in 681 B.C., which is nine years after Tirhakah had become king of Egypt and Ethiopia. In other words, the biblical narrative, from the standpoint of 681 B.C., mentions Tirhakah by the title he bore at that time (that is, 681 B.C.), not as he was in 701 B.C. This is still done today, using a man's title as he is known at the time of writing even it one is speaking of a previous time in his personal history.
Unaware of the the importance of these facts, and falling into wrong interpretations of some of Tirhakah's inscriptions, some Old Testament scholars have stumbled over each in their eagerness to diagnose historical errors in the Books of the Kings and Isaiah. But as the archaeological confirmation shows, they were quite mistaken. What is striking about these archaeological finds is the way they often converge; there is often not just one line of evidence but several in which the biblical account is confirmed. We do not have confirmation of every single detail in the biblical account, by any means. Nor do we need such total confirmation in view of the amount of evidence there is. To insist on confirmation at every point would be to treat the Bible in a prejudiced way, simply because it is the Bible. The fact that is a religious book does not mean that it cannot also be true when it deals with history.
Not all archaeological finds have a convergence of many different interrelated lines like these around the life of Hezekiah, but they are no less striking. For example, take the "ration tablets" discovered in the ruins of Bablyon. The Bible tells us that after the Assyrians had destroyed the nothern kingdom of Samaria (around 721 B.C.), the southern kingdom, Judah, survived for almost another 150 years until approximately 586 B.C. By this time Assyria, one of the greatest military powers of the ancient world, had been defeated by Bablyon, a neighboring state to the east. That was in 609 B.C. Four years later the Babylonian general, Nebuchadnezzar–then the crown prince–came west and completely defeated Necho II, king of Egypt, at the battle of Carchemish. As a result of this victory he laid claim to Judah, which had previously been in the sphere of influence of Egypt. King Jehoiakim of Judah thus now paid tribute to the Babylonians. The Bible tells us that Jehoiakim rebelled three years later: "During Jehoiakim's reign Nebuchadnezzar king of Bablyon invaded the land, and Jehoiakim became his vassal for three years. But then he changed his mind and rebelled against Nebuchnezzar" (II Kings 24:1).
The political background for this step can be understood from the Babylonian Chronicles (British Museum, Ref. 21946, records events from 597 B.C. down to 594). These were a compressed chronological summary of the principal events from the Babylonian court. There had been a crucial battle in 601 B.C. between the Egyptians and the Babylonians. This had left both sides weakened, and Jehoiakim took this opportunity to declare his independence of the Babylonian king. His independence, or rather Judah's independence, did not last long, for Jehoiakim himself died in 598 B.C., leaving his throne and the crisis to his son, Jehoiachin. Second Kings (II Kings 24:10-12, 17) tells us what happened:
10 At that time the servants of Nebuchadnezzar king of Babylon came up to Jerusalem, and the city was besieged. 11 And Nebuchadnezzar king of Babylon came to the city while his servants were besieging it, 12 and Jehoiachin the king of Judah gave himself up to the king of Babylon, himself and his mother and his servants and his officials and his palace officials. The king of Babylon took him prisoner in the eighth year of his reign. 17 And the king of Babylon made Mattaniah, Jehoiachin's uncle, king in his place, and changed his name to Zedekiah.
The story of Jehoiachin does not end there, however. The royal family were kept at the court of Nebuchadnezzar, and the Bible says that they , like other royal captives, were provided for by the king with rations of grain and oil (II Kings 25:27-30):
27 And in the thirty-seventh year of the exile of Jehoiachin king of Judah, in the twelfth month, on the twenty-seventh day of the month, Evil-merodach king of Babylon, in the year that he began to reign, graciously freed[a] Jehoiachin king of Judah from prison.28 And he spoke kindly to him and gave him a seat above the seats of the kings who were with him in Babylon. 29 So Jehoiachin put off his prison garments. And every day of his life he dined regularly at the king's table, 30 and for his allowance, a regular allowance was given him by the king, according to his daily needs, as long as he lived.
The records of these allowances referred to in the Bible were unearthed in excavations in Babylon in basement storerooms of the royal palace (in Staat-Liches Museum, East Berlin, Vorderas Abteilung; Babylon 28122 and 28126). These are known as the "ration tablets" and they record who received such "rations." In these, Jehoiachin is mentioned by name.
We also have confirmation of the Babylonian advance towards Judah in Nebuchadezzar's first campaign. Among the ruins of Lachish were discovered a number of ostraca. Ostraca are broken pieces of earthenware called postherds, which were used for writing on in ink. (The Lachish ostraca are in the Palestinian Archaeological Museum, Jerusalem.) These brief letters reveal the increasing tensions within the growing state of Judah and tie in well with the picture given in the Bible by the Book of Jeremiah the Prophet. In Ostracon VI, the princes are accused of "weakening our hands" (that is, discouraging the writers), which is the very phraseology used in the Bible by the Judean princes against Jeremiah. Also, the use of fire beacons for signaling is found in both Ostracon IV and Jeremiah 6:1, each using the same terminology.
These events took place around the year 600 B.C. Events we considered earlier in relation to the capture of Lachish by Sennacherib during the reign of Hezekiah were around the year 700 B.C.
The answer to find meaning in life is found in putting your faith and trust in Jesus Christ. The Bible is true from cover to cover and can be trusted.
Thank you again for your time and I know how busy you are.
Everette Hatcher, everettehatcher@gmail.com, http://www.thedailyhatch.org, cell ph 501-920-5733, Box 23416, LittleRock, AR 72221, United States

Canary Islands 2014: Harold Kroto and Richard Dawkins
__
Francis Schaeffer pictured below:
—
The Basis of Human Dignity by Francis Schaeffer
Richard Dawkins, founder of the Richard Dawkins Foundation for Reason and Science. Credit: Don Arnold Getty Images
—
Francis Schaeffer in 1984
Christian Manifesto by Francis Schaeffer
Francis Schaeffer in 1982
—-
Whatever Happened to the Human Race? Episode 1
—
—
–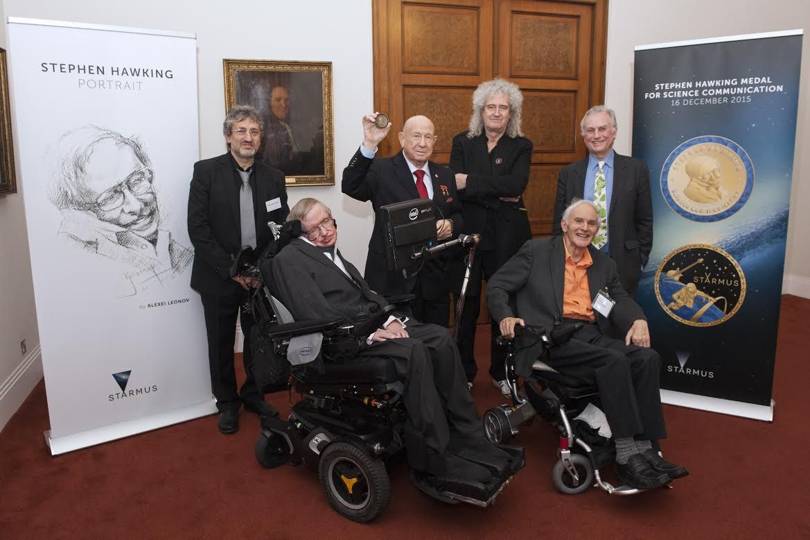 Garik Israelian, Stephen Hawking, Alexey Leonov, Brian May, Richard Dawkins and Harry Kroto
—-
—-
—-
—-
Featured artist is JR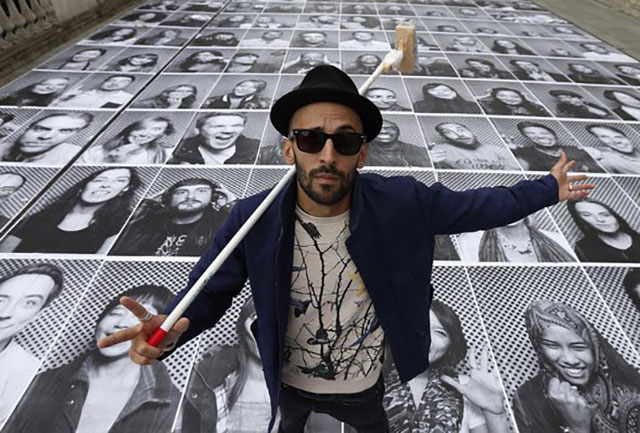 JR art is rebellious photography with an unconfirmed identity taking extreme risks to share his photographic perspective. The artist is recognized for his stunning portraits and street art.

In 2011, JR won the Ted Prize (an award for people with a creative, bold wish to change the world) and established the Inside Out Project. The prize awarded him $100 000 to support his project and JR sold an additional 6 photographs for $850 000 to allocate more funds to help aspiring local artists. JR continues to inspire and surpass those in his field.

He has an incredible sell-through rate of almost 80%, which provides him with around $600 000 annually.

—-
Related posts:
On November 21, 2014 I received a letter from Nobel Laureate Harry Kroto and it said: …Please click on this URL http://vimeo.com/26991975 and you will hear what far smarter people than I have to say on this matter. I agree with them. Harry Kroto _________________ Below you have picture of 1996 Chemistry Nobel Prize Winner […]
The Beatles were "inspired by the musique concrète of German composer and early electronic music pioneer Karlheinz Stockhausen…" as SCOTT THILL has asserted. Francis Schaeffer noted that ideas of "Non-resolution" and "Fragmentation" came down German and French streams with the influence of Beethoven's last Quartets and then the influence of Debussy and later Schoenberg's non-resolution which is in total contrast […]
_______ On November 21, 2014 I received a letter from Nobel Laureate Harry Kroto and it said: …Please click on this URL http://vimeo.com/26991975 and you will hear what far smarter people than I have to say on this matter. I agree with them. Harry Kroto _________________ Below you have picture of 1996 Chemistry Nobel Prize […]
On November 21, 2014 I received a letter from Nobel Laureate Harry Kroto and it said: …Please click on this URL http://vimeo.com/26991975 and you will hear what far smarter people than I have to say on this matter. I agree with them. Harry Kroto ____________________ Below you have picture of 1996 Chemistry Nobel Prize Winner Dr. […]