_
Bill Maher and Richard Dawkins
__
__
Dawkins interviews animal rights advocate Peter Singer. Francis Schaeffer discussed Singer's views in several of his books and I had the privilege of corresponding with Dr. Singer and have read several of his books.
February 25, 2019
Richard Dawkins c/o Richard Dawkins Foundation,
Washington, DC 20005
Dear Mr. Dawkins,
i have enjoyed reading about a dozen of your books and some of the most intriguing were The God Delusion, An Appetite for Wonder: The Making of a Scientist, and Brief Candle in the Dark: My Life in Science.
I wanted to comment on something you wrote in your book Science in the Soul: Selected Writings of a Passionate Rationalist, and here is the quote from page 331:

Practices such as branding cattle, castration without anaesthetic, and bullfighting should be treated as morally equivalent to doing the same thing to human beings.
Dr. John J. Shea appeared on the TV series APE MAN with Walter Cronkite back in the 1990's and claimed that there is only a degree of difference between monkeys and humans and not a categorical difference. After that program aired I had the opportunity to correspond with Dr. Shea and he was kind enough to send me a two page response to my questions. (This correspondence took place back in 1994 and 1995.)
Dr. Shea also suggested that I read SHADOWS OF FORGOTTEN ANCESTORS by Carl Sagan and his wife Ann Druyan, and I did so. Here are my thoughts on the question.
First, only humans lie in the sense we are held morally responsible. Sagan wrote, "Deception in the social relations of animals…is an emerging and productive topic in biology…" (p. 379). This may be true, but are animals responsible to God? I think not. Romans 3:23 teaches that "All MEN have sinned and fall short of the glory of God." Animals may deceive but they are not morally responsible.
Second, only men feel guilt. Sagan refers briefly to the fact that men feel guilt (p. 4.14), but he does not spend a lot of time on this. Romans 1:19 asserts, "For that which is known about God is evident to them and made plain in their inner consciousness, because God has show it to them" (Amplified Bible). Here Sagan turns to Thomas Henry Huxley who he quotes:
On all sides, I shall hear the cry–"We are men and women, not a mere better sort of apes, a little longer in the leg, more compact in the foot, and bigger in brain than your brutal Chimpanzees and Gorillas. The power of knowledge–the conscience of good and evil--the pitiful tenderness of human affections, raise us out of all real fellowship with the brutes, however, closely they may seem to approximate us."
To this I can reply that the exclamation would be just and would be most just and would have my entire sympathy, if it were only relevant. But, it is not I who seek to base Man's dignity upon this great toe, or insinuate that we are lost if an Ape has a hippocampus minor (in its brain). On the contrary, I have done my best to sweep away this vanity…
WHY DID SAGAN AND HUXLEY FACE SUCH A LARGE CHORUS THAT WAS OBJECTING TO THIS VIEW THAT WE DON'T HAVE A GOD-GIVEN CONSCIENCE? The answer is very simple and it deals with the consequences of Social Darwinism. Chuck Colson said that Larry King was not very impressed with his long talk on the historical accuracy of the scriptures, but when he touched on this subject things got interesting:
Larry King invited me to dinner. "I don't believe in God," Larry told me straight out. "But tell me why you believe." I responded, "Have you seen Woody Allen's movie CRIMES AND MISDEMEANORS?
Yes, he loved it, in fact. It's about a doctor who is haunted by GUILT after hiring a killer to murder his mistress. His Jewish father has taught him that God will surely bring justice. In the end the doctor suppresses his GUILT, convincing himself that LIFE IS AN DARWINIAN STRUGGLE WHERE ONLY THE RUTHLESS SURVIVE.
I asked Larry, "Is that our only choice–to be tormented by GUILT or else kill our conscience? Larry, how do you deal with your conscience?" He dropped his fork. I said, "What do you do with the GUILT that is in here? What do you do with what you know you have done wrong?
Then he was ready to listen. I went on and shared with him from Romans which teaches about the voice of conscience that God has given us.
__________
Third, men have a longing for significance which expresses itself most clearly in the fear of non being.
Fourth, I would point to the fact that only people worship.
Fifth, men are not satisfied unless they have their spiritual needs met. Carl Sagan quotes the poet Walt Whitman, "Not one (animal) is dissatisfied…Not one is respectable or unhappy over the whole earth…" Sagan comments, "On this basis of the evidence presented in this book, we doubt if any of Whitman's six purported differences between other animals and humans is true…" (p. 389).
I read Sagan's book cover to cover and made over 15 pages of notes, and I have yet to find any of the "evidence" that Sagan speaks of on page 389. I find the comments of NOAM CHOMSKY more logical. He calls animal language an "evolutionary miracle" akin to "finding an island of humans who could be taught to fly."
I like Francis Schaeffer's term "Mannishness" of man. He defines it as those aspects of man, such as significance, love, rationality and the fear of non being, which mark him off from animals and machines and give evidence of his being created in the image of a personal God.
The scientist Blaise Pascal is quoted by Sagan on page 364 and then Sagan notes, "Most of the philosophers adjudged great in the history of western thought held that humans are fundamentally different from other animals…"
As you know Pascal was the inventor of the barometer and he lived from 1623 to 1662. Pascal also observed, "There is a God-shaped vacuum in the heart of every man,and only God can fill it."
What is the solution? "For God so loved the world that He gave his one and only Son, that whoever believes in him should not perish but have eternal life" (John 3:16). The scriptural directive is not for us to work harder to achieve God's favor (Romans 3:20), but to accept God's mercy through our repentance and receiving Christ as a free gift (Ephesians 2:8-10).
Is the Bible historically accurate? Here are some of the posts I have done in the past on the subject: 1. The Babylonian Chronicle, of Nebuchadnezzars Siege of Jerusalem, 2. Hezekiah's Siloam Tunnel Inscription. 3. Taylor Prism (Sennacherib Hexagonal Prism), 4. Biblical Cities Attested Archaeologically. 5. The Discovery of the Hittites, 6.Shishak Smiting His Captives, 7. Moabite Stone, 8. Black Obelisk of Shalmaneser III, 9A Verification of places in Gospel of John and Book of Acts., 9B Discovery of Ebla Tablets. 10. Cyrus Cylinder, 11. Puru "The lot of Yahali" 9th Century B.C.E., 12. The Uzziah Tablet Inscription, 13. The Pilate Inscription, 14. Caiaphas Ossuary, 14 B Pontius Pilate Part 2, 14c. Three greatest American Archaeologists moved to accept Bible's accuracy through archaeology.,
The answer to find meaning in life is found in putting your faith and trust in Jesus Christ. The Bible is true from cover to cover and can be trusted.
Thank you again for your time and I know how busy you are.
Everette Hatcher, everettehatcher@gmail.com, http://www.thedailyhatch.org, cell ph 501-920-5733, Box 23416, LittleRock, AR 72221, United States

__
Francis and Edith Schaeffer at their home in Switzerland with some visiting friends
__
Schaeffer with his wife Edith in Switzerland.
Richard Dawkins and John Lennox
_
_
_
Dawkins, Hitchens, Dennett, Harris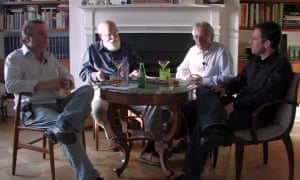 Canary Islands 2014: Harold Kroto and Richard Dawkins
__
Francis Schaeffer pictured below:
—
The Basis of Human Dignity by Francis Schaeffer
Richard Dawkins, founder of the Richard Dawkins Foundation for Reason and Science. Credit: Don Arnold Getty Images
—
Francis Schaeffer in 1984
Christian Manifesto by Francis Schaeffer
Francis Schaeffer in 1982
—-
Whatever Happened to the Human Race? Episode 1
—
—
–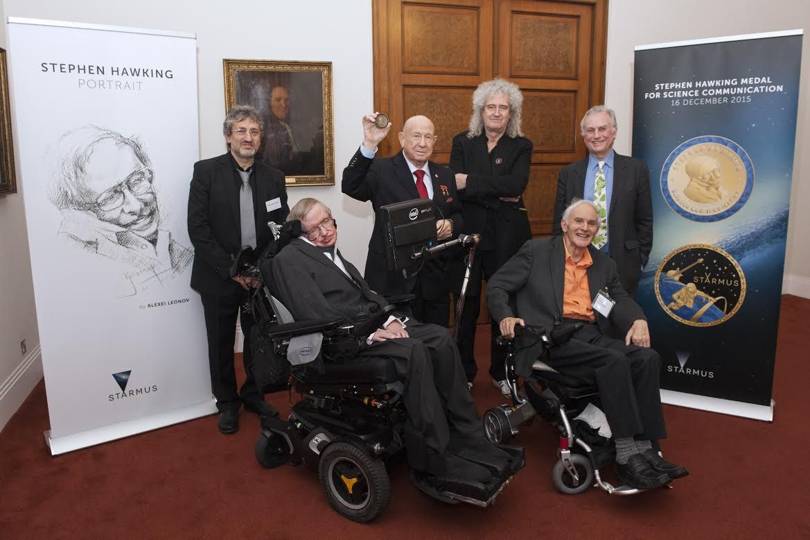 Garik Israelian, Stephen Hawking, Alexey Leonov, Brian May, Richard Dawkins and Harry Kroto
—-
—-
—-
—-
Featured artist is Leon Kossoff
Leon Kossoff in his studio © Roland Randall
The UK artist Leon Kossoff has died aged 92 after a brief illness. His gallery, London's Annely Juda Fine Art, confirms the news. "He saw beauty in everything and in everybody," the gallery says in a statement. One of the most important 20th-century British artists, he was part of the School of London along with other figurative painters including Lucian Freud and Frank Auerbach.
Known for his cityscapes of London, Kossoff was born in the city in 1926 to Russian immigrant parents, the second of seven children, and grew up in the East End. "My father struggled to support us working as a baker, there wasn't much culture in that world and artists were considered wastrels," he told Kristine McKenna in a 1993 interview for the Los Angeles Times. One major formative moment was a visit aged nine to the National Gallery in London, where he saw Rembrandt's painting A Woman Bathing in a Stream (around 1654).
"I don't know what struck me about it because none of the other paintings in the National Gallery where I saw it interested me at all," he said. "But somehow that painting opened up a whole world to me—not a world of painting so much as a way of feeling about life that I hadn't experienced before."
Leon Kossoff's Children's Swimming Pool, 11 o'clock Saturday Morning, August 1969Photo courtesy of the Lewis Collection. © the Leon Kossoff Estate
Kossoff was evacuated in 1939 to Norfolk during the Second World War, and was also influenced by the work of the East Anglican watercolourists he saw there. He later served in the Jewish Infantry Brigade Group in Italy, Belgium and the Netherlands, and went on to enroll in Central Saint Martins in London in 1949, where he met Frank Auerbach. He also studied with David Bomberg at the Borough Polytechnic and at the Royal College of Art. He began showing at Helen Lessore's Beaux Arts Gallery in 1956.
Kossoff worked in a very thickly impasto style in a muted, somewhat sombre palette. He returned to familiar subjects throughout his career, like Christ Church in Spitalfields and Kilburn tube station, as well as making works with Old Masters such as Nicholas Poussin and his early inspiration as a jumping-off point and portraits of those close to him. "His lyrical paintings of swimming pools, city churches, railway junctions, underground stations and back gardens testify to his delight in the world around him—a world full of change, loss, survival and renewal, all of which he orchestrates into paintings of extraordinary density and feeling," Annely Juda Fine Art says in a statement. "So too with his paintings of people—friends, family, nudes and Londoners going about their ordinary business—all brought to life through Kossoff's vivid and energetic handling of paint."
Kossoff represented Britain at the 1995 Venice Biennale. The following year, he had a major retrospective at the Tate in London. He has shown at institutions including the National Gallery and Whitechapel in London; the Los Angeles County Museum of Art and the J. Paul Getty Museum in Los Angeles; the Museum of Modern Art in New York; the Lousiana Museum of Modern art in Humlebæk; the Kunstmuseum Luzern; the Düsseldorf Kunstverein and the Stedelijk Museum in Amsterdam. He also taught at the Regent Street Polytechnic and the Chelsea School of Art. Most recently, Kossoff had a solo exhibition, A London Life, at Piano Nobile gallery in London, which closed in May.
"His death robs us of one of Britain's greatest painters, but his work reminds us of the continuing potency of painting to comprehend the world in which we live," Annely Juda Fine Art says.
—-
Related posts:
On November 21, 2014 I received a letter from Nobel Laureate Harry Kroto and it said: …Please click on this URL http://vimeo.com/26991975 and you will hear what far smarter people than I have to say on this matter. I agree with them. Harry Kroto _________________ Below you have picture of 1996 Chemistry Nobel Prize Winner […]
The Beatles were "inspired by the musique concrète of German composer and early electronic music pioneer Karlheinz Stockhausen…" as SCOTT THILL has asserted. Francis Schaeffer noted that ideas of "Non-resolution" and "Fragmentation" came down German and French streams with the influence of Beethoven's last Quartets and then the influence of Debussy and later Schoenberg's non-resolution which is in total contrast […]
_______ On November 21, 2014 I received a letter from Nobel Laureate Harry Kroto and it said: …Please click on this URL http://vimeo.com/26991975 and you will hear what far smarter people than I have to say on this matter. I agree with them. Harry Kroto _________________ Below you have picture of 1996 Chemistry Nobel Prize […]
On November 21, 2014 I received a letter from Nobel Laureate Harry Kroto and it said: …Please click on this URL http://vimeo.com/26991975 and you will hear what far smarter people than I have to say on this matter. I agree with them. Harry Kroto ____________________ Below you have picture of 1996 Chemistry Nobel Prize Winner Dr. […]