_
Bill Maher and Richard Dawkins
__
__
__
Francis and Edith Schaeffer at their home in Switzerland with some visiting friends
__
Schaeffer with his wife Edith in Switzerland.
–
January 15, 2019
Richard Dawkins c/o Richard Dawkins Foundation, 1012 14th Street NW, Suite 209
Washington, DC 20005
Dear Mr. Dawkins,
i have enjoyed reading about a dozen of your books and some of the most intriguing were The God Delusion, An Appetite for Wonder: The Making of a Scientist, and Brief Candle in the Dark: My Life in Science.
I wanted to comment on something you wrote in your book Science in the Soul: Selected Writings of a Passionate Rationalist, and here is the quote:
I have come so far with scarcely a mention of Charles Darwin.His life spanned most of the nineteenth
century, and he died with every right to be satisfied that he had cured humanity of its greatest and grandest
illusion. Darwin brought life itself within the pale of the explicable. No longer a baffling mystery demanding
supernatural explanation, life, with the complexity and elegance that defines it, grows and gradually emerges,
by easily understood rules, from simple beginnings. Darwin's legacy to the twentieth century was to demystify
the greatest mystery of all.
WAS DARWIN SATISFIED WITH THEORY?
A letter to Sir J. D. Hooker, June 17, 1868, which repeats to some extent what is given in the Autobiography:—
"I am glad you were at the Messiah, it is the one thing that I should like to hear again, but I dare say I should find my soul too dried up to appreciate it as in old days; and then I should feel very flat, for it is a horrid bore to feel as I constantly do, that I am a withered leaf for every subject except Science. It sometimes makes me hate Science, though God knows I ought to be thankful for such a perennial interest, which makes me forget for some hours every day my accursed stomach.'
Francis Schaeffer summarized:
So he is glad for science because his stomach bothers him, but on the other hand when I think of what it costs me I almost hate science. You can almost hear young Jean-Jacques Rousseau speaking here, he sees what the machine is going to do and he hates the machine and Darwin is constructing the machine and it leads as we have seen to his own loss of human values in the area of aesthetics, the area of art and also in the area of nature. This is what it has cost him. His theory has led him to this place. When you come to this then it seems to me that you understand man's dilemma very, very well, to think of the origin of the theory of mechanical evolution bringing Darwin himself to the place of this titanic tension.
XXXXXXXXXXXXXXXXXXXXXXXXXX
Summary of Schaeffer Analysis
Darwin in his autobiography ( Darwin, Francis ed. 1892. Charles Darwin: his life told in an autobiographical chapter, and in a selected series of his published letters [abridged edition]. London: John Murray. ) and in his letters Darwin showed that all through his life he never really came to a quietness concerning the possibility that chance really explained the situation of the biological world. You will find there is much material on this [from Darwin] extended over many many years that constantly he was wrestling with this problem. Darwin never came to a place of satisfaction. You have philosophically only two possible beginnings. The first would be apersonal beginning and the other would be an impersonal beginning plus time plus chance. There is no other possible alternative except the alternative that everything comes out of nothing and that has to be a total nothing and that has to be a total nothing without mass, energy or motion existing. No one holds this last view because it is unthinkable. Darwin understood this and therefore until his death he was uncomfortable with the idea of chance producing the biological variation.
The answer to find meaning in life is found in putting your faith and trust in Jesus Christ. The Bible is true from cover to cover and can be trusted.
Thank you again for your time and I know how busy you are.
Everette Hatcher, everettehatcher@gmail.com, http://www.thedailyhatch.org, cell ph 501-920-5733, Box 23416, LittleRock, AR 72221, United States
Richard Dawkins and John Lennox
_
_
_
Dawkins, Hitchens, Dennett, Harris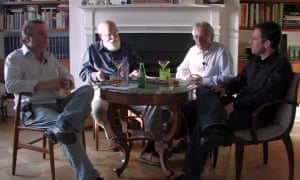 Canary Islands 2014: Harold Kroto and Richard Dawkins
__
Francis Schaeffer pictured below:
—
The Basis of Human Dignity by Francis Schaeffer
Richard Dawkins, founder of the Richard Dawkins Foundation for Reason and Science. Credit: Don Arnold Getty Images
—
Francis Schaeffer in 1984
Christian Manifesto by Francis Schaeffer
Francis Schaeffer in 1982
—-
Whatever Happened to the Human Race? Episode 1
—
—
–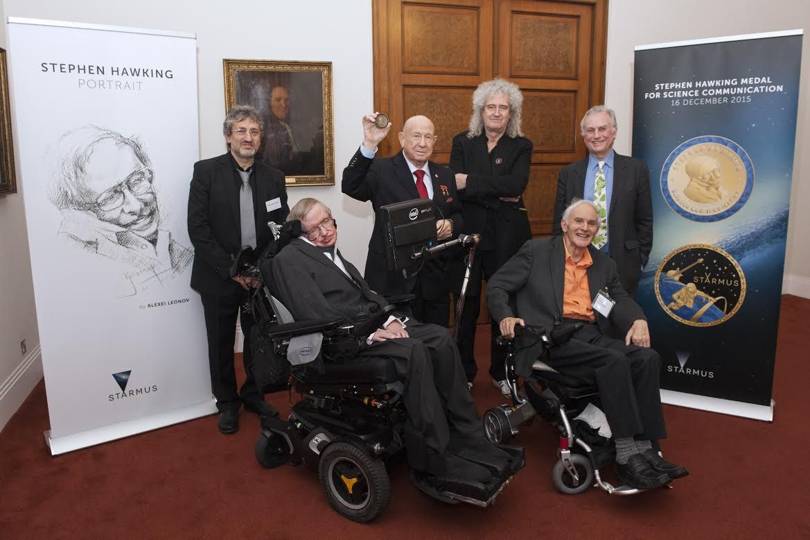 Garik Israelian, Stephen Hawking, Alexey Leonov, Brian May, Richard Dawkins and Harry Kroto
—-
—-
—-
—-
Featured artist is Katharina Grosse
Katharina Grosse: Painting with Color | ART21 "Exclusive"
Katharina Grosse was born in 1961 in Freiburg/Breisgau, Germany. Grosse is a painter who often employs electrifying sprayed acrylic colors to create large-scale sculptural environments and smaller wall works. Interested in the shifts of scale between 'imagining big' while being small in relationship to one's surroundings, she explores the dynamic interplay between observing the world and simply being in it. By uniting a fluid perception of landscape with the ordered hierarchy of painting, Grosse treats both architecture and the natural world as an armature for expressive compositions of dreamy abandon, humorous juxtaposition, and futuristic flair.
Her projects often suggest complex narratives through the inclusion of everyday objects, psychedelic vistas, and evocative titles. By building up layers of color with an expressive immediacy, she enables her work to become a material record of its own making and, perhaps, an inscription of her thoughts. But, Grosse says, "I am the painting trickster. Don't believe me!"
Katharina Grosse studied at the Kunstakademie Düsseldorf, where she currently teaches, having previously been a professor at Kunsthochschule Berlin-Weissensee (2000–10). Among the honors she has received are the Oskar Schlemmer Prize (2014); Fred-Thieler-Preis (2003); Stipendiaten der Stiftung Kunstfonds (1995); Schmidt-Rottluff-Stipendium (1993); and the Villa-Romana-Stipendium, Florence (1992).
Major exhibitions of Grosse's work have appeared at Public Art Fund (2013); Nasher Sculpture Center (2013); De Pont Museum of Contemporary Art, Netherlands (2013); MOCA Cleveland (2012); Mass MoCA (2010); Arken—Museum for Moderne Kunst, Copenhagen (2009); Prospect New Orleans (2008); Renaissance Society (2007); De Appel, Amsterdam (2006); Contemporary Art Center, Cincinnati (2006); Taipei Biennial (2006); Bergen Kunsthall (2005); Magasin 3 Stockholm Konsthall (2004); Contemporary Arts Museum Houston (2004); São Paulo Bienal (2002); and the Hammer Museum (2001), among others. Katharina Grosse lives and works in Berlin, Germany.
Links:
Artist's website
Katharina Grosse: Just Two of Us, Public Art Fund, New York
—-
Related posts:
On November 21, 2014 I received a letter from Nobel Laureate Harry Kroto and it said: …Please click on this URL http://vimeo.com/26991975 and you will hear what far smarter people than I have to say on this matter. I agree with them. Harry Kroto _________________ Below you have picture of 1996 Chemistry Nobel Prize Winner […]
The Beatles were "inspired by the musique concrète of German composer and early electronic music pioneer Karlheinz Stockhausen…" as SCOTT THILL has asserted. Francis Schaeffer noted that ideas of "Non-resolution" and "Fragmentation" came down German and French streams with the influence of Beethoven's last Quartets and then the influence of Debussy and later Schoenberg's non-resolution which is in total contrast […]
_______ On November 21, 2014 I received a letter from Nobel Laureate Harry Kroto and it said: …Please click on this URL http://vimeo.com/26991975 and you will hear what far smarter people than I have to say on this matter. I agree with them. Harry Kroto _________________ Below you have picture of 1996 Chemistry Nobel Prize […]
On November 21, 2014 I received a letter from Nobel Laureate Harry Kroto and it said: …Please click on this URL http://vimeo.com/26991975 and you will hear what far smarter people than I have to say on this matter. I agree with them. Harry Kroto ____________________ Below you have picture of 1996 Chemistry Nobel Prize Winner Dr. […]