_
Bill Maher and Richard Dawkins
__
__
__
Francis and Edith Schaeffer at their home in Switzerland with some visiting friends
__
Schaeffer with his wife Edith in Switzerland.
Richard Dawkins and John Lennox
_
_
_
Dawkins, Hitchens, Dennett, Harris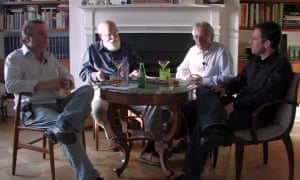 Canary Islands 2014: Harold Kroto and Richard Dawkins
__
Francis Schaeffer pictured below:
—
The Basis of Human Dignity by Francis Schaeffer
Richard Dawkins, founder of the Richard Dawkins Foundation for Reason and Science. Credit: Don Arnold Getty Images
January 1, 2019
Richard Dawkins c/o Richard Dawkins Foundation,
Washington, DC 20005
Dear Mr. Dawkins,
i have enjoyed reading about a dozen of your books and some of the most intriguing were The God Delusion, An Appetite for Wonder: The Making of a Scientist, and Brief Candle in the Dark: My Life in Science.
I wanted to comment on something you wrote in your book Science in the Soul: Selected Writings of a Passionate Rationalist, and here is the quote from the chapter "Speaking up for science: an open letter to Prince Charles":
It may sound paradoxical, but if we want to sustain the planet into the future, the first thing we must do is stop taking advice from nature. Nature is a short-term Darwinian profiteer. Darwin himself said it: 'What a book a devil's chaplain might write on the clumsy, wasteful, blundering, low, and horridly cruel works of nature.'
Of course that's bleak, but there's no law saying the truth has to be cheerful; no point shooting the messenger – science – and no sense in preferring an alternative world view just because it feels more comfortable.
In any case, SCIENCE ISN'T ALL BLEAK. Nor, by the way, is science an arrogant know-all. Any scientist worthy of the name will warm to your quotation from Socrates: 'Wisdom is knowing that you don't know.' What else drives us to find out?
I would differ with your view that atheistic science isn't all bleak. I wrote a letter a while back that addressed the Optimistic Humanism that you embrace and here it is:
May 24, 2016
Professor John Mark Elvin,
Dear Dr. Elvin,
I know that your father was active in the BRITISH HUMANIST ASSOCIATION and that he was longtime friends with H.J. Blackham. Blackham was the founder of the BRITISH HUMANIST ASSOCIATION and he asserted:
"On humanist assumptions, life leads to nothing, and every pretense that it does not is a deceit. If there is a bridge over a gorge which spans only half the distance and ends in mid-air, and if the bridge is crowded with human beings pressing on, one after the other they fall into the abyss. The bridge leads nowhere, and those who are pressing forward to cross it are going nowhere….It does not matter where they think they are going, what preparations for the journey they may have made, how much they may be enjoying it all. The objection merely points out objectively that such a situation is a model of futility"( H. J. Blackham, et al., Objections to Humanism (Riverside, Connecticut: Greenwood Press, 1967).
Lionel Elvin (7 August 1905 in Buckhurst Hill – 14 June 2005 in Cambridge)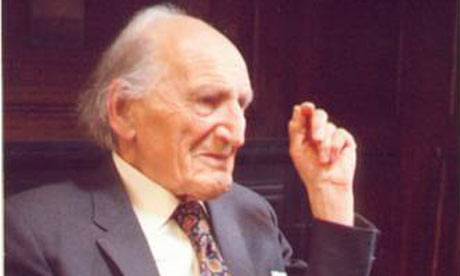 Harold J. Blackham (1903-2009) pictured above
On John Ankerberg's show in 1986 there was a debate between Dr. Paul Kurtz, and Dr. Norman Geisler and when part of the above quote was read, Dr. Kurtz responded:
I think you may be quoting Blackham out of context because I've heard Blackham speak, and read much of what he said, but Blackham has argued continuously that life is full of meaning;
I just finished reading the online addition of the book Darwin, Francis ed. 1892. Charles Darwin: his life told in an autobiographical chapter, and in a selected series of his published letters [abridged edition]. London: John Murray. There are several points that Charles Darwin makes in this book that were very wise, honest, logical, shocking and some that were not so wise. The Christian Philosopher Francis Schaeffer once said of Darwin's writings, "Darwin in his autobiography and in his letters showed that all through his life he never really came to a quietness concerning the possibility that chance really explained the situation of the biological world. You will find there is much material on this [from Darwin] extended over many many years that constantly he was wrestling with this problem."
In your interview with Alan Macfarlane I saw that your father was involved in Paris with UNESCO. Wikipedia says of Julian Huxley:
Huxley, a lifelong internationalist with a concern for education, got involved in the creation of the United Nations Educational, Scientific and Cultural Organization (UNESCO), and became the organization's first Director-General in 1946. His term of office, six years in the Charter, was cut down to two years at the behest of the USA delegation.[15] The reasons are not known for sure, but his left-wing tendencies and humanism were likely factors. In a fortnight he dashed off a 60-page booklet on the purpose and philosophy of UNESCO, eventually printed and issued as an official document. There were, however, many conservative opponents of his scientific humanism. His idea of restraining population growth with birth control was anathema to both the Catholic Church and the Comintern/Cominform. In its first few years UNESCO was dynamic and broke new ground; since Huxley it has become larger, more bureaucratic and stable.[16][17] The personal and social side of the years in Paris are well described by his wife.[18]
I was curious if either your father or you got to meet Julian Huxley?
Recently I ran across this quote from you from that excellent in-depth interview you did with Alan Macfarlane :
I was puzzled by the fact that I was told nonsense, not just something I might not agree with, but nonsense. This was nonsense, and the contrast fascinated me and I was already about age eleven and in some way you could say someone who took as his guide Bertrand Russell's work that was accessible to me beginning with his popular essays.
You mentioned in your quote the Nobel Prize winner Bertrand Russell. Like you I have read much of his material concerning the existence of God. One quote really stands out to me and here it is:
That Man is the product of causes which had no prevision of the end they were achieving; that his origin, his growth, his hopes and fears, his loves and his beliefs, are but the outcome of accidental collocations of atoms; …that all the labors of the ages, all the devotion, all the inspiration, all the noonday brightness of human genius, are destined to extinction in the vast death of the solar system, and that the whole temple of Man's achievement must inevitably be buried beneath the debris of a universe in ruins—all these things, if not quite beyond dispute, are yet so nearly certain, that no philosophy which rejects them can hope to stand. Bertrand Russell
This nihilistic quote seems to go against what he saying at other times in his life and that was he advocated evolutionary optimistic humanism and even in the 19th century Charles Darwin in his autobiography was touting the same product then!!!!!
When I read the book Charles Darwin: his life told in an autobiographical chapter, and in a selected series of his published letters, I also read a commentary on it by Francis Schaeffer and I wanted to both quote some of Charles Darwin's own words to you and then include the comments of Francis Schaeffer on those words. I have also enclosed a CD with two messages from Adrian Rogers and Bill Elliff concerning Darwinism.
Francis Darwin noted, "passages which here follow are extracts, somewhat abbreviated, from a part of the Autobiography, written in 1876, in which my father gives the history of his religious views:"
"Believing as I do that man in the distant future will be a far more perfect creature than he now is,"
Bertrand Russell (18 May 1872 – 2 February 1970) pictured below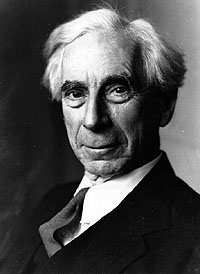 __
__
Charles Darwin
T. H. Huxley with Julian in 1893
Julian and Aldous Huxley
FRANCIS SCHAEFFER COMMENTED:
Now you have now the birth of Julian Huxley's evolutionary optimistic humanism already stated by Darwin. Darwin now has a theory that man is going to be better. If you had lived at 1860 or 1890 and you said to Darwin, "By 1970 will man be better?" He certainly would have the hope that man would be better as Julian Huxley does today. Of course, I wonder what he would say if he lived in our day and saw what has been made of his own views in the direction of (the mass murder) Richard Speck (and deterministic thinking of today's philosophers). I wonder what he would say. So you have the factor, already the dilemma in Darwin that I pointed out in Julian Huxley and that is evolutionary optimistic humanism rests always on tomorrow. You never have an argument from the present or the past for evolutionary optimistic humanism.
You can have evolutionary nihilism on the basis of the present and the past. Every time you have someone bringing in evolutionary optimistic humanism it is always based on what is going to be produced tomorrow. When is it coming? The years pass and is it coming? Arthur Koestler doesn't think it is coming. He sees lots of problems here and puts forth for another solution.
In Darwin's 1876 Autobiography he noted:
"…it is an intolerable thought that he and all other sentient beings are doomed to complete annihilation after such long-continued slow progress. To those who fully admit the immortality of the human soul, the destruction of our world will not appear so dreadful."
Francis Schaeffer commented:
Here you feel Marcel Proust and the dust of death is on everything today because the dust of death is on everything tomorrow. Here you have the dilemma of Nevil Shute's ON THE BEACH. If it is true that all we have left is biological continuity and increased biological complexity, which is all we have left in Darwinism here, or with many of the modern philosophers, then you can't stand Shute's ON THE BEACH. Maybe tomorrow at noon human life may be wiped out. Darwin already feels the tension, because if human life is going to be wiped out tomorrow, what is it worth today? Darwin can't stand the thought of death of all men. Charlie Chaplin when he heard there was no life on Mars said, "I'm lonely."
You think of the Swedish Opera (ANIARA) that is pictured inside a spaceship. There was a group of men and women going into outer space and they had come to another planet and the singing inside the spaceship was normal opera music. Suddenly there was a big explosion and the world had blown up and these were the last people left, the only conscious people left, and the last scene is the spaceship is off course and it will never land, but will just sail out into outer space and that is the end of the plot. They say when it was shown in Stockholm the first time, the tough Swedes with all their modern mannishness, came out (after the opera was over) with hardly a word said, just complete silence.
Darwin already with his own position says he CAN'T STAND IT!! You can say, "Why can't you stand it?" We would say to Darwin, "You were not made for this kind of thing. Man was made in the image of God. Your CAN'T- STAND- IT- NESS is screaming at you that your position is wrong. Why can't you listen to yourself?"
You find all he is left here is biological continuity, and thus his feeling as well as his reason now is against his own theory, yet he holds it against the conclusions of his reason. Reason doesn't make it hard to be a Christian. Darwin shows us the other way. He is holding his position against his reason.
____________
These words of Darwin ring in my ear, "…it is an intolerable thought that he and all other sentient beings are doomed to complete annihilation after such long-continued slow progress…" . Schaeffer rightly noted, "Maybe tomorrow at noon human life may be wiped out. Darwin already feels the tension, because if human life is going to be wiped out tomorrow, what is it worth today? Darwin can't stand the thought of death of all men." IN OTHER WORDS ALL WE ARE IS DUST IN THE WIND. I sent you a CD that starts off with the song DUST IN THE WIND by Kerry Livgren of the group KANSAS which was a hit song in 1978 when it rose to #6 on the charts because so many people connected with the message of the song. It included these words, "All we do, crumbles to the ground though we refuse to see, Dust in the Wind, All we are is dust in the wind, Don't hang on, Nothing lasts forever but the Earth and Sky, It slips away, And all your money won't another minute buy."
Kerry Livgren himself said that he wrote the song because he saw where man was without a personal God in the picture. Solomon pointed out in the Book of Ecclesiastes that those who believe that God doesn't exist must accept three things. FIRST, death is the end and SECOND, chance and time are the only guiding forces in this life. FINALLY, power reigns in this life and the scales are never balanced. The Christian can face death and also confront the world knowing that it is not determined by chance and time alone and finally there is a judge who will balance the scales.
Both Kerry Livgren and the bass player Dave Hope of Kansas became Christians eventually. Kerry Livgren first tried Eastern Religions and Dave Hope had to come out of a heavy drug addiction. I was shocked and elated to see their personal testimony on The 700 Club in 1981 and that same interview can be seen on You Tube today. Livgren lives in Topeka, Kansas today where he teaches "Diggers," a Sunday school class at Topeka Bible Church. DAVE HOPE is the head of Worship, Evangelism and Outreach at Immanuel Anglican Church in Destin, Florida.
The answer to find meaning in life is found in putting your faith and trust in Jesus Christ. The Bible is true from cover to cover and can be trusted.
Thank you again for your time and I know how busy you are.
Everette Hatcher, everettehatcher@gmail.com, http://www.thedailyhatch.org, cell ph 501-920-5733, Box 23416, LittleRock, AR 72221, United States

—
Francis Schaeffer in 1984
Christian Manifesto by Francis Schaeffer
Francis Schaeffer in 1982
—-
Whatever Happened to the Human Race? Episode 1
—
—
–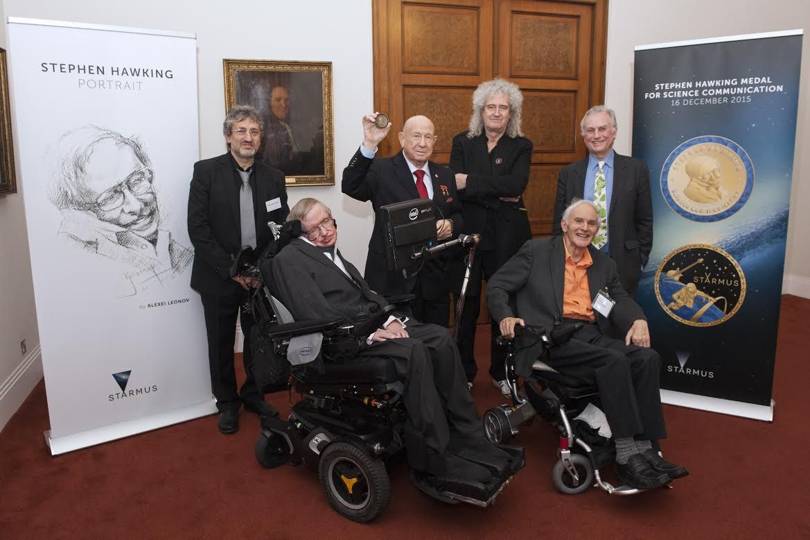 Garik Israelian, Stephen Hawking, Alexey Leonov, Brian May, Richard Dawkins and Harry Kroto
—-
—-
—-
—-
Featured artist is Daniel Gordon
Daniel Gordon Gets Physical | "New York Close Up" | Art21
Daniel Gordon was born in 1980 in Boston, Massachusetts, was raised in San Francisco, California, and lives and works in New York. Described in a 2014 New Yorker review as an artist who "makes Matisse look like a minimalist," Gordon creates works that dissolve distinctions between collage, photography, and sculpture.
His practice involves culling images from the Internet, digitally altering them, and using them to construct tableaus, which he then photographs. Propelled by intuition and Photoshop, Gordon expands the traditional visual repertoire to include the World Wide Web. His ability to integrate digital and analog images creates a joyful disorientation in which fiction and truth are indistinguishable from each other.
Links:
Artist's website
—-
Related posts:
On November 21, 2014 I received a letter from Nobel Laureate Harry Kroto and it said: …Please click on this URL http://vimeo.com/26991975 and you will hear what far smarter people than I have to say on this matter. I agree with them. Harry Kroto _________________ Below you have picture of 1996 Chemistry Nobel Prize Winner […]
The Beatles were "inspired by the musique concrète of German composer and early electronic music pioneer Karlheinz Stockhausen…" as SCOTT THILL has asserted. Francis Schaeffer noted that ideas of "Non-resolution" and "Fragmentation" came down German and French streams with the influence of Beethoven's last Quartets and then the influence of Debussy and later Schoenberg's non-resolution which is in total contrast […]
_______ On November 21, 2014 I received a letter from Nobel Laureate Harry Kroto and it said: …Please click on this URL http://vimeo.com/26991975 and you will hear what far smarter people than I have to say on this matter. I agree with them. Harry Kroto _________________ Below you have picture of 1996 Chemistry Nobel Prize […]
On November 21, 2014 I received a letter from Nobel Laureate Harry Kroto and it said: …Please click on this URL http://vimeo.com/26991975 and you will hear what far smarter people than I have to say on this matter. I agree with them. Harry Kroto ____________________ Below you have picture of 1996 Chemistry Nobel Prize Winner Dr. […]