I have posted so many reviews on Woody Allen's latest movie CAFE SOCIETY and I even posted an open letter I wrote to Woody Allen about the film. A serious theme of the afterlife is brought up in this film too. Some reviewers liked the film and the lavish surroundings in it and some did not. Below is another review.
Jesse Eisenberg is suitably jittery as the director's alter ego, but it's Kristen Stewart's naturalism that carries the movie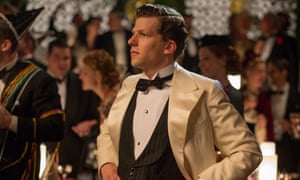 From the reassuring chug of Woody Allen's trademark trad jazz score toJesse Eisenberg's disconcertingly accurate channelling of the director's jittery introspection, this handsome, nostalgia-sodden romance feels rather familiar. But just when you are about to dismiss the picture as pure cappuccino froth, the bittersweet bite kicks in. It's not in the same league as Allen's finest work, but nor is it a honking misfire like Magic in the Moonlight.
Eisenberg plays Bobby Dorfman, the son of a Bronx jeweller who decides to try his luck in Hollywood. His one industry connection, his uncle Phil (Steve Carell), is a high-powered agent who takes a liking to his nephew. It's through Uncle Phil that Bobby meets Vonnie (Kristen Stewart), Phil's secretary. Bobby is smitten, but Vonnie tactfully keeps him at arm's length until, dumped by her boyfriend, she turns to him for comfort. The 1930s setting – Hollywood and New York are sketched with crisp, immaculately tailored art deco lines – is one of the film's main assets. Allen increasingly seems more at ease with a story that pays tribute to a past era of cinema than one that is wholly contemporary. Another plus is Stewart, whose low-key naturalism draws us in and brings Vonnie to the very heart of the film. However, in contrast to the effortlessly elegant backdrop, a Bronx-accented narration is gratingly crude and unnecessary – like dipping a donut into a perfectly mixed martini.
Café Society Official International Trailer #1 (2016) – Jesse Eisenberg, Kristen Stewart Movie HD
Related posts:
_________