_______________________________
My son Wilson took this picture last night: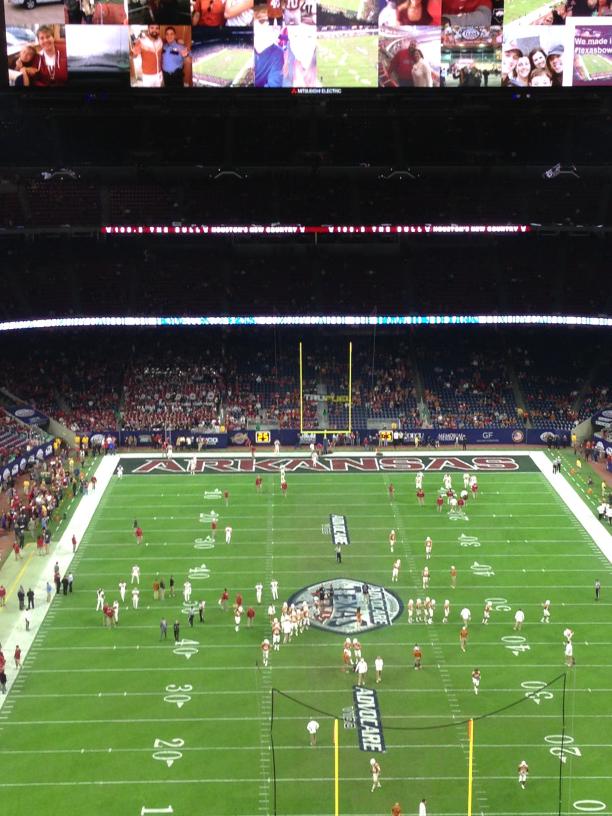 _________________
Charlie Strong is the right man for Texas but Coach Bielema's Hogs sure whipped his Longhorns last night!!!!
This has to be the most satisfying 7-win season any Razorback fan is likely to experience.
The Texas Bowl wasn't quite the shutout victory the program enjoyed against LSU and Ole Miss, but it might as well have been. The Hogs held Texas to just 59 total yards. And only two of those came on the ground (going back to the 2000 Cotton Bowl, Texas is -25 in total rushing yards between the two games). Until their last drive, it appeared Texas might have their lowest offensive output in program history. And that's history history. 1910s no passing history. That drive ended with Henre Toliver's interception that gave the Hogs the ball back for good.
The entire stat sheet is glorious. Arkansas didn't commit any turnovers – the only fumble was recovered in the air by Hunter Henry which set up the team's opening field goal. Tyrone Swoopes completed 13 passes, more than Brandon Allen did, but those passes gained only 57 yards. The Razorbacks had the ball for 41:10 and gained 191 yards on the ground. Jonathan Williams and Alex Collins both hit 1,100 yards for the season. Trey Flowers and Martrell Spaight, the Hogs two outstanding seniors on defense, both had great moments throughout the game. Demetrius Wilson had the best play of his career on the team's first touchdown.
And that doesn't even get into the individual player stats.
Texas' lone touchdown came on a good drive in the second quarter in which their passing game appeared to be competent. It came immediately following a disastrousawesome fumble in the end zone on a handoff that resulted in Arkansas' second touchdown and a 17-0 lead. And after Texas scored to cut the lead to 10 with a few minutes to go in the half, the Hogs marched right down the field and scored with 24 seconds left for the answer.
Arkansas basically just sat on Texas in the third quarter. The Horns couldn't do anything offensively. Arkansas had a couple of scoring opportunities but couldn't convert. Jonathan Williams finally broke the goal line in the fourth quarter to make everyone relax.
Now the Hogs get to go into the offseason with all the momentum they could ask for. Hopefully they can capitalize on it during these last few weeks of the recruiting year and heading into spring practice. The team will likely get a lot of hype coming into 2015. They'll be ranked somewhere and with good reason.
But that's all for us to spend the next eight months talking about. Tonight, every fan should be extremely proud of this group. For all the struggles of the last few years, and staring at an offseason with an 0-20 tag right in the face, they created moments Razorback fans will remember forever. There will be at least 5 times as many people claiming to be on the field after beating LSU than actually were there. Rohan Gaines' 100-yard pick-6 that sealed bowl eligibility in the rain against the best Ole Miss team in a couple of generations was amazing. And everybody who beat Texas instantly gets their names etched in Hog lore.
I know there's a segment of fans that doesn't care about the Texas rivalry, but we've seen over the last few weeks what happens when they do play. Every great moment and many of the bad ones get discussed and shown. No matter what happens with Brandon Allen's up-and-down career, he'll always have that big pass to Wilson and Texas Bowl MVP trophy. Bret Bielema will always be included in hype videos like previous coaches. Arkansas is currently set to host Texas in Fayetteville in 2021, and if that's the next time the two programs square off, all of this stuff will come up again. And that's really cool.
Many people will look back at this season and see a 7-6 record and think it was a pretty mediocre year. And it's true that it certainly had its share of disappointments, but ending was so rich it's difficult to feel anything but pride. This was a team expected by most not to make a bowl. Five wins was considered a slightly optimistic pick. They surpassed it and did so in pretty spectacular fashion.
Now we just need to make these next 8 months go by really fast.
Related posts: