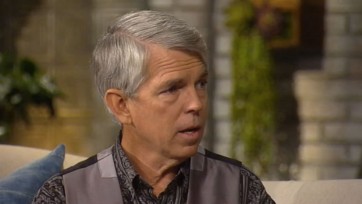 I read back on Dec 8, 2011 that Tony Perkins, president of Family Research Council, a social conservative advocacy organization, said in 2011 that President Obama has been "hostile" and "disdainful" toward Christianity. Rick Perry actually said President Obama had a war on religion. One of the most basic things that our founding fathers did is base our laws on the ten commandments. At the Supreme Court there is one depiction showing Moses sitting, holding two blank stone tablets. There is one depiction showing Moses standing holding one stone tablet. There are two stone tablets depicted with Roman Numbers I-X carved in the oak doors.
David Barton has studied the history of the founding of our country for many years and I wanted to share a portion of adocument he wrote concerning the 10 Commandments:
David Barton – 01/03/2001
(View the footnoted version on Liberty Council's website)
UNITED STATES DISTRICT COURT
EASTERN DISTRICT OF KENTUCKY
LONDON DIVISION
SARAH DOE and THOMAS DOE, on behalf
of themselves and their minor child, JAN DOE
Plaintiffs,
v Civil Action No. 99-508
HARLAN COUNTY SCHOOL DISTRICT;
DON MUSSELMAN, in his official capacity
as Superintendent of the Harlan Country
School District,
Defendents.
______________________________________________
AFFIDAVIT OF DAVID BARTON IN SUPPORT OF DEFENDANTS' OPPOSITION TO PLAINTIFFS' MOTION FOR CONTEMPT, OR, IN THE ALTERNATIVE, FOR SUPPLEMENTAL PRELIMINARY INJUNCTION
STATE OF TEXAS
COUNTY OF PARKER
HOW THE TEN COMMANDMENTS ARE EXPRESSED
IN CIVIL LAW IN AMERICAN HISTORY
Do not murder.
56. The next several commands form much of the heart of our criminal laws, and, as noted by Noah Webster, one of the first founders to call for the Constitutional Convention, the divine law is the original source of several of those criminal laws:
The opinion that human reason left without the constant control of Divine laws and commands will . . . give duration to a popular government is as chimerical as the most extravagant ideas that enter the head of a maniac. . . . Where will you find any code of laws among civilized men in which the commands and prohibitions are not founded on Christian principles? I need not specify the prohibition of murder, robbery, theft, [and] trespass.
57. The early civil laws against murder substantiate the influence of the Decalogue and divine laws on American criminal laws. For example, a 1641 Massachusetts law declared:
4. Ex. 21.12, Numb. 35.13, 14, 30, 31. If any person commit any willful murder, which is manslaughter committed upon premeditated malice, hatred, or cruelty, not in a man's necessary and just defense nor by mere casualty against his will, he shall be put to death.

5. Numb. 25.20, 21. Lev. 24.17. If any person slayeth another suddenly in his anger or cruelty of passion, he shall be put to death.

6. Ex. 21.14. If any person shall slay another through guile, either by poisoning or other such devilish practice, he shall be put to death.
58. Perhaps the point is too obvious to belabor, but similar provisions can be found in the Connecticut laws of 1642, the New Hampshire laws of 1680, etc.
59. Courts, too, have been very candid in tracing civil murder laws back to the Decalogue. For example, a 1932 Kentucky appeals court declared:
The rights of society as well as those of appellant are involved and are also to be protected, and to that end all forms of governments following the promulgation of Moses at Mt. Sinai has required of each and every one of its citizens that "Thou shalt not murder." If that law is violated, the one guilty of it has no right to demand more than a fair trial, and if, as a result thereof, the severest punishment for the crime is visited upon him, he has no one to blame but himself.
60. Even the "severest punishment for the crime" is traced back to divine laws. As first Chief Justice John Jay explained:
There were several divine, positive ordinances . . . of universal obligation, as . . . the particular punishment for murder.
61. There certainly exist more than sufficient cases with declarations similar to that made by the Kentucky court above to demonstrate that the sixth commandment of the Decalogue exerted substantial force on American civil law and jurisprudence.