___________
Chimp Chimp Chimp makes their debut tonite at Vinos in Little Rock in front of 150 enthusiastic fans!!!!
0 replies 0 retweets 0 favorites
Chimp Chimp Chimp – can YOU dig it?
Published on Oct 24, 2014
Part two of my video footage of a band that will take the world by storm soon! 😀
Bagel!!
Finale!
Where the camerawoman is attacked
Chimp Chimp Chimp-the beginning of something special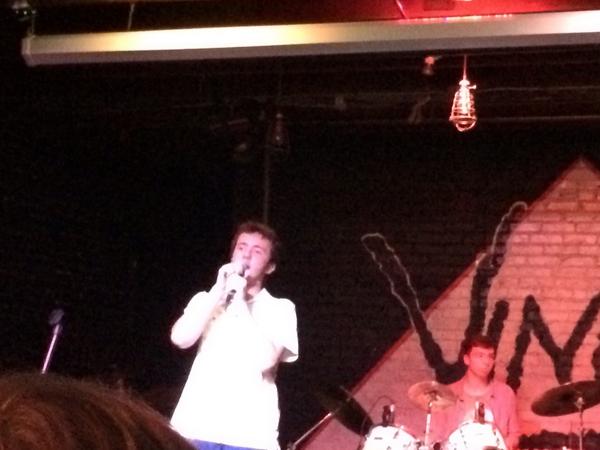 Chimp Chimp Chimp will be playing live at Vino's on October 24th, 2014. Doors open at 9:00 and the show starts at 9:30. You've never experienced music the way you will with the Chimps. GET PUMPED AND INVITE EVERYONE YOU KNOW
$6 to get in!
Vocals: Wilson Hatcher
Guitar: Sam Williamson
Drums: Peter McIndoe Jr.
Vino's address: 923 W 7th St, Little Rock, AR 72201
Tonight is a big night for the new music group, ChimpChimpChimp! Come on out to Vino's at 9:00, and join us as we watch their first performance! They are great ! It's exciting to watch your kids do what they love!
_________
Arkansas Times noted the bands playing tonight are Protean Shift, Space Camp, Chimp Chimp Chimp (Live). 
There's a Knock at My Door
Related posts:
__________ "How He Loves" – Live Performance Video Published on Jan 22, 2013 John Mark McMillan – How He Loves (Live performance video from Threshing Floor Studios in Lincolnton, NC) __________________________ (This performance above by Sean Michel of the Johnny Cash song "God's gonna cut you down" on American Idol was mentioned briefly on my […]
In this post we are going to see that through the years  humanist thought has encouraged artists like Michelangelo to think that the future was extremely bright versus the place today where many artist who hold the humanist and secular worldview are very pessimistic.   In contrast to Michelangelo's DAVID when humanist man thought he […]
My friend Sean Michel had an uncle named Pee Wee Spitelera and you will notice Pee Wee at the 4 minute mark take off on his  clarinet in this video below on the Dinah Shore Show in 1960. Al Hirt on the Dinah Shore Chevy Show 1960   Blue Clarinet-Pee Wee Spitelera Uploaded on Aug […]
This is a tribute to Keith Green who died 32 years ago today!!! On July 28, 1983 I was sitting by the radio when CBS radio news came on and gave the shocking news that Keith Green had been killed by an airplane crash in Texas with two of his children. 7 months later I […]
Wikipedia noted: Johnny Cash recorded a version of "God's Gonna Cut You Down" on American V: A Hundred Highways in 2003, with an arrangement quite different from most known gospel versions of the song. A music video, directed by Tony Kaye,[1] was made for this version in late 2006. It featured a number of celebrities, […]
Little Rock native David Hodges co-wrote Avril Lavigne song "Hush Hush" Avril Lavigne – Hush Hush (Official Video) Avril Lavigne, 'Avril Lavigne': Track-By-Track Review Articles Reviews By Jason Lipshutz, New York | November 04, 2013 4:33 PM EST "A first taste like honey, you were so yum/Can't wait for a second, cause it's so fun," […]
Little Rock native David Hodges co-wrote Avril Lavigne song  "Hello Kitty" Avril Lavigne – Hello Kitty (Lyric Video) Avril Lavigne, 'Avril Lavigne': Track-By-Track Review Articles Reviews By Jason Lipshutz, New York | November 04, 2013 4:33 PM EST "A first taste like honey, you were so yum/Can't wait for a second, cause it's so fun," […]
Little Rock native David Hodges co-wrote Avril Lavigne song "Sippin on Sunshine"
  Avril Lavigne – Let Me Go ft. Chad Kroeger Let Me Go (Avril Lavigne song) From Wikipedia, the free encyclopedia Jump to: navigation, search "Let Me Go" Single by Avril Lavigne featuring Chad Kroeger from the album Avril Lavigne Released 15 October 2013 Format Digital download Recorded 2013 Genre Pop rock, alternative rock, soft rock Length 4:29 […]
Little Rock native David Hodges co-wrote many of the songs on Avril Lavigne's new album Preview "Avril Lavigne" iTunes 30 Second Snippets According to Wikipedia: Avril Lavigne (album) From Wikipedia, the free encyclopedia Jump to: navigation, search Avril Lavigne Studio album by Avril Lavigne Released 1 November 2013 Recorded 2011–2013 Length 46:07 Label Epic Producer Rickard B. […]
David Archuleta – Crush Crush (David Archuleta song) From Wikipedia, the free encyclopedia "Crush" Single by David Archuleta from the album David Archuleta Released August 12, 2008 (See release history) Format CD single, digital download Recorded 2008 Genre Pop Length 3:33 Label Jive Writer(s) Jess Cates, David Hodges, Emanuel Kiriakou Producer Emanuel Kiriakou David Archuleta singles chronology "Crush" (2008) "A Little Too Not Over You" […]
Uploaded on May 11, 2011 "What About Now" is the seventh single from American rock band Daughtry's eponymous debut album. The song is a ballad, that was written by Ben Moody, David Hodges (both former members of Evanescence), and Josh Hartzler, who is married to Amy Lee (the lead singer of Evanescence) It is one of […]
Evanescence – Bring Me To Life From David Hodges website: David Hodges is a Grammy award-winning writer/producer/artist hailing from Little Rock, AR. As the former writer and keyboardist of the band Evanescence, he and his band mates took home Best New Artist as well as the Best Hard Rock Performance trophy for their hit "Bring Me […]
Carrie Underwood | There's A Place For Us | Music Video Uploaded on Dec 27, 2010 Music Video of Carrie Underwood – There's A Place For Us – The Chronicles Of Narnia – Voyage Of The Dawn Treader Soundtrack This video is created using various trailers from the film The Chronicles Of Narnia – Voyage Of The […]
Evanescence – My Immortal From David Hodges website: David Hodges is a Grammy award-winning writer/producer/artist hailing from Little Rock, AR. As the former writer and keyboardist of the band Evanescence, he and his band mates took home Best New Artist as well as the Best Hard Rock Performance trophy for their hit "Bring Me To Life" […]