Final Moments of Kentucky vs. Tennessee Football Game 2011
Uploaded by videorocker112 on Nov 27, 2011
Kentucky wins 10-7 and ends the 26 year losing streak!!
Here is a list of the top football stadiums in the country.
Power Ranking All 124 College Football Stadiums  
When it comes to college football stadiums, for some teams, it is simply not fair. Home-field advantage is a big thing in college football, and some teams have it way more than others.
There are 124 FBS college football teams, and when it comes to the stadiums they play in, they are obviously not all created equal.
There is a monumental difference from the top teams on the list to the bottom teams on the list. Either way, here it is: a complete ranking of the college football stadiums 1-124.
_________________
I want to talk about two Kentucky games that I got to see on tv. Both games were in Lexington.
Here is some info on the Tennessee at Kentucky game in 2011 that ended a 26 year in row of victories for the Vols. Below is a picture of the Vols walking off the field after the game.
Amy Smotherman Burgess
, ©KNS/2011
Tennessee players leave the field after the 10-7 loss to Kentucky at Commonwealth Stadium in Lexington on Saturday, Nov. 26, 2011. UT lost to UK for the first time since 1984. (AMY SMOTHERMAN BURGESS/NEWS SENTINEL)
In the 2003 game, Arkansas won in 7 overtimes. Wikipedia notes:
Seventh overtime
Matt Jones threw an incomplete pass before Decori Birmingham scored on a 25 yard touchdown run to give the Hogs a 69-63 advantage.[4] The all-important two point conversion was a completion to Jason Peters, giving Arkansas a 71-63 cushion.[3] Kentucky first completed a pass for twelve yards, but a fourth and three on the Razorback five proved the game winner, as a Lorenzen fumble was recovered by all-SEC linebacker Tony Bua of Arkansas.[4]
[edit] Aftermath
The game ended at 12:01 am on November 2, 2003.[4] This game also set an NCAA record for the most points scored in a game (after 1950). Arkansas scored 47 points in overtime, breaking their own record of 41. Both teams combined for 86 overtime points, six more than the 2001 seven overtime affair.[3] The game lasted 4 hours and 56 minutes.[4]
78. Davis Wade Stadium: Mississippi State Bulldogs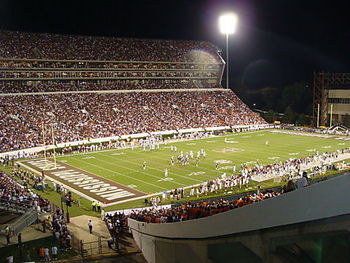 Davis Wade Stadium could be considered tiny when it comes to other SEC stadiums.
Built in 1914, it is one of the oldest stadiums out there, with a seating capacity of 55,082. It underwent major renovations about 10 years ago, and while it is still not up to par with some of the larger SEC stadiums, it is improving.
The unique thing about David Wade Stadium is the cowbells that constantly ring out. The atmosphere here is the best of any stadium so far on the list.
77. Carrier Dome: Syracuse Orange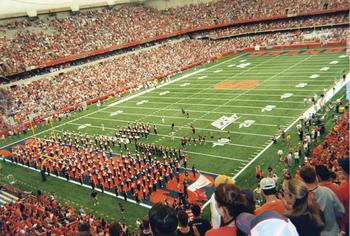 The Carrier Dome is perhaps better known as the largest college basketball arena in the country.
When it comes to football, it is much less known, but is not a bad place to see a game.
With a seating capacity of 49,262, it is middle of the pack as far as Big East schools are concerned.
Built in 1980, this dome has an excellent atmosphere when the Orange are good.
76. UB Stadium: Buffalo Bulls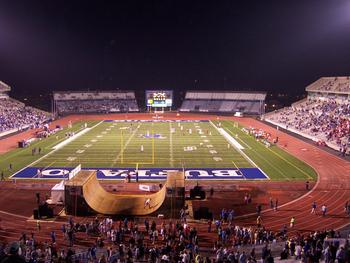 This stadium is large by MAC standards with a seating capacity of 29,013 and is relatively new, having been built in 1993.
Buffalo is a newcomer to FBS, and this stadium is one of the best in the MAC.
While everything here is average, the $15 price of a game ticket makes this one of the best deals in the country.
There are a lot of positives as far as this stadium is concerned.
75. Sun Bowl Stadium: UTEP Miners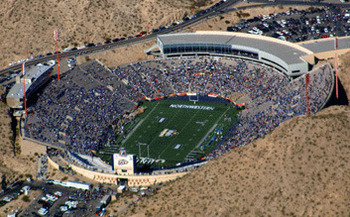 Originally opening its doors in 1963, this 51,500-seat stadium is home to the Sun Bowl every year, and also the UTEP Miners.
There is beautiful scenery in the surrounding area, and this stadium is a great place to take in a football game, as there is not a bad seat in the house.
It is almost shaped like a bowl and is one big level.
74. Arizona Stadium: Arizona Wildcats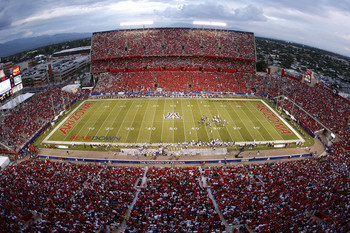 Arizona Stadium is known for being loud, and that it certainly is. As far as the rest of the stadium goes, it is average at best.
The stadium is extremely old and was originally built in 1928. It now has a seating capacity of 57,803, and if it was larger, it would be much higher on the list.
While it can get loud and the atmosphere is great, the place is slightly outdated to be ranked any higher.
73. Michie Stadium: Army Black Knights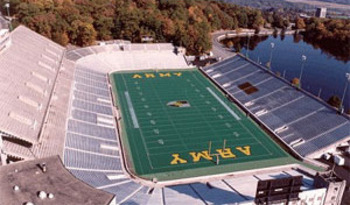 Built in 1924, Michie Stadium is one of the older stadiums around.
It has that old feel to it and has beautiful scenery in the surrounding area. The stadium, however, leaves a lot to be desired and is outdated to say the least.
Still, the tradition and other interesting aspects of the stadium make it middle of the pack on this list.
72. Reser Stadium: Oregon State Beavers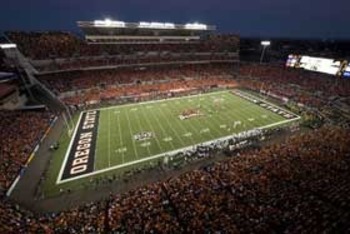 This medium sized stadium was built in 1953 and seats 45,674. It does offer an excellent home-field advantage for the Beavers, however.
The atmosphere here is great, and it can get really loud, but with the Oregon State team struggling the past few seasons, there is not much to cheer about in here.
Still, a nice venue to take in a game.
71. Glass Bowl: Toledo Rockets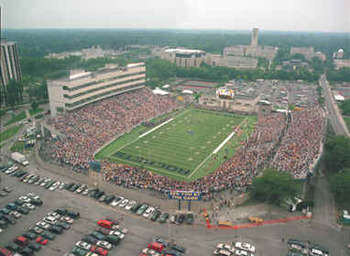 The Glass Bowl is the cream of the crop when it comes to MAC stadiums.
It was originally built in 1936 and seats 26,248, which is on the higher end as far as MAC standards are concerned.
The outside almost looks like visitors are walking into a fort. The atmosphere here is very good, and things can get a little rowdy on gameday. 
70. Commonwealth Stadium: Kentucky Wildcats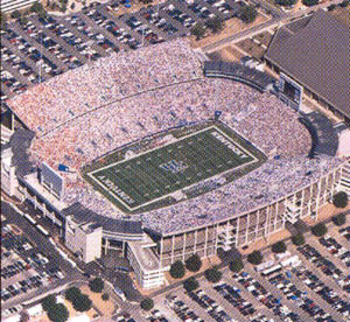 Kentucky is certainly a basketball school, but they have a decent football stadium as well.
Built in 1973 with a capacity of 67,606, Commonwealth Stadium has played host to some major upsets.
It is not nearly as loud as the other SEC fields, but the people here love their Wildcats and be prepared to endure a sea of blue when visiting Lexington.